10 Cute Islands in Maldives to Visit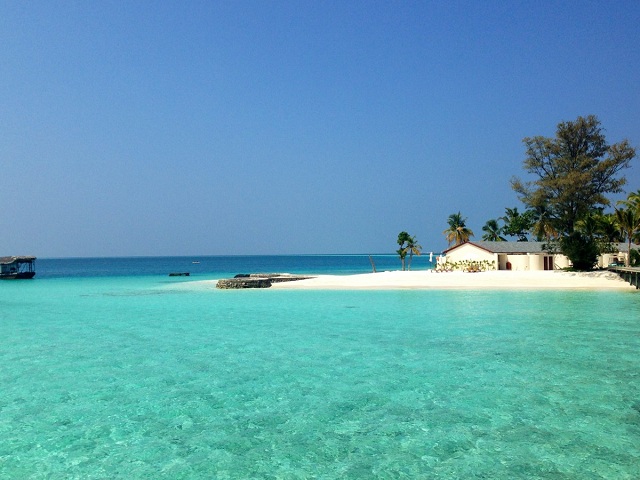 I wrote about the best OverWater cottages in Maldives Islands and I published a travel guide to Cocoa Island, one of the islands in Maldives where you can enjoy a weeklong holiday in world's best floating resort operated by COMO group of hotels.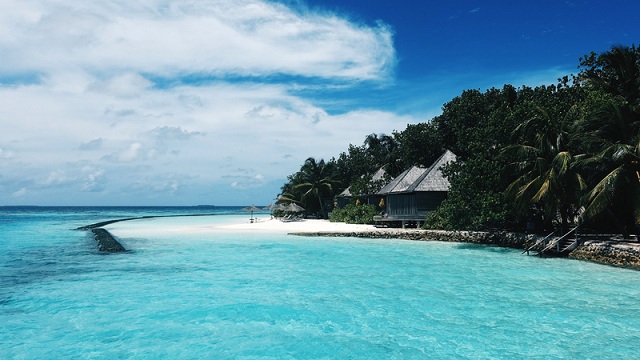 Something else disturbed me for the last three days. After much pondering, I identified the reason. I should have also mentioned about some of the exotic atolls of and islands in Maldives. There are about 10 to 15 more islands and islets in Maldives apart from Malé and the Cocoa Island that lure equally with the stunning Indian Ocean, white sand beaches, ultra-luxury resorts, and seafront cottages, and fantastic seafood.
I will just introduce to you those romantic islands in Maldives that beg you to visit. This won't be a detailed travel guide but enough information will be stuffed to entice you to seriously consider a week of vacation in islands in Maldives, the true paradise on earth.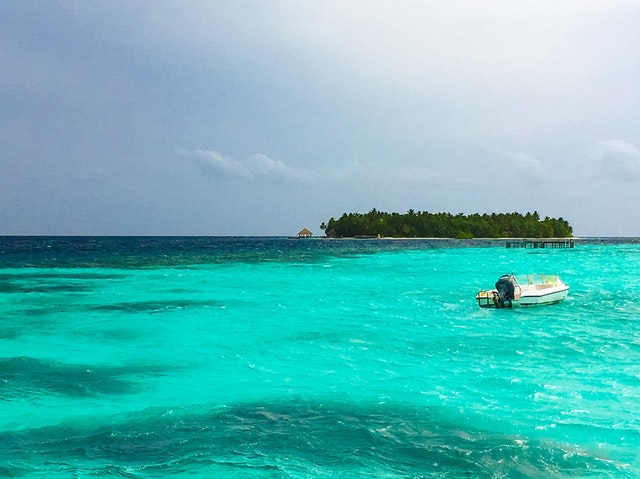 The 10 Cute Islands in Maldives to Visit
1. Malé
Of course, I can't proceed further if I don't start off writing about Malé, the capital island of Maldives. Malé Island is very thickly populated. The island comprises Muslims predominantly.

For an island of its size (5.8 sq.km), its population (140 k) is definitely high.
Being the capital of the Maldives, it has good infrastructure including the International airport, 5-star hotels and resorts, overwater villas and a thriving street food business run from kiosks.
Malé is also the gateway to other islands in Maldives that are mentioned after this. Island hopping is made easy if you keep the Malé, as your base.
Underwater Scooter ride:
This is where the underwater scooter ride was launched and quickly other small atolls in the Maldives introduced the adventure underwater exploration in their seas.
As the video mentioned, anyone can indulge in this once-in-a-lifetime water sport with absolutely no experience whatsoever. No swimming knowledge is required, folks!
2. Maafushi Island, Maldives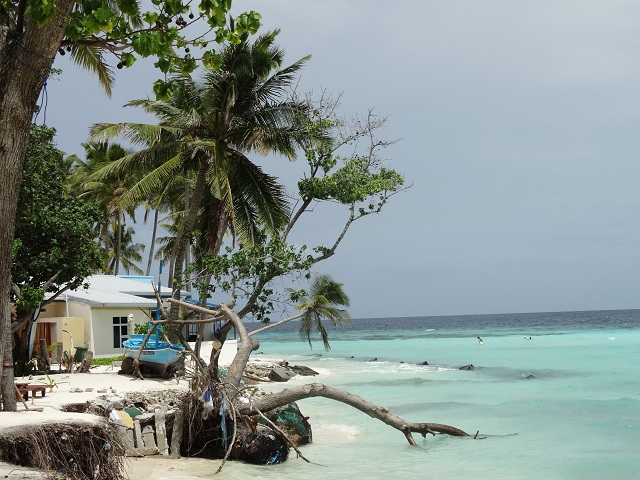 We have already seen this island is also known by Cocoa Island where your only staying options are floating bungalows on the Indian Ocean. Maafushi's another name is Makunufushi'. Here also, the most sought after water sport is the underwater scooter ride. I would say this is a modified and advanced version of snorkeling or scuba diving.
3. Fihalhohi Island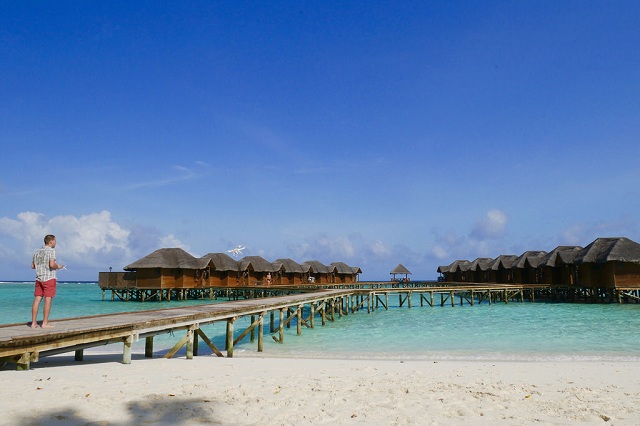 Oh yes! Another one of the atolls in the Maldives that offers to lodge in an overwater hut. The series of floating lodges are conveniently interconnected by a private wooden pier.
Similar to the two above mentioned islands Malé and Mafushi, the Fihalhohi Island is also a part of the Kaafu Atoll of Maldives.
It seems attracting the first and second honeymooners is their prime objective. By 'their' I meant the resort people who offer to stay in one of the overwater bungalows that promise 200% privacy, a swimming area, and a first-floor deck to have all of the Indian Ocean to yourself.
For your stay in Fihalhohi Island (this is the first time I am typing three 'h' in a single word), visit Fihalhohi Island Resort. They offer different kinds of accommodations that include the familiar water villa, seafront huts, and small cottages in a garden.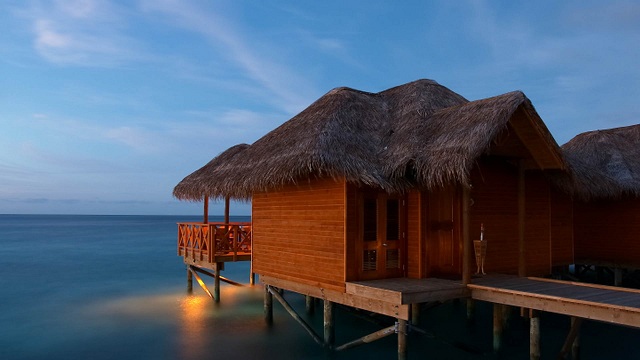 This is the only island in the Maldives, where you can participate in a big range of water sports such as:
Kitesurfing
Surfboarding
Catamaran ride
Sailing
Jet skiing
Water skiing
Parasailing
Marine life spotting such as dolphins, sea turtles, Manta
Snorkeling
Canoeing
4. Alimatha Island
Now, we move away from Kaafu Atoll to Vaavu Atoll where the Alimatha Island is located.
White sand beach, emerald green water that appears rather shallow to me and that means this island is swimming friendly. If a water body is good beginner swimmers, then, it must be good for snorkeling water sport also which is so much fun and exciting.
For staying in one of the ubiquitous overwater villas, contact The Alimatha Aquatic Resort. In addition to taking care of your boarding and lodging needs, they also see to it that you are engaged otherwise by way of various water sports that include snorkeling, scuba diving and boat rides to nearby atolls and islets.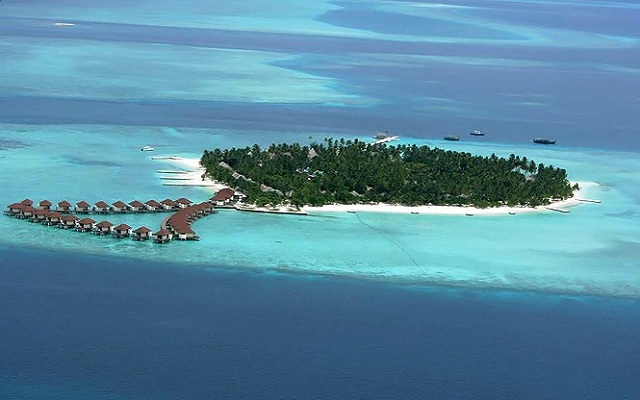 The overwater huts are aesthetically arranged on the Indian Ocean by Alimatha Aquatic Resort.
5. Hulhumalé Island
This island is the closest to the Maldives capital Malé.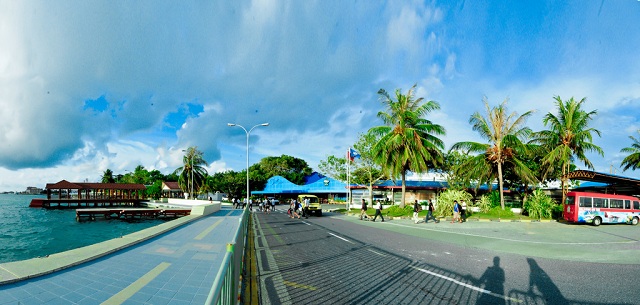 Only 7 km separates these two islands in Maldives. However, Hulhumale Island is an artificial island. In spite of its proximity to the capital, it is less crowded and that's what the honeymooners want-right?
6. Vaadhoo Island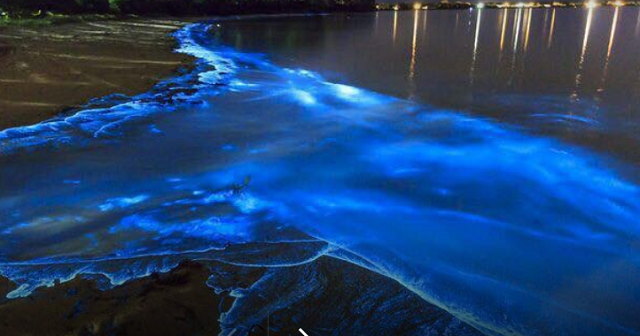 What you see above is called the "Sea of Stars'. It is a natural phenomenon known as 'Bioluminescence'. To visit this island and this stunning magical wonder, you need to go to Vadhoo Island located in Raa Atoll, Maldives.
Note: Visit the beach after darkness set in.
7. Biyadhoo Island
This small island belongs to the Kaafu Atoll in the Maldives. From Malé Island, Biyadhoo Island is only 29 km away.
This is a rare island in Maldives with plenty of green cover provided by coconut trees, mango and banana trees, and tomato.
When you have had enough of water sports on the Indian Ocean such as canoeing and snorkeling, you can return to visit the fruit gardens and taste the freshest tropical fruits you will ever eat.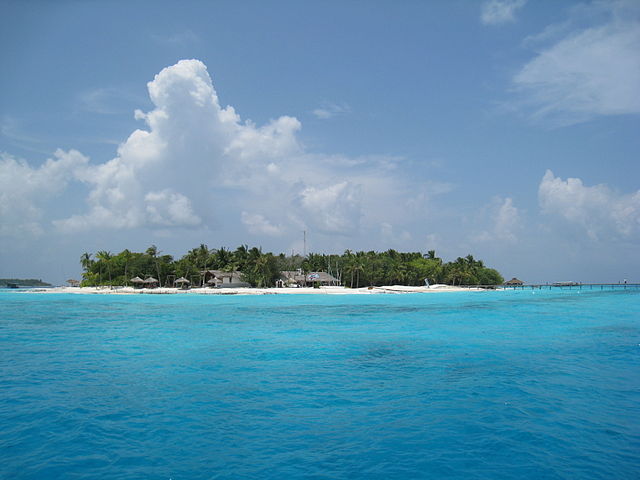 Some more much smaller islands in Maldives where you have all the facilities to stay and enjoy the sunny weather and privacy like never before:
8. Veligandu Island-North Ari Atoll
9. Nalaguraidhoo Island-South Ari Atoll
10. Milaidhoo
If you love to set your feet in a few uninhabited islands and islets, your Maldives trip can be best chance to do so.