3 Rooftop Bars Bali Island worth Going To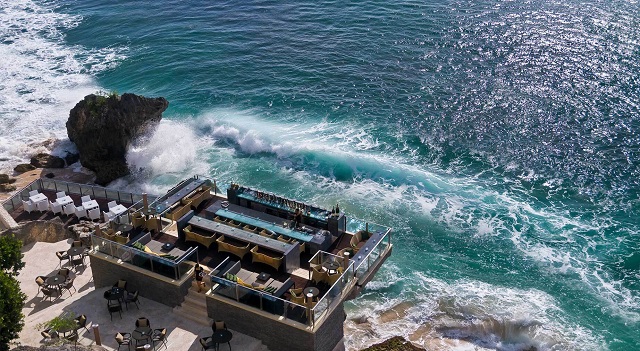 Drinking anywhere can be a fun experience but there are unique places from where drinking can be more memorable and would make you seek out similar places during your vacation. For example, there is a difference between drinking in an air-conditioned cage (bar) than sipping a goblet of wine sitting in your terrace-right? Open air drinking and dining can be an enchanting experience. Bali is the most visited island holiday destination in the world. Bali Island is part of Indonesia.
Bali Island offers a lot of outdoor activities that include:
Snorkeling
Scuba diving
Water surfing
Sea walking
Waterslides for children
Zip-lining
Local food in Bali Island can be tastier if you eat them in a rooftop bar cum restaurant. Today, I am going to introduce to you three wonderful rooftop bars in Bali Island where the sky is the limit. They are the coolest hangouts for dancing and partying late into the night.
Rock Bar, Bali Island.
Address: Jl. Karang Mas Sejahtera, Jimbaran, Kuta Selatan, Kabupaten Badung, Bali 80364, Indonesia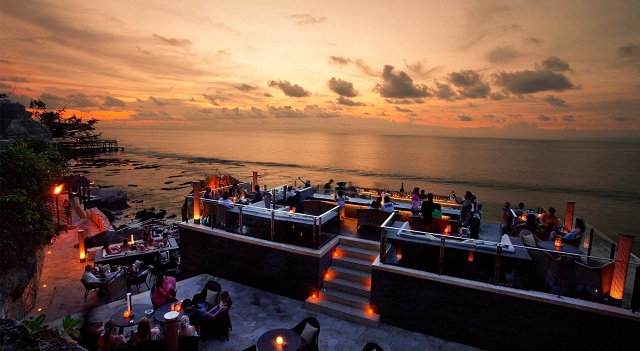 Phone: +62 361 702222
Rock Bar is one of the best rooftop bars in Bali because of its very secluded location in a cliff. Wow! That would be really a cool location to spend the night, drinking. Cocktails and views of the sunset are an ideal combination in Bali Island.
Ask around for Ayana Resort and Spa and you will soon find yourself in one the tables like you see in the image below.
Oh man, I have never seen such a romantic location. I could spend hours here looking at the Indian ocean, forgetting my champagne. Look at the lighting-doesn't it look dreamy?
What cocktails are recommended at Rock Bar, Bali Island?
Rockberry Martini
Butter Beef Sour (butter infused scotch and beef stalk) what a combination!
Dava Mule (it's a combination of vodka, rose petal syrup, beetroot extract, seaweed, and tonic water)
For accompaniments, order chicken popcorn and King Prawn Saganaki.
Smoqee Lounge & Sky Bar, Bali Island
This dreamy looking sky bar of Bali is found inside the hotel Le Méridien Bali, Jimbaran
Address: Jl. Bukit Permai, Jimbaran, Kuta Sel., Kabupaten Badung, Bali 80361, Indonesia
Phone: +62 361 8466888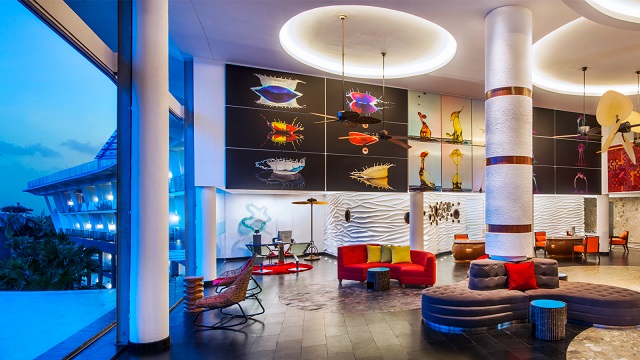 One of the best beaches in Bali is the Jimbaram beach and the beach gets crowded during sunset. You can enjoy the red sunset from Smoqee Sky Bar. Not much of information is available regarding what drinks they serve and what type of food you can eat except the cuisine which is a mixture of Asian, Tapas and contemporary modern.
Moonlite Kitchen and Bar, Bali Island
Address: Jl. Abimanyu (Dhyana Pura), Seminyak, Kuta, Kabupaten Badung, Bali 80361, Indonesia
Phone: +62 361 737773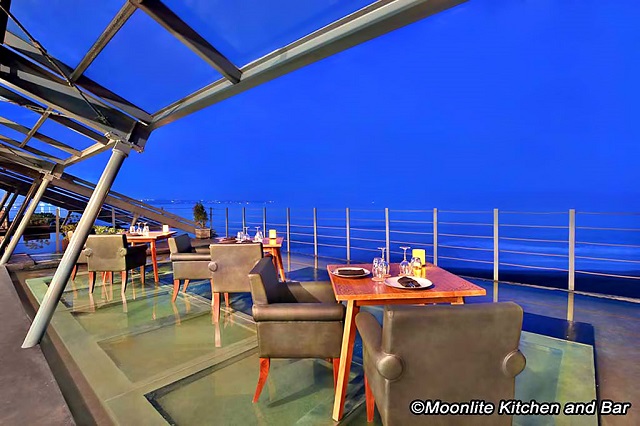 What a beautiful location for a bar cum restaurant! It's too bad that Moonlite Kitchen and Bar closes early at 11 PM.
The beverage range is quite extensive comprising of wines, beers, and cocktails. The open-air restaurant overlooking the majestic Indian Ocean serves authentic Balinese cuisine such as Thai flavored fish cakes and deep fried crab cake. Never heard of those dishes-eh? You can get them only in Bali, the ultimate paradise for island goers.
The view from the rooftop bar is nothing but captivating.
Feel like going to Bali Island for your next vacation?