How difficult is it to reach Annapurna Base Camp?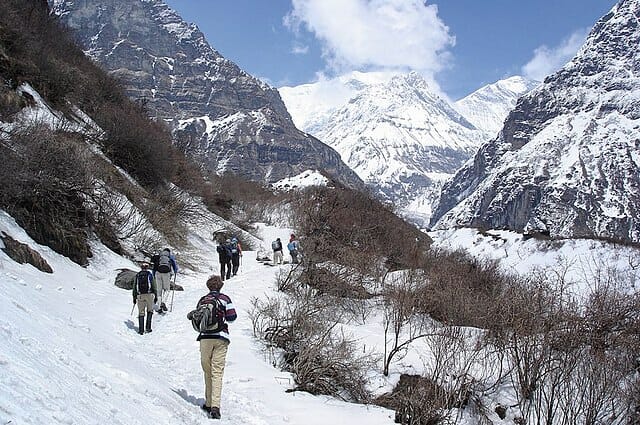 Reaching Annapurna Base Camp is an ambitious and challenging undertaking. Although it is considered a moderate-level trek, the difficulty of the journey should not be underestimated. At an altitude of 4,130 meters (13,550 feet), Annapurna Base Camp stands at one of the highest points in Nepal and offers breathtaking views of some of the world's most spectacular mountains. The route to get there is challenging and demanding, with steep and narrow trails, vertigo-inducing viewpoints, and unpredictable weather. However, with the proper preparation and a prudent approach to safety, hikers can make the journey successfully and with minimal risk.
Factors to consider before hiking to Annapurna base camp
Hikers should consider several factors before attempting Annapurna to ensure they are physically and mentally prepared for the trek. You must meet many requirements to make the journey successful and enjoyable.
Acclimatization
Acclimatization is one of the most important factors before Annapurna Base Camp. Annapurna stands at an altitude of 4,130 meters (13,550 feet), and sudden exposure to such high altitudes can cause Acute Mountain Sickness (AMS), a potentially fatal condition. To minimize the risk of AMS, you must allow your body time to adjust to the altitude. A gradual ascent and regular rest days are recommended. Additionally, it is crucial to stay hydrated and wear the appropriate clothing for the conditions.
Fitness
Annapurna Base Camp is a moderate-level trek but requires a good level of fitness and stamina. The terrain is diverse, and you will encounter steep ascents, descents, and muddy trails. Being physically fit will help you stay safe on the trail and make it to Annapurna Base Camp in one piece. Moreover, building up stamina through regular exercise before the trek is crucial.
The weather in the Annapurna region can be unpredictable, so hikers must be prepared for changeable conditions at any point along their journey. Temperatures can drop quickly at night, so thermals and other warm clothing should be packed. Additionally, the Annapurna region receives a lot of winter snowfall, making it challenging to traverse certain sections of the trail. It is important to check local weather forecasts before setting off and plan accordingly.
Permits
Annapurna conservation area requires hikers to obtain permits before entering the park. The permit costs $20 and includes an Annapurna Conservation Area entrance fee and a TIMS card (Trekker's Information Management System). It should be obtained from the Annapurna Conservation Office in Kathmandu or at checkpoints along the trekking route, such as Chhomrong or Ghandruk.
Safety
Annapurna Base Camp is a remote area with few facilities or services along the trail. To ensure your safety, you must bring supplies for the trek, such as food, water, fuel, and a first-aid kit. It is also recommended that you hire a guide who knows the route and can help you in an emergency. Additionally, inform someone at home of your itinerary and contact details they can use in an emergency.
Equipment
Annapurna Base Camp is a demanding trek requiring the right equipment to succeed. It is important to bring sturdy hiking boots, a sleeping bag, waterproof clothing, and a camping stove. A good quality backpack is also essential for carrying the necessary supplies along the trail. Additionally, you should bring trekking poles to help balance and support on tricky descents.
Common challenges hikers face when hiking Annapurna
Hikers should be aware of the common challenges they may face when hiking Annapurna to ensure they are prepared for the trek. Annapurna can be physically and mentally demanding, so hikers must be ready for uncomfortable conditions along the route.
Altitude sickness
Altitude sickness is a common challenge for Annapurna trekking as the air thins out with increasing altitude. It is essential to take regular rest days and drink plenty of fluids to reduce the risk of acute mountain sickness (AMS).
Dangerous terrain
The Annapurna trekking route includes steep ascents and descents, mud trails, slippery rocks, and narrow ledges. It is crucial to have good fitness and stamina levels before attempting this trail and hiking poles to provide support.
Weather conditions
The Annapurna region experiences extreme weather conditions, affecting visibility along the trail. Hikers should ensure they wear appropriate clothing for all weather conditions and always check local weather forecasts before setting off.
Limited resources
Hikers should know that Annapurna Base Camp is remote, with limited facilities and services along the trail. Therefore, bringing enough supplies for your trek and hiring a guide who knows the route if you need assistance is essential.
Time constraints
The Annapurna trek is long and demanding, so it is vital to plan your itinerary accordingly. The Annapurna Conservation Area has a fifteen-day time limit, meaning you must complete the trek within this period or face an additional fee. Altitude sickness can also slow progress and add extra days onto the journey.