Least Visited Caribbean Islands in 2021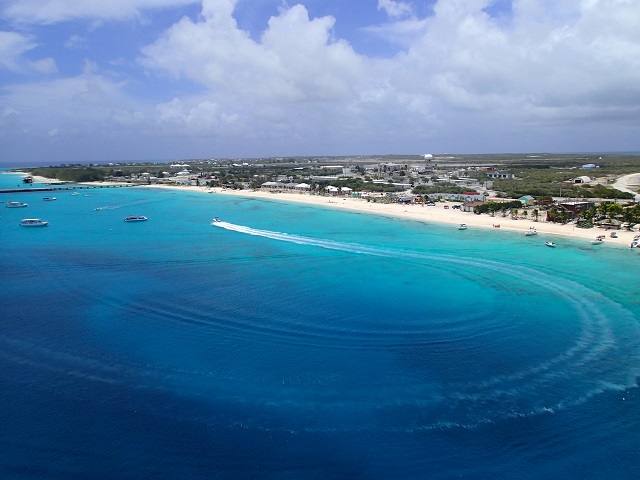 I read an article titled "Least visited Caribbean Islands". If there is a list of islands and islets in the Caribbean Sea that are considered as 'least-visited, then, there must be a list of islands that are highly visited.
I believe there are 700 islands including islets and cays in the Caribbean Sea. This is the generally accepted count but there may be more.
In addition, there is no clear data as to how many Islands are uninhabited.
Well, first let us browse through the list of highly visited Caribbean Islands before embarking on our subject of this blog post.
Aruba Island
Dominican Republic
Cuba
Bahamas
Jamaica
Puerto Rico
Barbados
St. Martin
10 Least Visited Caribbean Islands
What is the purpose of knowing the least visited Caribbean Islands?
The least visited implies you can expect a minimum tourist population. In addition, the prices of hotels and beachfront resorts will be affordable for most of us.
Therefore, if you're looking for an island holiday destination with less crowd, read further to find out the least visited Caribbean Islands. In this highly useful blog post, you will be surprised to know that some of these Islands are unheard of by you thus far.
Curaçao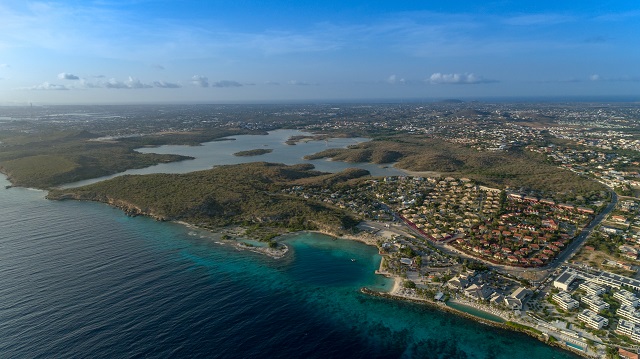 I am sure you must have come across the word 'curacao' but not as an island but as a soft drink or sometimes as a cocktail named 'blue curacao'.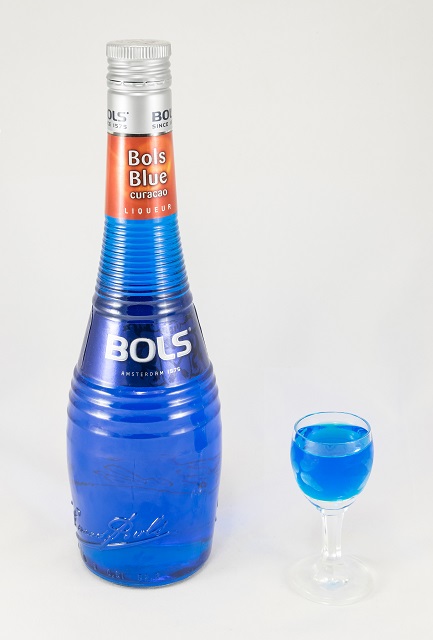 This least visited Caribbean Island's water must sport a deep, ink-blue color and thus its name was passed onto blue-colored drinks.
Not many people know that some of the islands in the Caribbean Sea owned by the Netherlands. The three islands of the ABC group that include Aruba, Bonaire, and Curacao are called the Dutch Caribbean Islands.
Curacao is one of the least visited one maybe for the lack of luxury beach resorts. However, it is a bird watchers' paradise. It is a peaceful island with as many as 37 less-crowded beaches that will beg you to relocate to this beautiful island.
Most of the buildings along the coast bear distinctive Dutch architecture. You can spot a few forts built by the Dutch. A few forts are now functioning as hotels and shopping malls.
The island is a major port of call for cruise ships. As a tourist, you can also visit its uninhabited Klein Curacao and the other two main Dutch islands Aruba ad Bonaire.
Scuba divers enjoy going deep in the sea to appreciate marine creatures. If you are not a diver, you can just float on your stomach wearing snorkeling gear.
St. Vincent and Grenadines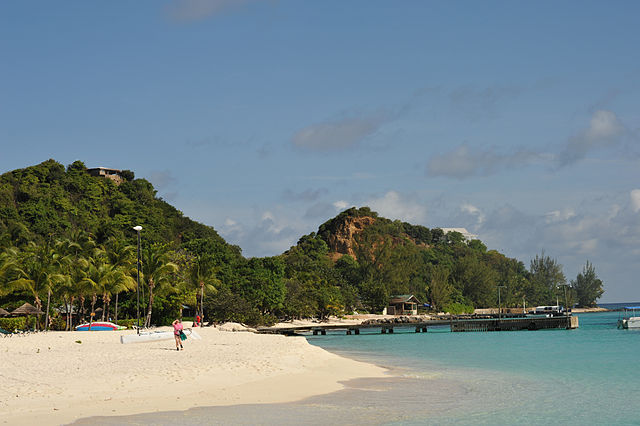 A total of 33 islands comprise St. Vincent and Grenadines. St. Vincent is the major island and the Grenadines are a chain of 32 islands out of which nine small islands are inhabited.
People tour St. Vincent and Grenadines, mainly to see all the small islands and islets on a ferry. As far as I viewed on YouTube, the smaller islands of Grenadines that include Union Island, Palm Island, Bequia, and Canouan are extremely fresh ad untouched pieces of land in the Caribbean Sea.
Out of the inhabited small islands of Grenadines, Palm Island is a highly visited island because of a big beach resort that offers rooms and independent villas.
St. Vincent as these islands are commonly mentioned is known for diverse species of turtles, crabs, and avifauna including the rare Laughing Gull.
Plenty of white sand beaches that can accommodate quite a crowd but are lacking the boisterous tourists, St. Vincent is an island that is worthy of spending your hard-earned holiday with your family.
Prominent tourist landmarks in St. Vincent are:
Tobago Cays (beautiful coral reefs and colorful fishes)
Dark View Waterfalls
Saltwhistle Beach
Botanical Garden
Macaroni Beach
Hiking the La Soufrière volcano
Canouan Island
You have a wide range of hotels and resorts in any one of the 10 islands where you are assured of perfect relaxation.
Montserrat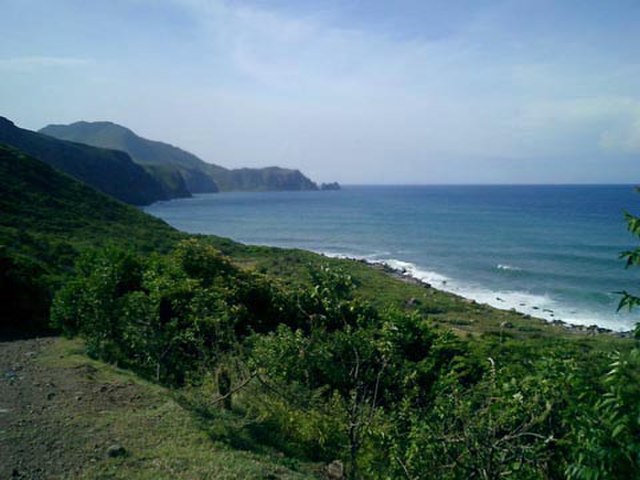 Montserrat is certainly a volcanic island covered with tropical Rainforests. Even as you hike the Soufriere Hills Volcano, you can see the hill is densely covered with trees and bushes. This is an active volcano that last erupted only in 1995.
Montserrat Island is a British Overseas Territory. It is a small island that measures a walkable 16 km by 11 km in length and breadth respectively.
This lovely island that is rich in wildlife is home to a giant-sized frog that the locals call 'mountain chicken'.
Montserrat's national bird is the beautiful Montserrat Oriole.
This bird is endemic to Montserrat Island.
There are several sea caves on the island's shoreline where bats live happily and undisturbed.
The island's hilly tracts are known for bird-rich hiking trails and fantastic viewpoints.
Antigua and Barbuda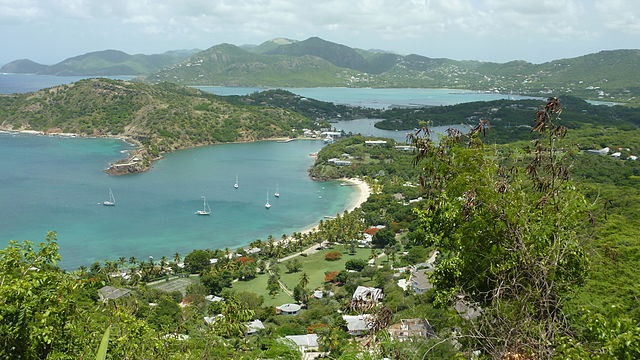 Please note it's Barbudo and not Barbados which is a highly visited Caribbean Island.
I think this is another least visited Caribbean Island that you are hearing about for the first time.  The location of Antigua and Barbuda is in the Caribbean Sea but on the edge of the Atlantic Ocean.
Interestingly, these two islands are separated by 63 km distance but still always mentioned together.
Moreover, these two islands plus eight small West Indian Islands comprise Antigua and Barbuda.
Scuba divers from all over America throng these islands because they can explore numerous shipwrecks deep inside the Caribbean Sea.
Snorkelers join the fun but just float around and see the reefs and marine lives.
Both these islands sport several un-crowded and pristine beaches that promise isolation most of the time. However, you can be sure of the sun on your back almost right through the year. Surfing is a big activity here. Seeing the surfers' joy and hearing their screams of happiness, even, the cat-on-the walls onlookers reluctantly join the entertainment.
Antigua and Barbuda are on the route of cruise yachts.  Swimmers love the calm blue lagoons of Half Moon Bay in Antigua. Some of the beaches on these two islands wear slightly pinkish sand.
As a surfers' haven, there are several beachfront hotels and beach resorts on both these islands.
What else to do in Antigua and Barbuda Islands?
Take a boat ride to spot a big colony of Stingrays. The place to spot the stingrays is known as Stingray City.
It seems these big fishes are friendly like dolphins!
Take a long beach walk or sunbathe in the world-famous 17-mile beach on Barbuda Island. The sand on this long stretch of the beach is a romantic pink.
See the spectacular Devil's Bridge in Indian National Park, Antigua.
Indulge in various water sports adventures in Antigua Island's Dickenson Bay. It has a white sand beach.
Visit a sanctuary of Frigate Birds
This is the image of a Frigate Bird.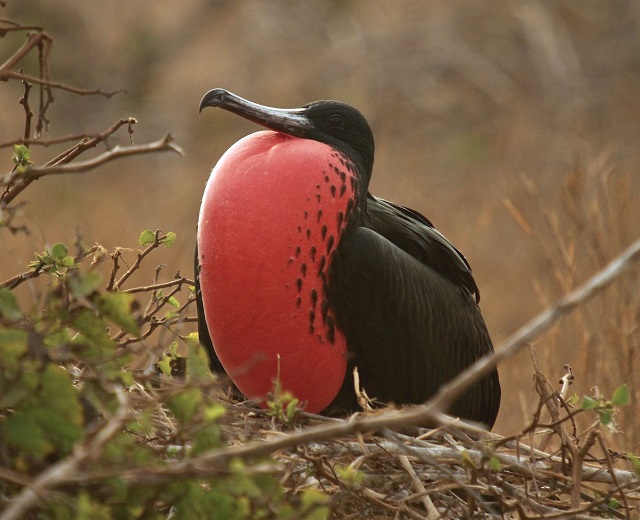 It is a rare bird to spot in the world. How about watching them during their breeding season? This Frigate Birds' sanctuary is located in Barbuda Island.
Enjoy a scenic port at St. John's, the capital of Antigua. The port witnesses quite a few cruise ships at any given time.
Wow1 It is clear that you need a full weekend to enjoy these twin islands. There is no dearth of all-inclusive beach resorts in both Antigua and Barbuda Islands.
St. Barts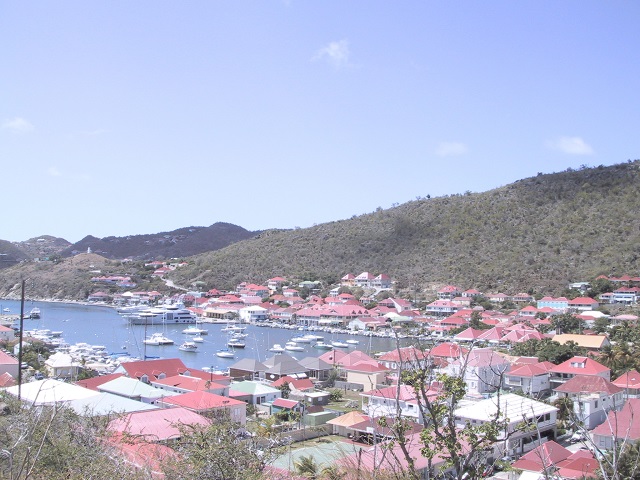 St. Barts was originally known as Saint Barthélemy. This is a small island that is administered by France. St. Barts is a French overseas territory.
The majority of the tourists are from France. They love to stay in the numerous sea-facing villas and enjoy their holiday with little disturbance.
The sandy beaches are near-deserted. The most popular beach in St. Barts is Saline Beach.
The best place to stay in St. Barts is St. Jean. The beach villas are located right on the seashore.
Anguilla
Anguilla is an island in the Caribbean Sea and is one of the least visited. Besides, Anguilla Island is a British Overseas Territory. It is located at a short flying distance away from Puerto Rico.
In addition, Anguilla is not alone. It has several islets and cays surrounding the main island. I guess most of them are uninhabited.
This is an ideal island in the Caribbean to just eat and relax. The beaches are too beautiful to ignore and stay in your hotel room.
Diving and snorkeling are the tourists' major seaside activities.
Belize
Though Belize is actually a Central American country, since it is part of CARICOM, I am including Belize in this list of least visited Caribbean Islands.
Tourists are obviously unaware of the stunning beauty of Ambergris Caye, an island of Belize.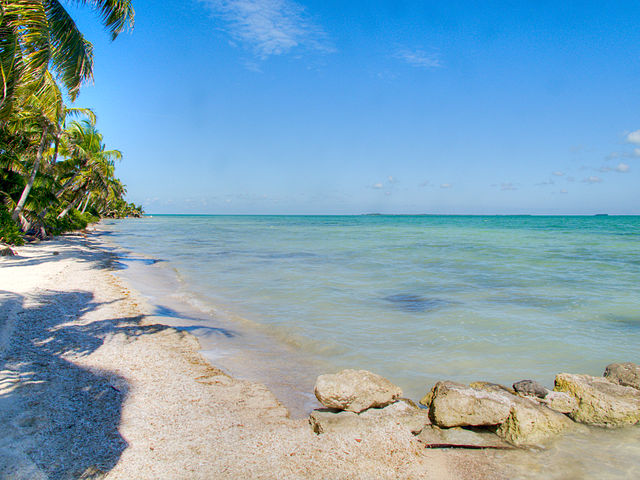 Do you know that Belize has as many as 450 small islands and islets in its constitution?
One of the biggest attractions of visiting Belize is the 'Great Blue Hole'.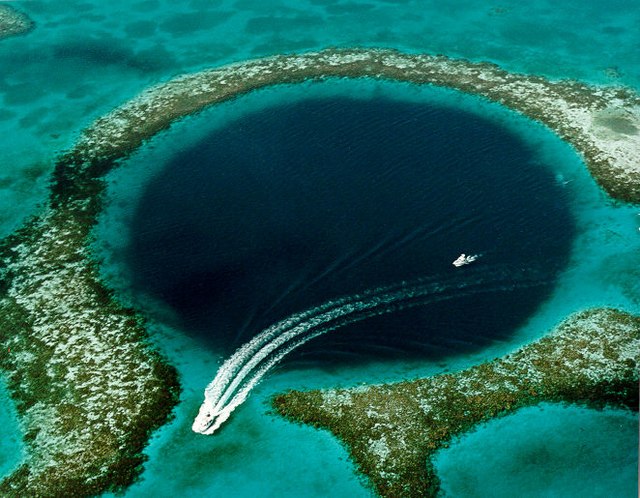 It is a huge sinkhole and home to a great range of marine creatures and corals that attract scuba divers and snorkelers.
What to do during your Belize tour?
Apart from the above two big attractions, you can visit:
Caye Caulker Island
Hol Chan Marine Reserve (good snorkeling spot)
Cayo district to see the ruins of ancient Mayan civilization The Mayan sites are interesting to see.
Cockscomb Basin Wildlife Sanctuary
Dominica
This small paradise in the Caribbean is unfortunately not well patronized by avid island lovers. However, the North American's know the value of vacationing on this poorly-visited Island.
One of the world's second-biggest natural geysers called the 'boiling lake' is located in Dominica.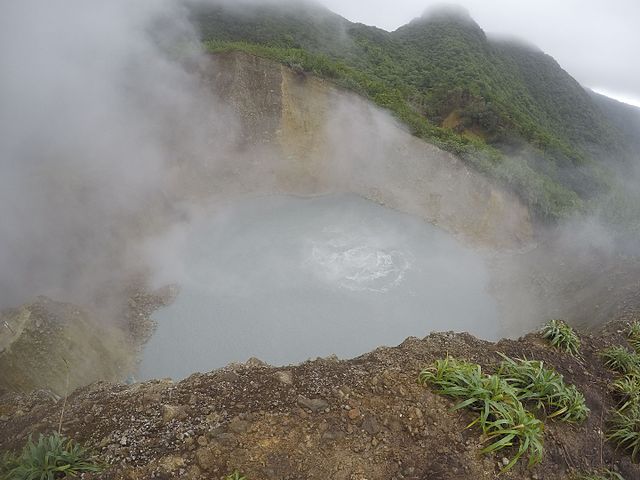 It is a part of Trois Pitons National Park, Dominica.
The next big tourist attraction in Dominica Island is the long (180 km) hiking trail called Waitukubuli National Trail.
Dominica's lush and evergreen Rainforests are home to a great range of flora and fauna. Among Dominica's fauna is the rare  Sisserou Parrot, which is the country's national bird.
St. Kitts and Nevis
I believe the rarely heard of West Indies nation is proof that it is a least visited Caribbean Island. Both the islands separated by just a 3km long channel.
Due to sparsely visited islands, isolation lovers seek this nation for a peaceful vacation in the Caribbean.
Have you ever seen a Brown Pelican? It is a rare bird that is found to be living on this island.
A dormant volcanic mountain thickly covered with Rainforests and hiking through the dense jungle to reach the misty peak is an experience.
The volcano's name is Mount Liamuiga. St. Kitts is the larger of the two. Tourists stay in St. Kitts Island and make a short trip to Nevis and come back the same day.
One of the foremost things to do in St. Kitts is to go on a short rum-tasting tour.
Don't forget to visit the following beautiful beaches.
Qualine Beach
Frigate Bay
Pinney's Beach
Cockleshell Bay
 St. Kitts train tour
Have you ever went on a train ride that passes through absolutely picture-perfect island settings? No other Caribbean Island offers this most memorable and spectacular train ride like the one you get on St. Kitts.
The Caribbean Sea's romantic blue is almost touchable when you travel on the double-decker train where the upper deck is partially open to the sky.
The St. Kitts Scenic Railway is a guided tour that lasts a satisfactory three hours.
This train trip alone is worthy of making an exclusive trip to St. Kitts and Nevis. I wonder why it still remains as a least visited Caribbean Island!
St. Lucia
Whatever you can ask for on a tropical island such as stunning beaches, mountains, rainforests, colorful reefs, hidden gems of waterfalls, and incredibly fresh seafood, you get them all on this last on the list of least visited Caribbean Islands.
St. Lucia is a rather big island comprising over 600 sq. km.
St. Lucia Island divided into north and south St. Lucia just for tourism purposes.
Important sightseeing places to see on St. Lucia.
Pigeon Island National Park
Pitons-volcanic hills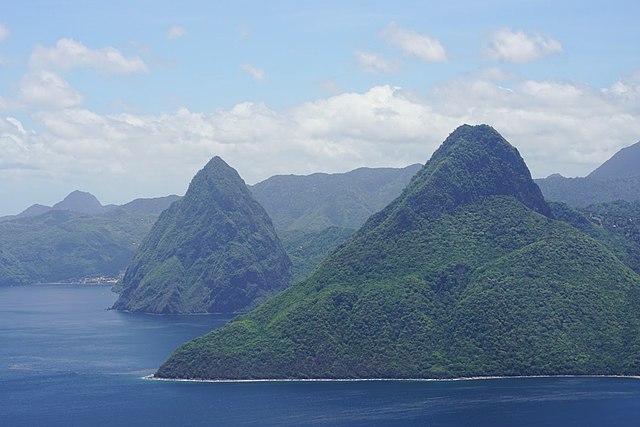 Do you see the two small hillocks on the sea? They are known as Gros Piton and Petit Piton. They are regarded as a World Heritage Site by UNESCO.
Palm fringed beaches include the gorgeous Marigot Bay
Can there be a more beautiful beach than this anywhere in the world?
Rodney Beach
Natural hot water springs on Mount Soufriere
Enbas Saut Waterfall
Diamond Waterfall
St. Lucia is a true tropical paradise among the Caribbean.
I wish there is an all-inclusive cruise package that covers all these ten least visited Caribbean Islands.