Seven must-visit spots to check out in the U.S. as a couple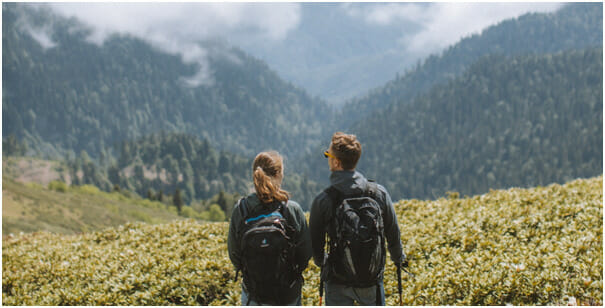 Planning a getaway adventure to the top romantic destinations is the best way to ignite your feelings.
You might put it off due to your work, children, or other commitments but spending quality time with your significant other is essential for a healthy relationship.
Balancing your work-life commitments shouldn't keep you from enjoying a vacation; take some time off to reconnect and enjoy each other's company.
You don't have far to go for your next relaxing vacation with your significant other. There is a bevy of magnificent, private, romantic, and vibrant holiday destinations in the United States.
We've compiled a list of the greatest vacation places for couples in the United States, so we guarantee you'll discover the right place to visit no matter what kind of trip you're looking for.
Best vacation spots for couples
Gatlinburg, TN
Gatlinburg, Tennessee, is a quaint mountain town at the foot of the Great Smoky Mountains, perfect for a relaxing, luxurious trip with your partner.
There's no better place to celebrate a special occasion like an anniversary or engagement than Gatlinburg. You can spend quality time with your loved ones by staying in cozy inns, enjoying magnificent views and sumptuous cuisines.
There are plenty of charming inns and spa resorts where couples can spend their time together while enjoying delectable farm-to-table meals.
You'll have all you need for a comfortable hideaway getaway in the Smokies. You can also contact hotels in advance to see if they offer special services that can add a special touch to your couple's getaway.
Here's a quick tip; type in "hotels in Gatlinburg tn" to find popular hotels and contact one that fits your liking the most.
Yellowstone National Park, WY
Spanning across 2.2 million acres, Yellowstone National Park is home to the likes of the majestic Old Faithful and Steamboat geysers and the Grand Canyon cascade.
A couple of nights at the Lake Yellowstone Hotel & Cabins or the Old Faithful Inn, the oldest hotel in a national park that overlooks a high-altitude lake, will allow you to enjoy Yellowstone truly.
You can also take a romantic boat ride on Yellowstone Lake, hike through the Grand Canyon, and visit the Grand Prismatic Spring, known for its rainbow-colored waters, situated in the Midway Geyser Basin.
Nature and wildlife lovers can opt for a safari across Serengeti in the Lamar Valley, where you can see grazing herds of bison, elks, pronghorns, and gray wolves.
Get an authentic Wild West experience by stopping over at the adjacent frontier town of Cody, Wyoming, for a nighttime rodeo and stay at Buffalo Bill Cody's Irma Hotel, constructed by the town's founding father.
Look no further than this idyllic U.S. destination for couples seeking a romantic getaway.
San Francisco, CA
San Francisco's cable car systems, old Victorian buildings, and Californian cuisine make it a great vacation spot.
Travel up and down the city's renowned mountainous terrain for spectacular views of the San Francisco Bay area and the city skyline, and revel in how the city's fascinating past, quaint heritage, and contemporarily futuristic present merge.
When it comes to date night, Foreign Cinema has an excellent option: getting dinner and watching a movie at Foreign Cinema is the best date spot in town.
On the patio of this enchanting eatery, you can watch classic vintage flicks sitting under the stars. The refined food complements the delicate setting.
Savannah, GA
For a romantic getaway in the South, go no farther than the seaside city of Savannah, Georgia. Its charming horse-drawn carriages, cobblestone streets, and beautiful Spanish moss add to the city's charm.
Relax on Tybee Island's white sands before seeing the remains of Wormsloe, Savannah's oldest building and the former residence of craftsman Noble Jones in the 18th century.
Its oak-lined, moss-shrouded street is the only keepsake you'll need to bring back from your trip.
Molokai, HI
You won't find huge resorts or luau celebrations on Molokai, where the rhythm of life is gentler, and the structures are shorter than the coconut palms.
The "Friendly Isle," as it is known locally, is the best place to get a taste of the real Hawaii.
Molokai is known for its remote location and fine white sand and has some of the most beautiful beaches in the world.
So, don't forget your swimsuit, sunscreen, and towel before heading to the beach for a romantic day with your significant other.
Explore Halawa Valley's waterfalls guided by a descendent of the native inhabitants and learn about their culture and history.
Stay at the Hotel Molokai, located on a secluded beach lined with palm trees. Enjoy Hawaiian fondues, cheesy sandwiches, and everything the Hawaiian cuisine offers without worrying about your calorie count.
You can burn them all away by canoeing in the tranquil waters while teeming with the sea turtles.
Napa Valley, CA
Napa Valley is one of the most romantic destinations in the United States and across the globe because of the region's stunning scenery, perfect climate, delicious cuisine, and world-class vineyards.
Couples celebrating anniversaries, engagement, or simply some quality time together will find much to do in this Northern California paradise.
Since there are so many magnificent hotels in Napa Valley, you won't have a problem finding a premium lodging option for your romantic vacation in California.
Charleston, SC
Charleston's French Quarter and pastel buildings make it both historic and picturesque. Historic homes and beautiful trees line the cobblestone lanes, and the aroma of magnolia wafts through Charleston's summer air.
But that's not all; the city has a lot to offer couples. You can catch Rainbow Row and Charleston Harbor from the Battery Promenade.
Enjoy a delicious meal at the Peninsula Grill while taking in the splendor of downtown Charleston. One of the city's most highly regarded restaurants, this cafe is just a walk away from the Marketplace.
The Old City Market, a historical monument, is a great place to find unique items made by local artists.
Check out a local farm on John's Island, only a short walk from downtown Charleston, to grab some newborn goat cuddles before heading to the Angel Oak Tree for a peaceful lunch.
Conclusion
For couples, these locations are a no-brainer choice for a vacation. Whatever your travel plans may be, you'll be able to see a variety of stunning landscapes, including white sand beaches, spectacular mountains, cozy forests, or some wintery destinations.
In all likelihood, you'll have a wonderful time no matter where you go.