Top 10 Traditions During Oktoberfest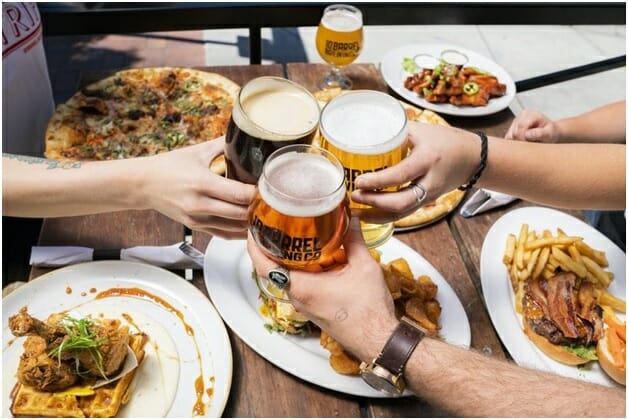 Ever wonder why Oktoberfest has over six million visitors every year? What is up with it that makes it legendary and loved by people all over the world? Well, allow us to explain. You see, Oktoberfest has so much more to offer than beer! This is something that all yearly visitors know and fully enjoy. To give you an idea as to how Oktoberfest is so much more than beer, we'd enlist ten of the main Oktoberfest traditions that keep tourists coming back for more! Read on and prost!
Tradition #1: Oktoberfest Beer
Since we've already mentioned it and since it's what everyone knows Oktoberfest is all about, let us talk about beer. Oktoberfest beer is sought after because it is premium and unique from all other beers. The following are the main things that make Oktoberfest beer special:
They are served in one-liter mugs (steins)
They are cheaper at only $11 per serving (liter!)
They are exclusively prepared by six Munich breweries
They have a significantly higher alcohol content (around 6%)
Tradition #2: Oktoberfest Beer Tents
Oktoberfest beers are served in beer tents. This is something that truly makes Oktoberfest extra special.  Oktoberfest is the world's largest folk festival because all its beer tents are free-to-enter. It has differently-sized tents that serve all kinds of Oktoberfest drinks and foods. One of its biggest tents is Hofbråu Festzelt. It is a favorite among American visitors. Celebrity visitors on the other hand love Kåfers Wiesen Schånke as it comes with various offerings of gourmet cuisine. If you're coming with your whole family, you should check out the Augustiner. It is a favorite among locals because of its family-friendly atmosphere.
Tradition #3: Oktoberfest Festival Kick-Off
Oktoberfest kicks off in a totally different way! For one, it's always done inside its oldest beer tent, Schottenhamel. It's also always spearheaded by Munich's mayor. The festival officially begins once the mayor taps a keg and exclaims "O'zapft is!" at noon. If you want to see it for yourself, you should check out Oktoberfest packages at Thirsty Swagman!
Tradition #4: Authentic Bavarian Food
Delicious authentic Bavarian food is also one reason why people always keep coming back to Oktoberfest. Over six million people go out of their way to celebrate Oktoberfest because they love the generous chance of experiencing hearty Bavarian food. You shouldn't miss tasting the following when partying at Oktoberfest:
Hendl, delicious spit-roasted chicken and Haxn, pork knuckles (visit the Armbrustschützenzelt tent for these)
Steckerlfisch, grilled fish on a stick (visit the Fischer Vroni tent for this)
Würstl, sausages
Knoedel, dumplings
Brotzeit, snacks made of cheese, radish, meat, and bread
Pretzel
And yes, they all go well with Oktoberfest beer!
Tradition #5: Oktoberfest Outfits
Oktoberfest is a legendary folk festival. It is but natural that you see people wearing traditional Bavarian garb while at the event. The good thing is, you can wear one as well. You better be careful though as Germans highly respect their traditional clothes. Don't even try wearing ones that you'd wear during Halloween. You will actually get banned from entering tents and enjoying the event. This is something that Paris Hilton herself has already experienced.
Tradition #6: Oktoberfest Souvenirs
It's always a good idea to take home souvenirs after experiencing a special event. The Oktoberfest being legendary itself, you'd find yourself wanting to bring home a part of it. You should avoid stealing Oktoberfest beer mugs (krugs) though as they are highly guarded. You can instead buy one at every tent's souvenir shop. Gingerbread necklaces are also fabulous souvenir options.
Tradition #7: Oktoberfest Music
Oktoberfest will have you witnessing and enjoying yodeling and sing-alongs in tents. Beer tent sing-alongs are highly enjoyed by many and are considered as one of the festival's highlights. The following are the most popular drinking songs that you will always hear played on different tents:
Country Roads by John Denver
Ein Prosit
Asereje by Las Ketchup
Sierra Madre
Tradition #8: Oktoberfest Chicken Dance
Your Oktoberfest experience is not complete if you won't get to dip your toe on Chicken Dance. This tradition has been around for over twenty years. You should be ready to put down your beer and dance once you hear the song Der Ententanz (Dance Little Bird). Dancing to it is very simple, you just have to do the following:
Use your hands to make chicken beaks (press your thumbs and fingers together)
Flap your elbows while your hands are tucked in your armpits
Bend your knees
Wiggle
Rise and clap four times
Spin in circles (arms should be outstretched) or lock arms with a friend or stranger and spin
Tradition #9: Oktoberfest Rides
Oktoberfest rides have been around since the 19th century. It will never be a complete Oktoberfest experience if you won't enjoy the rides. The fair is complete with the following:
Log flumes
Roller coasters
Ferris Wheel
Flea Circus
Street performers
Bands
Booths
Stands
Games of chance
Tuesdays are always dedicated to funfair activities for the family!
Tradition #10: Oktoberfest Desserts and Snacks
Lastly, Oktoberfest sweets are also legendary! Everyone loves it Brezel (soft pretzel)! Oktoberfest pretzels are extra special because they are massive, doughy, and perfectly salted. The most delicious ones are sold at the entrances of every beer tent. If you want something sweeter, visit Gebrannte Mandeln for delicious sugar-glazed almonds served in paper cones.