Travelers' Guide to Exploring Pigeon Forge's Food Delicacies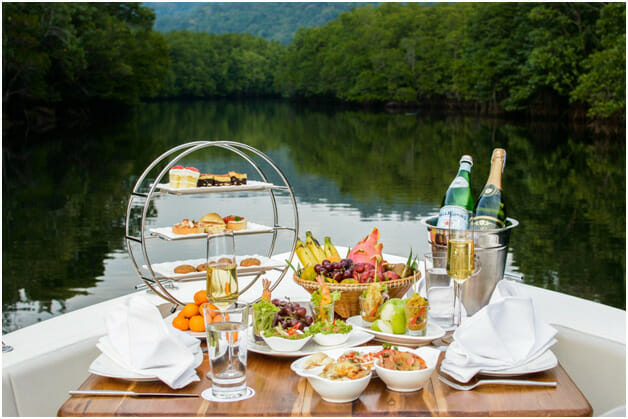 Did you know that 88.2% of people travel worldwide to sample the food culture of different countries? Every country and region in the world offers distinct flavors, exquisite cuisines, unique ingredients, and an enriching dining experience. Exploring the gastronomic delights various countries and cities offer will surely make your vacation unforgettable. If you're interested in vacationing to Pigeon Forge, Tennessee, for the same reason, your taste buds are in for a treat.
This renowned city is the perfect vacation spot for families and friends – not only because it houses exciting tourist spots but also because it offers travelers extraordinary food experiences. Here are ten of the best local food specialties you must devour to experience the true taste of Pigeon Forge:
Fried Food Items
A trip to Pigeon Forge, Tennessee, is incomplete if you don't devour a chock-full of delicious fried food items. Picture a steaming hot plate of Kentucky-special fried chicken, pulled pork, creamy coleslaw, and smashed taters screaming for your attention.
Treat your taste buds to rich flavors and seasonings and complement the fatty deliciousness with a fresh, ice-cold, citrusy drink. The best part about ordering fried food in Tennessee is that almost all restaurants serve your meal in big bowls and dishes – family style. Eating Pigeon Forge's fast food is indeed a family affair that'll remind you of your childhood, eating heaps of food with your loved ones on a Saturday afternoon.
BBQ Platters
Protein fans will be thrilled to know that Pigeon Forge's restaurants offer delicious barbecue items and burgers adored by every type of traveler. So, immerse yourself in an exquisite dining experience by visiting Junction 35 Spirits, which offers smoked meat BBQ trays, mouthwatering burgers, and a handcrafted selection of spirits and specialty cocktails.
The Junction 35 distillery in Pigeon Forge has everything you could wish for, from vodkas and moonshines to bourbons and flavored whiskey. While enjoying tantalizing meals, you can further enhance your experience by getting the perfect drink to pair with it.
Corn Chowder
If you haven't tried corn chowder, you're missing out on one of the most famous comfort foods. It's safe to say that Pigeon Forge's corn chowder is the one dish that will keep you coming back to the city for more.
Indulge in a fulfilling bowl of rich, hearty soup to let your heart melt with happiness. One spoonful of this creamy and thick gravy will send your emotions in a spiral. Tennessee's population consumes a variety of chowder made from seafood, meat, or vegetables. Try them all but ensure to enjoy delicious side options like bread, crackers, saltines, salad, roasted vegetables, etc.
Pancakes
Do you know that over 40 different types of pancake recipes are devoured around the globe? Pigeon Forge is famous for mastering 3 of these recipes you must try on your vacation:
Parisienne Crepes – Bright red and whole juicy strawberries rolled in three delicately thin crepes, sprinkled with finely powdered sugar, and topped with rich whipped cream to create the sweetest wrap ever.
The Marvelous Blintz – A blintz pancake filled with ricotta cream cheese filling, pecans, and raisins topped with finely powdered sugar and a fruity orange and blueberry syrup perfectly balance the sweet and sour.
Wild Blueberry Pancakes – A pancake tower flooded with tangy mountain blueberries, served with finely powdered sugar and a flavorful blueberry compote to leave your taste buds tingling with satisfaction.
Catfish
Grilled, baked, pan-fried, or deep-fried – you can find all types of classic catfish recipes on Pigeon Forge restaurants' menu. Marinated to flavorful perfection with buttermilk and fried to a beautiful golden brown with crisp cornmeal coating, a plate of crispy catfish has a way of making a home in your heart.
You can enjoy this finger-licking fried delight on the go and in between tourist activities without worrying about sitting down with napkins and cutlery. Nonetheless, ensure to spend time choosing the ideal dip to compliment your catfish's sweet, mild, and flaky vibe.
Steaks
A full-course classic steak meal is hard to resist when on vacation in Pigeon Forge, especially when the city's famous chefs have an award-winning history of serving the best steaks in the state. Treat your insatiable hunger to a delicious steak meal after a long day of traveling and touring.
These steaks are hand-cut and cooked over a slow open oak fire to ensure that the meat maintains its raw, tender juiciness. Add more satisfaction to your palate by ordering the ideal steak sides such as baked sweet potato wedges, Mediterranean salad, garlic mashed potatoes with sour cream, classic coleslaw, stovetop mac and cheese, and more.
Taffy and Candies
Satisfy your cheat meal vacation with Pigeon Forge's special taffy and handmade candy. The city is full of sweet shops known for making old-fashioned homemade candy treats onsite. Enjoy seeing how your famous treats are made before consuming handfuls of tasty delicacies like peanut brittle, nut brittle, caramel apples, gummy bears, pecan logs, caramel, fudge, saltwater taffy, and more.
You can even find sugar-free candy options that make these tasty treats ten times more irresistible. Pay a visit to nostalgic childhood Halloween memories with taffy and candies that taste like home.
Trout
Visiting Pigeon Forge, Tennessee – a city that's famous for trout fishing in the Smoky Mountains – and not consuming delicious trout seems like an unfair deal. From pan-seared to baked and grilled, there are so many ways you can enjoy eating trout. Here are the three must-have trout Pigeon Forge is famous for:
Fried – trout filet is breaded in cornmeal, fried to perfection, and served with a side of sautéed mushrooms and onions.
Stuffed – smoked trout is stuffed with bacon and served with a side of sautéed mushrooms and onions.
Seasoned – whole trout is perfectly seasoned with dill weed and served with a flavorsome dill sauce.
Jams, Jellies, and Marmalades
The family-friendly city of Pigeon Forge is famous for homemade local jams, honey, jellies, marmalade, butter, maple syrup, fresh preserves, and more. If you're looking to buy an excellent vacation souvenir for your family, check out these wholesome fresh creations. Or, if you won't be carrying any edibles back home, you must devour these gems while touring the beautiful city.
Enjoy tasting unique and tantalizing flavors of jams and jellies like sweet potato butter, moonshine jelly, port wine cherry, cinnamon pear, brandy peach, wildflower honey, black walnut conserve, and more.
Apple Specials
While vacationing in a city that houses a beautiful orchard of 4,000 apple trees, you need to try the apple delicacies it offers. Here are four apple specials that you must consume while enjoying the various tourist spots in Pigeon Forge:
Apple Dumplings – the perfect combination of cooked apple, luscious syrup, and buttery pie crust
Fried Apple Pies – apple fruit filling wrapped in pie dough and fried to golden brown perfection
Apple Stack Cakes – a Tennessee- stack cake featuring dried apples, spices, and sugar
Apple Cinnamon Donut – the ideal apple, cinnamon, and spice concentration in cake doughnuts
Conclusion
Make your Pigeon Forge vacation enthralling and unforgettable by treating your tourist vibes to a culinary adventure. The exciting food options mentioned above are just a few of the divine delicacies Pigeon Forge has in store for visitors. From sweet treats to delectable meals – it's safe to say that the city's restaurants offer everything for food lovers. If you have a large appetite for amazing food delicacies, know that you'll leave Pigeon Forge satiated in more ways than one. Add a wholesome flavor to your vacation with these classic dishes and desserts.