Latest List of 16 Beautiful Black Sand Beaches in the World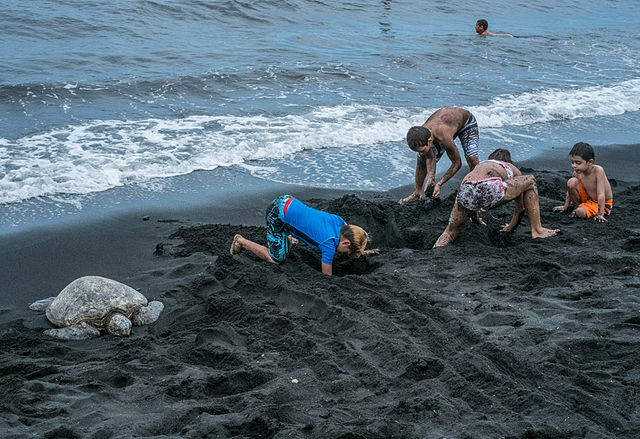 Go through this latest list of beautiful black sand beaches spread across various countries and continents in the world.
Black sand beaches are certainly odd to look at. I suspect many people would even consider black sand on a beach, ugly. Whatever may be the opinion, beaches that wear black sand exist in various countries spread across almost all the continents.
I feel, black colored sand on a beach is attractive in a way. Some would say, a beach with the usual golden sand is a real beach while all the Greek people would vehemently back white sand beaches are the best because of white sand beaches in many of the Greek Islands.
Well, the existence of black sand beaches anywhere in the world imply, there is a volcano in the vicinity. It may not be an active volcano but might have erupted in the past and spewed lava around it.
If a sea was a recipient of the volcanic molten rock, its original sand color must have turned black.
Now, let us look at the latest list of black sand beaches in the world.
1. Kaimu black sand beaches, Hawaii
This Hawaiian black sand beach is literally the latest in the list as I have unearthed it just a few hours ago. I accidentally came to know about this black sand beach while I was curating my list of world's most beautiful beaches with black sand.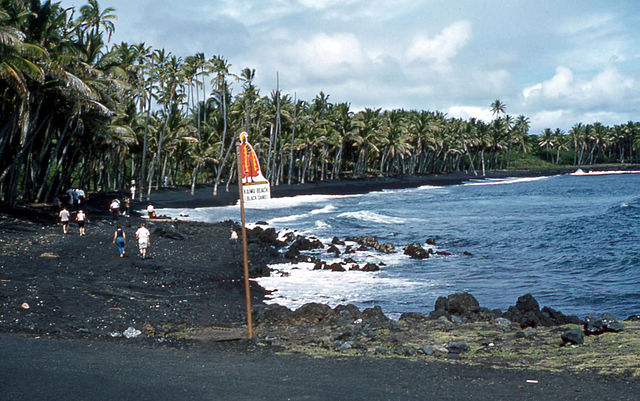 I read this beach was a normal golden sand beach until 1982. When the Kilauea volcano started erupting from 1983 and several times since then, the Kaimu beach's sand transformed to dark black sand.
Kaimu black sand beach is part of the Big Island of Hawaii's many islands.
2. Vik black sand beach, Iceland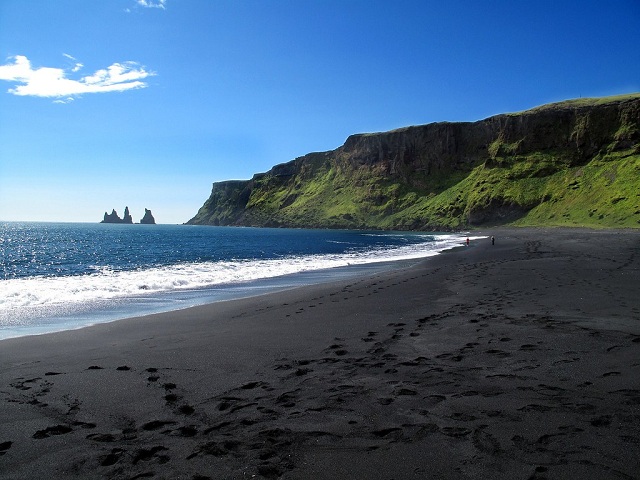 Hmm.., that's pretty dark colored sand really! Black sand beaches are more in Hawaii and Iceland because of the presence of several active volcanoes. This black sand beach is located about 180 km from Iceland's capital Reykjavík.
The Black Sand Beach in Vik is simply loved by the Icelanders and they frequent the beach just to see their footprint on the wet black sand where stones and rocks are strewn all along the beach.
Not only the odd dark colored sand beach but the basalt rock formations rising from the sea, the shoreline's tall cliffs and caves are major tourist attractions for Iceland.
3. South Korean Black Sand Beaches: Jeju black sand beach
A black sand beach in Asia's South Korea! Is there a volcano in South Korea that formed the black sand?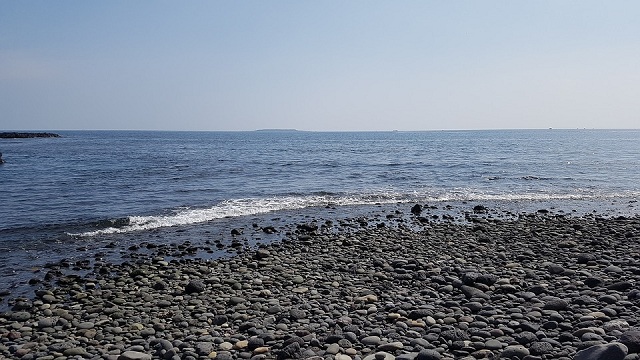 Jeju Island is located in the Korea Strait. Yes, there is a volcano in South Korea's Jeju Island. The name of the volcano is Mount Hallasan and it is of course dormant.
There is a stunningly beautiful lake right on top of the volcano. Its crater is filled with rainwater and is now a lake. It is situated at a height of 6400 feet!
If you ever visit South Korea's Jeju Island, enjoy the black sand beach and visit the Geomunoreum Lava Tube and the Manjanggul Cave. Both were formed naturally several centuries ago.
4. Papenoo black sand beach, Tahiti
Ah, Tahiti, the south Pacific's true paradise of islands that are known for pristine beaches, tranquil water, floating bungalow resorts and beautiful women!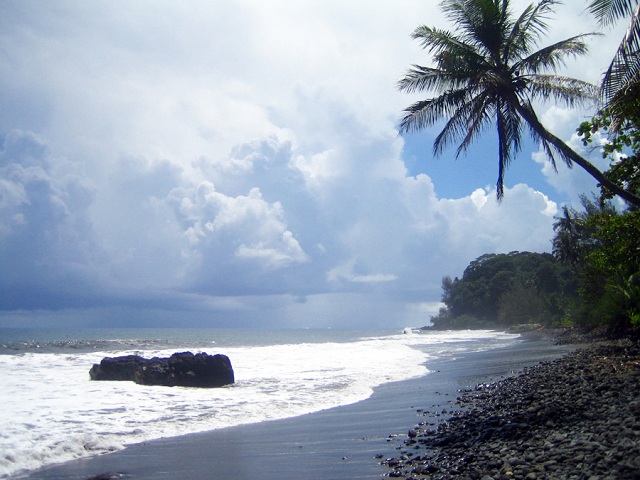 Tahiti is a French Polynesian island and is part of the Society Islands, archipelago.
The Tahiti itself is divided into two islands based on the number of inhabitants.
Tahiti Nui-less populated
Tahiti Iti
The Society Islands archipelago comprises ten islands and atolls. There is a chain of volcanic mountains exist in this part of South Pacific.
The black sand beach of Papenoo has a backdrop of lush tropical forest and is a haven for exotic wildlife. Foray a bit deep into the forest and you can meet some of the original Polynesians living inside the jungles.
The black sand Papenoo beach is nearly deserted at all times due to lack of comforts and facilities. Yes, you can swim and surf all right but you have to go hungry as there are no restaurants nearby.
5. Shelter Cove  beach, California
This is the only black sand beach in the United States not considering the Hawaiian islands. Shelter Cove is about 5 hours drive away from Sacramento, California.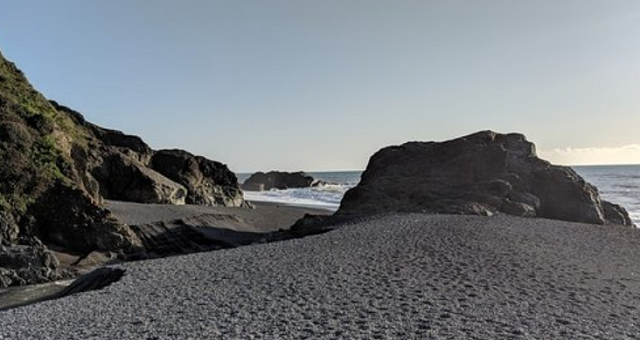 As it is the only the beach with black sand in all of North America, it is frequented by a number of tourists and I read somewhere that most of them are Californians. I think the mainland Americans are not too excited to see black colored sand on a seashore.
Since the black sand beach is strewn with sharp-edged stones and rocks, swimming is not recommended. Even hiking the beach should be carried out carefully.
6. Miho no Matsubara black sand beach, Japan
From California to Japan, we have traveled a long way across the world to see a black sand beach and added it to my list of latest black sand beaches in the world.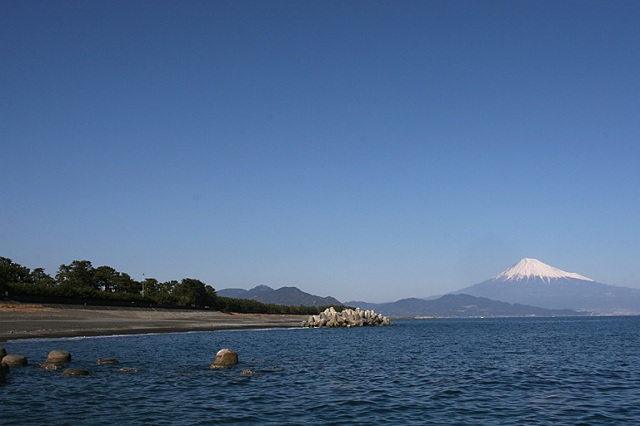 The snow-capped mountain you see in the image above, far away from the black sand beach is the Mount Fiji.
Matsubara black sand beach is located in Shizuoka, Japan. Surprisingly, hundreds of pine trees are seen lining the beach. Pine tree and seashore is a rare combination as I have seen the pine trees only on the mountains.
I suppose that's why these pine trees that grow on the salt water are protected by UNESCO as World Heritage Site.
This Japanese black sand beach that stretches to 6.5 km was once rated as world's one of the top white sand beaches.
The white sand was transformed into black when the Japanese started laying a new rail line and the excavation unearthed the black sand. Therefore, it is not hard to assume there was a volcano in Matsubara, Shizuoka City, Japan. long ago.
7. Caribbean Black Sand Beaches: Anse Couleuvre beach, Martinique
Martinique is all French but it is a Caribbean Island that belongs to the French and thus the Frech name.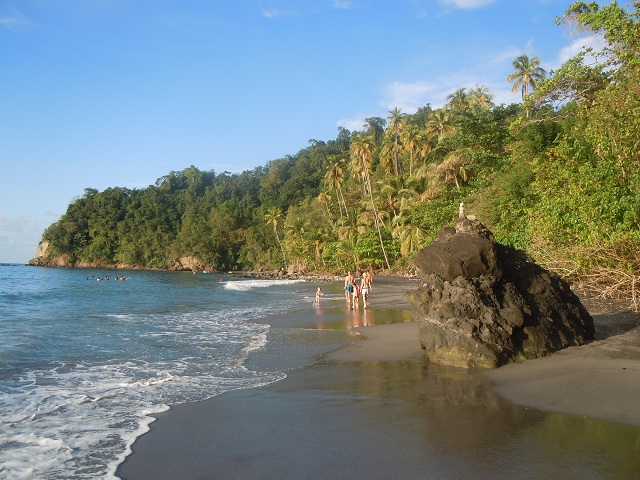 The Martinique is part of Lesser Antilles islands in the Caribbean Sea.
Martinique Island's northern coastline wears black sand. This area is called Anse Couleuvre.
The green background is so beautifully contrasting the black sand and azure blue sea.
8. Playa Jardin black sand beaches, Canary Islands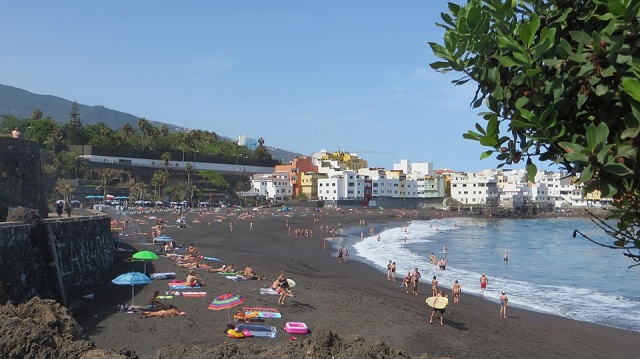 That's a lovely looking black sand beach in Tenerife, Canary Islands. The green mountain in the backdrop, beach resorts abutting the sea, bikini-clad women are the identities of this black beach located in Playa Jardin.
The mountain is volcanic and is called Mount Tiede.
Playa Jardin is called a 'beach garden' of Tenerife. The Canary Islands is an archipelago of Spain but located in the Atlantic Ocean, off northwestern Africa. Interestingly, the African nation of Morocco is only 100 km away from Tenerife.
The presence of black sand beach is due to the volcanic mountain. Surprisingly, along with the black sand beach, there are white sand beaches also in Tenerife Island, the largest island of Canary archipelago.
Playa Jardín for its less-crowded black sand beach and luxury resorts is a favorite weekend holiday destination for the Moroccans and the Spaniards.
9. Perissa black sand beaches, Greece
In Greece, Santorini Island is the most visited Greek Islands for its size, laid back black sand beaches and sumptuous Greek food.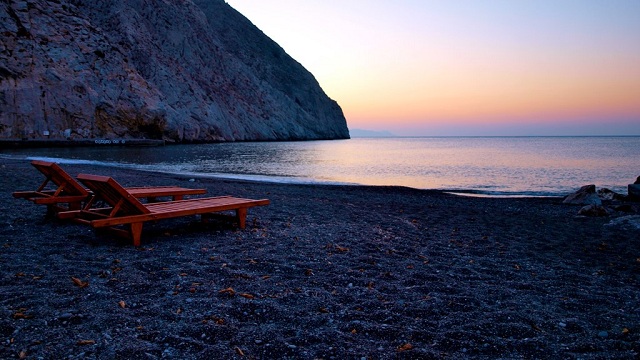 Perissa black beach is located in Perissa village of Santorini Island, Greece.
The hundreds of Greek Islands are prominent tourist destination by millions of tourists. Every cruise ship's itinerary is meticulously prepared so as to visit and explore all those exotic islands for their white and black sand beaches, seafood cooked in the Greek style, and diverse wildlife species.
Among all the Greek Islands, Santorini is the most visited one and to satisfy the needs of year-long tourists, there are plenty of hotels and resort, especially in Perissa black sand beach. I read that the Aretousa Villas and Stelios Place are highly recommended for your stay Santorini.
10. Lovina black sand beach, Bali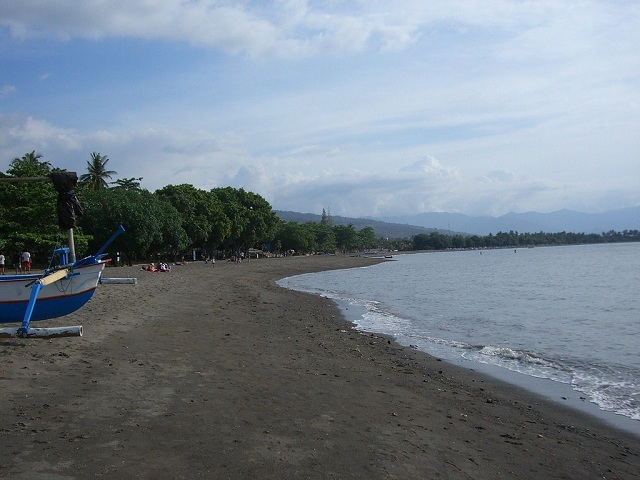 Bali Island needs no introduction to you. It is the number one most visited island in the world by holidaymakers.
Lovina beach in Bali is known for its coral reefs, black sand beach that is not only liked by humans but also by the friendly dolphins.
Lovina beach is full of luxury beachfront resorts and with comforts and luxuries that are unmatched anywhere in the world. Not even the much-hyped Hawaiian beach cottages offer so much luxury like the ones in Bali, especially near Lovina black sand beach.
The nearby attractions of Lovina beach are Singsing Waterfall, Banjar hot springs, the famous Mt. Agung volcano that recently erupted, and a monument of Dutch.
I have collected the names of some more Beautiful Black Sand Beaches in various locations in the world but I could not find detailed information them, Nevertheless, let me share my findings of more Beautiful Black Sand Beaches in the world.
Dominica Island black sand beach

Stromboli black sand beach, Italy

Playa Negra black sand beach, Puerto Rico

Karekare black sand beach, New Zealand
To summarize, Beautiful Black Sand Beaches are found more in Iceland, Indonesia, New Zealand, and Hawaii. They look odd but not ugly. A sense of eeriness will envelop you if you stand on the black sand just before dawn.