Which Thailand Beaches You Must Visit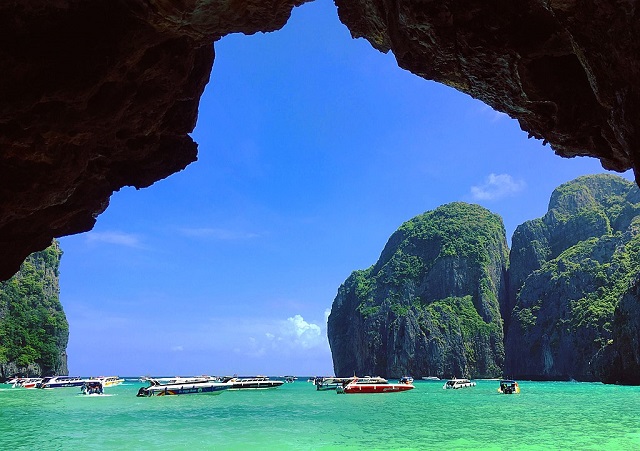 If there is ever any place that you can call as "Tourist Magnet", then, it should be Thailand in South East Asia. Thailand peninsula must be ranked very high in the list of the most visited Asian countries by the tourists.
The Thai culture, their food, nightlife, uninhibited sex, beautiful beaches, the ubiquitous massage parlors, extremely beautiful Thai women pull tourists from every Asian country like a powerful magnet.
Today, we will see which beaches in Thailand that you must visit when you plan your next vacation. We will overview beaches by visiting a few remote islands that belong to Thailand. There are more than 200 islands in Thailand.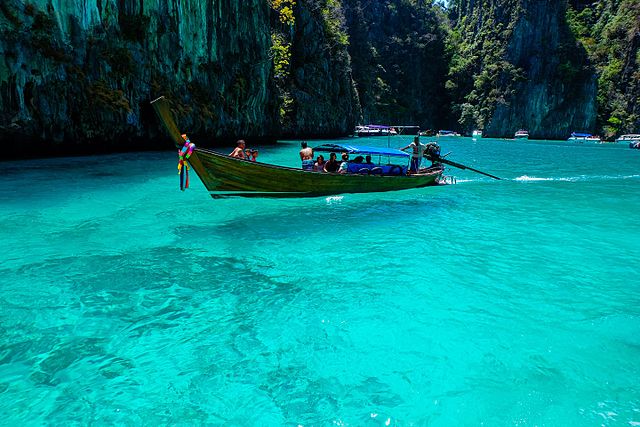 I must admit the majority of the tourists to Thailand would prefer to stay with the crowd by visiting the most popular beaches. However, some travelers like me would like to explore the beaches of uninhabited islands or sparsely-populated islands. Such travelers seek one of the long-tail boat owners to take them to one of these isolated islands for a day. Of course, even I cannot stay in such an isolated island beach for more than a few hours. When the silence starts getting heavy, I too would long to mingle with other tourists.
Koh Libong Island beach, Trang Province, Thailand
This beach deserves a place in the list of undiscovered and beautiful beaches of Thailand.
The water in this Thai Island is crystal clear. It is so much clear that when there is no breeze to disturb the water, an anchored boat will appear as if it is floating on the water.
You must take a sailing boat or motor boat to visit this beach. When you are there, you can spot dugongs (Sea cows), a large sea mammal that is declared as endangered.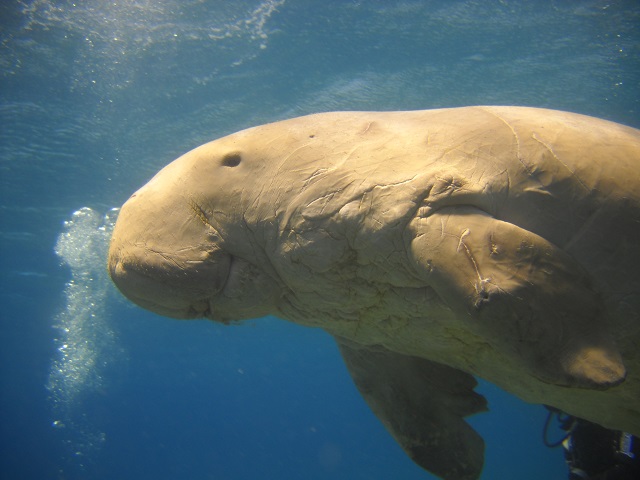 If you get bored on the beachfront, you can trek up on the mountains. If you are brave, you can gingerly enter into a limestone cave. However, don't worry; there are no aborigines in there.
Hey, there are no water sports facilities in Koh Libong beach.
Is there any place to stay overnight in Koh Libong Beach?
Yes! However, I wonder who would like to spend an eerie night in this deserted but beautiful Thai beach. There are so-called resorts there but in reality, they are bamboo huts only with a restaurant attached. Oh, this means, enough tourists frequent this beach for a business to thrive.
Railay Beach, Krabi Province, Thailand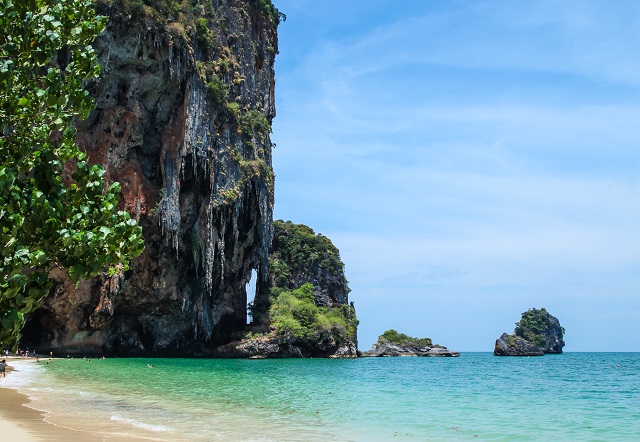 Did you notice those high limestone cliffs? They are the main attraction for this Thailand beach. The Krabi province on Thailand's west coast comprises of more than 100 islands and islets.  The Krabi coast covered with dense mangrove forest making it an ideal haven for birds.
One can go to the Railay beach only by boat because the stiff cliffs obstruct the beach from the Krabi mainland.
Isn't that a reason enough to visit the Railay beach in Thailand? Apart from beach lovers, mountaineers also visit this beach to try their hand (legs?) by climbing the tall limestone peaks.
Travelers who have visited the Railay beach have shared their experience in various travel blogs. They loved snorkeling and kayaking in the Railay beach, Krabi.
Maya Bay, Koh Phi Phi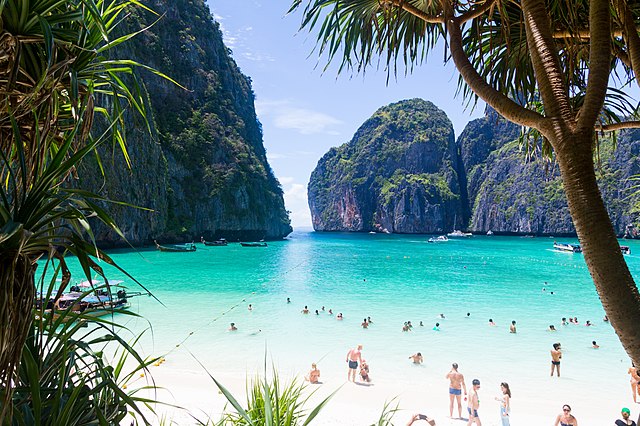 Those two big rocks paint the whole scene to make it look like something out of a movie. The entire area looks terrific and breathtaking. Koh Phi Phi is also called Phi Phi island. The Thai word 'kho' means island.
Phi Phi island is one of the favorite tourist destinations in Thailand where the Maya Bay is something special.
Snorkelers simply love Maya Bay because the marine life they could see through their snorkeling mask is very colorful and diverse.
Koh Kood island beach, Thailand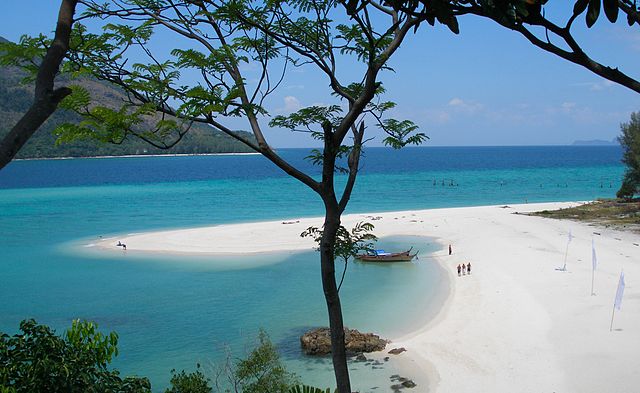 Koh Kood called Kood Island. It is quite far from the mainland Thailand. Even by flight, it takes an hour to reach from Bangkok.
There is no dearth of hotels and resorts in Koh Kood that is located in South-Eastern Thailand. The Cambodia border is close by.
If you are irking to visit Thailand beaches, please give priority to the Koh Kood island beach. It ranked very high among the Thailand beaches because of forests, waterfalls and scenic beaches. It is not a crowded beach and thus you can almost have the island for yourself. At least, you would feel as if you own the Kho Kood beach.
The beachfront comprises a quite large area. The length of the island itself stretches to 25 km and the width to 12 km.
With very few shops and bars, this island beach is considered as one of the unspoilt beaches in Thailand. However, there are plenty of options to stay up to a week in Kho Kood beach.
Since the Koh Kood is a fairly large island, you can choose to spend your afternoon on any one of the following Koh Kood beaches.
Some of the worth mention koh Kood Beaches
Klong Chao
Soneva Kiri beach
Sai Daeng beach (very beautiful beach of Thailand, almost hidden)
Ao Noi
Yai Kee beach
Klong Mad beach
Ao Tapao beach
Ngamkho Beach
So, that's it, buddy. Yes, there are many more beaches, in fact too many as there are more than 200 islands islets in Thailand. However, these are the most visited Thailand beaches.
On Thailand beaches, you would never go hungry or thirsty as you'll find vendors peddling food, and drink. As the islands are hot and humid, you will feel like drink several glasses of iced fruit juices and mocktails.
Even on a remote island beach, the nightlife is said to exciting.