Overwater Bungalows: Affordable Luxury Stay in Water Villas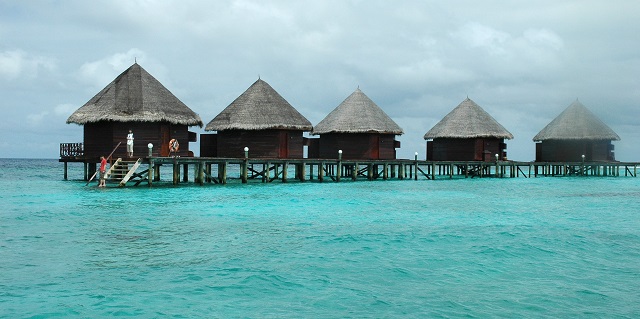 Here is a post about the Spectacular affordable overwater bungalows in the world.
Whenever you are touring an island, you would be tempted to stay in an overwater bungalow. Overwater bungalows or overwater villas are built right on the sea/ocean but near to the beach.
Since, building an overwater bungalow is expensive and in addition, servicing (room service, housekeeping, etc) them also involves more expenditure, these alternative accommodations are generally costlier than beachfront resorts or hotel rooms with a sea view.
Generally, overwater huts come with a terrace as viewing platforms. Imagine sitting on a chaise lounge on the terrace of your house that is surrounded by sea on all sides. You will really feel fortunate, mate!
Moreover, your overwater villa is provided with your own private diving or snorkeling spot.
We all must indulge in such privileges at least once in our life. However, we are usually put off by the rates of overwater bungalows.
I have researched and curated a list of affordable overwater villas. These overwater huts are cheap and the price is all-inclusive. I mean all-inclusive overwater bungalow packages come with accommodation, food, service taxes, etc. You don't have to pay anything more than your accommodation booking price.
Peruse my list of inexpensive overwater villas in the world.
Before you read about the cheap overwater huts, it is better to know where they are all located because some countries where the overwater bungalows exit may be too far away for you.
Best countries for an inexpensive overwater villa stay.
Overwater Bungalows in Malaysia
Lexis Hibiscus Port Dickson – Malaysia: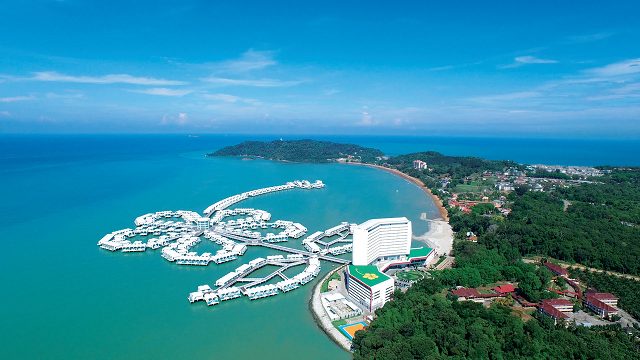 Aesthetically constructed and arranged bungalows over the Straits of Malacca. The overwater bungalows are of 5-star luxury with wi-fi connectivity free of cost. Oh, you can assume you are paying for this also but not explicitly mentioned while booking.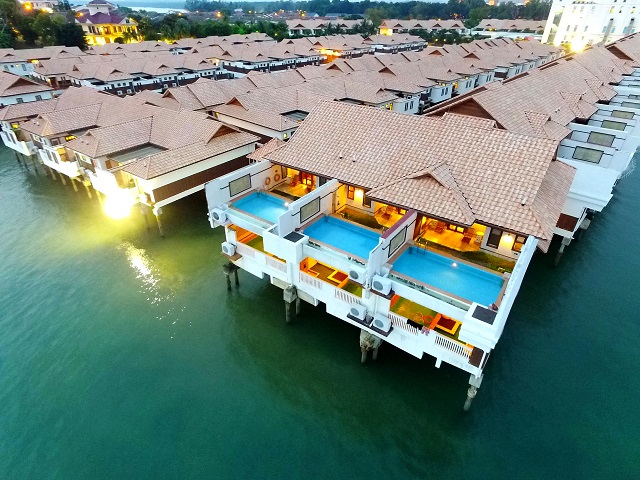 As you can see from the image above, guests of the coveted 'on-sea accommodation are given their own pools and that, I would say 'luxu'ry royale'.
If you carefully observe all the overwater bungalows, you would notice the shape of a hibiscus flower. Kudos to the conceiver.
I read the floor of the water villas are made of transparent glass and that means, the guests can watch the marine creatures moving beneath them!
If you want to look at some more options for cheap overwater huts in Malaysia, here are two more.
Berjaya Langkawi Resort, Malaysia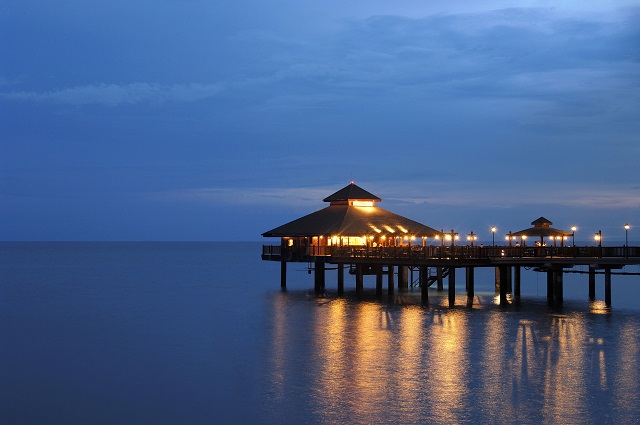 Avani Sepang Goldcoast Resort, Malaysia
I guess you will have difficulty in choosing one among these affordable overwater bungalows because I can't; I like all the three beautiful floating villas in Malaysia.
Overwater Bungalows in Maldives
Reethi Beach Resort and Water Villas, Maldives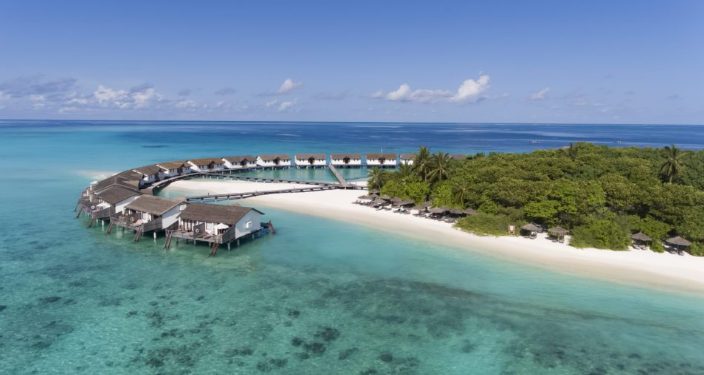 Maldives-the honeymooners' most sought after destination in the world has more cheap overwater bungalows than any other island vacation spot.
The Maldives's numerous tiny islets and atolls that are largely uninhabited ere now functioning as private beach resorts. Reethi Beach Resort is one of the paradises in the Maldives.
Reethi beach resort and water villas are located on Baa Atoll. It sports white sand beaches and the sea is totally yours, buddy.
I think the resort itself arranges to pick you up from Male, the capital of Maldives where you will be landing from your hometown.
The seaplane takes just 35 minutes to get you to Baa Atoll from Male. Maldives archipelago comprises 1200 islands, islets, and atolls but just 15% of them are inhabited.
Even though your room is just above the vast Arabian Sea, you still need air-conditioning. All the affordable overwater villas fitted with air-conditioned.
You can expect all the modern facilities that you want in a tropical island such as spa, water sports, and bars.
Maldives Islands offer more inexpensive overwater villas. Since the number is more and the competition stiff, 90% of the overwater bungalows are affordable in the Maldives.
I thought I would give you the names of other cheap overwater huts in the Maldives so that you can compare the price and facilities before deciding to book.
Cheap and affordable overwater bungalows in the Maldives.
Meeru Island Resort,  Maldives
Drift Thelu Veliga Retreat Maldives
Thulhagiri Island Resort, Maldives
Sun Siyam Beach Resort, Olhuveli – Maldives
Sun Island Resort, Maldives
So, including these six affordable overwater villas, I have given you a total of seven cheap overwater huts in the Maldives alone.
Our next hot destination for affordable overwater bungalows is South Pacific. Our chosen island's name is Vanuatu. It is a sheer Polynesian paradise on earth with simply untouched natural beauty with minimum urbanization.
Holiday Inn Resort Vanuatu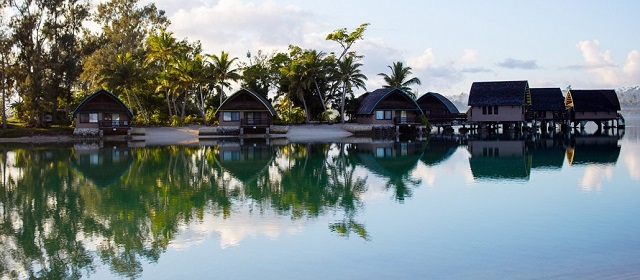 This is a large property, buddy. If you have already heard of South Pacific Islands that include Fiji, Tahiti, New Caledonia, and Samoa, then you know what is in store for your in Vanuatu Island and its virgin beaches and absolutely laidback life.
You can choose to stay in any one of the 10 overwater huts and enjoy the South Pacific Ocean for the first time. I believe the culture and cuisine in all the islands located in the South Pacific are almost similar to each other.
The most sought after spot in any floating huts on a sea is the balcony. It is where you can fix your focus on the horizon for infinity without any interruption.
The affordable overwater bungalows in Holiday Inn resort in Vanuatu Island com with a balcony.
No need to ask whether you get internet access in Vanuatu; yes, you get it.
The attraction in the Holiday Inn Resort in Vanuatu is 24 hours room service.
Royal Huahine Resort, Huahine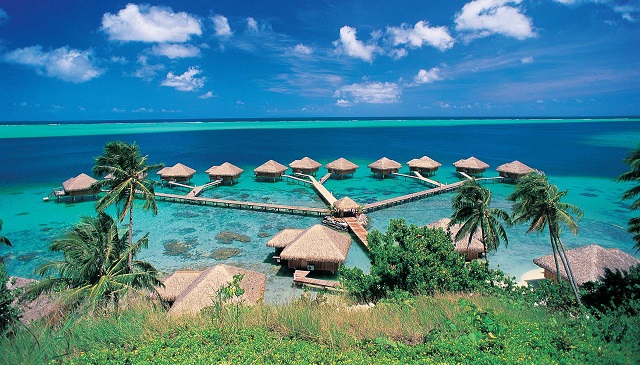 The island of Huahine looks serene and there apparently is no crowd. Wouldn't you want to spend your weekend in such a place?
Getting curled up on a cozy bed, just gazing at the South Pacific Ocean through the bedroom window of your cheap overwater hut-oh what a way to spend an afternoon!
Huahine Island is part of the Society Islands archipelago that is located in the South Pacific Ocean.
The region belongs to the French Overseas Territory. As geographically, the islands are in Polynesia, it is also called French Polynesia.
These are truly exotic islands where the culture will be so much akin to nature. This is where you should select to stay in an overwater bungalow.
All Rooms fitted with air-conditioners. In-house facilities include a fridge, coffee-making machine, fully equipped bathroom, television, and above all a sun deck to lounge lazily overlooking the ocean.
Water sports activities, beach walk, and island hopping are some of the best ways to enjoy your island vacation.
L'Escapade Island Resort, Noumea, New Caledonia
Noumea is the capital city of New Caledonia. This is another French Overseas Territory in the perennial beauty South Pacific.
Though a French island, France is nowhere near New Caledonia. It is somewhere 17,000 km away in faraway Europe.
I wonder whether the French people would come all the way from France for a vacation here just because there are affordable overwater villass in the Melanesia region of South Pacific.
Noumea city is always buzzing with tourists that comprise mostly Australians. Brisbane is only 1400+ km away. The flight duration is a little less than 5 hours.
There is no dearth of bars, restaurants, and general shops in Noumea. In fact, you can get out of your cheap overwater villa to go into the city and enjoy several hours of nightlife.
During the daytime, indulge in some water sports such as snorkeling, kayaking, and windsurfing. The food will be French type with a touch of Asian cuisine.
View the available vacation packages of this New Caledonia paradise
Cheap overwater villas in the South Pacific Ocean
More options of cheap overwater villas in the South Pacific Ocean.
Aimeo Lodge, Moorea Island, French Polynesia
To book your cheap overwater villa out of the 34 overwater villas in the Moorea Island resort, visit their website.
To sum up, I think affordable overwater bungalows are all located in the east of the United States and south of Europe. I could not find many overwater villas on the Greek and Croatian Islands that are highly visited by luxury cruise ships.