Can You Recommend Any All-Inclusive Resort in Aruba Island?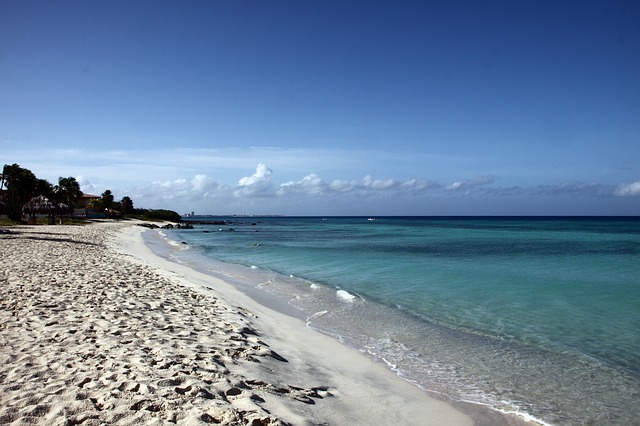 I hope you have read my earlier post about Aruba Island. It was titled, "Ultimate Travel Guide to Aruba Island".
A few readers wanted to know if I can recommend any all-inclusive resort in Aruba Island based on feedback from actual travelers to this Caribbean island.
Of course, anyone can open search for hotels and resorts in Aruba Island and read the reviews left behind by real visitors to the resorts and sea-view cottages. However, a travel blogger can read between the lines of reviews and descriptions of hotels in any place. They can detect hidden or un-mentioned charges in the offers of all-inclusive packages of resorts and overwater bungalows and write their findings in their travel blogs.
Just to recap, Aruba is a Caribbean Island that is much less crowded than other Caribbean islands such as Barbados, Bahamas, or Cuba. The food and drink in Aruba Island would allure gastronomes, especially the Americans who can't seem to have enough of seafood. Of course, the residents of Netherlands would always like to visit Aruba island as it belongs to the Dutch.
Based on my research, here are my findings for all-inclusive Aruba resorts.
As I wrote in my earlier blog post, all the best-staying options in Aruba Island are located in the northwestern part of the island, on the way to Palm Beach.
Amsterdam Manor, Aruba island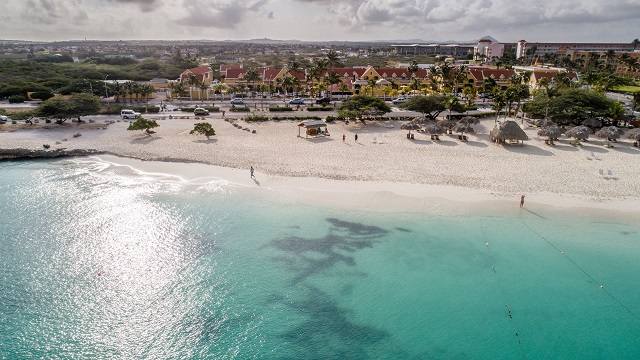 It is only fitting that a beach resort with a Dutch name in it is written first in this blog post.
Hmmm…, it is a sprawling resort facing the Caribbean sea. And it certainly looks to offer unexpected luxuries. The building's architecture speaks of the colonial era. I have seen such buildings in many Indian cities.
Amsterdam Manor Beach Resort is located on the beautiful Eagle Beach that is rated among the best beaches in the world.
Guest greatly welcome the hotel's outdoor activities arrangements that include:
Island hopping to De Palm Island
Sailing trips on the blue waters
Snorkeling
Underwater tour (OMG! That must be thrilling)
For gourmets, there are quite a few restaurants namely the Passions, Mangoes International and both are  accompanied by Passions Beach bar and Horizons bar.
Amenities offered by Resorts in Aruba Island:
Free Wi-Fi
Swimming pool with a waterfall
Gift shop
Movies on the sand
Kitchen with microwave and coffee-maker
Television
Fridge
Free bath wear
Bread Toaster
Jacuzzi
Air-conditioner
Hair dryer
The types of accommodations in  Aruba Island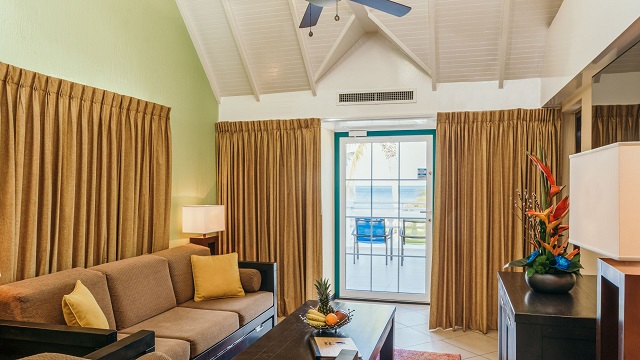 Standard Studios
Superior Studios
One and two bedroom suites
Honeymoon suites
Penthouse suite
Holiday Resort, Aruba island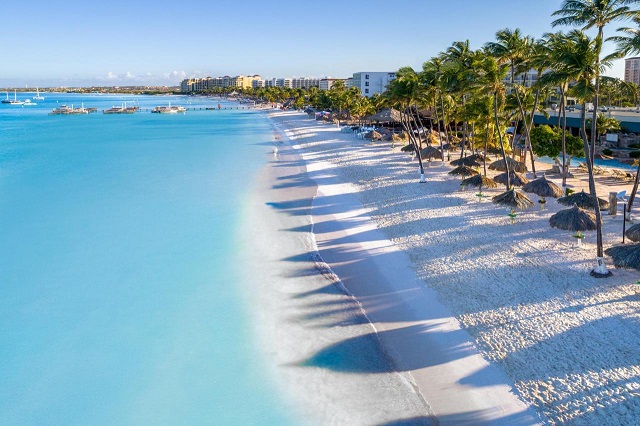 That's a room facing the ocean. Four people can sleep and can be called a family room. Other types of accommodations offered in Holiday Inn Resort are King Room with a full sea view and rooms with partial sea views.
Holiday All Inclusive deal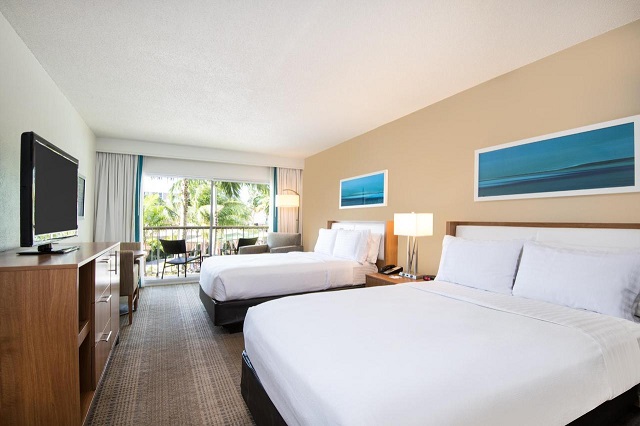 Choose either one King size bed or two Double beds
Breakfast, lunch, and dinner for two
Unlimited in-house drinks (hard and soft)
25% discounted boat rides and other water sports such as sailing, snorkeling, kayaking, beach safari etc
One time big discount of $75 in the resort's Etnika Spa
If your kid is under 12 years of age, he/she can eat free that is mentioned in the kid's menu
The Holiday Inn has a handful of bars and restaurants namely:
Sea breeze restaurant and bar
Oceanside bar and grill
Pam Bar
Corals restaurants
The amenities list is endless. Whatever you have wanted in a Caribbean beachfront resort is included in the list; nothing spared.
Beach Resort, Aruba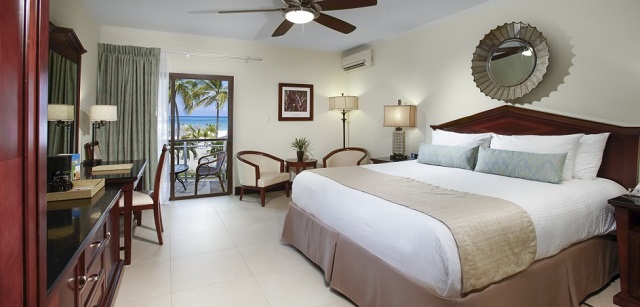 That's Deluxe Ocean-view room. Neat, sleek and comfortable-eh?
The Monchebo resort in Aruba is another all-inclusive beach resort located in the prestigious Eagle Beach in Aruba Island. Golf buffs would choose this lovely beach resort as it is located very close to the Divi Village Golf Course.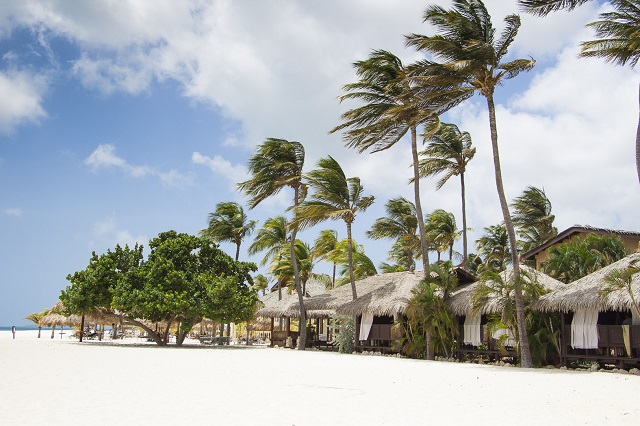 Amenities:
Free Wi-Fi
Television
Microwave oven
Mini-fridge
Coffeemaker
Electronic safe deposit box
Hair dryer
Sea-view sit-out
Swimming pool
Spa
Gym
Air-conditioner
All inclusive offer at Manchebo Beach Resort & Spa
You can choose a deluxe room either with a garden view or ocean view. No extra tax or any other charges are levied.
Breakfast
Lunch at Pega-Pega Café & Beach Bar
Dinner Chophouse or poolside Ike's Bistro overlooking Eagle Beach
Drinks include wine, cocktail, and soft drinks
One dinner off-property and one optional sushi dinner (with a minimum of four-night stay)
The all-inclusive package is only for a minimum of four nights staying.
Hotel Palace, Aruba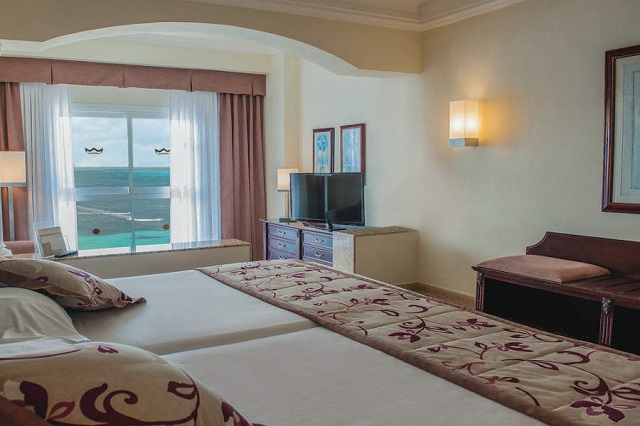 This ocean facing accommodation is called Junior Suite but not very spacious. It's a big resort with as many as 400 rooms of various sizes and luxuries.
It's a Palm Beach hotel that offers an all-inclusive deal to the guests. There are two museums nearby namely:
National Archaeological Museum Aruba
Fort Zoutman.
Room amenities include Wi-Fi, television, fridge with mini bar, coffeemaker, and air-conditioner, spa, and gym. All the suites offer uninterrupted sea view.
One unique aspect of this all-inclusive Aruba hotel is its swim-up bar out of the five bars. As a matter of fact, there two pools for the adults and one for the children.
Fun activities in Hotel Riu Palace, Aruba Island include:
Live music on the beach
Beach volleyball
Paddle Surf
Kayaking
Discotheque
Dining in Hotel Palace, Aruba Island



If you plan a week stay in Hotel Riu Palace, you can choose to eat in one restaurant daily of the five restaurants that offer unbelievable range cuisines that include:
Japanese cuisine
Italian cuisine
This hotel's all-inclusive deals include:
Your choice of accommodation
Breakfast, lunch and dinner
Snacks in the bar
Foreign liquors
Snorkeling and kayaking gear (free of rent)
No need to pay any tips buddy!
So, these are the best all-inclusive hotels and resorts in Aruba Island.