9 Best Private Islands You Can Rent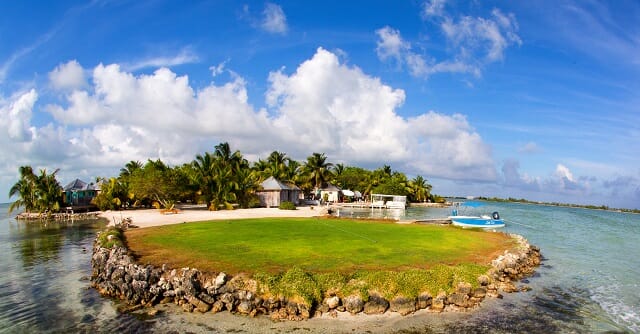 Hello honeymooners! How about renting one of the private islands entirely for yourselves or an exclusive villa on a private island? Can there be a better place to spend your honeymoon than in a private island resort?
Ignore a hotel room with an attached pool. That will still look like cage-isn't it? Even though you are on a honeymoon and want a lot of privacy, you wouldn't want to get locked up all day long-right?
You may be surprised to know there are numerous small private islands for rent. These isolated islands are owned by somebody who converted them into private island resorts.
There may be a fully-equipped cottage on the beach or a floating bungalow with a terrace overlooking the sea or a treehouse in a tropical forest facing the sea.
How to find the names of such private islands for rent?
You can do an exact search using the keyword or read this blog post till the end.
Who to contact for booking a private island resort?
Find some dependable aggregator of these holiday rentals all over the world. You can search their website for your honeymoon accommodation on a private island.
While searching Google for your exact match, you will come across the owner of such islands for honeymoon and his/her contact details.
9 Best Private Islands You Can Rent
While there are several islands that are privately owned and let out for rent, I have mentioned just a handful of that I would choose.
Please be aware that some of them may contain more than one property to stay. I mean, one or more couples can stay there at the same time but in individual villas.
Cayo Espanto Island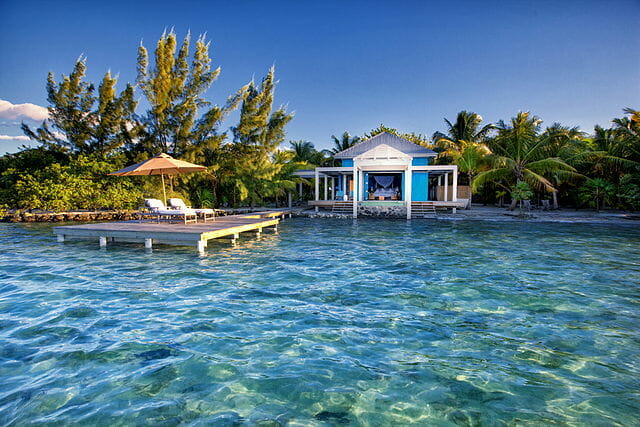 I chose his private island called Cayo Espanto because it is an island off the coast of Belize, one of the best islands in the Caribbean Sea. Any island or islet, simply a caye (Cay) in the Caribbean Sea will steal our heart with its palm-lined pristine beaches.
Cayo Espanto is part of the Pinkerton archipelago, located some 1000feet of Belize's northern coast. The distance from Belize's capital Belmopan is 100 km only.
This private honeymoon island resort is owned by Jeff Gram.
He offers a total of seven villas that are built around the island with enough space between them. A thick green cover fills up the space between each villa.
This particular villa comes with a private pier-an an open deck right on the Caribbean Sea.
If you prefer a more isolated place to stay with your spouse, how about booking this overwater bungalow?
Cayo Espanto private island resort is an ultra-luxury resort with a 5-star standard of living. I would reward it with a 7-star considering the breathtaking location.
In order to reach this private island in Belize, you have to first go to San Pedro, a town in Ambergris Caye, a Belizean Island. A boat from San Pedro will deposit you in Caye Espanto in just 20 minutes or so.
Cayo Espanto resort staff will meet you at the Belize airport and transfer you to a domestic flight that will land in San Pedro airport, Ambergris Caye.
Frequent flights are available to Belize from Miami, Dallas, Chicago, and Houston.
For the full details of facilities and amenities, please visit them online
Urraca Private Island, Panama
How do you like this property on water? It is one of the 6 overwater bungalows out of which one is called Honeymoon Hut that takes in the couple.
Urraca is a private island in Panama. This honeymoon island is part of the Bocas del Toro archipelago comprising nine small islands in Panama.
The most interesting aspect of Urraca Island is, it is fully covered with mangroves with a little piece of land. Yes, all the 6 water bungalows are among the mangrove trees only.
This is an ideal place to conduct your wedding reception. In that case, you can book the entire island for your guests.
Urraca private island's eco-lodge offers several all-inclusive packages that include one for a honeymoon couple and one for the same couple to celebrate their wedding anniversary. We would like to return to the same place where we spent our first honeymoon-eh?
Contact them online for information such as how to get to this private island resort, what are all the outdoor activities available, airport transfer, and the rates.
Coconut Island, Kerala India
This is an island in one of the backwater canals in Kerala. As there is only one house for guests, you can rent the entire private island resort for yourself.
Apart from your house, there is only a kitchen with kitchen staff who will cook exclusively for you which will comprise the just-caught marine creatures, Kerala red rice, and world-famous spices of Kerala.
It will be based on authentic Malabar cuisine.
As there are numerous coconut trees, it is called Coconut Island. Other fruits trees on the island attract birds including water birds.
Look at the independent house, right on the canal's shore.
The nearest airport is in Kochi that is 70 km away. In addition, the Thrisoor railway station and bus stand are just 10 km away.
The Arabian Sea that feeds the canal is also very near at a 5 km distance.
Activities include a leisurely boat ride in the canal and a memorable trip to the stunning and roaring Athirappally Waterfalls.
Deepwater Island, Canada
Ah, a typical, uninhabited private island that serves as an ideal honeymoon island.
I stumbled onto an aggregator of private islands for rent as well as for sale that has in its database, hundreds of islands that are privately owned by individual entrepreneurs.
This is an 'adults only island' that is let out for a full week only. Oh, of course, you can book the island retreat for two or three weeks also if you are planning to write your autobiography in total silence.
Deepwater Islands is a lake island. I think it is situated in Lake Huron. Incidentally, there are hundreds of such islands off Georgian Bay, some two hours driving distance from Toronto city. Not all of those islands are developed into retreats. The retreat is an apt word to describe these lake island properties than resorts that should provide too many facilities, amenities, and water adventures.
From Lake Huron's shore, the boat ride will consume 20 minutes. For food, you will have to cook in the kitchen.
Leave your canoe back in your home because the Deepwater Island retreat provides a kayak as well as a canoe.
The bungalow on the private island offers a wi-fi connection, television, fireplace, kitchen, decks facing the waterfront,
To book this Canadian island resort for your weekend trip,visit their website.
Gladden Private Island, Belize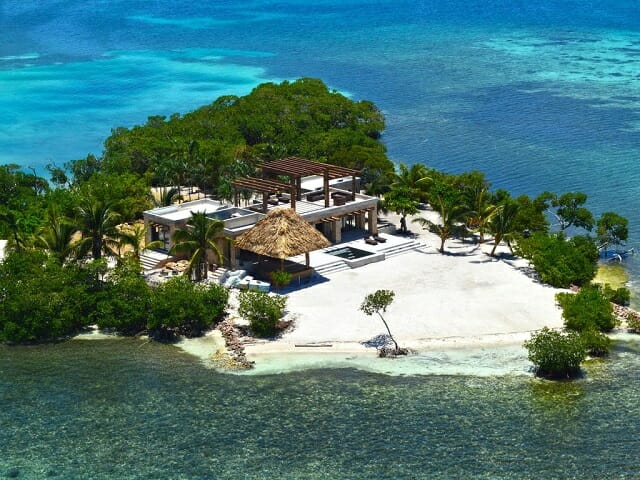 Isn't this private island in the Caribbean Sea looking absolutely captivating? You can rent this entire private resort island as there is only one villa to stay.
We are again in Belize, the most visited paradise among the Caribbean winter escapes.
Have a look at its deck, opening out on the sea.
Man, can you be away from this even when the sun is on your neck?
I think the villa looks quite spacious. Easily, two couples or a family of four can rent the entire island and its premises.
To reach Gladden Island, you must first reach Placencia, a coastal fishing town that is located in Belize's southern part.
From Placencia's boat dock, you can reach your destination in an hour or less. The distance between the two points is only 36 km.
The famous barrier reefs of Belize are at your arm's length. As the island has a lagoon that connects to the Caribbean Sea, you can swim fearlessly and tan your skin by lying on the white sand beach.
You need not cook your own food! Wow! That's a big relief-right? The retreat's service staff who stand on a small islet just behind Gladden Island will be at your service for your needs.
Bird Island, Belize
An incredible way to enjoy swinging right in the middle of the Caribbean Sea. It is no wonder Belize is extremely popular among holidaymakers, especially from the U.S. and Central America.
The villa is fairly large with three bedrooms. That is ideal for a big family or a group of close friends.
To reserve the private island resort, go to their website.
I am sure you can snorkel and swim. Catch your own fish or lobster, or even a crab. If a canoe is available, you can enjoy your paddling in the still waters just outside the villa. I suppose your hotel charges would include a rent-free canoe or kayak.
Placencia is again your gateway to Bird Island. The distance is 30 km from Placencia. A fast boat can deliver you to your destination in about 45 minutes.
I read the three-and-a-half drive to Placencia from Belize City is very picturesque. The name of the road is Hummingbird Highway.
I believe Belize City offers a domestic flight up to Placencia. The duration is just 40 minutes.
Sorry guys, you have to act as your own chef on this island. Bring your groceries and vegetables and just enjoy cooking your meals in the kitchen.
The rate per night is quite expensive considering a 'no-catering' service.
Fort Morgan Cay, Honduras
So, we are still roaming the seas of the Caribbean, but this time, off the northern coast of Honduras, a Central American country. It has three main islands; one of them is Roatan. It has several cays and one of the cays is transformed into a private island resort.
How do you get to Fort Morgan Cay in Honduras?
From Honduras airport, you have to fly to Roatan that has an international airport. Alternatively, you can fly directly to Roatan Island from some of the major North American cities such as Miami.
From the airport, hire a cab to reach Port Royal. The drive's duration is an hour.
Another quick 5 minutes of sea passage by boat, will get you to Fort Royal Cay.
Though it has seven lodges, you have to take the whole private island for rent. I think it is a fair deal because your isolation is assured.
As you watched the video above, Fort Morgan Cay's beaches wear white sand. The surrounding mangroves on the land and the coral reef just a few meters off the coast imply the tiny island is simply beautiful beyond expression. I wonder whether Honduras offers easy citizenship and a permanent residence on Roatan Island.
The word 'Fort' points to the ruins of a fort that is already 300 years old.
The deserted waterfront will lure the guests to try anyone of the following water sports:
Scuba Diving
Wave Surfing
Kitesurfing
Sailing
I think sailing the Caribbean Sea with an expert sailor will be thrilling. Kitesurfing is equally is exciting.
You don't have to wear a chef's apron and a long funny-looking hat to cook your lunch and dinner. The resort's staff include chefs and waiters.
I think there is a condition that you have to stay for a minimum of four days. So, you have to make use of any long weekend.
You can choose among various packages and book one or more boat tours. The amenities list is quite lengthy to post it here.
Middle Cay, Bahamas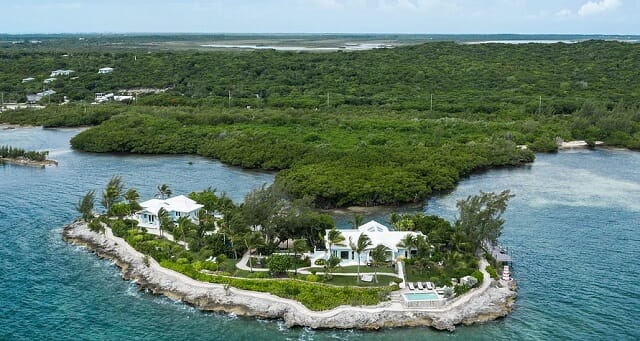 I think the name 'Bahamas' is sufficient to lure corporate tourists to explore more about this private island resort.
The Bahamas located in North Atlantic Ocean has about 700+ islands, islets, and cays. Less than 10% of the 700+ islands are inhabited.
Out of the uninhabited islets and cays, a few are privately owned and developed into fully functional resorts and retreats.
One of the inhabited islands of the Bahamas is Harbor Island. Middle Cay is almost at a stone's throw distance away from here.
To stay, there is a main house with 4 bedrooms and a cottage with three bedrooms.  You can expect food and drinks, housekeeping, and several on-land and off-shore activities.
The reason behind the popularity of the Bahamas and its private islands is alluring water sports that include, snorkeling, scuba diving, inflatables, kayaking, sailing, standup paddling, and even canoeing. The Americans and the Canadians are very fond of boating and they love to manage it on their own. The supporting activity of fishing is an even more additional attraction factor.
This Bahamas' private island for rent offers everything you need to engage in these adventure activities.
Underwater Scooter Ride:
They even provide an underwater scooter for the guest to explore the marine creatures and some shipwrecks.
This exciting way to go under the sea made me sit up and find a video that shows some underwater scooter rides.
Here is that I found.
OMG! It must be truly thrilling.
Reaching Middle Cay.
To reach Middle Cay, the gateway is either Harbor Island or North Eleuthera Island.  The latter has an international airport. Alternatively, you can always reach Nassau, the capital of the Bahamas. From there, you can take a domestic flight to North Eleuthera.
Either from North Eleuthera or Harbor Island, Middle Cay is just a few minutes boat ride away.
Get all the details such as facilities, amenities, different boat tours, island hopping, pink sand beaches, etc,.
Pumpkin Island, Australia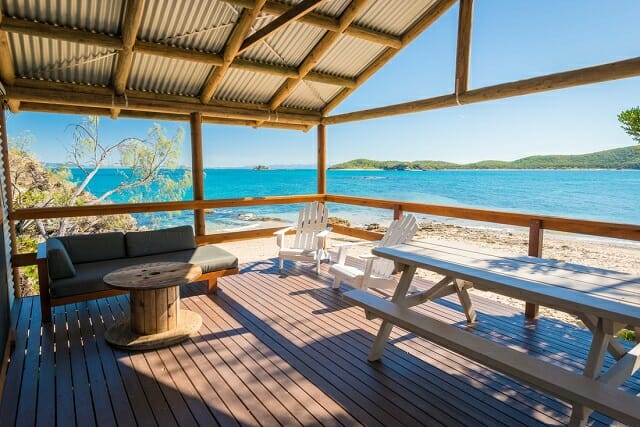 Pumpkin Island is an expensive private island for rent. Though it can accommodate around 30 people, the island is let out wholly. Hence, it is only good for a group of friends or families. It has two bungalows and 5 cottages.
The island is located off the Queensland coast, Australia. The Great Keppel Island is the gateway to reach Pumpkin Island. The distance between the points is only 10 km.
Go to their website to find out why this private island escape is expensive and what can you do there.
Just for your information, there are about 300 private islands for rent spread across all the continents. I found it tough to select just these 9 best resorts on islands owned privately by an individual or a hospitality company.