Want to Stay in An Underwater Hotel Key Largo?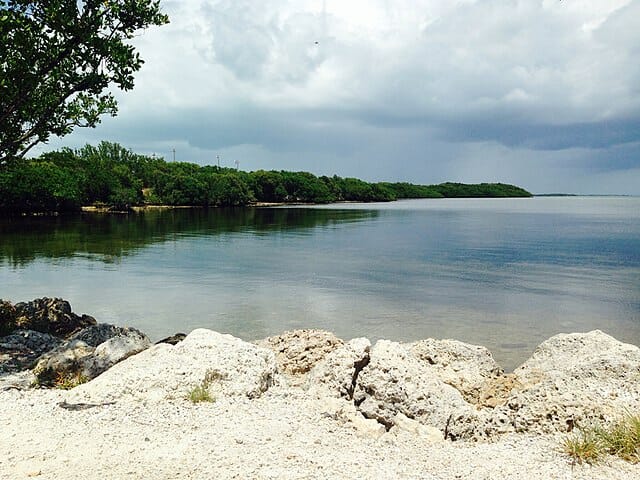 How will it be to stay in an underwater hotel? Would it give us an edgy feeling? Will it kindle the hidden 'aquaphobia' that the majority of us have?
Unless we experience it, we cannot predict it-eh?
When the first treehouse hotel was opened to the public, it was greeted with cheer.
Want to Stay in An Underwater Hotel?
Similarly, people welcomed the idea of staying in an overwater villa. Maldives Islands have the most number of overwater bungalows with great interiors and a glass-bottom floor in the bedroom.
It will be fun to watch the marine creatures right under your feet but sitting comfortably on your bed.
Entering a whole building constructed under 30 feet of water is really surreal.
In 2018, an underwater hotel was opened on Maldives Islands. I think it was the first of its kind. Later, one more underwater lodge was opened on Key Largo, one of the 800 keys (small islands also known as 'cays' ) in Florida.
Now, you can visualize your underwater hotel stays in
Dubai
Fiji Islands
China
Sweden
Zanzibar Island
St. Lucia Island, Caribbean
Underwater Hotel in Key Largo:
While the video above shows the underwater hotel in the Maldives, I am going to cover the one in Key Largo which will surely attract visitors around the year because it is in Florida and also because the island can be accessed via a road bridge. In fact, most of the Florida Keys are connected to mainland Florida by roads.
Jule's Undersea Lodge has already caught the fancy of adventurous Americans.  This is the first and only lodge under the sea in all of the United States. Imagine the demand it would boast of.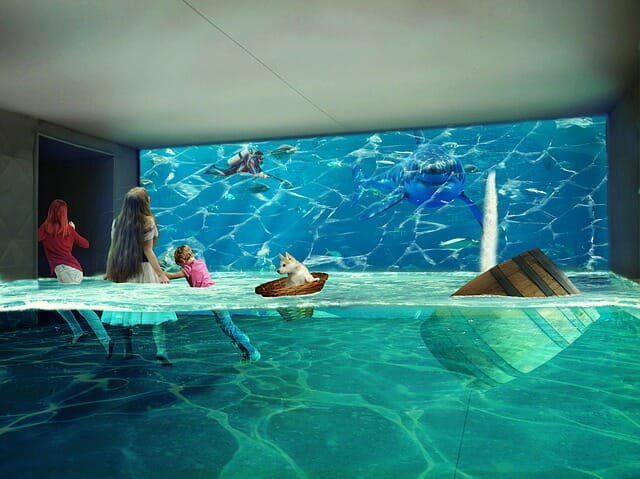 Nonetheless, I would point out one con. You have to dive into the water in order to access the hotel underwater. Yes, only licensed scuba divers can think of staying overnight in the submarine hotel in Key Largo, Florida.
Here is an incredible facility of this undersea lodge. You get a wi-fi signal underwater! In addition, there is a stocked bar. Your pre-ordered pizza also reaches you without any trace of saltwater on it!
It is surely amazing!
Don't imagine the cost of staying in this undersea lodge will empty your bank account. It will be around $1000 all-inclusive. I think it will be worthy of this once-in-a-lifetime experience.
As this lodge under the water is just below a mangrove lagoon, you can spot rare fish species such as 'reef fish' and 'sponge fish'.
Do you know that you need air-conditioning in spite of being a marine lodge? Yes, you get that facility. Jule's undersea hotel is projected as the weirdest but most romantic location for honeymooners!
You must be wondering is there anything else to do in Key Largo.  Actually, there are but not many. Still, your weekend holiday in Key Largo will fully engage you.
Things to do in Key Largo:
Here is the gist of things to do in Key Largo.
John Pennekamp Coral Reef State Park
Corals are great to look at and the children should be given exposure to see and touch these delicate marine lives.
It occupies a large area in the Atlantic Ocean. It is a mind-boggling 240 sq. km, buddy. I am sure divers will have a field day inside the sea.
To some extent, the trepid snorkelers can also enjoy at least half an hour of sighting the undersea creatures. Swimmers and floaters can use inflatables to go out in the sea. After all, the John Pennekamp Coral Reef State Park extends up to 5 km in the Atlantic Ocean.
Some of the sights of the marine park are; you should be lucky to spot them if you are diving or snorkeling include:
Striking-looking Blue Fish known as Blue Tang
Ah, here is something to enjoy for the aquaphobic. They can get on board a glass-bottomed boat to see at least some of the color fish species without wetting their feet.
Hey, you are visiting an island, off Florida's Miami Beach. Sure, you should indulge in some water sports that include:
 Stand-up paddling

Kayaking

Bird Watching
You can spot the snow-white ibises and brown pelican which is a rare sea birds.
You can still watch a great range of marine life without going anywhere near the ocean. A couple of aquariums are there to keep your mouth open in awe for 30 minutes.
There is a statue of Jesus Christ lying at the bottom of the Atlantic Ocean. Naturally, only scuba divers will be to see the statue and touch it.
Florida Keys National Marine Sanctuary
This is not far off from your Key Largo undersea lodge or resort on the beachfront.
Dolphins are extremely friendly to humans. Here the dolphins allow you kiss their snout, swim with them and even feed them. They are just a great fun to watch, especially when they display their acrobatic skills.
Dagny Johnson Key Largo Hammock Botanical State Park
If you have nothing else to do in Key Kargo and want to kill some time, you can enter the premises of this botanical park to the flora and avifauna.
Crocodile Lake National Wildlife Refuge
It says you can watch American crocodiles in the sanctuary. To me, all crocodiles look the same; ugly and dangerous.
Again, this is only for fearless scuba divers who can't resist diving into the water if there is a shipwreck lying deep down.
Strangely, these shipwrecks are home to some rare marine creatures such as 'horse-eye jacks' who are not seen in other places in the sea. Probably, they are also searching for some submerged treasures.
This shipwreck site in Key Largo is a big crowd-puller.
To conclude, Key Largo is worthy of planning a weekend trip.