Things to Do in Jamaica Island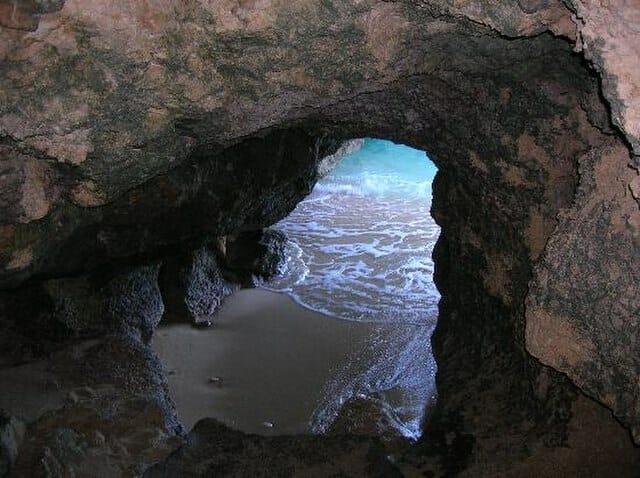 At the end of this thing to do in Jamaica island blog post, you will realize even one month's stay in the island is not enough. There are too many places to see in the island and adventures to indulge in.
Things to Do in Jamaica Island
Beaches, caves, mountains, waterfalls, forests, safaris, and water sports are for all age groups.
I will first venture into some of the Jamaican caves that are top in the list of places to see in Jamaica. If take a look at the official Jamaica tourist guide brochures, you will see the Jamaican caves occupy a prominent position.
Inexplicably, Jamaica, a Caribbean Island is a land of numerous caves. These caves attract tourists who are keen to see unique geological formations.
We know caves are not manmade. They have been in existence mostly since pre-historic times. Caves usually are not entered by acute claustrophobics.
Green Grotto Caves
Among the list of places to see in Jamaica, the Green Grotto Caves is placed at the top. However, the green grotto caves are spacious and not dark. Natural light enters through the openings on the roof of the green grotto caves.
Here is a video of the green grottos.
Isn't it very different from our normal imagination of a cave?
Caves are always the preferred home to bats. These Jamaican caves are no different. As a matter of fact, as many as 21 species of bats live in the Jamaican caves.
Even rare snakes live in the caves. I wonder what their prey is because some of them are monstrously big!
The green color of the caves is attributed to the algae that adorn the cave walls and floors. The brackish water inside the caves is home to, yet-to-be-identified small marine creatures.
Apart from the green grottos, 16 more cave systems ( a cave system is a series of caves; you can them as a cave complex just like a shopping complex) exist in Jamaica. I believe the majority of them are unexplored. Some caves are too long, measuring up to approximately 10,000 feet!
Geologists are the highest visitors. They are awestruck to see the millions of years old rock formations such as stalactites.
You need a guide to explore the caves of the island. Organized Jamaican caves tour operators take the tourists inside the green grotto caves.
With enough safety measures, be ready to walk for nearly an hour inside the caves.
What else to see in Jamaica apart from the Green Caves?
There are just too many things to do in Jamaica. If only you can hire an experienced local guide, he will make you stay for a week.
Just make a note of the following places to see and the most exciting things to do in Jamaica. Just talk to your guide and reveal what you have learnt about it. I am sure this will impress the local guide and he will try to impress you by taking you to little-known attractions.
Negril
Tropical mountains and forests
Breathtaking waterfalls
River Rafting
Stunning Beaches
Wildlife watching tours
Ocho Rios
Montego Bay
Best Beaches in Jamaica
Tourists' first love in Jamaica is the white sand beaches and incredibly crystal clear, bluish-green water of the Caribbean Sea. Any tourist guide will contain the names of at least 25 beaches.
Here are some of the beaches in the island that every tourist would be taken to by the local guides.
Note:
If you stay in one of the all-inclusive Jamaican resorts, you will not be able to see these gems of the Jamaican coast.
Seven Mile Beach, Negril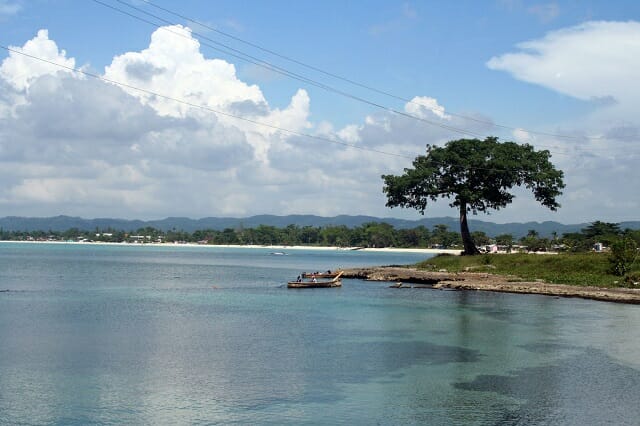 A trip to Negril is one of the foremost things to do in Jamaica.
Negril is a coastal town in western Jamaica. It is located about 60 km away from the famous Montego Bay city.
As the title reveals, Negril's most visited tourist landmark is Seven Mile Beach.
There is a particular spot on Negril's beach that is always crowded. Adventure–minded people are happily seen jumping from a high cliff into the sea.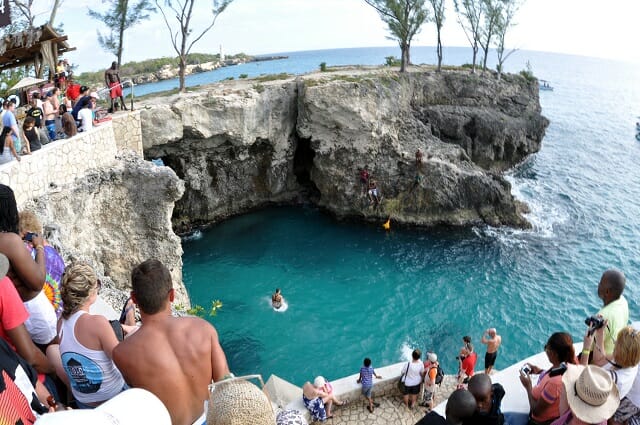 This and the long, seven-mile stretch of the beach in Negril is so scenic that it has taken a place in the list of top ten beaches in the world.  It is no wonder that there are more than a dozen high-end beach resorts in Negril.
If you dare, you can hop on a catamaran, (a rustic raft) and go out on the sea with the local fishermen. While they   are busy fishing, you can jump out of the catamaran and do some snorkeling, one of the water-based adventure things to do in Jamaica.
Bloody Bay Beach
I couldn't find the reason for the name. I saw that it is part of the Seven Mile Beach, occupying the last three miles of it.
This is a happening beach in Negril. Tourists who dare not enter the water are seen resting peacefully in hammocks that are tied between the coconut trees lining the coast.
In addition, the Bloody Bay Beach offers numerous water-based adventures that include:
Kayaking
Ride a sailboat
Scuba Diving
Snorkeling
Parasailing
Oh, don't forget to have a glass of rum punch. What is the point of going to Jamaica and not drinking the famous Jamaican rum or rum-based cocktails?
Treasure Beach
The Treasure Beach, though without any hidden treasure is a treasure itself as it occupies the southern tip of it and is rather deserted.
It is quite long measuring nearly 10 km in length. In order to explore the entire stretch of it, you have to go on a boat tour.
Once you reach the south coast, you have several options to see a few coves (bays) namely:
Great Bay
Billi's Bay
Fort Charles Bay
Calabash Bay
Font Hill Beach
Warning:
Most of the beaches are owned by private beach resorts. So, if you are not staying in a resort, you have to part with some cash to enter the beach. It is cruel to pay to see nature, whatever country it may be. Beaches are not man-made to charge people to enter the beach-right?
Blue Field's Beach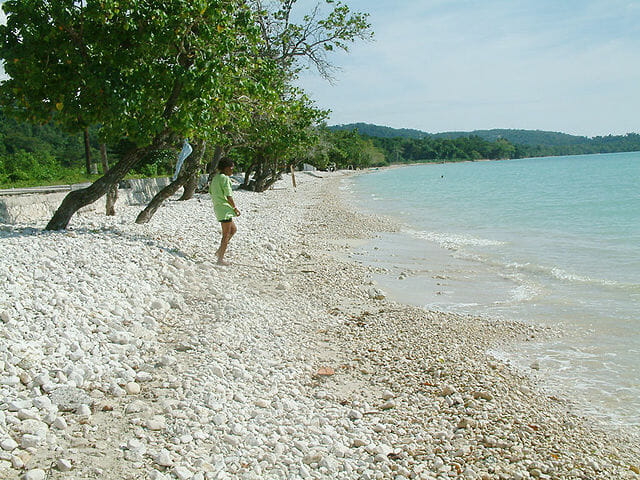 James Bond Beach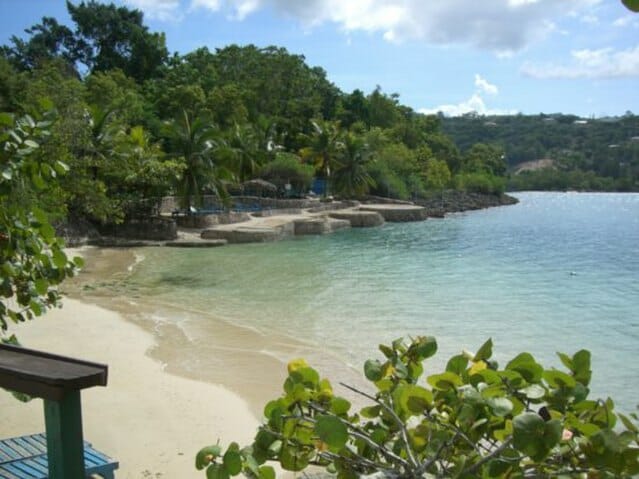 This beach has no connection with either James Bond or his film. The water is said to be ultra-clear. In addition, there is a backdrop of a small tropical mountain and it acts as a viewing platform of the beautiful Caribbean Sea.
Doctor's Cave Beach
It is one of the highly visited Jamaican Beaches and it offers facilities for a few water sports.
I will stop writing about the beaches because there are many more places to see on this gem of a Caribbean Island.
You may like to know that there are about 50 lovely beaches on it.
Waterfalls in Jamaica:
Jamaican waterfalls are a handful and all of them are located amidst spectacular tropical backgrounds and they are simply picture perfect. Taking a bath in a waterfall is one of the finest things to do in Jamaica.
There are as many as fourteen waterfalls in the island. I must admit, you won't have time to see all of them even if you intend to stay for a week.
I will mention only a few of the Jamaican waterfalls that caught my fancy.
Dunn's River Waterfalls
This is a gentle waterfall, merely a cascade and thus kids' friendly. It looks so gentle cascading on the rocky steps that several visitors try to climb up on the slippery rocks and reach its source (Dunn's River) set among lush tropical mountainscape.
If you are not able to go to the beginning of the Dunn's River Waterfalls, you can see where it ends easily. It embraces the Caribbean Sea as it drops to the ground level.
Wow! What a sight! A waterfall meeting a major sea is one of the rarest sights in the world.
Blue Hole Waterfalls
Here, its photo is self-descriptive.
Naturally, it is one of the favorite Jamaican waterfalls and certainly is a big crowd-puller. The gorgeous tourist landmark in Jamaica is located in Ocho Rios, the most beautiful region in north.
One of the fun things to do in Blue Hole is to do a Tarzan-like jump into the lagoon. A rope is provided to which you can hang onto and swing across the Blue Hole, only to drop into the water midway.
Reach Falls
This is the third most-visited Jamaican waterfall. More than waterfalls, its location will steal your heart.
The Reach falls are located in Montane Forest, an absolute tropical heaven. The lush green ferns and bushes, the tall trees, and myriad wildflowers are fantastic to capture in your camera.
The dense flora, the abundant water facilitates striking beautiful birds to live there.
Mayfield Falls
Another gentle cascade of waterfalls over smooth rocks that the visitors climb up.
You have to hike through dense jungles, walk over a precariously-laid canopy walk to reach the Mayfield Waterfalls.
In addition, you can see an underwater cave if you swim in the pool.
Wildlife watching in Jamaica:
Rocklands Bird Sanctuary
I would say this bird sanctuary is the world's hummingbird capital. There are too many species of these fluttering birds that you can't focus on anyone to appreciate its bright plumage and take a snap.
Hummingbirds are generally shy. They abhor human invasion. However, in this particular sanctuary in Jamaica, the hummingbirds are used to the presence of human beings that they dare to get fed by perching on their hands.
This beautiful bird with a long split tail can be easily seen. They also feed from your hands.
Other places for watching  Jamaican Wildlife
Blue Waters Beach Club
Barney's Flower & Hummingbird
Swaby's Swamp
Jamaica Swamp
Ras Natango Gallery and Botanical Garden-a must-see attraction in Jamaica. The flora is amazingly diverse.
Jamaican Wildlife Safaris:
Ask around for the following organized Jamaican wildlife safaris and join them for an unforgettable wildlife watching experience in it:
Swamp Safari Village
Swaby's Swamp Safari
Rasta safari
Mountains
The Jamaican Mountains are great natural wonders that host myriad flora and fauna. There are about 20 tropical mountains in it. Imagine its range of flora and fauna that engage nature lovers for several days.
Blue Mountains
Its summit at an altitude of 7400 feet offers spectacular views of the Caribbean Sea. Ardent trekkers can be seen hiking up to the summit in batches, led by an experienced guide.
Surprisingly, the mountain's flora includes about 600 species of flowers. They attract a great range of butterflies. Among them is Homerus Swallowtail, considered to be the largest butterfly in the United States.
A large number of flowers can also be a prime reason for spotting so many hummingbirds.
The world-famous Jamaican Coffee is widely cultivated in the Blue Mountains. The misty climate of the mountains is suitable for coffee plantations.
John Crow Mountains
Those who want to see the Rio Grande River can visit the John Crow mountain range in the island.
Adventure Activities in Jamaica.
With a long coastline surrounding the island, there is no dearth of water sports adventure. In addition, land-based adventures are also available that include, ziplining and ATV (All Terrain Vehicles) rides on the mountains and beaches.
Rafting in Jamaica
More than 15 places offer river rafting in the island. While some of the rafting includes white water rafting that offers challenging rapids, at some places, you can just glide over the calm and slow-moving rivers.
Below are a few spots for river rafting adventure in the island.
White River Calypso Rafting and River Tubing.
Martha Brae River Rafting
Rafting in Rio Grande River
Chukka Reggae Rafting
Rio Bueno white water rafting
Ziplining in Jamaica
With so many mountain ranges and several waterfalls, there is a wide scope for ziplining adventure in it. Zipping over gorgeous waterfalls is really exciting and thrilling.
Chukka ziplining over YS Falls is the most popular one. Montego Bay is another favorite spot for a zipline adventure.
There are exclusive adventure parks in the island. They are all good places to enjoy yourself with your family.
Rivva Rush Eco Adventure Park
Yaaman Adventure Park
Adrenaline Adventure Park
Water Land Park
Flying Ravana Adventure Park
This seems to be a comprehensive center for various adventure activities that include Ziplining, ATV races, mountaineering, and archery, etc.
Mystic Rain Forest and Mountain
Reach the top of the mountain on a chairlift, get down to the base of the mountain in a zipline and enjoy a rollercoaster ride.
Additionally, there is a canopy walk and ATV rides.
This fun-filled adventure park is located in Ocho Rios, one of the best places to see in entire island.
Other Things to Do in Jamaica:
Enjoy a Dolphins Show
The dolphin's Cove attracts the children who go crazy when they watch the acrobatics of the friendly dolphins.
This is another tourist landmark in Ocho Rios.
Ocho Rios: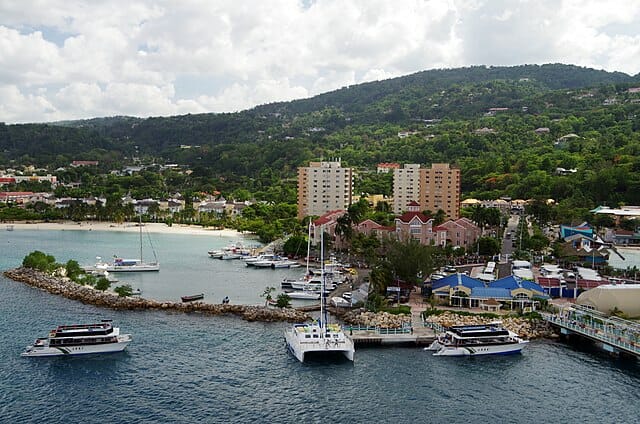 Jamaica's most luxurious beach resorts are located in Ocho Rios.
It is no wonder Jamaica Island is the most visited Caribbean Island by the Americans. I would even put the Bahamas behind it as far as sightseeing is concerned.