12 Exciting Active Adventures in New Zealand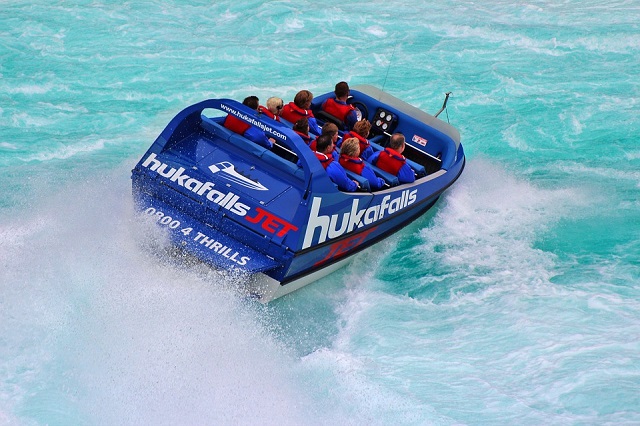 What are the available active adventures in New Zealand? Are the tourists to the land of Kiwis only interested in seeing the top cities of New Zealand or do they show interest in participating in thrilling adventure sports that include:
Bungee jumping
Jet Boating
Rappelling
White water rafting
Water skiing
I think the majority of the tourists to New Zealand show a keen interest in touring through big cities such as Christchurch, Dunedin, and Wellington.
Of course, there are some avid travelers who can't have enough of the smaller islands of New Zealand.
Some categories of tourists make special trips to spot the birds and animals of New Zealand.
Only a small sect of travelers take part in all active adventure sports that New Zealand is offering at various locations across its South and North Island.
Let us see what are all the adrenaline-pumping, exciting active adventures in New Zealand that we can indulge in.
Jet Boating- Active Adventures in New Zealand
What is jet boating?
It is nothing but a boat ride but at a speed that you could not have anticipated. The shape of a jet boat is designed in such a way that it can go at breakneck speed and navigable easily at short curves and dead-ends.
Watch this short video below of jet boating and how you as a passenger can experience the joy of riding in a high-speed boat.
The scenic waterway in New Zealand is an added attraction of going aboard a jet boat.
Do you know how the boat surges forward in jet boating?
"A Jetboat is a boat propelled by a jet of water ejected from the back of the craft"-Wikipedia
Now you must be dying to know where this exciting adventure Jetboating is offered in New Zealand. Jet boating is operated in lakes and rivers.
Below are the places to indulge in jet boating in New Zealand:
Waikato River
Lake Rotorua
Huka Falls
Dart River
Shotover River
Waimakariri River
Hanmer Springs
Kawarau River
Most of these New Zealand rivers that offer jet boating adventure are located in Queenstown, which is fondly called "Adventure Capital of New Zealand".
Skydiving Active adventures in New Zealand
What is 'sky diving'? This adventure sport involves diving into the skyspace from a plane. It usually involves more than one person. However, solo sky diving is also practiced.
Watch below a sky diving activity.
Hmm… it is dizzying even to look at the daring youth. There is no fear written on their faces; they seem to be enjoying the Active adventures in New Zealand thoroughly.
Sky Diving is offered at several places in New Zealand that include:
Glenorchy
Queenstown
Bay of Plenty
Auckland
Abel Tasman National Park
Wanaka
Lake Taupo
Fox Glacier
If more than one person is sky diving, it is called 'tandem skydiving'. Do you like this New Zealand adventure?
Bungee (Bungy ) jumping in New Zealand
Here is a sport that is now available as part of Active adventures in New Zealand.
This is a different bungee jumping-off point. Instead of a stationary mountain top, this is a portable (moving) cabin from where the adventure enthusiast jumps off.
I always want to know why bungy jump hurls down the jumper in upside-down posture; why not one jumps in an upright position?
In this case, it should be called 'Bungee Diving'-right?
The video above showed Nevis, the highest bungee jumping spot in New Zealand.
Other places in New Zealand where you can participate in bungy jumping:
Kawarau Bungy site
Taupo Bungee jumping pad
Auckland Harbour Bridge
Hanmer Springs
The Ledge
Shotover Canyon
Ziplining adventure in New Zealand
Oh, yes! Ziplining (Zip-Lining) is a terrific adventure. It's a fun-filled sport in which you hang on to metal rope and slide across it from one point to another.
The distance you zip across a line varies from place to place. It may be up to 1.5 km!
Zip Lining spots in New Zealand:
Waiheke Island
Cable Bay
Rotorua Canopy Tour
Bay of Plenty
Queenstown's Ziptrek
Kawarau
Canyon Fox
Zip Lining is a top active adventures in New Zealand.
Zorbing Active Adventures in New Zealand
Zorbing is a novel and fun-filled entertainment. I would not call it an adventure because it doesn't require any courage. Anyone, even a 5-year-old kid can enjoy a round of zorbing.
Zorbing adventure activity involves the participant (only a single person) to get (squeeze in) inside a transparent bubble (a ball).
Once you are inside the zorb, it is pushed down a slope. You along with the bubble roll down and come to a halt quickly.
Recently, transparent spheres are designed to accommodate two persons.
The inflatable ball will be filled with water sometimes to increase the excitement.
Here is a video clip of zorbing in New Zealand.
Zorbing locations in New Zealand.
Rotorua is the ultimate place in New Zealand for zorbing and many other adventure sports.
Rotorua is a city of lakes in the North Island of New Zealand. It is located in the "Bay of Plenty Region' which is actually a bight extending 260 km long.
Virtual tour of the Bay of Plenty, New Zealand.
Zorbing entertainment is not available in many parts of the world but is an active adventures in New Zealand.
Redwood canopy walk- Active Adventures in New Zealand
First, watch this video showing tourists enjoying a canopy walk (tree walk).
The tall giant trees are Redwood, a specialty flora of New Zealand.
You walk nearly 65 feet above the ground and through dense, cool trees. And, can go for a tree walk during night time also. You saw the hanging fancy lights fixed on the Redwood trees in the video. They will illuminate the dark forest at night.
Redwoods Treewalk suspended walkway is 700 meters long. When you go up on the walkway, walk slowly, breathing pure air for as long as possible. Don't be in a rush. You are not in a race.
There are 28 canopy walkways in all. The redwood trees are twice your age (assuming you are 60 years).
Redwood Forest canopy walk is one of the top active adventures in New Zealand.
Canyoning adventure, New Zealand
Canyoning involves multi-adventure activities in a specific area. The adventures you can experience include:
Rappelling
Sliding down a wet rocky surface
Jumping from a waterfall's top
To indulge in all these kinds of wild adventure sports, you need to have prior experience. In addition, you must possess the required gear and accessories.
Canyoning adventure is usually available in and around canyons, waterfalls and rocky mountains.
In New Zealand, places for indulging in canyoning are Wanaka, Nelson, Auckland, and Canterbury.
This new adventure called 'canyoning' is not widely known even to avid adventure sports lovers. Remember this as part of your New Zealand adventure travel plans.
River Rafting adventure, New Zealand
We have seen this exciting active adventure in films. A bunch four or five persons get on board in an inflatable boat (raft) and paddle the vehicle on rivers that are in full flow.
The flow of the river should have ups and downs and even mini-gorges to offer stiff challenges to the rafters. Above all, the water should have a strong current to surge the inflatable boat in a rush.
River rafting adventure locations in New Zealand:
Kaituna River
Landsborough River
Whataroa River
Tongariro River
Vector Wero waterpark, Auckland (a man-made river rafting facility)
Mohaka River, Hawke's Bay
Rangitata Gorge, Canterbury
River rafting adventure sport is not for all. You should have immense courage, know swimming and possess strong arms.
River rafting is an exciting adventures in New Zealand.
Blackwater rafting adventure, New Zealand
Thus far, we have seen white water rafting which means, you navigate the raft on an open river.
Blackwater rafting means, rafting in river water that flows inside a cave where the water looks black because of the darkness inside the cave.
The Blackwater rafting also known as 'Caving'.
Blackwater rafting adventure location in New Zealand:
Waitomo Caves
Sinkhole in Nelson
Caving also involves an adventure inside a dark cave. Even if you dare to walk in the water that is flowing like a river inside the cave, it is called caving In addition, It is not necessary that you paddle a raft on the river in a cave.
I am sure 'Caving' is a little-known New Zealand adventure.
Giant sky swing adventure, New Zealand
Just like you scream while riding a roller coaster, you let out a loud and wild scream as you swing at great speed and deep curve on a swing.
Don't worry. You won't be allowed to swing alone; you will have company.
Can't comprehend what's all this about Giant Swing at Velocity  Valley, New Zealand? Watch the video below showing three courageous women swinging wildly.
Do you know the speed at which your swing retracts back into the starting point? It is at an incredible 130 km per hour! Imagine how your facial expression will be at that time.
Velocity Valley–what a name for an adventure sports center!
Float-plane ride adventure, New Zealand
Float-plane is an helicopter or a small plane that can land on water. This is a joy ride in a  float-plane in New Zealand.
This enjoyable and pleasant adventure activity offered in Waimangu Volcanic Valley, New Zealand.
Heli-Skiing Active Adventures in New Zealand
What is Heli-Skiing?
Heli-skiing means skiing on the snowy slopes of a mountain but only, you ski as per whims. I mean, heli-skiers don't slide down earmarked skiing trails.
So where does the 'heli' come into the picture?
You reach the skiing starting point through a helicopter instead of the usual cable car or the ski-lift  After that, You get dropped off at random points on the snow and use either skiing boards or just a snowboard.
Heli-Skiing is an exciting adventure.
Where heli-skiing is available in New Zealand?
Harris Mountain, Wanaka
Mount Cook
What a range of Active Adventures in New Zealand! You enjoy various thrilling activities in the sky, on the water and on ropes.
New Zealand is surely the ultimate country for various adventure sports. Above all, There is something for all age groups-eh?