World's Best 8 Spacious Overwater Bungalows with Private Pool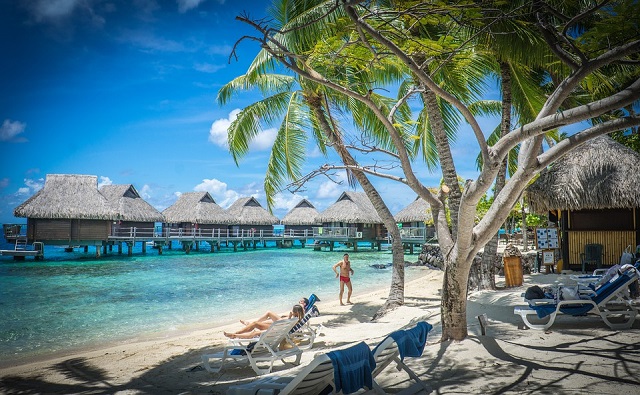 Staying in spacious overwater bungalows built on some of the exotic islands in the world gives an unforgettable experience to the tourists.
There is a difference between the overwater bungalows and overwater villas. Bungalows are usually more spacious than villas without an upper level. Villas on the other hand are built with two levels, where the upper deck is mainly used to lounge during the sunrise or the sunset.
Overwater villas are usually picked by honeymooners or by couples who have a romantic mindset perennially.
Tourists traveling with families generally prefer to stay in water-bungalows.
8 Spacious Overwater Bungalows in the World with Private Pools:
The latest overwater bungalows are much spacious. In addition, they are built with a swimming pool. Moreover, to attract the children, a water slide is also provided. The slide enables you to drop into the sea directly.
Some water retreats go a step further by providing a glass floor. You can watch the marine creatures without getting wet!
This arrangement is truly advanced that attracts visitors instantly.
Let us look into some of the spacious overwater bungalows in the world.
Soneva Fushi Resort, Maldives
Now that the Maldives are opening up to tourists, flights to the Maldives carry passengers to their full capacity. Hotels, seafront resorts, and water-bungalows are getting booked as pre-pandemic period.
Probably, the Maldives offer the maximum number of water retreats and some of them attract customers with spacious overwater bungalows.
Look at the image of a stunning overwater bungalow that is fitted with a water slide and a small, private swimming pool.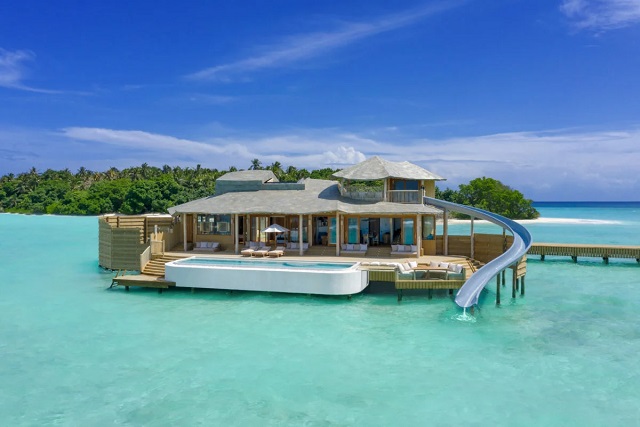 This fantasy is available at Soneva Fushi resort. It is built on Kunfunadhoo Island. It is one of the islands of Baa Atoll, Maldives.
An out-of-the-world experience awaits you as a guest of Soneva Fushi resort. Just before the sunset, the guests are taken for a dinner cruise on the Indian Ocean. The guide is equipped with some knowledge in Astronomy. During the course of your 4-hour astronomical dinner cruise, he will point out some of the wonders of the sky that is sure to make you speechless.
If you indulge in all the dining experiences offered at Soneva Fushi,  you are unlikely to take a vacation in any other part of the world.
Here is a list of dining offers:
Fresh in the Garden
Out of the Blue
Once upon the table
So Hands On
Mihiree Mithaa
and several more. I think you need to stay in Soneva Fushi for a full fortnight to enjoy all these out-of-the-world eating experience.
Just click their link to take a peep into all those exotic dinings.
How to reach Baa Atoll from Male?
Assuming you have already made up your mind to stay in one of the spacious overwater bungalow resorts in the Maldives, you would be first reaching Male, the capital of Maldives.
From Male, a seaplane will deposit you in Baa Atoll in just thirty-five minutes. A seaplane ride is preferable over a normal flight because the seaplane ride will take your breath away.
Other water-bungalows on this Maldives island include:
Soneva Jani
Soneva in Aqua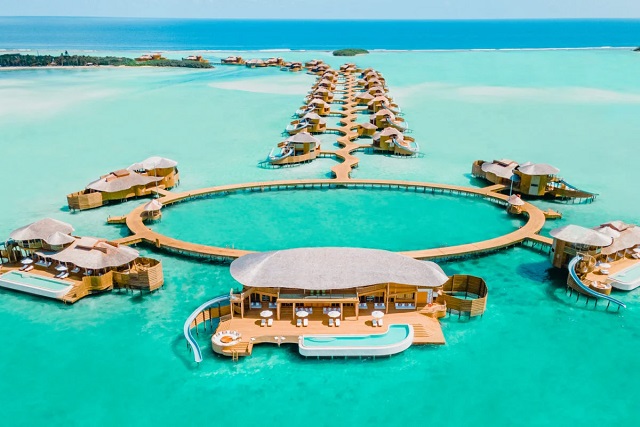 For booking your choice of the spacious overwater bungalow,visit their website.
Song Saa Private Island, Cambodia
Wow! Are you hooked instantly? You have to first go to Cambodia and then take a ferry to reach Song Saa Island. It is a privately owned island that is entirely converted into a spectacular resort containing spacious overwater bungalow resorts and large water villas.
All these water resorts are located in the Gulf of Thailand.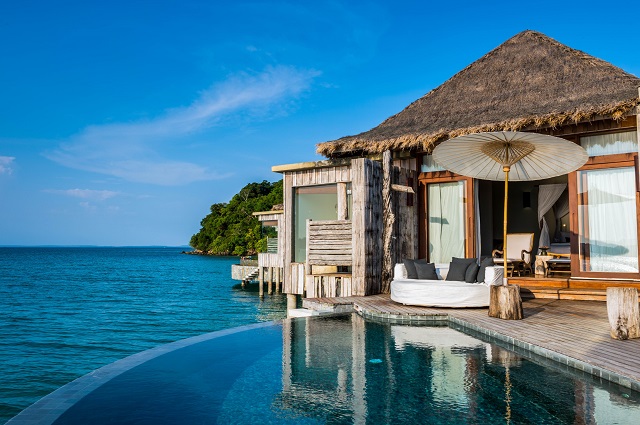 How to reach Song Saa Island?
Your first destination is to reach Sihanoukville International Airport, Cambodia. Sihanoukville is one of the provinces of Cambodia.
From here, you can reach the Song Saa private island resort in 40 minutes by ferry. You don't have to worry about finding the ferry jetty. The resort arranges the airport transfers.
Even the restaurants and bars of this ultra-luxury island resort are built on the sea. The views are simply awesome from every overwater construction.
Relaxation is the only motive of this resort. That being said, you don't have to idle around always. The resort management organizes various adventure activities both on the water and on the mainland.
The Song Saa Island is part of the Koh Rong archipelago.
Six Senses, Ninh Van Bay, Vietnam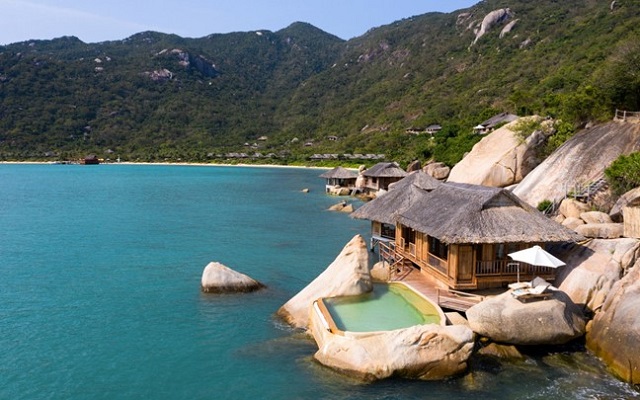 I believe each of these all inclusive overwater bungalows measures around 1600 sq. ft. I think it is slightly small for calling it a bungalow which requires a minimum of 2400 sq. ft.
The water retreats are built in the East Vietnam Sea with a panoramic view of the sea. Other smaller accommodations are also offered as over the water villas.
To reach the Six Senses resort, you have to reach Nha Trang, a South Central coastal city in Vietnam.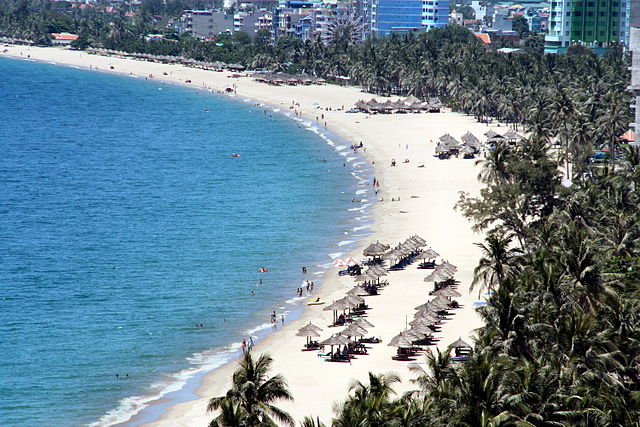 It involves an hour's drive in a car plus a 20-minute ride in a speed boat. The transfer from the airport to the resort is arranged by the resort management.
Likuliku Lagoon Resort – Fiji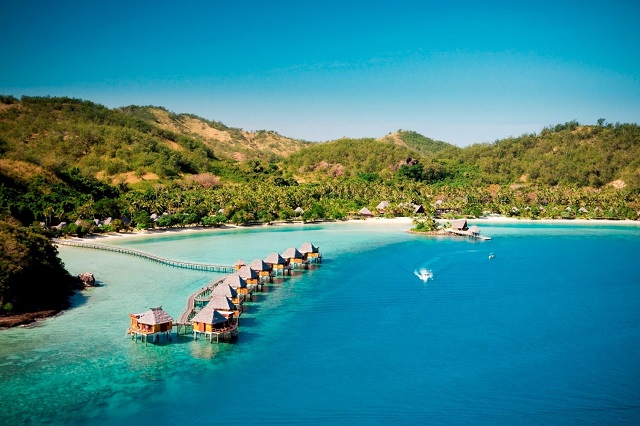 How do you reach Likuliku Lagoon Resort?
From Fiji's Nadi International Airport, you can reach the place by several modes that include a catamaran, speedboat, seaplane, or even a helicopter. The distance to be covered is only 25 km.
The water bungalows are called 'bures'. The spacious over the water bungalows are located on the island Malolo, one of the 330 Fijian islands.
Fiji is located some 2000 km away from New Zealand's northeast coast.
There is a marine park near Malolo Island, where you can see fantastic reefs and underwater creatures. Boat tours to several islands nearby are arranged by the resort.
Spacious Overwater Bungalows, Bora Bora Island
Bora Bora Islands is a part of the Society Islands administered by France. The Society Islands archipelago is collectively known as 'French Polynesia'. It is located in the South Pacific Ocean.
Bora Bora is the world's top-ranked Polynesian Island and it is a big tourist attraction for its untouched beauty and refreshing Polynesian culture.
Bora Bora is a highly developed island for tourists. There are numerous beach resorts and one of them is the St.Regis Hotels and Resorts. Their big chain of water bungalows commands high occupancy even during the monsoon.
See the rows and rows of bungalows built on water.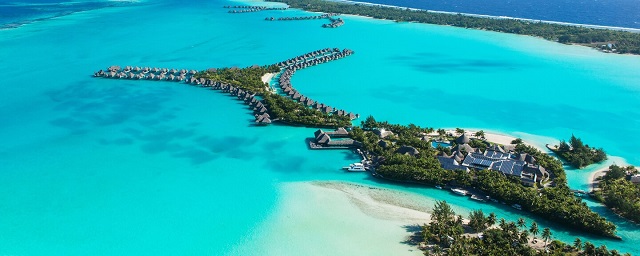 Bora Bora Island is nothing short of a paradise on earth. As a matter of fact, the majority of these remote South Pacific Islands are exotic to the world.
The St. Regis Resort's amenities are countless that include:
Spa
Gymnasium
Five restaurants with 24 hours dining
Swim-up bar
Personal Concierge
Here is a close-up view of a spacious overwater bungalow with a private swimming pool.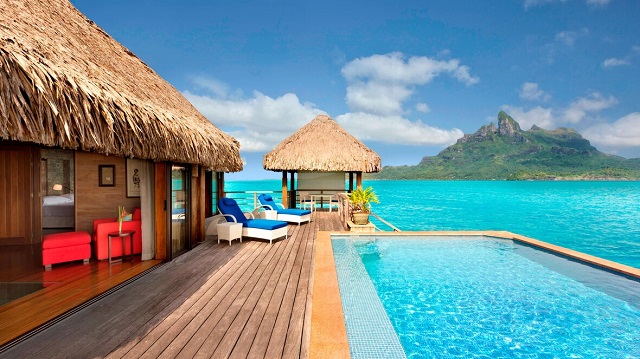 My Goodness! Oh, man, I would spend the rest of my life on this water bungalow built on the South Pacific Ocean.
How to get to Bora Bora Island?
There is an airport and you can fly in. If your city doesn't connect you with a flight to Bora Bora Island directly, reach Tahiti first.  Papeete is the capital of Tahiti. Its international airport known as Faa'a International airport receives flights from the United States.
Your next leg of travel includes a domestic flight to Bora Bora from Tahiti. The flight duration is 45 minutes.
For the most memorable overwater bungalow stay in Bora Bora Island, go to their website for booking.
Four Seasons Resort, Bora Bora
As you read earlier, Bora Bora occupies a really dark spot on the tourist radar. To serve a plethora of visitors, Bora Bora Island offers numerous beach resorts, water retreats, and independent beach cottages.
Similar to the St. Regis Resorts, Four Seasons also offers breathtaking water bungalows built on the South Pacific Ocean in Bora Bora Island.
Apart from beachfront rooms, Four Seasons offers bungalows built on water.
Take a look: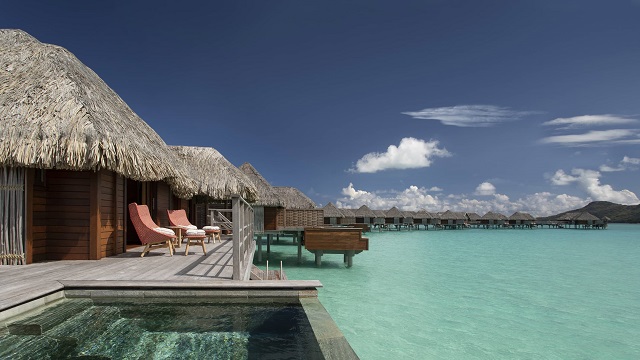 Every overwater bungalow is built with two bedrooms, two bathrooms, and a private plunge pool. A plunge pool is not a real swimming pool. It is meant just for fun by taking a plunge into it.
A plunge pool is a spacious bathtub; that's all. However, since it is built on an open area with an uninterrupted view of the ocean, it gives certain freedom that you would fall in love with.
Keeping in mind of your luxury, privacy, and relaxation, you can experience a 24 hours in-house dining. What else you want, man? Isn't it a dream vacation?
For more details, visit their website.
Manava Beach Resort, Moorea Island
Look at the clear water of the South Pacific Ocean.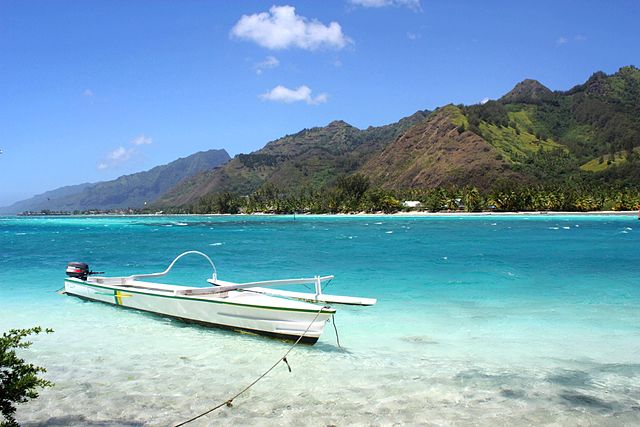 This is a scene at one of the beaches in Moorea Island, part of the Society Islands archipelago. That means, Moorea Island is another French Polynesian Island.
You have already seen two reputed resorts offering spacious over the water bungalows Bora Bora. To give some competition to them, Moorea Island offers overwater accommodations in Manava Beach resort.
The water bungalows are built close to the beach from where you can actually swim up to your unit.  During low tides, you can easily walk to your accommodation. Alternatively, there is a pier that connects to every big water- Bora Bora bungalow.
I read the resort has 90 accommodations that are served by only two restaurants. Would they be sufficient? In addition, there is only one bar. Nonetheless, I think guests would not be too bothered about this lacuna as they would be engrossed in exploring the extraordinary beauty of the island.
The water retreats are fitted with glass floors. Without wetting your feet, you can watch the colorful reefs and fishes swimming underneath your feet.
Look at the picture-perfect background of a water bungalow.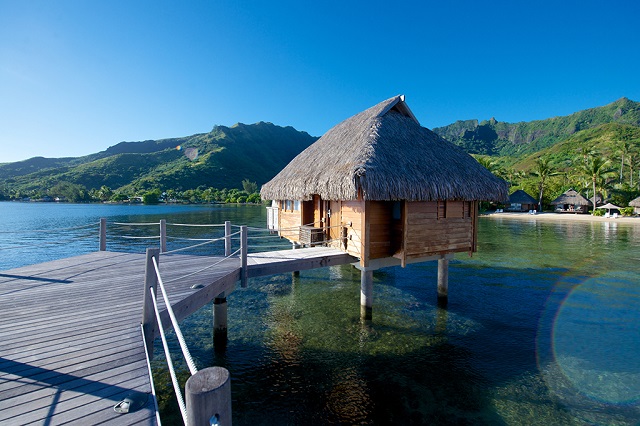 The French people prove their taste for aesthetics-right?
Contact for your choice of water-bungalows by visiting their website.
Conrad Bora Bora Nui – Bora Bora
The proof of spacious overwater bungalows Bora Bora is on the number of ultra-luxury beach resorts present there.
Here is one more resort in Bora Bora Island. The difference between the Conrad Resort and the other resorts in Bora Bora Island is on the number of water retreats in various sizes offered by Conrad.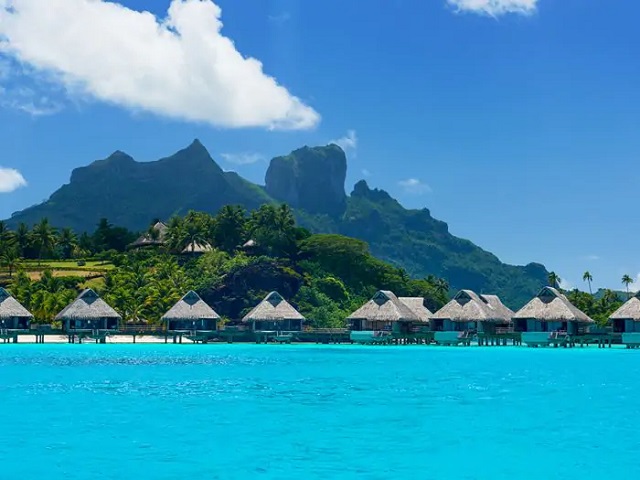 Conrad Bora Bora Nui – Bora Bora
Their presidential overwater villa measures a whopping 3220 sq. ft. It is a two-story water bungalow built in the South Pacific Ocean.
Conrad Bora Bora Nui resort's accommodations over the water include:
Presidential Water Villa
King Deluxe Overwater Villa
The King Otemanu View Overwater Villa with a pool
King Overwater Pool Villa
Royal Pool Overwater Villa
The lowest sized water bungalow comprises 1100 sq. ft
The entire Conrad resort and its overwater accommodations are located in Motu To'opua, a tiny islet of Bora Bora. The islet occupies an area of as low as 1.45 sq. km only! The islet itself is owned by the Conrad group that has built a helipad in the resort.
Like other resorts in Bora Bora and Moorea Islands, the Conrad also offers 24 hours in-house dining facility.
There are three restaurants and two bars to serve the guests' hunger and thirst.
Reaching Motu To'opua Islet:
A boat arranged by the Conrad resort will get you to the resort from Bora Bora in just 10 minutes.
I am sure life on this remote private island is nothing short of eternal bliss. The sounds and smells of the sea, the fragrance of the Polynesian cuisine and culture will hook you for good.