Top 5 OverWater Bungalows near USA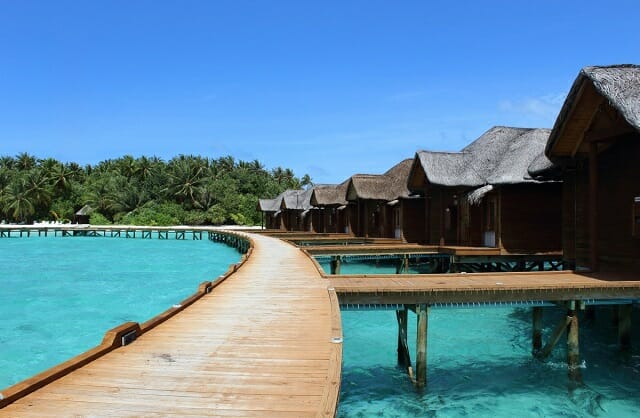 For every American who wants to enjoy staying in bungalow or in villa that is built on the water, I have some good news. Here is a list of overwater bungalows near USA.
Especially people living in the middle of North America need not go roaming around the high seas, looking for overwater bungalows to enjoy a different kind of holiday.
While the east, south and west coast Americans always dream of staying in the middle of an ocean or sea by way of choosing to stay in an overwater hut or bungalow, or villa, the people of landlocked states can only heave a sigh.
Top 5 OverWater Bungalows near USA
Please be aware that overwater accommodations are usually part of a resort that offer normal hotel rooms and also overwater villas  and bungalows meant for couples only. Yes, mostly, children are not allowed.
Disney Polynesian Villas & Bungalows
This reputed resort is right here in Florida, U.S.A.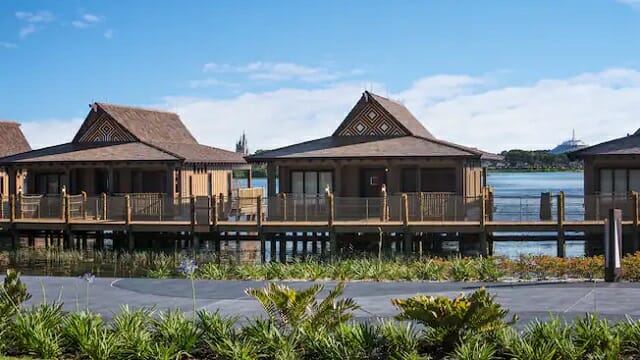 Notice a series of overwater bungalows. They are not villas, buddy; villa means it is usually a duplex type building built on two levels.
Bungalows built over water are spacious with a kitchen and a rest room. In addition, a guest bedroom is also provided.
You will find a washing machine and a drying machine much to your pleasure.
Overwater bungalows are booked full for absolute privacy. It implies, the guest would like to swim in privacy. Therefore, every overwater bungalow comes with a private plunge pool.
Plunge pools are generally deep and are naturally formed pit in which water falls from a height without any external force.
Guests would look forward to the evening light show called "Water Pageant". It is water-based lights depicting marine creatures such as whale shark, turtle, fish, and snail, etc.
Here is a video of Electrical Water Pageant.
Similar to this, the Disney Resort arranges several outdoor activities for the guests.
So, the first in my list of overwater bungalows for the Americans is right here in the U.S. .
What's stopping you from experiencing a stay in an island and that too in a bungalow built on the sea?
Sandals Grande, St. Lucia
Isn't this overwater bungalow, dreamy? Do we all long to stay in such a property on a vacation?
This is Sandals Grande. This and several other overwater accommodations are located in St. Lucia, Island. Considered as one of the West Indies, it is located in the Caribbean Sea.
Set amidst breathtaking settings of blue sea and coconut tree beach, the Sandals Grande resort is hell-bent on satisfying your culinary inclinations. The resort is fitted with as many as 12 restaurants!
The overwater bungalow has glass-floors that give you a clear view which creatures are swimming beneath you.
At any-time of the day or night, you can sit in a comfortable chair on the deck and gaze at the horizon till it is grey in the dawn.
Apart from a plethora of amenities, you get a butler to look after your needs. Stay in this resort and make it a royal vacation in the Caribbean. Let your first stay in an overwater bungalow near the U.S., a memorable one.
Sandals Royal Caribbean, Jamaica
Jamaica is not far off from the U.S. As a matter of fact, all the islands in the Caribbean Sea and the Atlantic Ocean are said to be near the U.S.
Even Trinidad and Tobago, Caracas, the farthest Caribbean island are only 2 to 3 hours flying distance from Florida.
Look at the resort's overwater bungalows.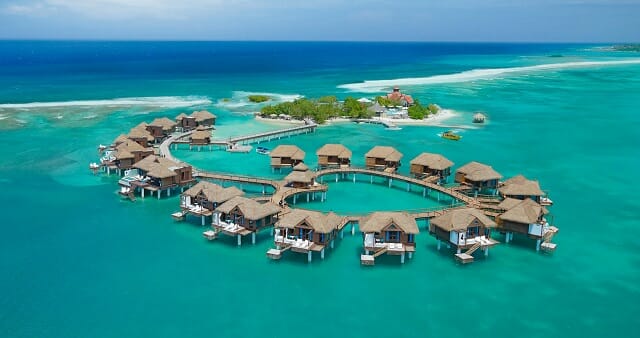 Beautifully arranged on the water-eh?
After my research about all the overwater bungalows in and around the U.S., this is the best location that I reckon.
The accommodations on water come with every modern, luxury amenities you can think off. You get pampered to the hilt. It is an all-inclusive resort and the accommodations over the water are meant for adults only.
The awesome private deck gives you a feeling as if you own the Caribbean Sea all to yourself. There is a private pool also if you are afraid to jump into the sea and play with the marine lives.
Cuisines from all parts of the world are served in 9 spacious and pleasingly furnished restaurants. The star on the dining table is the aromatic Jamaican coffee.
Indoor restaurants compliment well with outdoor dining area set on the white sand beach. From here, the view is dramatically panoramic.
If you are a water sports buff, you can be engaged in a variety of water-based adventures such as scuba diving, water skiing, wave surfing, and boating including sailing and paddling.
Aruba Ocean Villas
I like the name 'ocean villas' when compared to 'overwater villas'. It is more heartier-right?
Aruba is a Caribbean Island, located near Venezuela. It is the 'A' of 'ABC' islands namely:
Aruba is a Dutch Overseas Territory. It is amazing that the Ditch administer an island that is nearly 8000 km southwest of Amsterdam.
The resort has 13 different overwater villas of various sizes and varying views of the Caribbean Ocean.
The food scenario is definitely enticing. You can taste a fine combination of the Caribbean flavor and the traditional Dutch touch.
Rosewood Mayakoba
For all practical purposes, the beautiful Mexican Riviera is considered part of the United States because of proximity and quick accessibility.
Mayakoba is not a hidden paradise but lesser-known oasis in Plata del Carmen, Mexican Riviera. The most visited holiday spot currently is Cancun, which is just a stone's throw away distance.
There is a brilliant resort called Rosewood. The settings are too beautiful to put into words. The developers have constructed something out-of-the-world, Caribbean Sea side resort with several overwater villas comprising one and two bedroom accommodations right on the sea, abutting a few still-water lagoons.
Did you notice your mouth is open in sheer awe?
Visit the resort's website to know how you can enjoy the resort's hospitality and the sunny climate.
Notice the lack of thatched roof. It is entirely different from the usual overwater bungalow that looks more like a hut than a bungalow.
In addition, the overwater accommodations here have some green foliage to show which is always absent in overwater bungalows.
The video of Rosewood Mayakoba overwater villas near the U.S. clearly shows the shining accommodation that comes with an outdoor shower.
Now, I realize why Mexico's southern tip is pulling all the luxury tourists from American and Canada.