10 Most Beautiful Florida Islands to Visit
Which Florida Islands are the most beautiful?
Can you believe me if I tell you Florida has as many as 4510 islands? There may be more because the 4510 islands, islets, and keys (cays) are taken into count that comprises a minimum of 10 acres.
So, there may be many more keys and atolls that are smaller than 10 acres. After all, the Florida coastline is measured at 2,170 km.
Florida State is a peninsula that is surrounded by the following seas and oceans:
The Atlantic Ocean on its east
Florida Strait on its south
The Gulf of Mexico on its west
All 4510 Florida Islands are located on one of these seas. The majority of the Florida Islands are called the Florida Keys.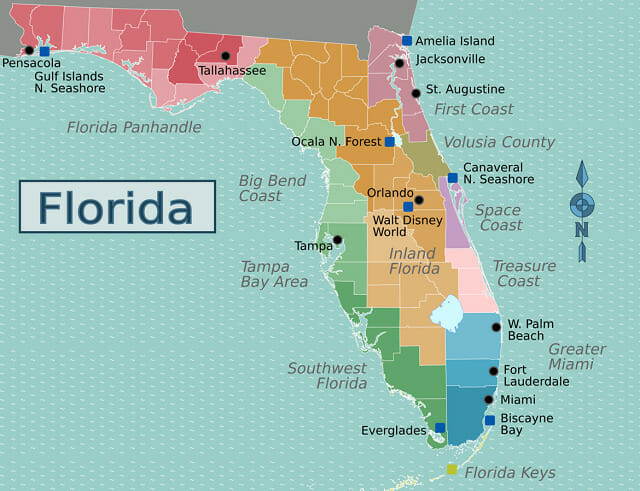 The many Florida Keys are connected with mainland Florida by a road bridge. Driving a car on these road bridges over a sea is spectacularly scenic.
Wildlife of Florida Islands:
While the main reason for visiting a Florida Key is to relax, enjoy water sports, and eat fresh seafood, watching exclusive Florida wildlife is another major attraction factor.
Before we look at some of the beautiful islands in Florida, we will just peep into the wildlife that is easily spotted.
American Crocodile
American Alligator
Florida panther
Bottlenose dolphin
Manatee.
Roseate Spoonbill
Sandhill Crane
American Flamingo
Harlequin Duck
For me, these breathtaking birds alone are enough to visit some of the Florida Islands.
10 Top Rated Florida Islands to Escape to:
Let us begin our list of beautiful Florida Islands and the Florida Keys.
Santa Rosa Island
When you search for this island in the search engine, append Florida at the end because there is another Santa Rosa Island in California that will stare at you from the top of the search results.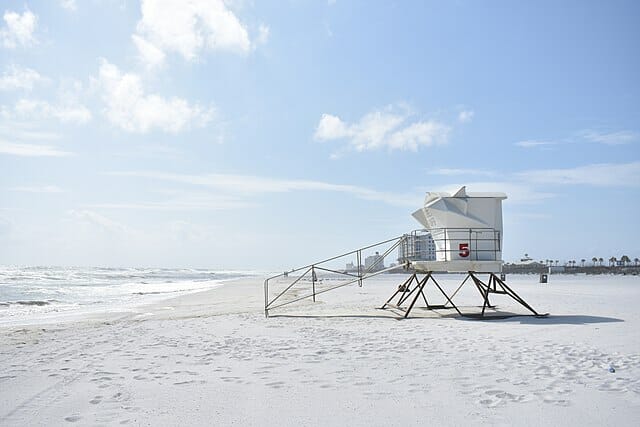 This Florida island is located in the Atlantic Ocean, near the border of Alabama State. The island is known for long stretches of dunes on which you can see sea oats growth.
Santa Rosa Islands is a narrow and long island measuring 64 km in length.
Along with people, this island also attracts hurricanes!
There are casual cruises and exclusive dolphin watch cruises on this island.
You can explore the Point Washington State Forest and Grayton Beach State Park. In addition, there are a couple of art galleries to look into, if you are an art buff.
Marco Island
This Florida island is located in the Florida Strait, closer to Cuba. Some of the affluent clientele of Florida have permanent residences on this island. In addition, Marco Island is loaded with beachfront resorts attracting mostly tourists from Florida and Cuba.
Some of the resorts on Marco Island are W Marriott Marco Island Beach Resort and Hilton Marco Island Resort.
Additionally, there is a golf course. Playing golf on an island is a lot of fun.
The American's love for tropical beaches is well known. Well, this island satisfies them with a tropical climate.
The beaches wear white sand and that is another attraction of this island in Florida.
Key Biscayne
This Florida island is located in the Atlantic Ocean and lies very close to the highly popular Miami Beach. As a matter of fact, both are connected by a road bridge known as Rickenbacker Causeway.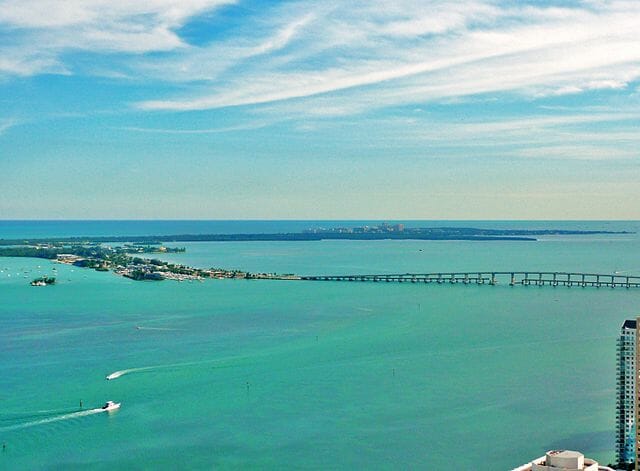 Keys are also landmasses that are surrounded by water on all sides. Keys are very small in area. Key Biscayne occupies only a 4+ sq. km area.
Driving through the causeway is a very pleasant experience.
Despite being such a small place, this Florida Key has expensive resorts, hotels, and condominiums that are permanently occupied.
There is a tennis court that attracts a large number of youths from Miami City.
Tourists are engaged with several water sports, surfing being the major one. I think the golf course is meant only for the permanent residents of Key Biscayne.
Wildlife enthusiasts focus on the mangroves and the adjoining tropical forest to spot butterflies, birds, and reptiles.
Visit Bill Baggs Cape Florida State Park, Miami Seaquarium, Crandon Park Peacock Shelter, Crandon Park, and the Underwater Cemetery at Neptune Memorial Reef.
Watch this short video clip of the Miami Seaquarium.
It is no wonder that Key Biscayne is one of the popular Florida islands to visit.
Siesta Key
Siesta Key's three beaches are considered some of the most beautiful beaches off the coast of Southwest Florida.
The small island is located in the Gulf of Mexico and it lies very close to the city of Sarasota, Florida.
The three beaches are Siesta Beach, Crescent Beach, and Turtle Beach.
There is an aquarium and a jungle botanical garden to explore when you are not enjoying the sun and sand. Incidentally, the sand is white on the island.
There is a golf course. I think golf is a symbol of affluence in the United States. Even on such tiny Florida islands, you can find a golf course.
I always wonder why a golf course and why not a golf ground!
You have ample time to visit Sarasota City and do some shopping.
One of the top places to eat and drink in Siesta Key is the Siesta Key Oyster Bar. They serve real oysters, buddy!
Some organized cruise tours are available on the island such as Dolphin Tour, Sunset Cruise, and exclusive fishing sessions.
Water adventure activities on Siesta Key include jet-skiing, parasailing, and paddle boating (Kayak). Some timid tourists would be seen snorkeling close to the beach.
Key West
Who has not heard of Key West, one of the most visited Florida islands? All tourists are found heading towards Mallory Square daily. It is an observation platform to watch the breathtaking sunset without any hindrance.
There will be live music, beachside bars, and restaurants that can engage you even if you arrive early or decided to stay for a longer time.
Key West beaches are extremely sought after even by the so-called 'bold & beautiful, and 'the rich & famous. It has been so since the days of Ernest Hemingway.
Being a very popular Florida Island, there is no dearth of boarding and lodging options on Key West.
Tourists do a bit of island hopping in a boat. They are taken to Dredgers Key, Fleming Key, Sunset Key, and Stock Island. All these floating lands on the Strait of Florida are located within 4 km from Key West.
If you enjoy sea passage, you can even sail into Cuba. You have to tolerate the bumps of the boat for nearly 6 hours. The distance between Key West and Cuba is 150 km.
Measuring just 6 km by 2 km in length and width respectively, the island offers all sorts of water sports and beach fun.
It may interest you to know that when you stand at the island's northern tip, you will see the shores of Florida. I mean you would have reached the southernmost tip of the U.S.
Amelia Island
This Florida island lies in the Atlantic Ocean, closer to the South Carolina coast. The marine creatures found in the waters are said to be unique. This fact would invite both the scuba divers and snorkeling buffs.
Surprisingly, this island has several marshes that are good for watching land birds that prey on small fishes and insects.
Key Largo
Key Largo is one of the Florida Keys and is the first among them when you start from Miami harbor to explore the lovely Florida Keys.
If you like to catch the colorful corals on your camera, you can do so when you visit John Pennekamp Coral Reef State Park. I don't know whether you can see them on the top layer underneath the water but I am sure, if you dive deep, your mission will be accomplished.
A marine life enthusiast can also go to the nearby Florida Key National Marine Sanctuary. To spot rare marine lives, I reckon monsoon season is the best.
Key Largo is one of the stops for cruise ships.
Sanibel Island
Sanibel Island is located in the Gulf of Mexico, on Florida's western coast. I believe the majority of the Florida island that lies in this sea are pristine and teeming with exotic marine lives.
Generally, the islands on this side of Florida are not much visited but that doesn't take away their beauty and tourist-worthiness of them.
Shell hunting is a popular activity on Sanibel Island.
It is a hobby that is so engaging. I am a sucker for this hobby and I have collected some extraordinary beauties.
When you're not collecting shells on Sanibel Island, you might take a tour of the island's historic lighthouse, or you could do some birdwatching at the world-famous J. N. "Ding" Darling National Wildlife Refuge
If your accompanying spouse is not interested in the shell collection, tell her she can watch some spectacular American Flamingoes and Roseate Spoonbills in J.N. Ding Darling National Wildlife Sanctuary. These pink-feathered beauties will put our hearts in our mouths.
Another place to watch birds is the mangrove forests lining the Blind Pass lagoons.
Outdoor activity enthusiasts can rent bikes and explore long stretches of biking tracts. One can also rent a kayak and row in the mangrove lagoons.
Little Palm Island
It is a private island resort with wonderful beaches and a great hotel. As a private island in the Florida Strait, the beach is not at all crowded. Shell hunting on the beach is a pursuable activity.
Islamorada
It is a collection of six small Florida Keys that is a favorite among patient fishing buffs. Yes, I mean the 'anglers'' who find their catches are simply the best in the world.
Fish lovers would spend quality time at the 'Theater of the Sea'. What an apt name to study marine life!
These Florida islands are known for low tides that reveal a sandbar. It is always exciting to walk across a sandbar with the sea on either side. It is an ultimate picturesque location.