Best 5 Mexican Islands to Visit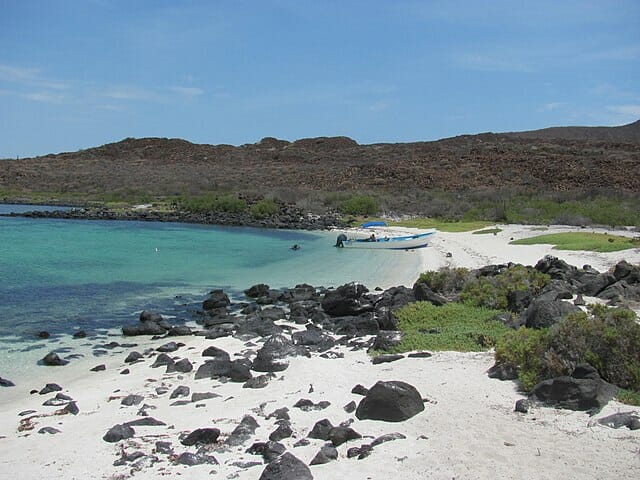 Mexican islands that are worth visiting.
See the number of islands that dot the Gulf of California, on either side of it. Approximately there are 100 islands are there that belong to Mexico.
Though the majority of the Mexican Islands are located close to the Gulf of California and mainland Mexico, some are really far off.
Look at the Roca Partida Island Clarion Island. From Mexico City, Clarion Island is 1643 km away in the Pacific Ocean.
Isla Mujeres (Mujeres Island) is the closest island to Mexico's Cancun coast. A ferry will get you to that Mexican island in just 20 minutes.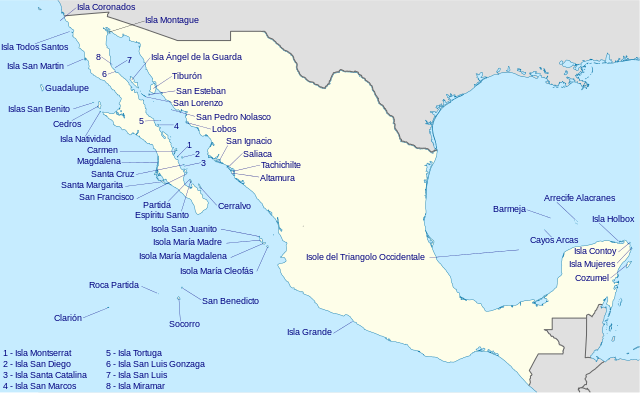 Some islands of Mexico are located in the Gulf of Mexico.
The largest of Mexican Islands is Tiburón Island, comprising 1200 sq. km. It is also the most visited Mexican Island because of its rich and diverse wildlife and marine creatures. As a matter of fact, it is declared a natural reserve nearly 50 years ago.
The four islands that are located close to Cancun are the biggest touristy islands. Cancun, a city that is situated in Southeast Mexico in the Yucatan Peninsula, itself is the most visited place in Mexico. To avoid the high expenses and mad crowds, some smart tourists escape to one of the four islands namely:
Cozumel
Isla Mujeres
Holbox
Isla Contoy.
The word 'Isla' obviously points to an island in the Mexican language.
Top 5 Mexican Islands to Visit
Now that you got a fair idea of Mexican Islands that are worth visiting, I will elaborate a bit more on them to give you a clear idea.
Isla Holbox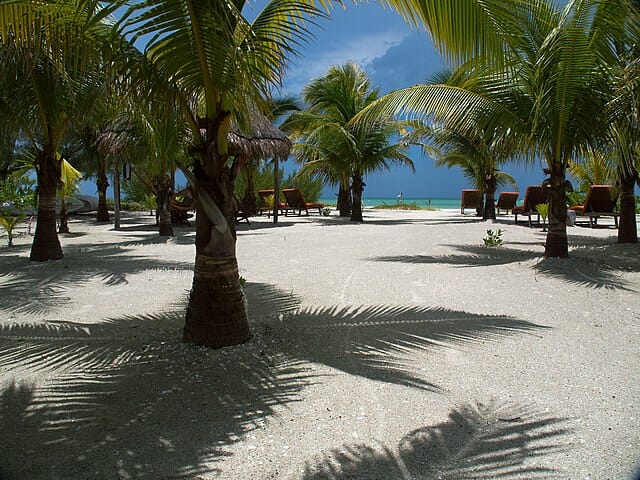 Isla Holbox is off the coast of Yucatan peninsula, in the Gulf of Mexico. It is not a very big land. By length, it measures just 42 km. Its width is a shockingly low 1.5 km only.
This island attracts bird lovers from all over Mexico and the United States. Even South Americans are drawn to this Mexican Island to watch the large numbers of the graceful pink flamingoes. Pelicans live amicably with the flamingoes. There is enough prey for all the seabirds.
Swimmers who are not afraid of whale sharks dive with high expectations of swimming along with the whale sharks.
Another category of tourist that visits Isla Holbox is connoisseurs. They love to try out various dishes made of lobsters caught off the shores of Yucatan.
For your kind information, this is a car-free island. To move around, you either walk or use golf carts.
There are plenty of small kiosks on the beach selling bar-be-qued lobster. Restaurants are accompanied by tapas bars
How to reach Isla Holbox?
A costly option is to hire a charter plane from Cancun. The flight duration is 30 to 45 minutes.
The cheaper mode of reaching Isla Holbox is to board a ferry from Chiquilá village. The sea passage takes about three and a half hours.
Cozumel
Did you notice the number of large cruise ships docked in the Cozumel harbor? It is proof of the popularity of Cozumel, one of the high-traffic Mexican Islands.
Cozumel is another Mexican Island, off the coast of Yucatan, in the Caribbean Sea. The highly popular Playa Del Carmen, the resort town is Cozumel's gateway.
The island's rich and long coral reef system (about 1000 species of coral) attracts scuba diving enthusiasts. Their chief interest is to spot the rare black coral.
San Miguel is where all the big hotels are found.
How to reach Cozumel Island?
The map below will give you an idea of its location.
Ferries reach Cozumel Island's dock in less than an hour. The departing point is Playa Del Carmen, a big resort beach city in Yucatan peninsula.
Note:
Cozumel Islands is hurricane-prone. So, plan your trip between the months of April and June.
Main things to do in Cozumel Island:
Visit Punta Sur Eco Park
Try to spot the Great Curassow, a black bird.
Go to Playa Mia Grand Beach
Go seafloor walking
They call it 'sea trek'. You wear a helmet that also supplies oxygen to you. Wearing it, you get into the water, up to the seafloor. Then, holding onto a rope, you walk on the seabed, watching spectacular marine creatures and coral reefs.
Here is a video of 'sea-trekking' in Cozumel.
Wow! That would be a lifetime thrill.
Go for a ride in a submarine.
Enjoy a short sail-boat tour
Buy original and authentic pearls from Cozumel Pearl farm
Participate in a few water sports such as kiteboarding or stand-up paddling.
Cozumel is one of the top Mexican Islands that is not to be missed.
Isla Contoy
It is a lesser-known island that is highly protected so much so that only 200 people are allowed to visit on a day. That too, a few  recognized tour companies will take the tourists to this tiny island comprising only 3+ sq. km
Reaching this Mexican island is easy from Isla Mojares, the largest of the Mexican islands. Two hours maximum is the time taken for the boats to reach Isla Contoy from Isla Mojares.
Some rare turtles have made Isla Contoy as their permanent habitat. So too several seabirds that have started living along with the turtles.
Brown Pelicans and the majestic Frigate Bird are also found to be living on the island.
Watch patiently until you see a large colony of the funny Frigate Birds that blow up a huge red balloon from their chest.
Isla Mojares
This big island off the coast of Yucatan Peninsula is an important foodie place. There are numerous restaurants facing the Gulf of Mexico that innovative seafood. Naturally, food lovers and ardent gourmets throng the island right through the season.
Isla Mojares can be reached by boat from Cancun and Puerto Juarez.
Cedros Island
Now, we have shifted our focus from the Gulf of Mexico to the Pacific Ocean, on the other side of the Mexican Riviera.
There are numerous islands that the Baja California State coastline. Cedros Island is one among them.
This mountainous Island is fairly large comprising an area of around 350 sq. km
This Mexican Island's marine creatures include the sea lion, the major attraction on this island.
If you are passionate about visiting islands, especially the uninhabited islands in the Pacific Ocean on the Baja California side. You can plan a detailed visit to Guadalupe Island, the most important Mexican Island in the Pacific Ocean, off the coast of Baja California.
From what I learned during my research on Mexican Islands, the marine lives and the sea-bird species are big crowd pullers. The next big attraction is the spicy Mexican cuisine.
If you are more of a party lover, then, the Yucatan peninsula should be your destination, the gateway to the best 4 islands of Mexico.