Top 6 Southern US Islands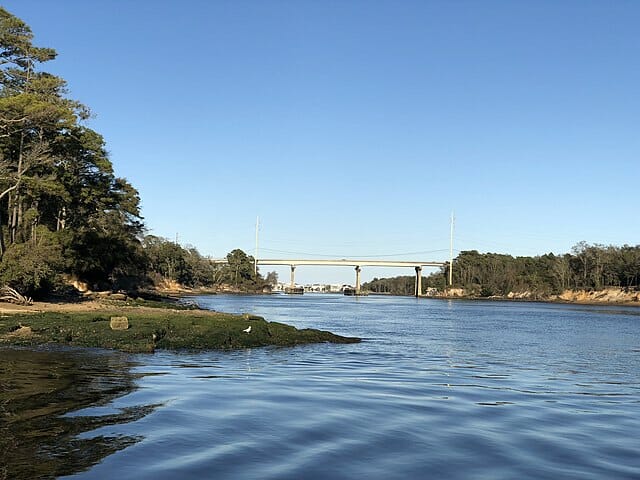 It will be interesting to learn about several winter escapes in the U.S such as Southern US Islands. for which, Americans need not travel far and wide. Winter escapes mean visiting tropical islands that promise sunny weather, and sandy beaches. Do you know that just about every coastal state in the United States has its own islands? Even the east coast states that include the Carolinas, Georgia, Alabama, Florida, and Texas have beautiful islands that attract snow-sick Americans.
Just do a search for "Southern US Islands". The results will keep you busy making notes for the next hour or so.
Top 6 Southern US Islands
I have curated some brief information about 6 Southern US Islands that are located close to several southern states in America.
Let us start with St. Georgia Island.
St George Island
Apart from numerous 'keys' (Cays) off the coast of Florida, there are some larger islands that are worth bookmarking as winter escapes in the U.S.
It seems the various fish species that swim around this Southern U.S. Island somehow know that visitors from mainland Florida come here to see them, though unaware that they will end up in the kitchens.
St. Georgia Island is thronged by the Americans who are mostly fond of fishing. I wonder how they have so much patience for angling sport whereas, they are known for their impatience for other activities in their life.
Apart from fishes, one can catch oysters too. If you are disinterested in catching them, let others toil and you just enjoy eating them in the restaurants.
The region of the location of St. Georgia Island in the Gulf of Mexico is called the Florida Panhandle that stretches nearly 320 km up to the border of Alabama and Georgia.
Accessing this U.S. island involves just crossing a road bridge that is 6.5 km long. It requires hardly 5 –minutes drive from East Point, Florida.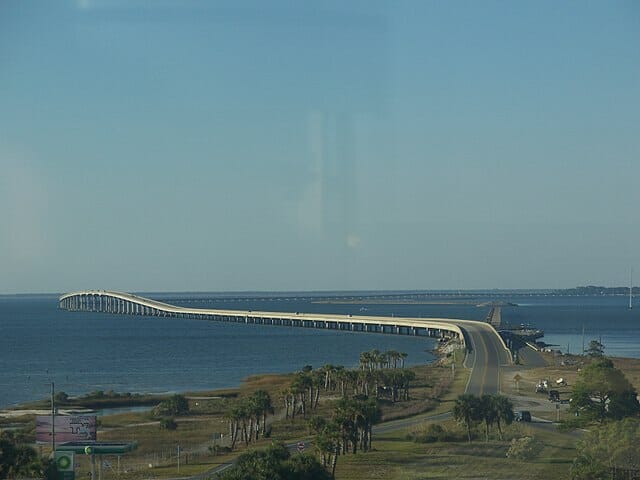 St. George Island bridge
St. George Island State Park offers boardwalk platforms, bird watching, and turtle spotting trails.
There are a few hotels and beachfront cottages that one can rent for a weekend. Many wealthy people who have holiday homes in St. Georgia Island let them out through Airbnb.
If you prefer just a day trip, you can do so. Reach the island before 8 am. You can find some bread and breakfast Inns.
What can you do on St. George Island during a day trip?
Day trips usually engage you with two hours on a small island. The rest of the time until evening has to be killed by doing the following things.
Shopping for artworks, handicrafts, seashell jewelry, and summer apparel
Drink and eat to your heart's content. The seafood here is rated high by connoisseurs.
Do fishing and catch trout, sea bass, oysters, and redfish.
Rent a kayak and engage a local fisherman to go paddling. Wet your feet on some of the uninhabited keys and islets.
Tybee Island, Georgia
This is a barrier island in the state of Georgia. Savannah is the gateway to this Southern U.S. Island. Tybee City cum island is situated 30 km away from Savannah, a sleeping coastal city in Georgia.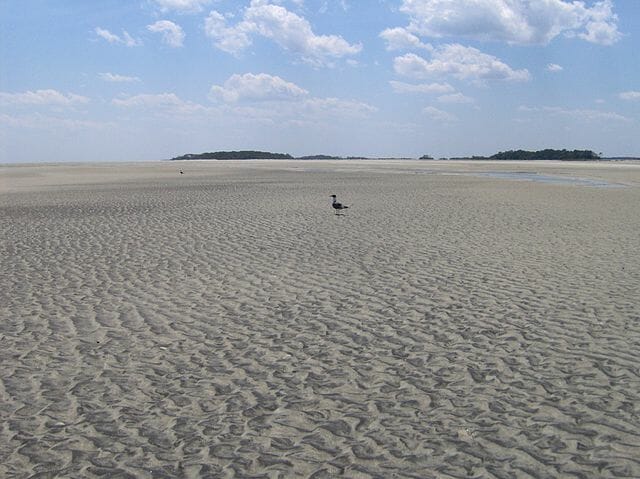 There is even an international airport on Tybee city that is connected to several domestic flights from other cities of Georgia.
There is another island nearby called Wilmington Island that has built a causeway to Tybee.
The 8 km long beach can accommodate hundreds of tourists leaving enough distance between them.
There are some hotels and several restaurants on Tybee Island. I reckon it's one of the perfect winter escapes in the U.S., especially for the easterners.
Tybee is an island in the Atlantic Ocean.
Sea Islands chain
From the middle of South Carolina's coast and reaching up to the northernmost tip of Florida on the Atlantic Ocean lies a chain of Sea Islands. View the image below.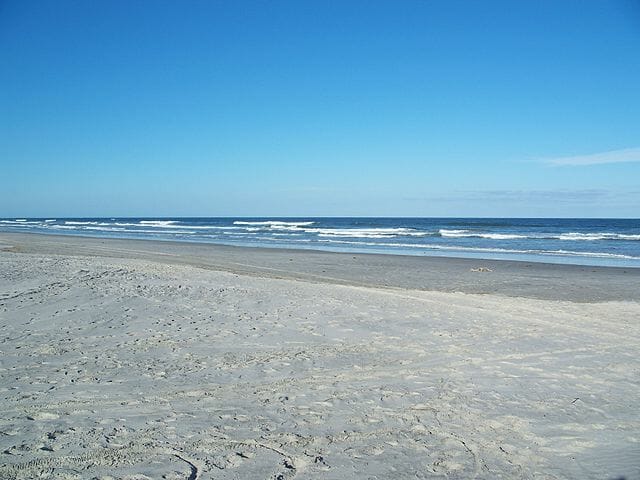 There are as many as 100 islands from which you can choose to visit anyone as one of your winter escapes in the U.S.
All these Southern U.S. islands are barrier islands. Some of the islands are accessible by boat or by air only. It means the majority of these U.S. islands are connected with the mainland by a road bridge.
Imagine, there are 100 places on the Eastern Coast of the United States that offer sanctuary for those who abhor snow.
Some of the important of the Sea Chain Islands include Amelia Island, James Island, and Sapelo Island. The last mentioned is special for people like me who take the utmost pleasure in meeting the natives. Sapelo Island is home to Afro-American people known as Gullah.
While Amelia Island belongs to Florida, the other two Sea Chain islands are attached to the states of South Carolina and Georgia respectively.
I read many islands out of the 100 islands are uninhabited. In addition, I would choose them for wildlife spotting, especially the seabirds. Besides, I believe there may be several species of marine creatures that are yet to be identified.
Main islands are home to reputed resorts that include the Hilton group of hotels.
I believe Amelia Island in Florida's Nassau County is the most visited of all the 100 Sea Chain islands because it is easily reachable from mainland Florida.
Jacksonville is the place in Florida that is connected with Amelia Island by road bridges
Bald Head Island
Bald Head Island is one of the winter escapes in the U.S. There is nothing to do here, thus forcing you to simply take full rest.
Just enjoy the sandy beach, bathe in the Atlantic Ocean. Return to your holiday rental, drink, and eat well.
Watch a short video clip of Bald Head Island.
It is alluring-right?
Walk barefooted on the beach in the evening. As there are no cars on this island of North Carolina's Southport, you either walk around or some golf carts to move around.
A boat from Southport will deposit you on Bald Head Island in less than half an hour.
The estuary where the Cape Fear River meets the Atlantic Ocean is very close to Bald Head Island. I believe mainly the residents of North Carolina go to the island for relaxing.
There are a few creeks where the condition is ideal for paddling a kayak. If you are courageous, grab a paddleboard, stand on it and paddle away in the calm waters of the creeks.
Wave surfing and kitesurfing activities are also available.
Vacation rentals can be booked in advance. I saw photos of a few of the vacation homes built right on the beach.
Dauphin Island
Dauphin Island is one of the U.S. islands that is visited by the residents of Alabama state. As a matter of fact, Alabama has about 10 islands, all of which are not inhabited.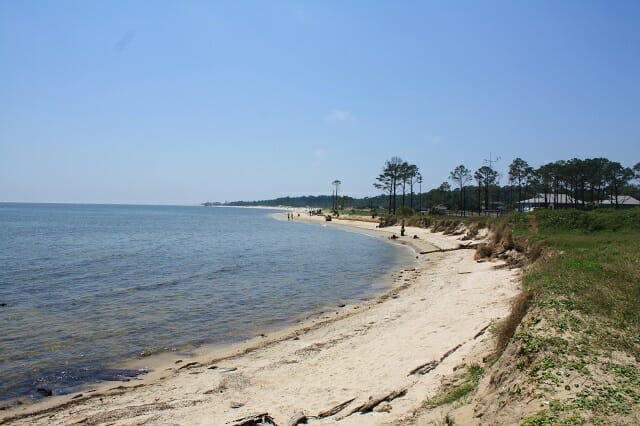 More than humans, seabirds live on the island and conveniently nest on the trees of 'Shell Mount Park'. There is even a bird sanctuary here named Audobon Bird Sanctuary.
I think it is because of the presence of birds, Dauphin Island attracts more visitors than its neighboring islands. Migratory birds from South America and Mexico, use Dauphin Island as a midway stop to take rest before flying away towards their final destination. What a lucky island it is!
Without wetting your feet, you can reach the island by road through Gordon Persons Bridge.
Key West
I am sure Key West is as famous as Florida's Miami Beach. Of all the Southern U.S. Islands, Key West is the most visited one not only by the Floridans.
The location of the Key West Island makes an interesting read. You really can't pick between the Atlantic Ocean or the Gulf of Mexico. It is in-between them and is known as Florida Strait.
Florida has numerous 'keys'. The total is a staggering 800 'keys' (Cays). All of them, the entire 800 small islets are connected with the mainland of Florida through road bridges. Since the accessibility is via road, they serve as the quickest winter escapes in the U.S.
Do you know that Havana, the capital of Cuba Island is just three hours fast-boat ride away from Key West?
The proximity to the Caribbean Islands and Cuba, the easy reach, and diverse marine lives made Key West a very well-developed tourist attraction in the U.S.
There are plenty of staying options but I believe all of them are out of reach for middle-class travelers.
As far as the places to see and things to do in Key West, it would demand almost a week's time from you.
To mention just a sample of Key West attractions:
This one-hour and fifteen minutes tour of Key West exposes every important streets and shopping areas of Key West. Offering the hop-on and hop-off facility, you can get down wherever you want, remain there until the next train comes to get on board again.
Shipwreck museum
Mallory Square to watch the most splendid sunset in the United States.
Take a long stroll in Duval Street, the main shopping and dining street in Key West
Key West aquarium is a must-see attraction
It requires a dedicated blog post on things to do in Key West.
Remember, I have not covered any of the islands of Texas, another big southern state in the U.S. Soon, I will compose an exclusive article on the fascinating islands of Texas.