American Samoa Islands-Travel Guide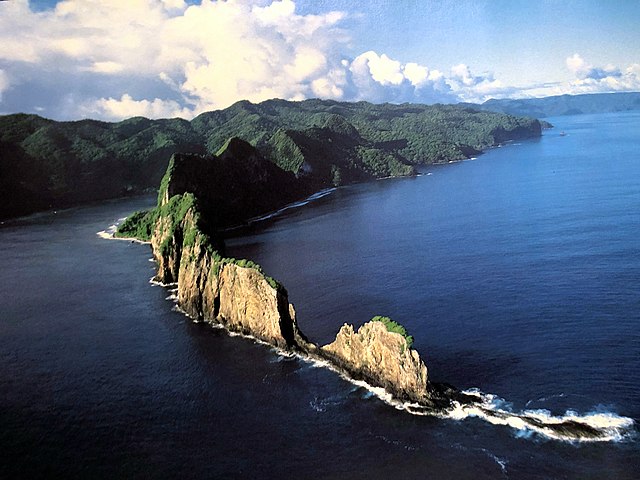 This is a travel guide to visit America Samoa Islands. You will know where the Samoan Islands is located, how to reach the island, what are the island's travel attractions, hotels to stay, and what to eat in American Samoa Island.
American Samoa governed by the United States.
Before learning about the American Samoa Island, let us briefly look into the Samoan Islands archipelago because our subject American Samoa is part of the Samoa archipelago.
While Samoa's main islands are nine, American Samoa, which is part of Samoa comprises five islands of volcanic nature. The names of the Samoan Islands:
Tutuila
Ta'u
Ofu and Olosega
Aunu'u
Nu'utele
Two more very small coral islands namely  Swains and Rose Islands are also part of Samoan Islands.
These two atolls actually belong to American Samoa.
A view of the twin islands of Ofu and Olosega is below.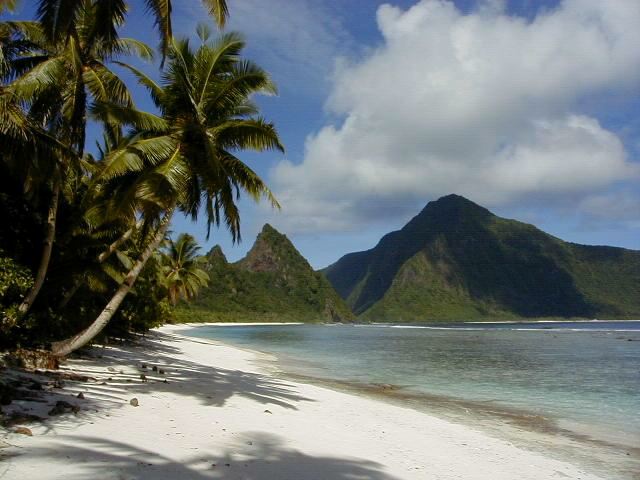 Did you notice the white color of the sand on the beach? This is a typical scene of any South Pacific island.
Where the American Samoa Islands are located?
They are located in the South Pacific Ocean and they are classified under the Polynesian Island group.
In order to visualize their location, imagine their position somewhere between the Hawaiian Islands and New Zealand.
However, don't assume you can view both Hawaii and New Zealand if you stand on the two edges of American Samoa because Hawaii is a hopping 4000 km away and New Zealand stands somewhere 3000 km (approximately).
How to reach American Samoa?
Do you know that all the islands in the South Pacific Ocean that include the Polynesian, Melanesians, and Oceania are considered truly exotic?  The Greek and Croatian islands score way behind the South Pacific Islands in terms of pristineness, tranquillity, and freshness.
I mean the culture and beliefs, festivals, and rituals of the Polynesians and Melanesians are so unique and unheard of to the majority of us.
Getting to any of the American Samoa Islands requires some effort. In order to reach American Samoa Islands, you have to go all the way to Honolulu in Hawaii.
Only from Hawaii, there is an international flight to the city of Pago Pago, the capital of American Samoa.  Pago Pago is located on the island of Tutuila.
It takes six hours to fly from Honolulu to Pago Pago.
The Faleolo International Airport that is located in the capital city of Apia, on the island Upolu receives flights from Hawaii.
From Apia, regular boat services are operated to Pago Pago.
How a tourist from New Zealand can reach American Samoa?
I wonder why anyone from New Zealand would want to fly nearly 3000 km to reach the American Samoa islands as they have their own paradise of islands in the Tasman Sea.
Nonetheless, one can fly to Pago Pago by a combination of plane and ferry.
Assuming you are departing from Christ Church city in New Zealand, you can reach in about seven hours the city of Apia, the capital of Samoa archipelago.
From Apia, you can board a ferry along with your car to Pago Pago.
Is English spoken in American Samoa?
Yes, English, as well as the Samoan languages, are spoken in all the Samoan Islands.
What the main attractions of the American Samoa Islands are?
Flower Rock aka Fatu ma Futi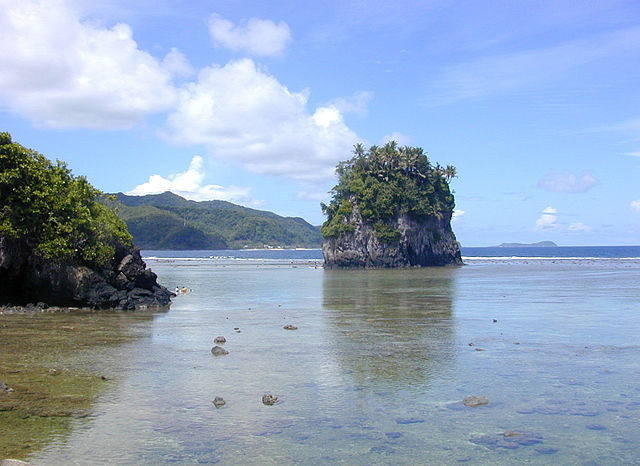 Flower Rock or Flower Pot are the alternative names for Fatu ma Futi. This densely covered natural rock formation is actually an islet, just off the shore of Pago Pago. It is where two villagers named Fatu and Futi were washed ashore during their voyage to Pago Pago.
You need to go on a small boat to see the Flower Pot.
Fagatele Bay National Marine Sanctuary
It is the National Marine Sanctuary of American Samoa whose former name was Fagatele Bay National Marine Sanctuary. This marine park was created to protect sea mammals and the biggest coral in the world.
The Big Moma
That's the name given to the biggest coral rock in the world that stands nearly 20 feet tall.
You must be able to dive deep in the South Pacific Ocean to go near the Big Momma.
The marine creatures that are spotted in this marine sanctuary include octopuses, damselfish, whales, and hawksbill turtles.
Snorkeling is the foremost water sports activity on the  Samoan Islands. You can dive deep off the shores of the two coral atolls.
Ofu and Olosega islands have some very beautiful beaches. Incidentally, both these islands of Samoa are connected by a road bridge.
The backdrop of Piumafua Mountain forms a terrific sight. The view from above will steal your heart, especially the white sand that will entice you to jump on the sand.
Due to conducive tides, swimming is made easy on the waters of the South Pacific.
The islands are volcanic and also tropical in nature. With green-top mountains, you will find a handful of trails that are hikers' haven.
The island of Tutuila is known to be great for hiking amidst dense jungles.
Equally the beaches of Tutuila Island are good for a long beach walk. However, you have to be wary of the giant and scary-looking coconut crabs that easily drill the hard shell of a coconut, get inside and eat the fleshy part of the coconut.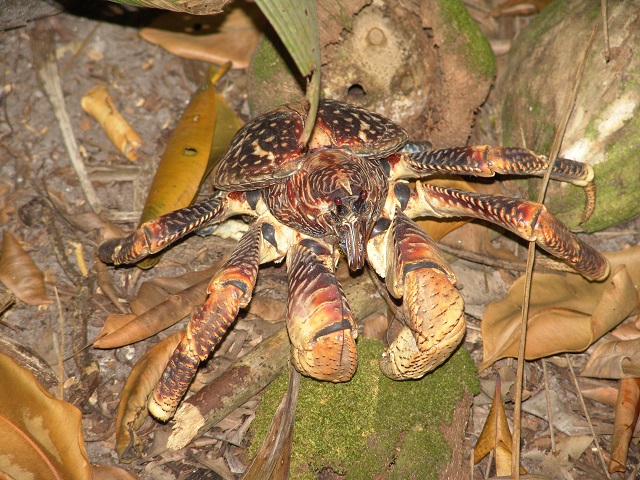 Coconut Crab
OMG! It looks ominous
Hire a local guide and ask him to accompany you on the scenic Mt. Alava Trail.
One ore picturesque hiking trail is called 'Blue Point Trail'. T is located inside the National Park of Samoa.
All the beaches in American Samoa are not white sand beaches because you can find a couple of black sand beaches due to volcanic eruptions.
Here are the names f the top beaches you should note down to visit when you are touring the Polynesian islands.
Two Dollar Beach
Aunu'u's Beach
Taputapu's Beach
Alega Beach
You are most likely to miss it if you are not aware of this very beautiful place in Tutuila Island of America Samoa.
Look at its image below.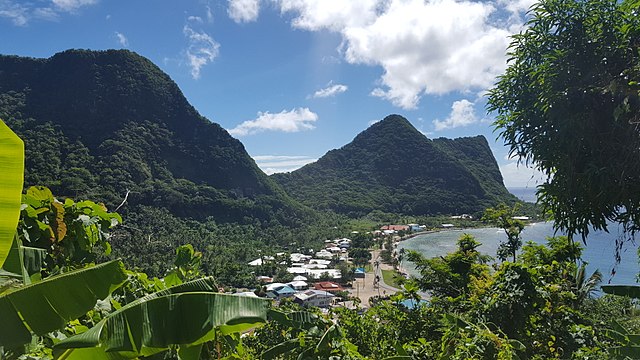 I am sure it is enough to convince you to bookmark this place. It is abutting Vatia Bay The mountain below which Vatia is situated is called Pola Ridge.
Strangely, Vatia was the center of World War II that is still evident by a few concrete bunkers there as shielding places during an air attack.
The peak is situated at a height of 2200 feet. It is an exciting event to climb to this forested peak in Tutuila Island.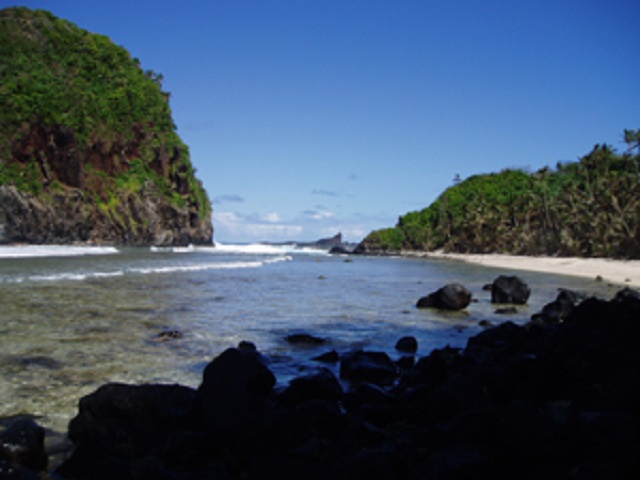 A beach on an island if it has a cliffy backdrop, makes the place mesmerizing.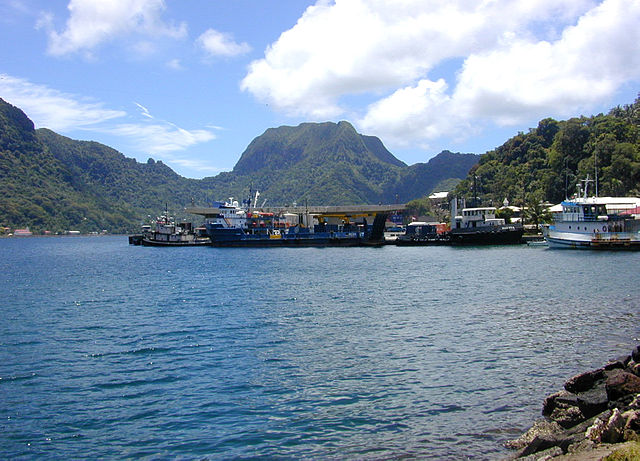 Places to stay in Samoan Islands
If you are comfortable with accommodations that promise basic amenities without luxuries, you can find several adequate hotels and homestays on the islands of American Samoa.
Here are the names of a few hotels on Tutuila Island that are often mentioned in travel blogs.
Tradewinds Hotel
Sadie's by the Sea
Maona O Sina
Asaga Inn on Ofu and Olosega Islands
Vaoto Lodge on Ofu and Olosega Islands
What is the special local food in American Samoa?
The unique food that you MUST try to eat in American Samoa is cocoa rice!
Pisupo is canned beef chunks. They are cooked with different flavors and one of them is by adding coconut milk and cabbage. Weird combination!
Oka is a fish dish. The raw fish is immersed in coconut milk and served on a plate of cucumber and tomato salad, it is a Polynesian delicacy.
Palusami is another Samoan drink made of coconut milk cooked in an earthen pot.
The Samoans are fond of eating freshly caught octopus and crayfish.
Strangely, along with melted chocolate, coconut milk is added and the rice is cooked in this delicious mixture of coconut and chocolate milk.
As a matter of fact, the Samoans prefer drinking chocolate over coffee in the morning.
Coconut generously used in Samoan recipes. For example, 'Faapapa' is coconut bread with a sweet taste.
Faiai  Eleni is again a fish floating in coconut milk.
Panipopo, the national dessert of Samoans is nothing but a home-baked bun served on a plate with coconut sauce!
Hmm… the Samoan cuisine is as exotic as the islands.
What can you buy in American Samoa?
Well, I don't think you will buy pisupo as canned beef is certainly not a novelty in your homeland.
However, you can buy Polynesian dresses as souvenirs. However, The extremely colorful and bright Polynesian dresses are only for women.
The women's dresses in American Samoa called as 'puletasi'. Men; your costumes in American Samoa have a fancy name 'lavalava'.
Wooden cutlery is sold if that interests you as gifts to your friends. In addition, They make authentic gifts from Polynesia, a distant land that most of us can only dream about.
More souvenirs you can think of buying:
Seashell ornaments
Floor Mats made of pandanus fiber
Vegetables and fruit baskets made of pandanus fiber
Wooden Bowls
Siapo art mats and wall hangings
Coconut shell toys and jewelry
You can pick up all these Samoan gifts from flea markets in Pago Pago.
Nightlife in American Samoa?
Yes, you can find bars that stay awake late in the night. Besides, Music and liquor make people dance but I believe only the tourists are found there.
Plan your first-ever trip to heaven on earth by visiting the tropical islands of American Samoa.