Trinidad and Tobago Islands Travel Guide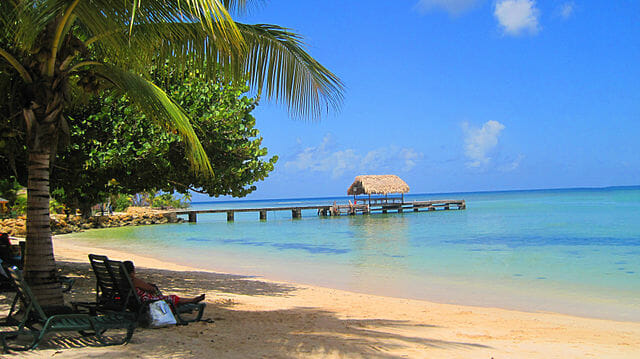 Trinidad and Tobago Islands are always mentioned together in spite o the fact that both are separated by 55 km of the Caribbean Sea. These two islands are very familiar among cricket lovers as some of the greatest cricket players hail from the West Indies Island.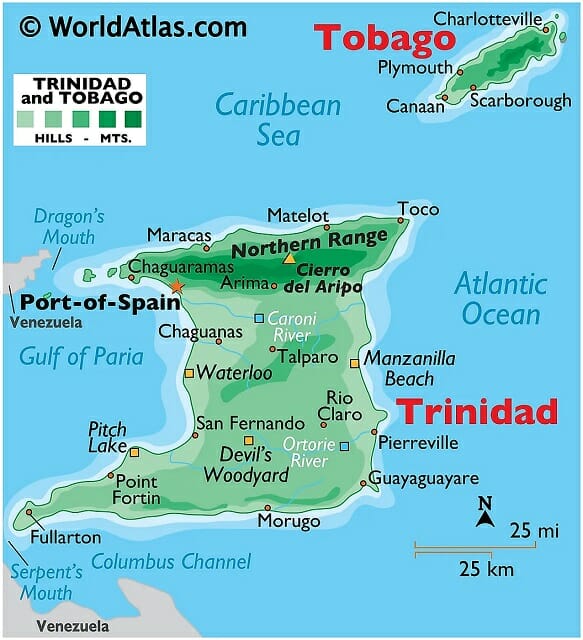 The map above shows the location of Trinidad and Tobago. Did you notice the uniqueness of Trinidad Island? It is probably the only island in the world that is surrounded by four different seas that are:
The Atlantic Ocean
The Caribbean Sea
Gulf of Paria
Columbus Channel
The majority of the West Indies countries, clustered together in the Atlantic Ocean and the Caribbean Sea.
Trinidad and Tobago are the two Caribbean islands that are located very close to South America's Venezuela.
Port Of Spain is the capital of both these islands. It is also one of the world's top cricketing cities. Trinidad is the larger of the two islands.
This blog post will act as an excellent travel guide to Trinidad and Tobago. You will know how to reach Trinidad, where to stay, what to eat, things to do, and places to see.
Moreover, T & T islands' food attracts some big names in the food tourism industry. Some of the world's top-rated connoisseurs and gourmet journalists participate in a few food tours of the islands. I will briefly mention food tours and wildlife tours in Trinidad and Tobago.
Now, you know where these two Caribbean islands are located. Let us move further on reaching them.
How to reach Trinidad and Tobago islands?
Both these islands have airports that receive flights from all over the globe. While Port of Spain is the airport in Trinidad, Crown Point International airport is located in Scarborough, Tobago.
You can fly directly into either one of the airports from most of the U.S. cities, U.K., and European countries.
Travel between Trinidad and Tobago Islands
There are flights between the two West Indies islands. However, the highly recommended way is to take a ferry ride in the Caribbean Sea. By aerial route, you reach Tobago in about 25 minutes. The sea passage takes a grueling three and a half hours but still, it is enjoyable as for most of the tourists, it will be their first sea voyage.
Trinidad and Tobago Islands Travel Guide:
Let us begin exploring both islands' top places to see and the best things to do.
We will start with the twin islands' most visited beaches as they are the reason that the tourists arrive in big numbers.
Maracas Beach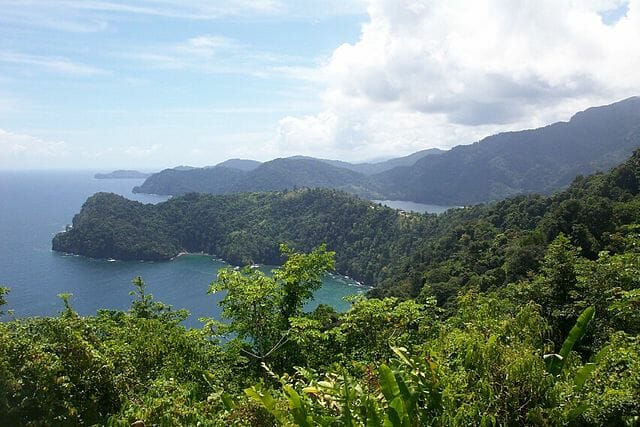 I chose the most beautiful place in Trinidad to post it at the top of all other places to see on the islands. Apart from Maracas Bay's breathtaking beauty, the route to reach is also very scenic. The one-hour drive from Port Of Spain through a mountainous landscape will steal your heart.
Pigeon Point Beach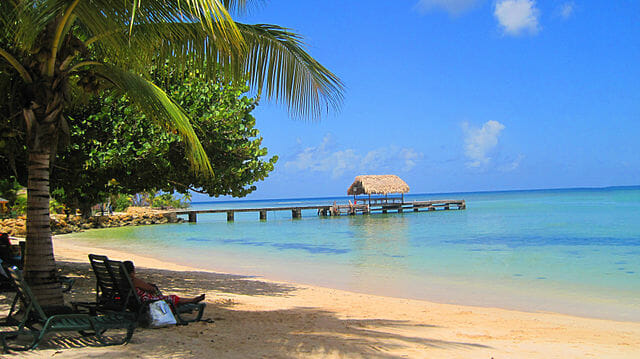 This is Tobago's best beach. Isn't it a picture-perfect beach with its pier and palm-fringed beach? OMG! This is absolutely mesmerizing.
Englishman's Bay
The beach area appears to be small. The backdrop of lush green foliage and a mountain beyond make this beach a favorite among the tourists. Englishman's Beach is located in Tobago Island.
Pirate's Bay
It is another beautiful beach in Tobago. It is a bit hidden beach and you have to climb down a staircase to access the place.
That stands apart from other Caribbean beaches. The small crowd indicates the beach is known only to a select set of people who appreciate such beaches that appear suddenly from the exit of a dense tropical jungle.
Castara Bay
It seems Tobago Island's beaches are much more beautiful than Trinidad's. Castara Bay is another sought-after beach in Tobago.
Other beaches of prominence on Trinidad and Tobago
Mayaro Beach
Store bay
Parlatuvier Bay
Las Cuevas Beach
Manzanilla Beach
Paria Bay
Batteaux Bay
Balandra Beach
Let us now visit other places of interest in Trinidad and Tobago
Shiva Temple in the Sea
This Hindu temple dedicated to Lord Shiva is seen in Trinidad Island. It is built right in the Caribbean Sea by Hindu sadhu. The walk through a boardwalk to the temple will be a memorable one for all.
It's an enchanting location and certainly, the most beautiful Hindu temple in the world by scenic location. It has been standing there majestically for the past 70 years!
Pitch Lake
It is a world wonder, a sort of inexplicable geological phenomenon. How else can you explain a lake that has asphalt deposits in its bed? It is really weird.
The asphalt deposit is expected to be over 10 million tons! If you want to see it in person, you have to go to a small coastal town called La Brea on Trinidad's west coast.
Argyle Falls
It is one of the popular tourist attractions on Tobago Island. It is a bit far off from Scarborough's Crown Point airport. I think you have to drive for more than an hour to reach the waterfalls.
Other waterfalls you can visit:
Rico Seccop Waterfall
Avocat Waterfall
Paria Waterfall
Madamas Waterfall
Rincon Waterfall
Gasparee Caves
Well, are you hooked? This clear water pool is located nearly 100 feet underneath the surface. As you stroll through the Gasparee Caves, you will wonder from where sunlight's streaks penetrate. Sinkholes are also common inside the caves.
The caves are the outcome of natural phenomena that cannot be explained.  Join an organized tour of Gasparee Caves. You definitely need a guide and the company of fellow tourists.
I think you will be taken in a boat to the location of the caves. It is an exhilarating boat ride in the Caribbean Sea. Absolutely top-notch tropical island scene! I am sure you will love the boat ride much more than the cave exploration.
Take a look at the boat ride to Blue Grotto.
Caroni Bird Sanctuary
It is one of the most visited places here. The swamps and marshes provide ample prey to a range of bird species. It is a must-see spot when you are touring Trinidad and Tobago.
Here are a few birds that you can see in this sanctuary.
Obviously, you can easily spot this stunning-looking bird. Man, what a red! Incidentally, it is the national bird of Trinidad.
All the money you spend to visit Trinidad and Tobago is worth for just one look at this fantastic bird. Incredible plumage-eh?
I have never heard of it until today. The white flamingoes still retain their romantic pink color on their legs.
Port of Spain Zoo
Probably, this is the only zoo in the world that is named after a butterfly called Emperor Blue Butterfly which was seen often during the initial days of the zoo in 1952.
Have you ever seen a blue-colored butterfly?
Here it is, the Emperor Blue Butterfly.
The Trinidad zoo is home to over 2000 animals, birds, and reptiles, including a few species of primates.
Queens's Park Savannah
Are you aware of what a 'savannah' is? It is nothing but large tracts of land covered with trees. Though you can call it a wood, here, the trees are widely set apart, allowing the sunlight to reach the earth without any interruptions so that the earth is covered with myriad wildflowers and grass. What a novel idea!
Savannahs are very important for maintaining ecology. Walking through a savannah gives you new exposure to life. You will witness thus far unseen insects, reptiles, and birds.
Queen's Park Savannah is located in Port of Spain, the capital of Trinidad.
Royal Botanical Garden
I wonder why several botanical gardens are named Royal even though there is no regal authority. Nonetheless, the word 'royal' gives a majestic sense-right?
The Royal Botanical Gardens stands close to the Queen's Park Savannah and the Emperor Zoo. So, all forms of wildlife are located close to each other ensuring visitors to all three tourist attractions.
Ash Wednesday Carnival
Look, if you want to see the Trinidadians wear such colorful dresses and dance during a carnival, you have to plan your visit in such a way that you are on the Caribbean Island two days prior to Ash Wednesday.
The Monday and Tuesday prior to Ash Wednesday, the annual carnival is celebrated with much enthusiasm and verve.
Here is a sample of the carnival's multi-colored dance.
Another good reason for a load of foreign tourists for this religious festival is the extraordinary array of local food. Numerous food stalls are set up in the open food court in the Queen's Park savannah.
To entice you, I will mention some of the foods that you can eat in Trinidad.
Jerk Chicken.
Shawarma
Corn Soup
Shark fry
Island Hopping
Never miss a chance to visit small islands, uninhabited islets, and other floating lands whenever you take a vacation on any island.
Trinidad and Tobago comprises several adjoining islands and islets. There are organized island hopping tours. As you saw in one of the videos above, the ride on the ocean will be in an open boat.
Little Tobago is your first mooring point. It is simply a breathtaking island that supports beautiful seabirds that include the lovely Red-billed Tropic birds.
Brown Booby is another rare seabird that you can spot on Little Tobago.
Your short trip will convert into a wonderful bird watching expedition, mate. Your guide will point out to more aquatic birds that are:
Sooty
Terns
Shearwater
Noddy
Frigate Bird
Red-footed Booby
Little Tobago is literally small measuring just 2 km by 1.5 km in length and breadth respectively.
Other islands where you can set your feet are:
Goat Island
Pelican Island
Nelson Island
Diego Islands
St. Gilles Island
Caroni Swamps
Swamps are ideal habitats for reptiles, iguanas, and birds. Trinidad and Tobago islands are known for their swamps.
Swamps are wetlands here the water flows around woods such as mangroves.
Caroni Swamp in Trinidad abutting its west coast is a large wetland comprising over 5000 hectares!
At the stroke of dusk, the Caroni Swap witnesses boatloads of tourists who gather to watch the spectacular sight of hundreds of Scarlet Ibis returning to their nests from Venezuela, where they go each day.
The big colony of Scarlet Ibis on the vegetation of Caroni Swamp.
When you visit Trinidad and Tobago, pre-book your seat with Caroni Bird Sanctuary Tour. Don't miss it if you are an avid bird watcher.
Other Swamp in Trinidad and Tobago
Nariva Swamp is the other important swamp for wildlife watching. One can spot several macaws and parrots that live amidst cocoa crops.
It's a freshwater swamp.
Water Theme Parks in Trinidad and Tobago:
Five Islands Water Theme Park
This is what the children will be looking for. Finally, they can call it their own den.
Harry's Water Park
It is the second water theme park on the twin Caribbean islands.
Fun Splash Water Park is the smallest of all the theme parks on the islands.
Various Tours on the islands
Now, we get to know about various organized tours operated in Trinidad and Tobago. If you like what you read thus far and would not want to miss out on anything, you should simply join a tour of your interest.
I reckon this will be the first choice of tour. It will be for me too; after all, if I am going to stay for a week in Trinidad and Tobago, certainly, I would want to know how do I survive eating exotic food-right?
Incidentally, there are two tours related to food. One is the Trinidad Night Time Food tour and Trinidad Street Food Tour.
I like the idea of splitting the food tour. Why don't other nations that boast of a big range of food and drinks try this concept of a food tour?
Scuba Diving tour on Tobago Island
Glass-bottomed boat tour
Bird Watching Tour
Island hopping tour
Where to stay in Trinidad and Tobago?
This is a big tourist nation in the Caribbean and it has been so for over a century. Certainly, it is a long time through which, there will be a lot of resorts and hotels to come up.
Do you know there are nearly 350 places to stay on these two islands?
Yes, it is true. It includes five-star resorts, and private island resorts (uninhabited small islets that are bought by entrepreneurs and converted into full-time luxury resorts). The most expensive resort is Hyatt Regency. It seems they are everywhere in the world where tourism is high.
Hilton Trinidad is another five-star hotel in Trinidad.
There are:
Beach Resorts (Recommended Mount Irwine Bay Resort)
Bed and Breakfast Inns
Holiday rental apartments
Airbnb houses
Hostels (but the hotels charge a minimum of $40 per night)
Homestays (Recommended Buccoo Reef View)
Treehouses
What to shop in Trinidad and Tobago?
Both Trinidad and Tobago have plenty to offer in terms of local produces that include palm hats, native festival dresses, seashell products, bead jewelry, and wood carvings.
Apart from these, you can buy myriad edible souvenirs. I always buy local food souvenirs wherever I go. They make excellent gifts to friends, neighbors, and kids. Even you can think of buying food souvenirs as corporate gifts thinking of promotion (smile).
Here is an incredible list of edible souvenirs of Trinidad and Tobago.
Hibiscus Syrup (so, the islands know the medicinal value of hibiscus)
Hibiscus Tea
Sorrel Juice
Chocolate Truffles The islands produce top quality cocoa. There are about 15 chocolate factories here.
Chocolate Tea(Cocoa Tea) It's a terrific food souvenir. No one will say no to highly aromatic cocoa tea.
Rum (recommended brand is Angostura)
Pepper sauces ( Morgua Scorpion is the world's hottest pepper- )
Trinidad Scorpion brand chili sauce.
Morgua Scorpion seeds
Callaloo Soup cans
Processes Chinese Pepper Shrimps
Trinidad Chunky Pepper Sauce
Pepper Chana (in a bottle)
Jerk Chicken Seasoning products
Recommended shops to buy souvenirs and gifts:
Batiki Point
Anthea's Treasure Trove
Rainy Days Gift Shop
Trinidad Farmers' Market
What do you think about this blog post as a travel guide to Trinidad and Tobago? Leave your valuable comments below.