Things to Do in Grenada Islands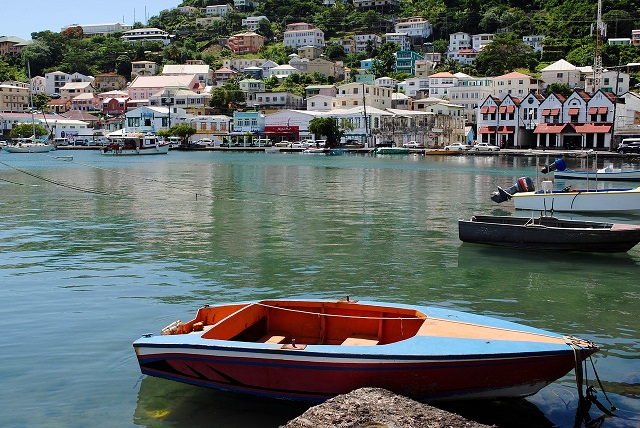 This is a complete travel guide to plan the things to do in Grenada Islands that are located in the Caribbean Sea. Know how to reach Grenada, things to do in Grenada, what to eat and drink in Grenada, where to stay in this Spice Isle, and what to shop in Grenada Islands.
Overview of Grenada
Grenada is a small archipelago in the Caribbean Sea, located near Trinidad and Tobago Islands of the famed West Indies. The South American country Venezuela is also located close to Grenada. The distance between the two is roughly 150 km only.
That should make you visualize where exactly lies Grenada. Additionally, the map below should help you make out Grenada Island's location in the Caribbean Sea.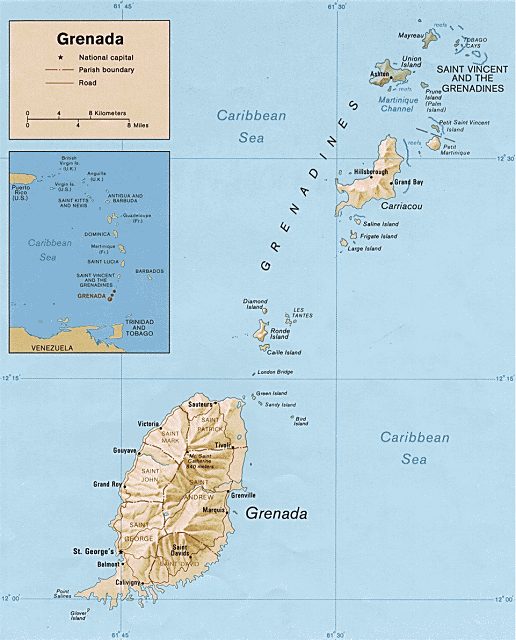 Grenada Island's siblings are:
Petite Martinique Island
Carriacou Island
Moreover, Grenada comprises a few small islets that I believe are uninhabited.
How to reach Grenada Islands?
Grenada highly visited island states of the West Indies. Its capital is oddly spelled St. George's is well connected with North America, other Caribbean island countries, and Venezuela.
Most of the leading airlines that include Qatar Airways and British Airways, operate flights to Grenada. Of course, the journey duration differs according to your starting point. For example, you need to fly for ten hours to reach Grenada from London.
When is the best time to visit Grenada?
If you are a 'rain-hater' and want sunny but pleasantly warm conditions, plan your dream trip to Grenada anytime between December and April.
An alternate way to enjoy the Grenadines is to buy an all-inclusive tour package with any one of the reputed cruise lines so that you will enjoy a superb sailing time in the Caribbean.
Where to Stay in Spice Isle?
Where do I stay in Grenada? Are there only sea-facing hotels, or can I find luxury beach resorts in Grenada?
There is no dearth of staying options in Grenada Island. Beach-front hotels are numerous, as well as exclusive beach resorts.
Among all-inclusive luxury resorts in Grenada, two are highly recommended.
Mount Cinnamon Resort
Spice Island Beach Resort
Generally, 'spa hotels in Grenada' highly preferred by affluent tourists from North America. Spa hotels in Spice Isle located in extremely picturesque locales with beautifully landscaped gardens that open onto breathtaking private beaches.
I want to recommend a few spa hotels in Grenada.
Laluna Beach Resort
Sandals, Grenada
If you are a backpacker, you won't find any difficulty locating a few budget hotels in Grenada.
Best Things to Do in Grenada Islands
What to eat in Grenada?
Every Caribbean island is a connoisseur's haven. Seafood flows and flows in abundance. The cuisine is invariably Spanish and Mexican though you would easily find your American compulsions like a burger, pizza, and sandwiches that are always accompanied by tomato ketchup.
Here are some of the local foods of Spice Isle that you must eat.
What an odd name for food! Nonetheless, this is the national dish of Grenada. Oil Down is actually a stew made of the unique Breadfruit.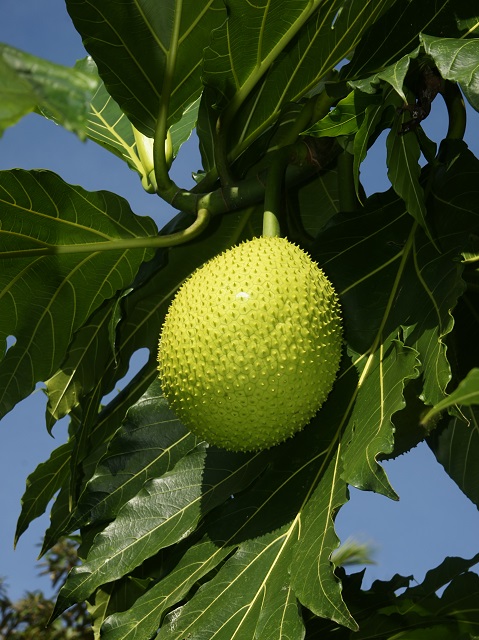 The other interesting thing about Oil Down is that it is cooked in coconut milk. In the stew, you will find several vegetables and some meat too.
Don't be surprised to find alien flavors because of the addition of locally cultivated nutmeg and cinnamon.
The entire island of Spice Isle is very famous for its spice gardens. The island itself known as 'The Isle of Spices.'
Note:
Though Oil Down is a stew, you won't find it in a fluid state because all the juices and liquids would be completely cooked till absorption.
After reading its description, I concluded 'pelau' is a Caribbean avatar of the Indian 'pulav,' a rice delicacy with finely cut and fried chicken and vegetables.
Can you believe it? Nutmeg Ice Cream widely sold throughout Grenada Island. I have tasted nutmeg before; I don't think it will blend well with ice cream. Nevertheless, when you are touring Grenada, you must taste the local favorites.
The 'callaloo' soup's basic ingredient is 'dasheen leaf,' an endemic greens to the Caribbean Islands. It is the leafy part of a tuber called 'taro' similar to 'colocasia' tuber.  This soup will taste coconutty and is eaten for breakfast in Grenada.
This is a must-try food in Spice Isle. The taste of the fleshy cocoa bean is unique and said to be tangy for your taste buds.
Grenada is full of land crabs as well as sea crabs. It is the land crab that is used to make this stuffed crab. The Caribbeans love this local meat dish. The top of the crab's shell is garnished with breadcrumbs. What an innovation in the Grenada kitchens!
I think this is nothing but 'drinking chocolate.'
The most widely drunk beer in Grenada is the 'Carib' beer.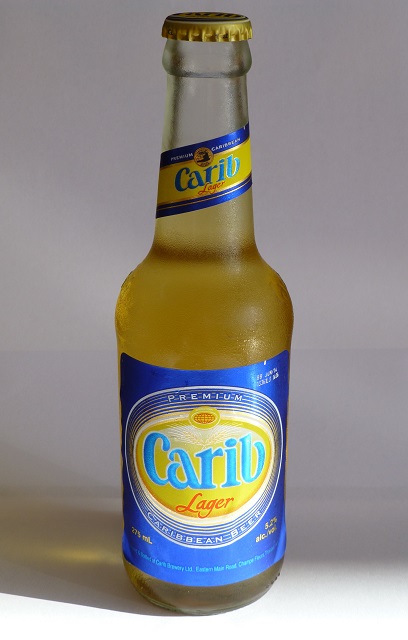 What is the fun of going to a Caribbean island and returning without drinking the Caribbean Rum? Rum Punch is a rum cocktail with a fruity taste.
Two rums of Grenada that you must try when you are vacationing there.
Westerhall Rum
River Antoine Rum
What to buy in Spice Isle?
Buy the best locally grown spices that include nutmeg and cinnamon. You can also shop for the best cocoa beans and cocoa powder used to brew drinking chocolate.
For take-home pleasures, buy a box of " Cocoa Balls" that contain the ubiquitous cinnamon of Grenada.
Grenadian Fudge is a sweet that looks like small cakes made of pure chocolate, ginger, cinnamon, and nutmeg!
Fun things to do in Grenada Islands:
Nature lovers will have a field day or two while venturing out of their luxury beach resorts in Grenada. Some of the places in Grenada would force you to visit twice.
It is a scenic lake filling up a crater. The crater is a big cavity, the mouth of a volcano from where the lava spews.
Grand Etang Lake is said to be connected with another volcano. It is a submarine volcano called "Kick 'em Jenny" Hey buddy, it is an active submarine volcano in Spice Isle.
The surrounding area of Grand Etang Lake declared as a national park; bearing the same name due to the diverse enough flora and fauna that is  to be protected in a national park.
Take a guided hike on one of the several trails that lures tourists to explore the volcanic area with avid interest.
Levera National Park in Grenada would beckon passionate bird watchers. The birds of any Caribbean Island would warrant quite a lot of patience to spot them and capture them in a camera.
Being a Ramsar site (wetland with marsh), birds find plenty of prey in Levara National Park.
Have you ever seen a bird that is brown in color? You can spot one such bird in Grenada's Lavera National Park. It is called 'Brown Booby.'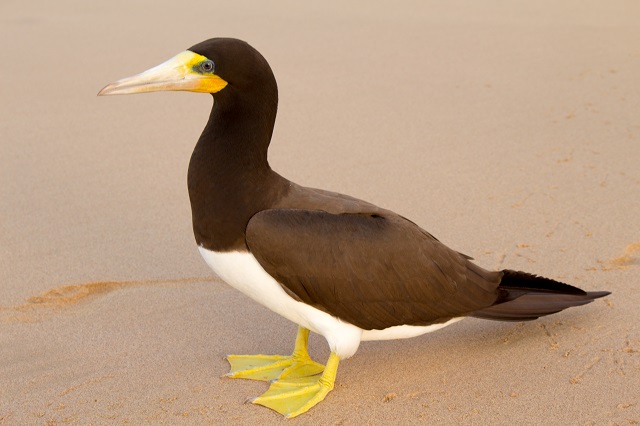 Catch a glimpse of some of the amazing birds of Grenada below.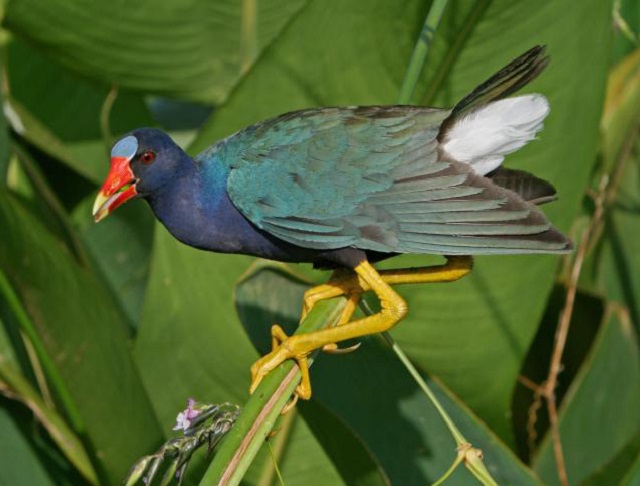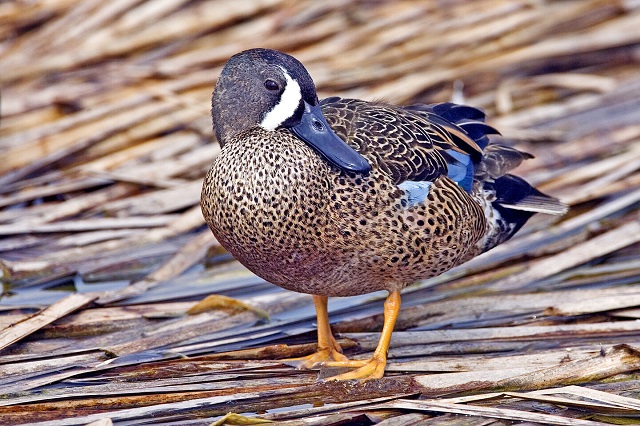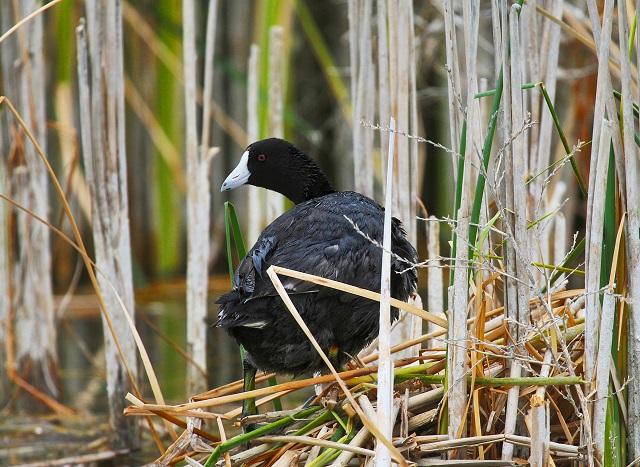 Beaches of Grenada
This 378 sq.km Caribbean island has a whopping 50+ beaches, making you stay for more than a week to explore at least 25 beaches in Grenada.
Note: Grenada's beaches wear white sand except 'Black Bay', where the sand is a romantic black.
Some of the best beaches in Grenada are:
Grand Anse Beach
Magazine Beach, Grenada
Duquesne Bay, Grenada
Levera Beach, Grenada
La Sagesse Beach, Grenada
At some places in Grenada Island, you will wind bays that protrude into the island. Those are wonderful lagoons that are ideal for snorkeling and swimming.
Amazing Things to Do in Grenada
Underwater Sculptures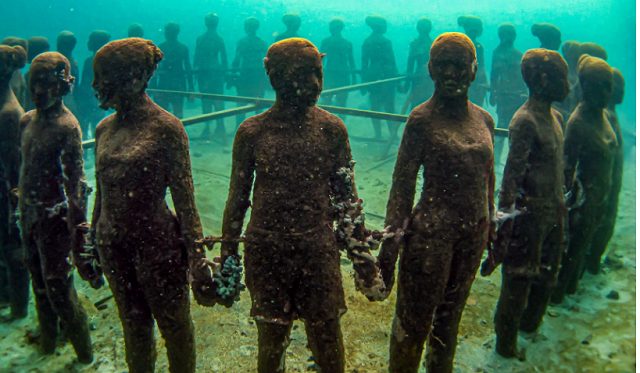 Incredible sculptures created underwater. This is a must-visit place in Grenada. I think you need scuba diving gear to get under the water. This underwater sculpture park is off the beach of Moliniere Point.
I read one can try hard to glimpse the underwater sculptures when they hop on a glass-bottom boat.
If that is the case, I think snorkelers can also float on the Caribbean Sea to see the magnificent underwater statues.
The life-size sculptures are heavy. They are fixed to the seabed with steel bolts and nuts.
The most astonishing statue of all is the statue of Jesus Christ.
Shipwreck off the coast of Grenada
Scuba divers flock to the site of a shipwreck off the coast of Grenada. They generally dive deep to see the statue of underwater Jesus Christ and then swim in the shipwreck direction.
Carenage Promenade
Waterfronts; usually called 'promenades.' It is a lovely place to stroll. In addition, Enjoying the sea breeze, you can eat in small bistros on the promenade, sip beer watching the passersby or eat a sumptuous dinner when the lights are on the promenade.
Fish Friday
If it is Friday, it must be Gouyve, a small town in Spice Isle. It is a big fish festival day every Friday in Gouyve.
You can't say there is something fishy there because everything is fishy. You can eat fried fish of unheard species.
Of course, giving company to exotic fish are crabs and lobsters.
Waterfalls to see in Grenada Island
Annandale Falls and Concord Waterfall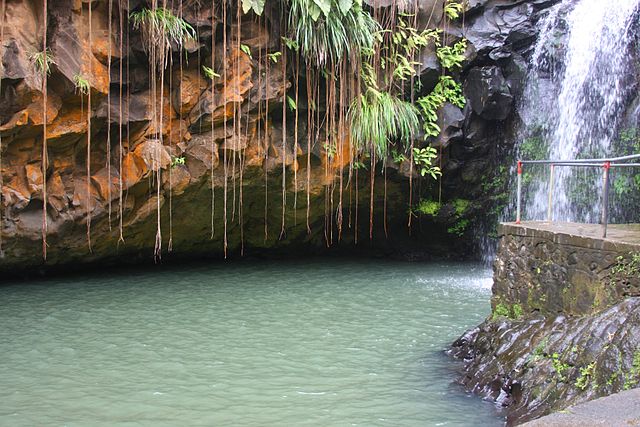 This waterfall set amidst thick greenery. You have to walk some distance to reach the scenic and cool waterfalls. The walking route is full of colorful flowers.
Concord Waterfalls is also located in a picturesque place.
Two more waterfalls that are great tourist attractions in Grenada are:
Carmel waterfalls
Seven Sisters waterfalls
Island hopping boat tour from Grenada.
Who would missing go sailing or on a motorboat from Grenada to a few small islands nearby? A 90-minute boat ride would get you to the island of Carriacou Island.
The other sibling of Grenada is the island of Petite Martinique, with beautiful beaches. The sea passage will consume a little less than two hours from Grenada.
Hog Island is another destination for your island hopping tour from Grenada. However, The water taxi takes half an hour to reach Hog Island from Grenada.
Church sightings in Grenada
The Anglican churches of Grenada gleefully welcome tourists. St.George Anglican church is located right in the city center of St.George's.
Spice gardens of Grenada
Your hotel reception will arrange a tour of a few spice gardens of Grenada that produce high-quality cinnamon and nutmeg.
Tour a chocolate factory
Grenada yields excellent cocoa beans from which delicious chocolates are made. Make a tour of a chocolate factory in Grenada.
Visit Prickly Bay Marina
What an odd name for a beach that is known for fun and frolic. The local fishermen join the daily evening drink and dance time. You can see numerous fishing sailboats moored, and it is a colorful sight.
Go to Fort St.George
This fort built during the early 18th century in Grenada. Built on an elevated location, it acts as a wonderful observation platform to view the Caribbean Sea and the city of St.George's.
What else can you do on Grenada Island?
Well, row a kayak on your own in one of the friendly lagoons. Plan your kayaking stint late in the evening to watch a breathtaking sunset.
Moreover, Go for a long beach walk on the white sands of Morne Rouge Beach with an attractive hill behind.
I hope you will find these things to do in Grenada Islands post handy.
Get up early in the morning, immediately after sunrise, and enjoy a 30-minute sunbath in the privacy of your beach resort.
In addition, Eat some street food from many stalls that dot all the popular beaches.
To sum it up, Grenada Island is truly a fantastic place on the earth to the holiday.