Caye Caulker Belize- Caribbean Island Getaway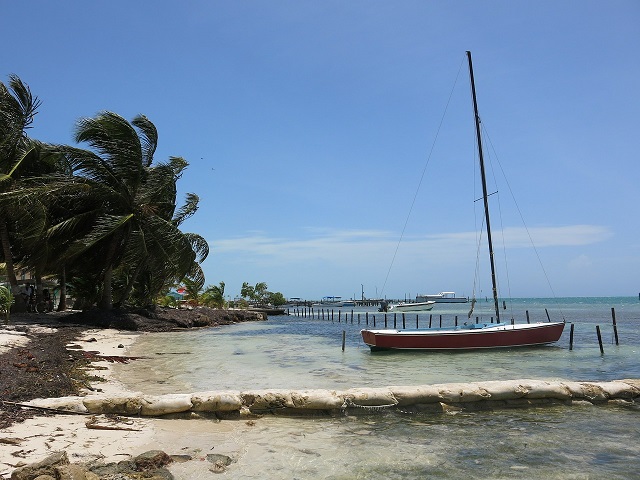 Caye Caulker Belize Island is becoming a big tourist attraction.
Quaint Caye Caulker is a charming island in Central America. It is part of Belize, an independent country.
It is an absolute paradise for island lovers. Though, It is a Caribbean island but located in the northeast part of Central America.
Not many people know that Belize was once called "British Honduras". Another surprising fact in this free world is that Belize got its much-needed freedom from the British only as late as 1981!
Almost, this island looks like a crocodile with an ultra-long tail when viewed from high above.
Aerial View of Caye Caulker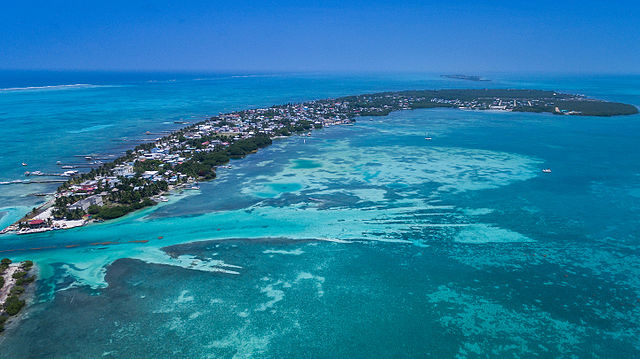 Below is a slightly better image of this Caribbean Island with buildings and civilization.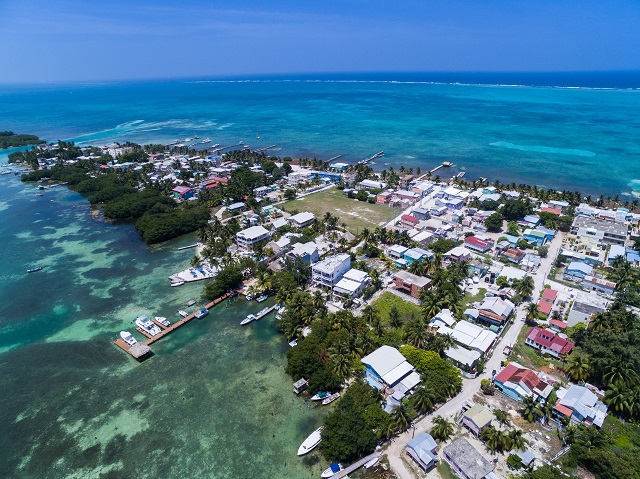 Overview if Caye Caulker Island
I read Caye Caulker is a sought after location by veteran water sports enthusiasts who can't wait to put on their scuba diving gears or snorkeling masks to hit the water.
This island is actually divided into two, the north and south Caye Caulker by a small channel called 'Split". Ah, a very appropriate name indeed!
However, in recent years, party mongers and night owls started visiting the Island during weekends. Now, This island paradise is haunted by tourists who hate days; I mean those who are ardent nightlife lovers.
Caye Caulker Island can be walked across from east to west in just 20 minutes. The width of the island is only 1.6 km. North-South, the length is about 13 km.
Both the island and its mainland Belize separated only by 32 km.
For a change, I am going to write about the things you can buy from Caye Caulker as souvenirs. I believe the recommended souvenir items would entice you to buy your plane tickets to Belize and then take a water taxi to Caye Caulker.
What to buy in Caye Caulker Island.
This is the most bought gift item by the tourists in the Island. There are several shapes and sizes of the basket. You can also buy Mayan trays and small cups.
Surprisingly, the Mayan chocolates and coffee that both locally grown make fantastic gifts to back home.
Exquisite carvings on the slate are captivating to look at. Some tourists who are interested in arts, buy them as memorabilia.
Another surprising item that you can buy here is the 'hot sauce' with the brand name Marie Sharp. Actually,  It rated very high by the actual users.
Rum that locally brewed considered a 'must buy' item in the island.
 Well, are you enticed to plan a trip to Caye Caulker Island?
Location of Caye Caulker.
As mentioned above, It is located in the Caribbean Sea, some 30+ km off Belize.
How to reach it?
The best and most enjoyable way of reaching Caye Caulker is by a water-taxi from San Pedro, a city in southern Belize. It might take around 45 minutes to cross over the sea.
In addition, a small plane also is operated from Belize. The air travel takes just 15 minutes.
Moving around in Caye Caulker.
The is too small an island and as such there are no local buses. You either walk around or hire a golf cart to move around the island. Bicycles too come in handy to tour the Island.
Things to do in Caye Caulker Belize
Let us now go into the list of things to do and attractions to see in island paradise.
A Day Trip to Ambergris Caye
The foremost thing to do is to make a day trip to Ambergris Caye from the island. Though a small plane service exists between these Belize islands, there is also a waterway but it is a bit circuitous. First, you have to go to San Pedro by ferry or by plane and again from San Pedro city to Ambergris Caye by speed boat.
There are plenty of things to do in a day when you are in Ambergris Caye. In fact, you can even make Ambergris Caye as your base and make a short visit to Caye Caulker.
Great Blue Hole visit is the second most awesome thing to do.
It is an incredible geographical phenomenon in the world.
When you look at it from a plane, the huge cavity appears like a sinkhole or a giant suction gap but it is not actually so.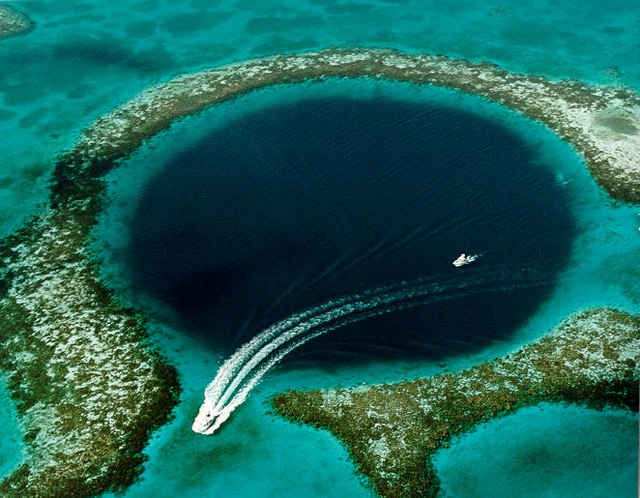 You can swim across the Great Blue Hole. The diameter is only 320 meters.
You can dive deep into the Blue Hole or just float over wearing a snorkeling mask. Colorful corals can be seen on the seabed. Scuba divers from various parts of the world, intrigued by the Giant Blue Hole and what it holds underneath and turn up in Caye Caulker as frequently as they can.
Enter the thick mangrove forest
Mangrove forests make excellent habitat for birds and reptiles. The mangrove forest in heart of the island is considerably large comprising a whopping 100 acres. Wildlife enthusiasts, once they enter the forest just before dawn, won't budge until evening because they will thoroughly be engaged in capturing in their camera, what they came to see. Seagulls swarm the area.
Caye Caulker Hol Chan Marine Reserve
The coral reef, fish species (rays and sharks), and sea plants are diverse off the coast of Belize. That's why the island attracts a number of scuba divers and snorkelers.
Walk your way up to the 'Split'
Split is a channel that literally divides the Island into two-the north and the south. Just enjoy looking at the sea, spend some time on the mini beach and return.
Aaron's Travel and Adventure Network
There is a bar. Buy a chilled can of beer, sit on the pier, and enjoy the drink.
Go sailing in the Caribbean Sea
Sailing is an exciting adventure. It is so strange as you move without driven by any artificial force such as a motor. The wind power on you is a unique experience.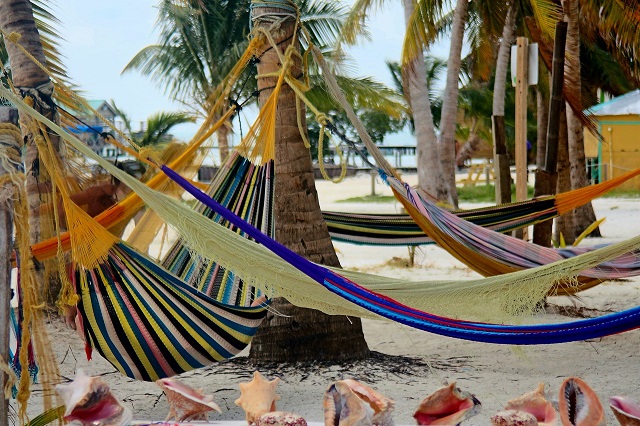 Snorkeling
Just about everyone who visits Caye Caulker Island in Belize would either dive deep up to the seabed or just float on the surface wearing a snorkeling mask.
Organized diving and snorkeling sessions are available. It is better to join one f the tours with a guide.
Swim with a manatee
Manatees called as 'sea cows'. They are gentle mammals that live underwater. They are big and slow swimmers. There is a manatee reserve in Caye Caulker and it is called Swallow Caye Wildlife Sanctuary.
Hotels in Caye Caulker Island
Staying cost is cheap on this Belize's island. Quite a number of small hotels and serviced apartments offer budget accommodation.
There is no dearth of restaurants and small cafes on this small island. Food is certainly cheap and the drinks too.
So, how do you feel about making a trip to this island paradise in the Caribbean?