Island of Palau Travel Guide for First Time Visitors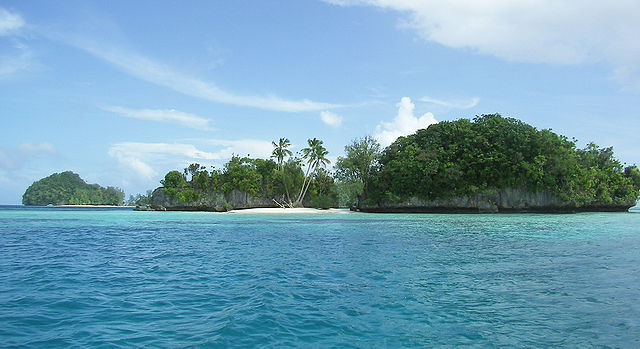 This blog post strives to be an ultimate guide to the Palau archipelago and to some of its major islands.
I happened to read one odd news about the need to take a pledge by the tourists to Palau even before setting afoot on any one of the islands in Palau archipelago. It's an eco-pledge that goes like this:
"Children of this island, I take this pledge as your guest, to preserve and protect your beautiful and unique island home. We/I vow to tread lightly, act kindly and explore mindfully. I shall not take what is not given. I shall not harm what does not harm me. The only footprints I shall leave are those that will wash away,"
It's a brilliant idea initiated by the local Government that sincerely wants to protect the ecology of its islands. I wish every island and islet in the world implement this measure.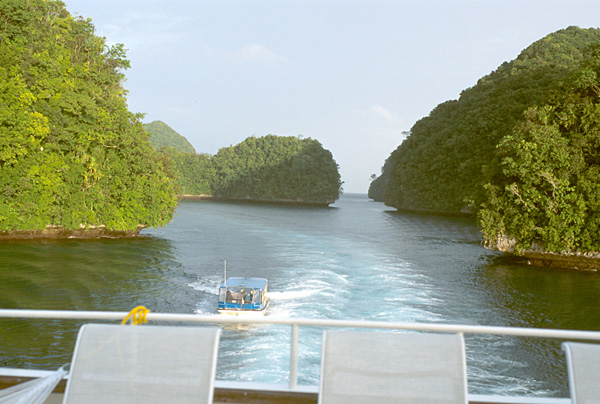 How is the pledge taken by the tourists to Palau?
The pledge is actually stamped in the tourists' passport and they have to affix their signature.
We all behave inconsiderately to wherever we travel and we treat the islands especially with scant respect to its beauty and environment endangering even the lives of aquatic birds and creatures living in the sea.
The eco-pledge is an essential measure that I wish every island, islet, atoll, and cay in the world implement with absolute seriousness.
Location of Island Palau:
Map:

There are about 500 islands in Palau archipelago, some of them are islets and atolls only and thus not all the islands in the Palau archipelago are inhabitated.
Palau is located in the western Pacific Ocean. It doesn't share its land with any other nation.

Palau's neighboring countries are:
The Philippines
The Federated States Of Micronesia (an archipelago comprising of 600 islands)
Timor-Leste (East Timor)
Indonesia
Brunei Darussalam
Trivia: I am an ardent lover of islands and islets. I am simply awestruck at the number of islands in the atlas. It's truly mind-boggling.
Example:
Do you know that Finland have 40,000 and Canada has 30,000 islands, islets, atolls, cays, and skerries?
Important facts about Palau.
It belonged to the U.S as recently as 1994. It is now independent.
Therefore, the local currency is still U.S.$
Languages spoken are English and Palauan
The capital of this island is Ngerulmud. It is located on the largest island of Palau called Babeldaob.
Of the 8 major islands of Palau, the island of Koror seems to be the most active one commercially.
An Overview of Palau.
By looking at its rather detached location from many of the well-known countries such as Philippines and Indonesia, it must have its own unadulterated culture. Not only the culture and civilization, it seems even the Western Pacific ocean water is very clear and very blue but still with a diverse ecology. For these simple reasons, nature lovers have 'holiday-marked' this archipelago in the Pacific. After what I have read about this islands' habitation, I would surely call Palau as pure paradise.
The Palau archipelago is all reef barriers and atolls. I never knew that even reefs are comprised of different species. I believe 700 reef species are identified in Palau islands.
The Western Pacific region is known to be biased when it comes to sea-world creatures. For example, Palau oceans are home to as many as 1,500 species of fish.
Divers and snorkelers would take an instant plunge into the sea if they know about such a wide range of reefs and fish. Oh, not only that; they can also identify several species of aquatic flowers and plants that were hitherto unknown to them.
Do you want me to name a few rare varieties of Palau fish? How about this?
Yellow Butterflyfish,
Pufferfish,
Emperor black Angelfish,
Blue-headed Wrasses?
Image of Yellow Butterflyfish:
Image of blue-headed Wrasse.
The monstrous-looking 'giant clams' is also found deep inside the sea. No, they do not eat the feet of the divers as it is only a myth that they like to bite human feet.
Most of the beaches of this island are loaded with the jellyfish.
Most popular cities in this island
Koror
Ngerulmud
Malekeok
Angaur
Babeldaob
Meyungs
Rock islands
Eali Malk
Atolls in Palau archipelago
The Kayangel is a coral atoll and the entire Rock Islands (200 of them) are also said to be atolls that are uninhabited.
Attractions of Palau
Koror
As I mentioned earlier, Koror is the commercial hub of this island and it is where the tourists congregate because the staying options are too many here. The popular attractions in Koror are the Etpison Museum and the Belau National Museum. Typically, the museum displays the past life of Palauans, their art, and culture.
Rock Islands are visited by divers to have an encounter with the Jellyfish.
A complete tour of Rock Islands organized by a private company. The tour price is inclusive of:
Lunch
Hotel pickup and drop-off
Local guide
Book online  for the tour of Rock Islands, Palau.
Ngardmau Waterfall
The Ngardmau Waterfall is located on the Babeldaob island, the largest island in Palau archipelago. It falls from a height of 217 feet.
Hotels Palau
Plenty of staying options is available in Palau islands. In addition, one can rent a sea-side bungalow or mini cottages facing the beach.
The most talked about hotel is the Long Island Beach hotel.
It is reached by speedboat from Koror. It's a 40-minute boat ride. The location of the hotels is right on the water's edge.
M&A Beach Bungalows
Features and facilities:
The location is terrific; it is where a jungle ends on the beach. Wow! That must be lovely! The guests sit on the verandah facing the sea and enjoy a sumptuous continental breakfast.
Amenities:
Air-conditioning,
Fridge,
TV
Car rentals
Airport pick up and drop
Tours to the Rock Islands
Cottages:
For cottages, you can book one with storyboard beach resort, a family run hospitality service. All the cottages come with air-conditioning and hot water.
The Storyboard Beach cottages offer an uninterrupted view of the spectacular sunsets from the balcony.
Since this location meant for diving and snorkeling, there are no modern facilities such as TV or Internet.
Food and drink
Palau local cuisine is mainly Japanese and Taiwanese. Food of Korea and Philippines are also available in major restaurants. Of course, the American food is easily available as the islands were under their rule till 1994.
The locals love crabs with coconut. Many restaurants serve this hot seafood.
Ah, the Indian food in this island! The restaurant that serves the Indian food in Koror  called the Taj.
For exclusive Japanese food, go to Fuji. The Dragon Tai also serve the Japanese food.
If you like to taste Italian food in the Palau islands, visit the Parrot located at Lebu Street, next to Bank Pacific, Koror Island 96940, Palau
The Carp restaurant has received several positive reviews too. It serves authentic Palauan cuisine. It found at Koror Island 96940, Palau
For vegetarian food that is gluten-free, people go to Kramer's Café located at 1, Pirates Cove, Koror, Koror Island, Palau.
What to Drink in Palau
There is nothing much for the regular drinkers in Palau. A few varieties of beer sold such as Stout, Red Rooster and Amber. I did not find any mention of hard liquor in Palau.
How to reach this island
One can reach the islands by flights that are operated by several airways that include:
Korean Air
United Airlines
Delta Airlines
Palau Pacific Airways
All flights originating from various neighboring countries land at the Palau International Airport, Airai, Babeldaob Island. You can take a flight depending on your departing city such as Seoul, Guam, Manila, or Tokyo.
Flights to Palau Island Image
The least flying time is from Yap, Micronesia. The flying time is just an hour to Palau to cover about 500 km.
From Manila to this city, it takes two and a half hour flight.
It's a four flight to Palau from Taipei, Taiwan.
I believe more number of Koreans visit this island from Seoul. For them, the flying time is four and a half hour.
Next to Yap, Guam operates more flights to this island. It only takes about 90 minutes to reach the destination.
Please note that all the above-mentioned airlines may not operate daily flights to this island. For example, there are only four flights a week from Tokyo to this island operated by the Delta Airlines.