St Eustatius Island Travel Guide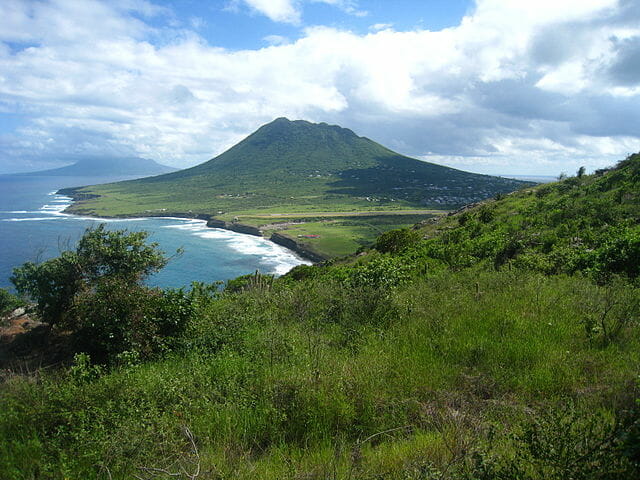 St Eustatius which is shortly known as Statia is one of the Dutch Caribbean Islands. In spite of being a Dutch overseas region in the West Indies, this tiny island uses U.S. Dollar as its official currency.
Its nearest Caribbean island is St.Kitts. Being a friendly neighbor, flights are operated from here to Statia Island. It is capital is Oranjestad.
Our destination island measures only 10 km by 4.8 km in length and breadth respectively. But surprisingly, such a small tropical island in the Atlantic Ocean has several hotels and holiday rental apartments. This fact implies it commands a considerable inflow of tourists from the United States as well as from the Netherlands.
Do you know?
St.Eustatius Island was added to the Netherlands Overseas Region only in 2010!
Statia has two allies that are smaller than their big sister. They go by the names Bonaire and Saba.
Geography of Statia Island
St. Eustatius is a volcanic island resulting in beaches covered with black sand. Of course, the volcano is now dormant, folks!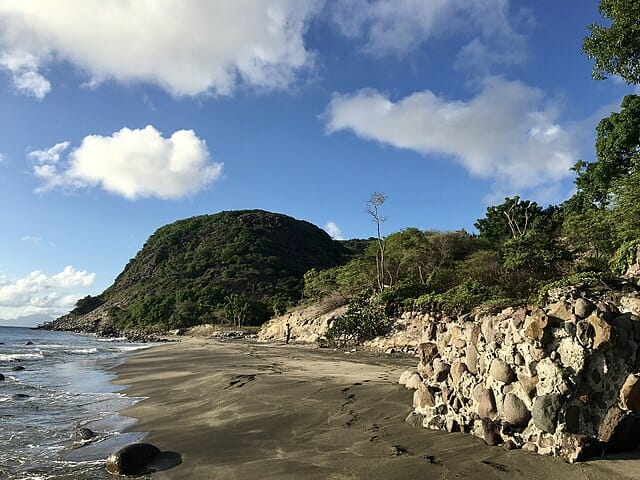 The forests that cover the mountains (2 mountains) are tropical in nature
Have you ever been to a place that is hit by a hurricane? If so, go to this island between June and November. If you are lucky, a hurricane might hit the coast of Statia.
How to reach St Eustatius
To reach Sint Eustatius, you must first reach St. Martin Island. Once you reach your first destination, board another flight to the island. The flying duration is only 15 minutes!
You might wonder how to reach St.Martin-right?
Flight connectivity to St.Martin is excellent from the U.S. and Europe including Miami, Chicago, New York, Paris, and Amsterdam.
Even the Canadian cities of Montreal, Toronto, and Vancouver operate flights to St. Martin Island.
Hotels to stay in Statia Island.
Options to stay on the island are many. Hotels and holiday rental apartments offer accommodation and restaurants fitting varying budgets.
Below are the names of a few hotels on St.Eustatius Island.
This is the best hotel to stay in and naturally, costlier than its competitors.
Golden Era Hotel
The Old Gin House
Palm Spring Inn
It is a small island. Tourists come here to enjoy the sun and the beach. Therefore, all the hotels offer breathtaking views of the Atlantic Ocean.
What to see on St.Eustatius Island?
Beaches on all four sides of the island are pristine and uncrowded. Strangely, in spite of the black volcanic sand, several species of turtles build their home here.
If you are fond of seeing these marine creatures, go to Zeelandia Beach. If you are already familiar with various species of tortoises, you can spot loggerhead turtles, green turtles, and the rare hawksbill turtles. To me, they look the same and move at the same speed.
Quill Volcano is the biggest attraction on Statia Island. Being a dormant one, tourists are not afraid of trekking the hill up to the crater.  The crater is situated at a height of nearly 2000 feet!
There is another mountain on the opposite side Quill Volcano. It is known as Signal Hill.
It is between these two mountains, that the life of the local residents and the tourists goes on.
Orange Bay is a popular marina that is thronged by tourists during the early morning and late evening.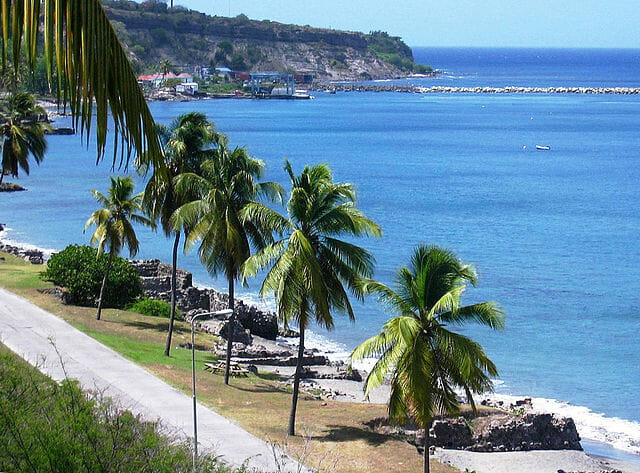 Picturesque Orange Bay
This black sand beach is ideal for snorkeling due to its friendly waves. Snorkeling gear can be hired from shops abutting the beach. If snorkeling is not your forte, take a light swimming session.
Other notable beaches on the island
Zeelandia Beach
Lynch Bay Beach
Bird watching
Passionate birders go crazy when they spot some of the rare birds that they don't see back home.
Quill/Boven National Park is the venue for bird watching.
Red-billed Tropicbirds are the big attractions.
What a beautiful white bird with a red beak!
Another eye-catcher is the Green-throated Caribs.
Additional small-sized birds that a veteran birder can spot include:
Caribbean Elaenia
Pearly-eyed Thrashers
Antillean Bullfinches
Visiting nearby islands:
Bonaire is an island close to St.Eustatius. It has a marine national park that is highly engaging. It is considered one of the top places to see when you are touring Statia Island.
Apart from the colorful species of marine creatures, the reefs, and sea plants are worth watching by snorkelers and scuba divers.
Two more neighboring islands that require two full days include Anguilla, St. Kitts, and Nevis.  These are all places to see shipwrecks that cannot keep a diver away.
If the islands of the Caribbean don't attract you, no other islands anywhere in the world will keep onshore.