French Polynesian Islands: 14 Isolated Islands and Atolls to Visit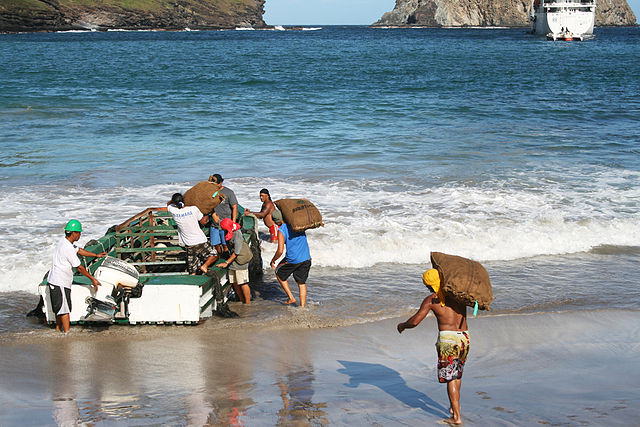 French Polynesian islands are also called Tahitian Islands because the main island and the most visited of all the French Polynesian Islands is Tahiti. In addition, Tahiti is the gateway for all the other less-crowded and isolated Polynesian Islands.
Overview of French Polynesian Islands
I wonder why these islands, islets, and atolls on the South Pacific Ocean are called "French Polynesia", as all the Polynesian Islands are the outposts of France.
Why not call just "Polynesia" denoting all the 118 islands and islets comprising nearly 4200 sq.km area on the South Pacific Ocean?
Some of these French Polynesian islands are very away from Tahiti and it is cumbersome to reach them. The farthest Polynesian Island is located as far as 2000 km!
Do you Know: French Polynesian Islands have no space for poisonous snakes.
Group of French Polynesian Islands
French Polynesian Islands are grouped under 5 archipelagos that go by the names:
Society Islands. It has two archipelagos under its classification and they are  Windward Islands and Leeward Islands;
Austral Islands
Gambier Islands
Tuamotu Islands
Marquesas Islands
The well known Tahiti Island is part of the Society Island where the majority (69%) of the Polynesians live. Tahiti's capital is Papeete.
The much-mentioned Polynesian Island is Bora Bora. It appears frequently as the number one 'most beautiful islands' in the world.
Let us go island hopping on the South Pacific Ocean on a luxury yacht and dock at some of the highly isolated French Polynesian islands.
Remember, as these Polynesian islands are nearly deserted, there is nothing much to do and see. You just have the entire beach to yourself. Just swim, surf, sunbathe, eat, and laze around.  There won't be a soul to disturb your reverie.
If you really feel like indulging in an adventure sport, go 'kitesurfing'.
Oh yes, I almost forgot; if you dare to dive deep into the South Pacific off the coast of Tahiti, then, there is no better country than Polynesia. Almost every Polynesian Island is ideal for diving. There is a wide range of marine life underneath and the corals of South Pacific are multi-colored.
French Polynesian Islands: Maupiti Chain of Islands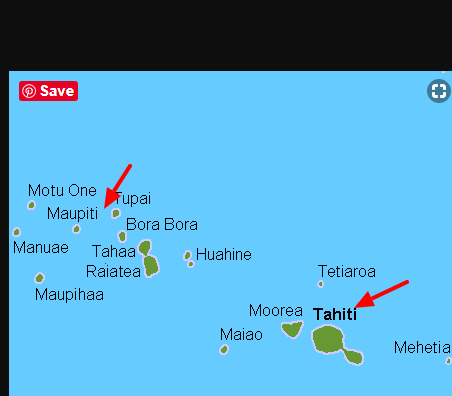 Did you notice the location of Maupiti Island and its distance from Tahiti on the map above?
Maupiti Island is situated in the midst of an atoll (a chain of islands that are formed into a ring shape)
See an image below which shows how an atoll will look like.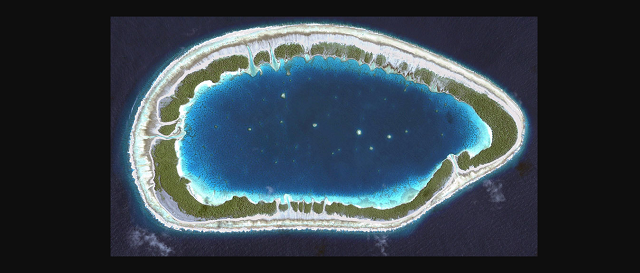 So, essentially, an atoll can also be called an archipelago-right?
Maupiti atoll is part of the Society Islands archipelago. Surprisingly, there is a volcano in one of the small islands of Maupiti atoll.
All these interesting facts about Maupiti must entice you to hit the Polynesia coast.
Since there are several small islands and islets in Maupiti atoll, it is just ideal for getting onboard a small catamaran and visit all the deserted islands that dot the ring at its perimeter.
You can discover unseen flora, myriad seashells, crabs crawling all over the sandy beach on those islands. You will feel like a Columbus when you find there are no one living on some of the islands that you set your feet.
The geographical and ecological diversity of Maupiti Island attracts passionate island lovers, botanists and marine life enthusiast and above all, privacy lovers.
Next to Bora Bora Island's natural beauty, Maupiti Atoll stands next.
Attractions of Maupiti Island:
Mount Teurufaaitu-when you climb atop this mountain, you can see several Polynesian Islands that include Tahiti, Bora Bora, and Raiatea.
Archeological ruins that date back to 850 AD.
When last counted twelve years ago, the population numbered to 1200. (Source: Wikipedia)
We bid adieu to Maupiti Islands archipelago and hop on to the next Polynesian Island called Tetiaroa.
French Polynesian Islands:   Tetiaroa Atoll
This is again an atoll, buddy.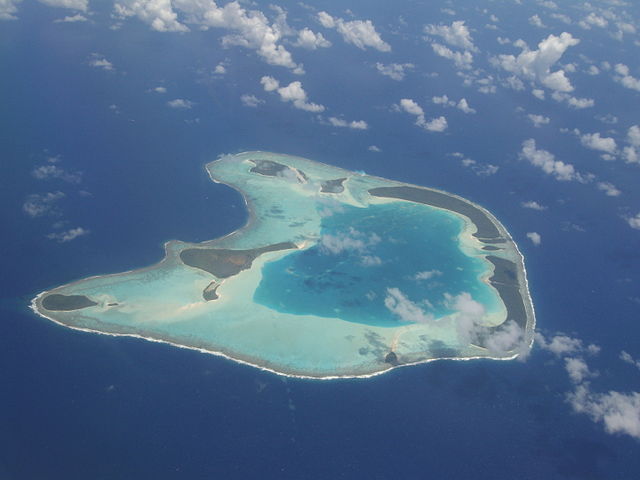 As I write this piece, I feel like being there, enjoying the salty but cool sea breeze and inhaling the smell of fish.
I read that the royal family of ancient Tahitians made use of Tetiaroa Island to relax and take rest. This Polynesian Island is part of the Society Islands archipelago.
You can quickly reach Tetiaroa atoll from Tahiti as Tahiti Island is only about 50 km away.
There is an airstrip in Tetiarao. A resort that was originally built by the legendary Hollywood actor Marlon Brando now serves the occasional tourists. He lived in Tetiaroa for several years.
 Fakarava Island
The Fakarava Island of French Polynesia is part of the Tuamotu group of Islands. Comprising a whopping 1100 sq.km, it is really a large island in Polynesia. Its length and width stand at 60 by 21 km.
Just about 850 Polynesians live in this Tahitian Island.
Known for a diverse marine species, Fakarawa Island is earmarked as a Biosphere Reserve by none other than the UNESCO.
Rarely tourist visit Farakawa and therefore, it almost looks like a virgin island with the unspoiled ecosystem.
Pearl harvesters frequent this Polynesian Island. Additionally, marine life research scientists who can also dive, favor this large atoll.
Mangareva Island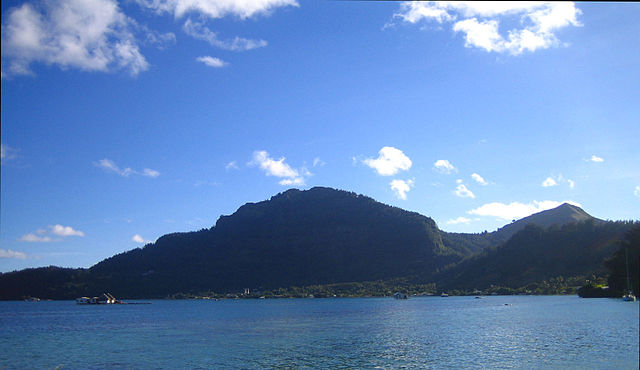 Mangareva measures just 8 km in length. I suppose one can walk across this small Polynesian Island and touch both the water on both its sides in about 2 hours!
Mangareva Island belongs to the Gambier Islands archipelago in French Polynesia. Mangareva Island is surrounded by several small islands thus classifying Mangareva as an atoll.
Reaching Mangareva atoll takes efforts folks as it is located nearly 1000 km away from the main island Tahiti. There is weekly flight service from Tahiti to Mangareva Island.
The Polynesians consider Mangareva Island as the 'end of the world'.
If you happen to go to the end of the world, you will love the sight of Mount Duff.
Several ancient ruins suggest that the Christian missionaries were active in this part of Polynesia several centuries ago.
  French Polynesian Islands: Raiatea Atoll

Do you know: Raiatea Island (atoll) housed the first Polynesians.  It is believed that from Raiatea Island only, the Polynesians sailed afar to Hawaii and settled there.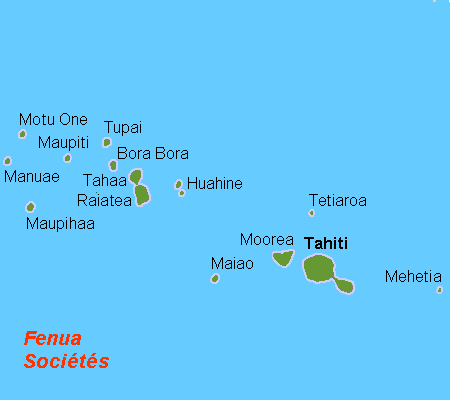 Raiatea Island is part of the Society Island archipelago and Tahiti is only 45 minutes flying time away from Raiatea.
There is not much to see around in Raiatea Atoll. There's only one thing you must do; just get wet.  I mean go diving on the rather shallow waters of South Pacific.
The whole of Polynesia culture evolved here and the proof is the existence of the ruins of Taputapuatea, a sacred temple of ancient Polynesians.
Raiatea is conveniently situated as a gateway to several other islands of French Polynesia.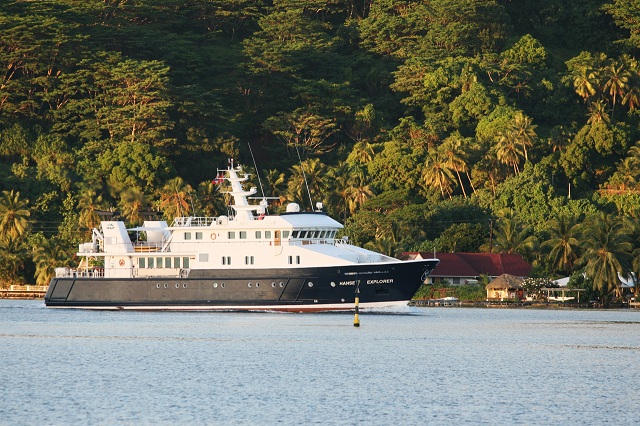 Seeing a ship on the water of Raiatea atoll, I wonder whether cruise ships dock there.
*   French Polynesian Islands: Tikehau Atoll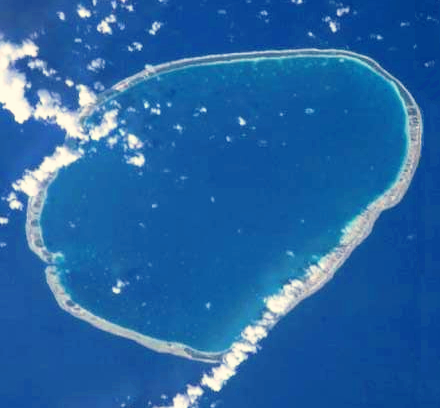 So, here we are in one more atoll of the numerous atolls in French Polynesia that is typically 'ring' shaped. The distinct difference between Tikehau atoll and other atolls surrounding it is its pink sand.
Isn't that amazing that one atoll has colored sand while its close neighbors do not wear?
Tikehau atoll is part of Tuamotu archipelago in the South Pacific Ocean.
Due to its pink sand, Tikehau beaches attract the Aussies and the Kiwis with their families. Children (some adults too) some time gather the pink sand in polythene bags as proof of their visit to exotic French Polynesia.
Reaching Tikehau Island
The distance between Tahiti and Tikehau is 350 km approximately. The flying time will be less than an hour.
Tikehay atoll can also be reached by a boat from Rangiroa atoll, the closest neighboring atoll of Tikehau. The distance between the two atolls is just 12 km.
Look at the so many dots on the South Pacific, all denoting the name of various French Polynesian islands, islets, and atolls.
Here is one more image of Tikehau Atoll. All the black dots and various assorted shapes denote Tikehau's islands and islets.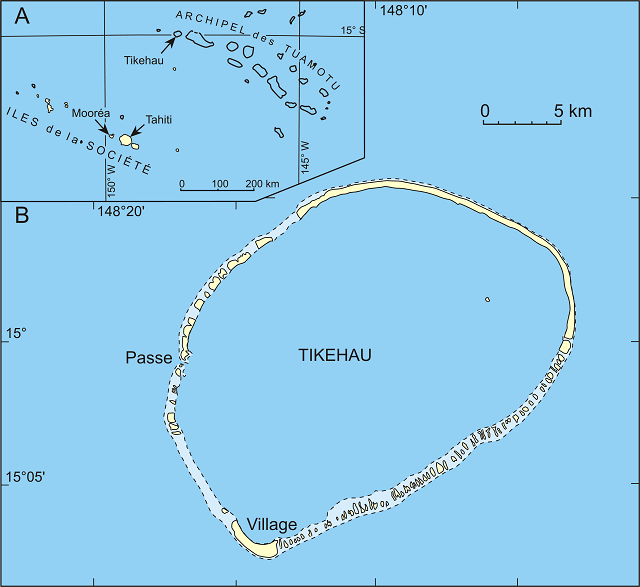 Whoever visits Tikehau could not suppress their urge to wear a proper snorkeling mask and other snorkeling accessories and jump into the South Pacific because the marine life off the coast of Tikehau is rich and diverse too.
If you are interested in learning the names of all those tiny islands and islets of Tikehau Atoll.
Because of its fame as the best spot for snorkeling and pink sand beach, Tikehau Atoll has a fully developed beach resort in the name of Tikehau Pearl Beach Resort. The resort offers cozy overwater bungalows.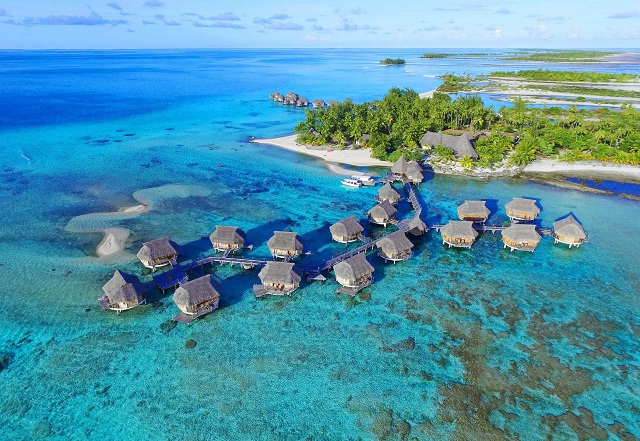 Each overwater thatched-roof villa is interconnected through piers.
Every water-villa has an open deck with a breathtaking view of the South Pacific.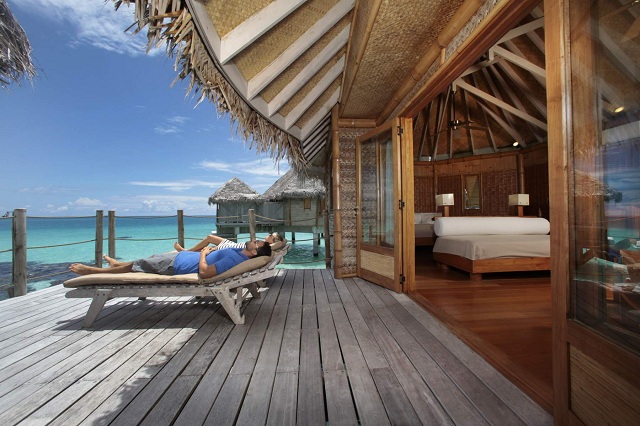 Amenities of Tikehau Pearl Beach Resort include:
All these attractions and facilities of Tikehau Atoll allure honeymooners who get what they look for-the ultimate seclusion and enviable luxuries.
Rangiroa Island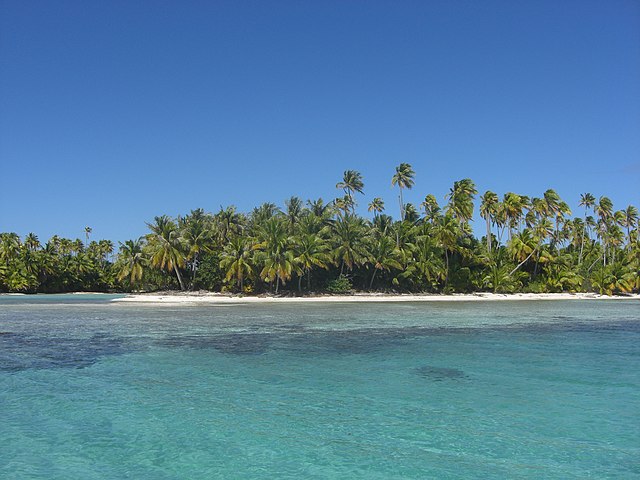 The island Rangiroa is an atoll and is part of the Tuamotu Islands archipelago of French Polynesia.
Rangiroa Atoll can be reached by flight from Tahiti and by boat from Tikehau Atoll that is only 12 km away. Tahiti is located at about 350 km.
The sacred "Taputapuatea Marae" is located in Rangiroa. The native Polynesians' place of worship is called 'marae' that is nothing but a clearing that is devoid of plants and stones.
Rangiroa Atoll is famous for Pearl Farming. There is even a school that teaches pearl farming. Rangiroa Atoll produces the maximum number of pearls in the entire French Polynesian Islands as nearly 1000 acres of ocean is used for pearl harvesting and pearl farming.
If the pearl harvest is done somewhere, it means, it is famous for scuba diving. The entire atoll of Rangiroa is dotted with scuba diving spots.
The pearls thus farmed comprise several colors including blue, grey, white and black.
Of all the atolls of Tuamotu atoll, Rangiroa is the largest atoll that is populated by approximately 3000.
Marine life of Rangiroa Atoll
'Abundance' is the right word to describe marine life on the waters of Rangiroa Atoll. If you either dive or just snorkel, you can spot:
Manta Ray
Green sea turtles
Tiger Sharks
Humphead whales
Hammerhead sharks
Wrasse
Stingrays
Taha'a Island
The Taha'a Island is part of the Leeward Islands which are then part of the Society Islands archipelago, one of the five main archipelagos of French Polynesia.
This Island also produces pearls in large quantities and another famous produce of this Polynesia Island is 'vanilla'.
Since there is nothing much to see and to do but to just while away your precious holiday time, swim, and sunbathe, you can opt to go on a short flight tour of Bora Bora Island.
It is really a flying tour as it lasts just 10 minutes. Nevertheless, all the 10 minutes will keep you engaged over your video camera as you will be frantically capturing the breathtaking scene below.
If your camera's lens has an eye of an eagle, it will capture the swimming 'manta ray'.
Where to stay in Taha'a Island?
Well, where else you can stay in the Taha'a Islands but in one of the romantic overwater villas?
Moorea Island
Moorea Island is a big tourist attraction because of its beautiful mountains. This French Polynesian Island belongs to the Windward Island which is part of the Society Island archipelago.
Moorea Island is located very close to Tahiti that is only 17 km away. A boat ride will last just half an hour from Tahiti to Moorea Island.
Due to its natural beauty, Moorea Island is a popular honeymoon destination, especially for the Americans.
If you are skilled at spearfishing, you can catch a couple of 'Parrotfish' and give it to the restaurant for lunch.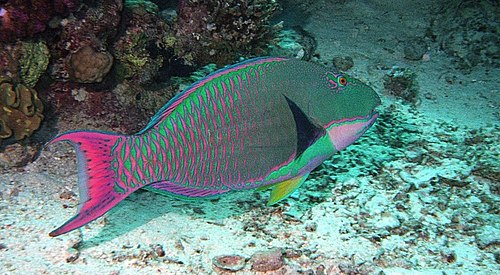 Ask for a local guide who will take you through the farms and plantations that grow pineapple, coffee, and sugarcane.
Hiva Oa Island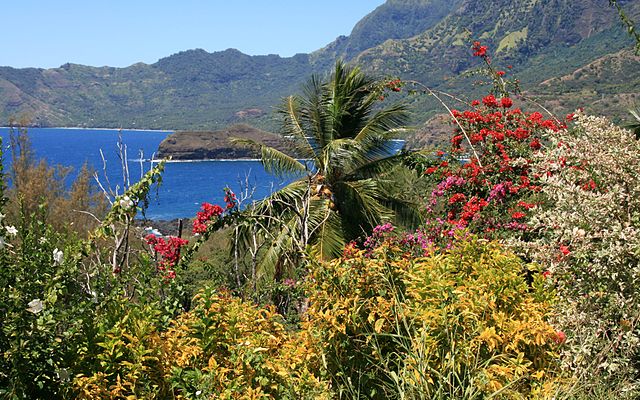 Ah, it is as picturesque as a French Polynesian island can show. The mountains are volcanic (but not active) with cliffs overlooking the ocean. If you roam around the island, you can see a few scenic valleys that don't scare you.
Nearly 2000 Polynesians live in Hiva Oa Island.
The crater of Temetiu volcano stands at just about 4000 feet!
Fatu Hiva Island
Fatu-Hiva is part of the Marquesas Islands, in French Polynesia. It is an isolated island that few people visit though it is inhabited.
The tattoo that world is so fanatic about probably originated in this Polynesian Island. Some of the world's best tattoo artists come from Fatu Hiva Island.
Almost every Polynesian wears tattoos on various parts of their body.
Four  more small islands of French Polynesia are:
Nuku Hiva Island- a volcanic island with stunning natural beauty
Huahine Island-famous for canoe race. Popular among surfers.
Mani Atoll-popular for pearl farming and trade
Reef Island-near Rangiroa atoll
So, there you have it all-the fourteen lesser-known, uncrowded French Polynesian islands, atolls and islets.