Siargao Island Philippines Travel Guide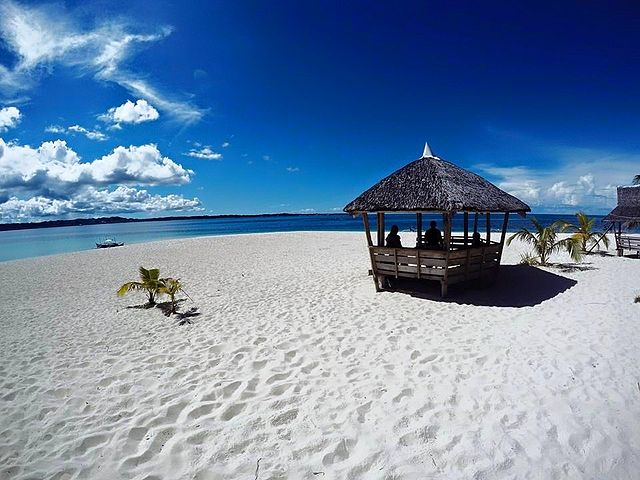 This exclusive travel guide to Siargao Island Philippines, Which is a part of the Philippines archipelago, will help you plan your dream island vacation.
Do you know that there are about 7600+ islands and islets in the Philippines Islands archipelago? It is inclusive of the newly discovered islands and islets numbering to 531.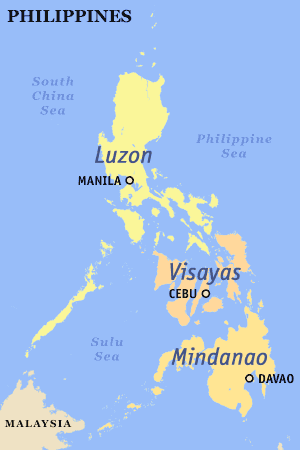 Is it really impossible to rank just 10 top islands out of a staggering 7600+ islands? I reckon not.
Nonetheless, the following islands of the Philippines are the most visited islands in Asia.
Palawan
Cebu
Negros
Luzon
These four plus 36 more Philippines Islands are ranked by the Wikipedia as the top 40 islands based on the size of them.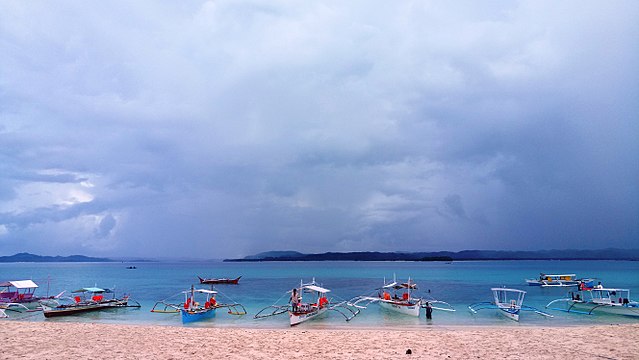 I don't think we select an island to spend our annual vacation based on its size and population-right?
We choose an island, especially a tropical island, based on various metrics such as:
Its stunning beauty
Flora and fauna
Places to see,
Adventure activities
Water sports
Visiting nearby uninhabited islands
Sumptuous local food
Beach resorts with great views
The 40 odd islands of the Philippines that are generally frequented by tourists and Filipinos included a small island called "Siargao".
Overview of Siargao Island Philippines
Being one of the popular islands of the Philippines, Siargao Island is also located in the Philippines Sea. It is a beautiful small island with groves and groves of coconut trees, high-end hotels and bars, and a bustling touristy island.
The beaches, mostly less-crowded and are attractive especially for the sunbathers and swimmers.
Siargao Island's neighbor, also a popular island called Bucas Grande.
Siargao Island Philippines blessed with large tracts of mangrove trees that simply loved by the seabirds to nest and breed.
In addition, the island blessed with the rare geographical feature, the 'wetland', an ideal ground for seaside flora and habitat for reptiles and amphibians.
Location of Siargao Island Philippines
It is located some 800 km southeast of Manila, the capital of the Philippines and is part of Luzon province and island.
How to reach Siargao Island Philippines?
Not connected with any international flights is the sore point of Siargao Island in spite of its tourism. So, Manila is your first landing point from wherever you are.
From Manila, take another flight to Sayak Airport, the official name of the airport in Siargao Island Philippines. The flying time is about 2 hours only.
Alternatively, you can go to Siargao Island by plane and ferry.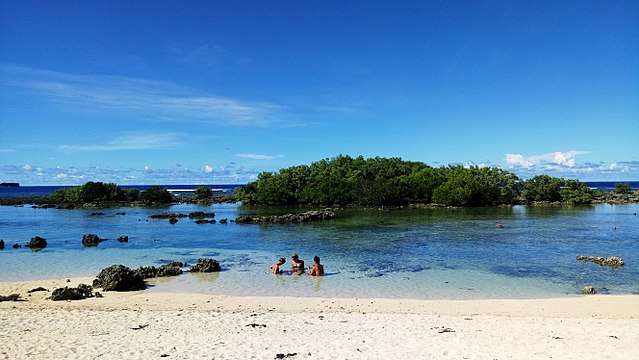 From Manila, a flight will deposit you at Surigao city, the capital of Surigao del Norte province of the Philippines. The island of Siargao belongs to this province only.
So, from Surigao city, you can go to Siargao Island by ferry. The sea voyage may last up to three hours.
What to do in Siargao Island Philippines?
Let us know how to spend time once in Siargao Island. There are quite a lot of places to see in and around Siargao Island and plenty of things to indulge in.
Surfing in Siargao Island
Wave surfing is the most popular adventure activity is Siargao Island. It is so much popular that an annual surfing championship is held in a great surfing spot called "Cloud 9" in Siargao Island.
Wow! The surfer is really enjoying his ride on the right kind of waves-isn't it?
I think even the neighboring islands too beckon surfers with their ideal wave conditions but still, Cloud 9 steals the show.
Tuason Point and General Luna are the other surfing spots with favorable conditions for the wave surfers. Siargao is popularly known as the Surfing Capital of the Philippines.
Island Hopping from Siargao Island
A very good way to have some fun is to go on an island hopping tour in a ferry. A couple of inhabited and uninhabited islands are there near Siargao Island that includes:
Guyam Island-uninhabited island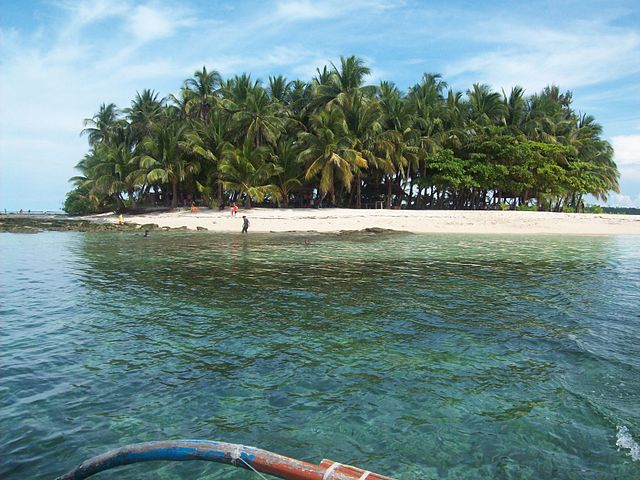 Dako Island

Naked Island-uninhabited island

Bucas Grande
OMG! Doesn't that look like a paradise!  It's stunningly beautiful tropical island of the Philippines and a tour-worthy neighbor of Siargao Island Philippines. A picturesque island with swim-friendly lagoons, sea caves and lovely beaches wearing white sand.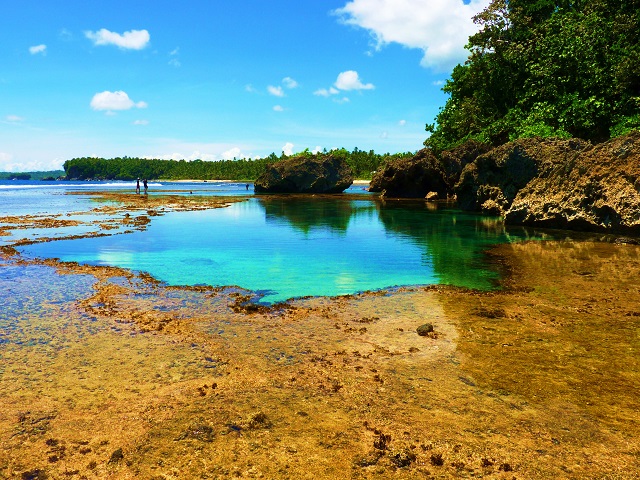 Incredible rock formations set amidst the scenic beaches of Siargao Island are to be seen to appreciate them.
The water on which the rocks stand is beautifully clear and blue.
There are caves to be explored if you are not claustrophobic.
These Magpupungko rocks disappear magically from the scene when the tides are high.
What is a tropical island without a few hidden waterfalls that wear a decorative appearance with the local monkeys and birds!
Tak Tak waterfall is located in Santa Monica town.
Stroll on a pier called Santa Monica pier when the sun is about to disappear beyond the horizon. It is a memorable experience.
Walking gingerly on the water of sea caves and daring to take a swim in the darkness require nerves,
Del Carmen Mangrove Forest
It is a scenic spot in Siargao Island.
The Siargao Island is famous for its white-sand beaches with a very few tourists to enjoy the sun and water. Alegria Beach is a famous landmark in Siargao Island.
Fauna of Siargao Island Philippines.
When it comes to the wildlife of Siargao Island Philippines, you can spot plenty of bird species but nothing much of mammals are reported.
The dangerous saltwater crocodiles live in Siargao lakes.
Other wildlife that you can spot in Siargao Island:
Asian Koel
Grey-faced Buzzard
Black-naped Oriole
Philippines Coucal
Brahminy Kite
Spotted Dove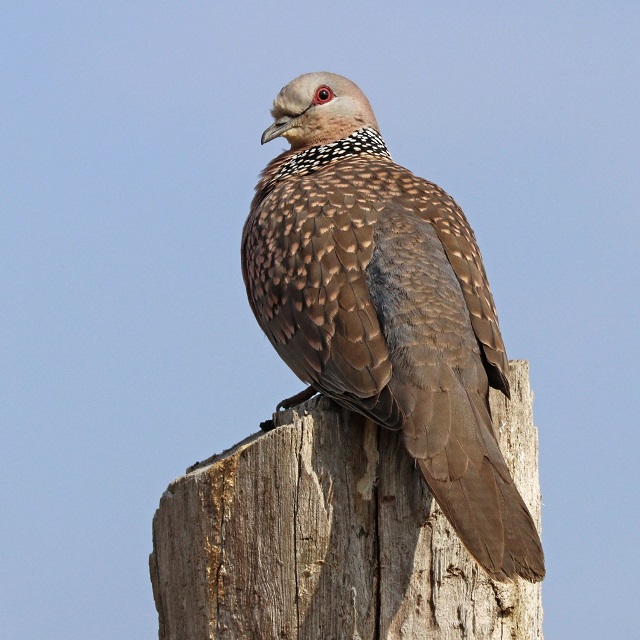 Flying Lemur-a kid of bat
What to eat in Siargao Island Philippines
The Philippines' staple food is rice eaten with as many marine creatures as possible such as fish, lobsters, crabs, and even snails.
Here are some of the local foods that you should taste when you tour Siargao Island:
Pan de Coco-a coconut bread
Halo-halo-a kind of chicken sizzlers
Bulao-commonly known as 'pulao' in other Asian countries. Boiled fragrant rice cooked with chunks of lamb or chicken sprinkled with a generous amount of Asian spices and accompanied by a vegetable yogurt.
Where to stay in Siargao Island
Most of the hotels and lodges in Siargao Island are clustered in the General Luna municipal area.
I think you need to plan for a four-day trip to Siargao Island Philippines out of which, you will require a full day to taste all the local food delicacies.