Travel Guide to Coron Island Philippines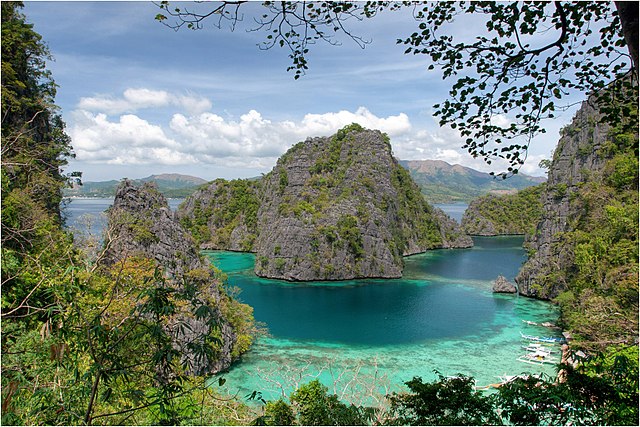 Learn how to reach Coron Island Philippines archipelago, know about places to see in Coron Island, what to eat and drink in Coron Island, hotels and hostels to stay in Coron Island. This is a handy travel guide to Coron Island, Palawan, Philippines.
Before reading any further, watch a short video clip below. Please open the 'full screen' view on your desktop. Again I request you to watch the video on your desktop computer in the 'full-screen view' mode.
I bet 5 out of 10 people who watched the video above would seriously start contemplating to visit the ultimate splendour on this earth.
I was speechless for several minutes after watching the video. And I watched it again and again; the more I saw it, the more I concluded that there is no other beautiful place in this world that better than Coron Island, Philippines.
Overview of Coron Island Philippines.
The Philippines archipelago is the most visited touristy island in Asia. Even Singapore is ranked lower than in the Philippines.
There are about 7600 islands in the Philippines comprising several provinces.
Palawan is one such province consisting of 1780 islands and islets.
Coron is one of the islands of Palawan, Philippines. It is one of the islands of the Calamian Islands archipelago of Palawan Province, the Philippines.
The other co-islands of Coron are:
Busuanga Island
Calauit Island
Banana Island
Culion Island
Malcapuya Island
Pass Island
Calumbuyan Island
Apart from these islands, the Calamian archipelago consists of numerous small islets.
As you saw in the video above, Coron is a tropical island, and the landscape is full of rugged rock formations of myriad shapes and sizes.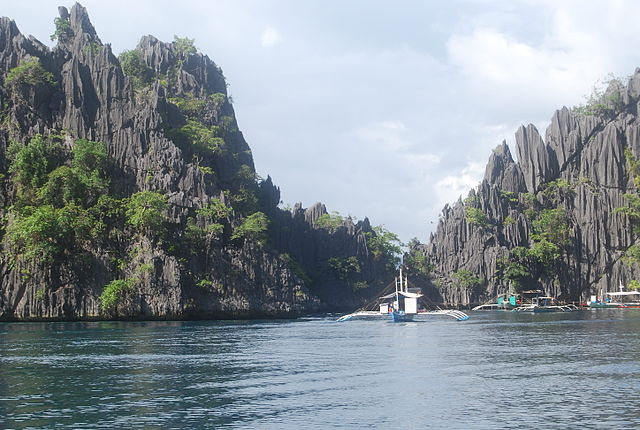 The landscape of Coron Island Philippines also includes some stunningly beautiful lakes, mountains, mangrove forests, and hot springs.
Location of Coron Island Philippines:
From the Philippines's capital Manila, Coron Island located about 300 km away.
See the location of Coron Island on the atlas of the Palawan Islands.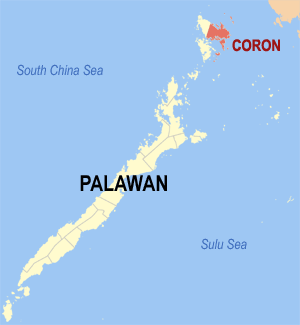 Coron Island faces the Sulu Sea, which is part of the South China Sea in Asia.
I am sure you can now visualize the exact location of Coron Island on the atlas.
Things to do in Coron Island:
Coron Island Philippines is a divers' haven due to marine life and shipwrecks that located as low as 30 feet depth. Some wrecks are placed much deeper at over 120 feet!
See how clear is the water near the beach of Coron Island.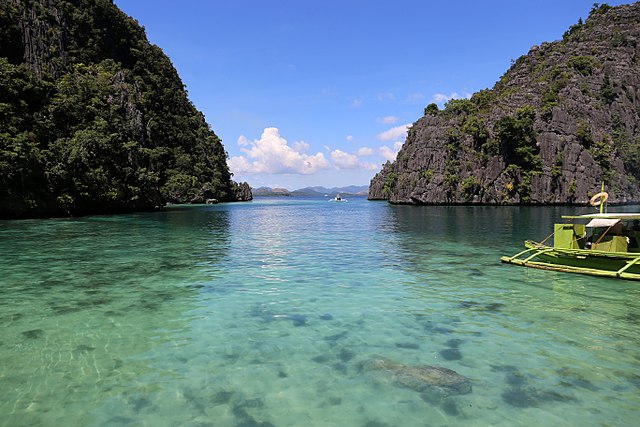 A few excellent diving and snorkelling sites in Coron Island are:
Gunter's Cave also known as Cathedral Cave
Divers stifle a scream of a surprise when they see the sunlight pierces the seawater through a hole displaying the cave's depth.
Black Island Wreck carries a more popular name Nanshin Maru wreck which is supposed to be the name of a Japanese ship.
In fact, most of the sites named after the names of the ship that found under the water.
Terukaze Maru
Okikawa Maru,
Lusong Gunboat
Kogyo Maru
Olympia Maru
All these were Japanese ships that were bombed and sunk by the Allies during the Second World War.
Complimenting these excellent diving spots, there are quite a few dive shops in Coron Island and Palawan Island where you can procure diving gear for hire.
Additionally, you can hire the services of diving and snorkelling instructors from these diving centres and dive shops.
Chindonan Dive Center is one such facility in Coron Island.
Other places to see in Coron Island Philippines
To reach this gorgeous lake, you must join an organized Kayangan Lake Tour operated by a few private Coron tour operators in Coron Island.
If you liked what you saw, ask around for 'Coron Island hopping, tour' near your hotel on the island. The island hopping tour also includes a trip to the 'Twin Lagoon' on the Coron Island.
Here is a video clip of the Twin lagoon tour:
The video clip below shows a boat ride on the Sulu Sea visiting the following top most attractive lakes of Coron Island
Kayangan Lake
Barracuda Lake
Twin Lagoon
Malcapuya Beach
Banana Island
Bulog Dos Island
What a breathtaking place in the world! Not even the Hawaiian islands and Bali can match the beauty of this Philippines island.
Here is the natural geyser with the temperature of the mineral water reaching up to 41 deg C.
Malwawey Reef & Coral Garden
OMG! What a beautiful marine life! I think I will make several dives during my weeklong stay in Coron Island only to see and touch the colourful underwater corals.
It is actually a viewpoint on Coron Island. Tourists eagerly and breathlessly climb up the mountain Tapyas just to have a view of the Coron Island, sunset and several neighbouring islands of the Calamian Islands archipelago. It is a tough hike, folks! The height is about 650 feet that can be conquered by climbing over 700 steps.
Siete Pecados Marine Park
The marine life sanctuary can be reached by travelling in a sea-plane. You can dive or snorkel at least to have a view of the marine species and marine vegetation. This is a must-have experience in Coron Island.
Well, this is an island of sheer paradise, mate; there is no shortage of beautiful beaches.
This is Beach 91.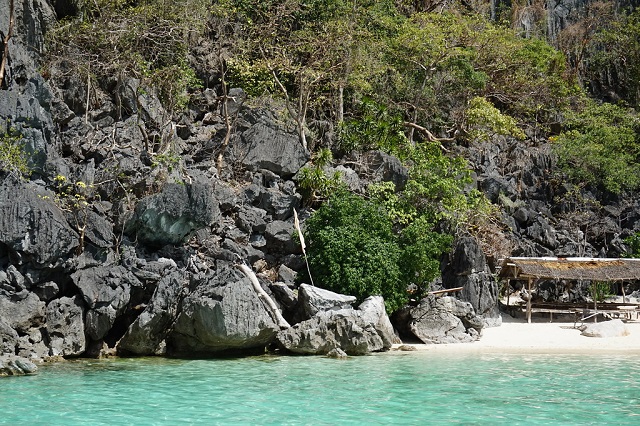 More attractions of Coron Island:
Fireflies Night Tour-this is an eating experience that you may not want to miss out in Coron Island
Town Plaza
St. Augustine Church
Lualhati Park
Luluyuan Barracuda Lake
Calauit Safari Park
Culion Museum
Rock formations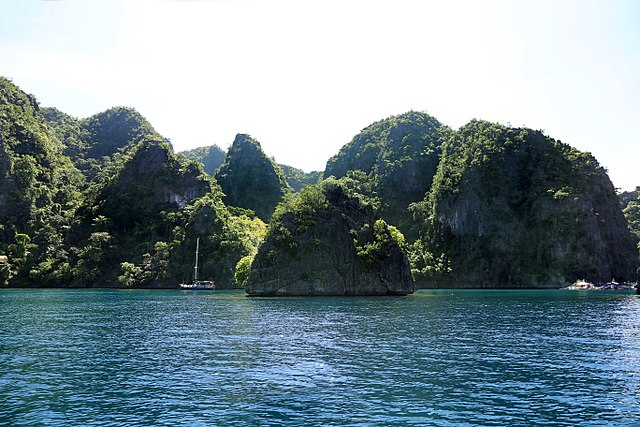 Neighbouring islands of Coron Island Philippines that you can visit:
Malcapuya Island
Banana Island
Palawan Island
Bulog Dos Island
Busuanga Island
Pamalican Island
Sangat Island
Culion Island
CYC Island
Smiths Island
Cheron Island
How to reach Coron Island Philippines?
Fly to El Nido, Palawan Island in the Philippines. From El Nido, several ferries are plying to Coron Island every day. The duration of sea passage between El Nido and Coron Island is only 4 hours.
If the timings of boat departure from El Nido do not suit you or if you can afford, you can hire a charter boat exclusively for you.
Flying into Coron Island
Reach Manila, the capital of the Philippines, first. From Manila, take a flight to reach Busuanga, Palawan.
From Busuanga, Coron Island is only 20 km away. There are jeepneys (jeeps) in Busuanga airport that ply to Coron Island.
Eating and drinking in Coron Island Philippines:
Remember, you are on an island where the seafood is abundantly available. The cuisine includes Filipino, Chinese, Vietnamese, and Japanese.
Crocodile meat! Have you ever heard of it or eaten before? This is an exotic speciality of Coron Island. I suppose it is served all over the Philippines.
Crocodile meat cooked to perfection is a favourite dish for the Filipinos. Crocodile meat also stuffed in sausages instead of pork.
If you crave for some spicy chicken dish, ask for Chicken Inasal. You will find it on the menu of most of the restaurants in the Philippines Islands. Chicken Inasal is a grilled chicken dish, mainly eaten during lunch and dinner.
Don't get deceived by the word 'caviar'; it is not a fish egg but only a seaweed. Another high-sounding name for this seaweed is sea grapes in the Philippines.
Locally, it mentioned as 'Lato' in the menu cards. Lato tastes salty in Coron Island.
Rabbitfish for breakfast:
Yes, you don't get to eat this rare Rabbitfish everyday-right? In Coron Island and other islands of the Philippines, Local residents devour Rabbitfish with relish for breakfast. Don't forget; the Rabbitfish dish is called "Danggit Lamayo" here.
Well, you are on an Asian island, buddy; noodles is a very popular dish in Coron Island as well in the morning, evening, and night. Since rice is a staple in the Philippines, noodles made of rice are the favourites for the Asians. As everywhere, varieties of vegetables, sauces, and meat chunks added in a bowl of hot noodles.
I have eaten cashew fruits many times. The fruit is juicy and carries an exotic fragrance. The taste is sweet, but it may not accept many people.
Other foods that served on Coron Island:
Pizza
Filipino Salad
Apple Pie
Names of some of the best cafes, bistros, and restaurant in Coron Island:
Bistro Coron
La Sirenetta
Singapore Restaurant
WG Restaurant
Trining Basca
Special drinks in Coron Island:
Halo Halo-it is a fruit-based drink topped with ice cream.
There are no other special drinks on Coron Island Philippines. Of course, there are a few bars that serve liquor like any other bars.
Staying in Coron Island Philippines:
Hotels and hostels are not too many in Coron Island as it is a small place and no room for sprawling resorts in spite of a long coastline.
If you find the cost of rooms too expensive, the best bet would be to stay in a camp in the neighbouring smaller islands. Ferrying is certainly cheap; so, no need to spend high on comforts. After all, you are likely to stay for two days.
One of the highly recommended places to stay in Coron Island is Kawayanan Resort that offers a treehouse too facing the Sulu Sea.
If you are staying with your family but still want budget accommodation, go to Happy Camper Hostel.
One or two homestays in Coron Island also advertised on the web.
A couple of high-end luxury villa-based resorts are available in Coron Island. Such types of accommodation offers air-conditioned rooms that are a must in the tropical Philippines.
So, that's all about travelling, sightseeing, and staying in Coron Island Philippines. The destination's beauty will knock you out.