8 Water Sports For Non-Swimmers In Andaman Islands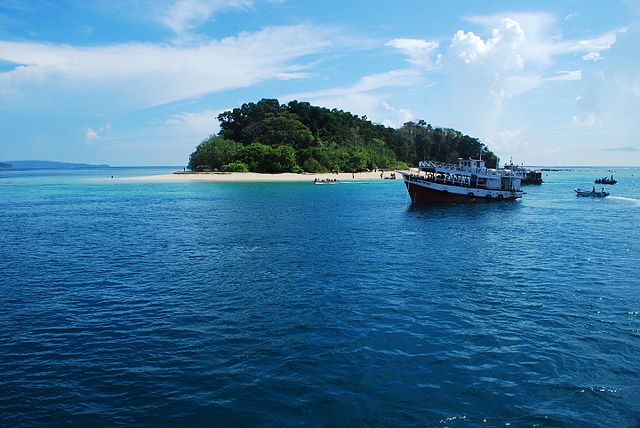 Water sports excite everyone irrespective of age. Whenever you watch the children enjoying any kind of water sport, screaming with joy, you feel like joining them but you scared because you don't know swimming in case the situation warrants. Of course, water rides do not require swimming but still, lack of that skill might restrain you.There are 8 different adventure sports in water in Nicobar and Andaman Islands that you can enjoy even if you don't know swimming. You only need to spur up your latent courage to have a lifetime experience.
8 Lovely Water Sports For Non-Swimmers In Andaman Islands
Read about those 8 fun-filled water sports and rides in Andaman Islands that even non-swimmers can indulge in.
Snorkeling at North Bay Island, Andaman, and Nicobar.
Snorkeling is one water sport that is available in every beachfront holiday destination. Though I have not had the opportunity to try it, I would certainly engage in it if the water is warm. I could not imagine myself plunging into a cold ocean. The North Bay Island in the Andaman and Nicobar is known for beautiful marine life that can be seen only when you join them underwater.
How to reach North Bay Island?
You can take a ferry from the from Aberdeen Jetty, Andaman water sports complex in Port Blair and you can alight on the North Bay Island in approximately 30 minutes.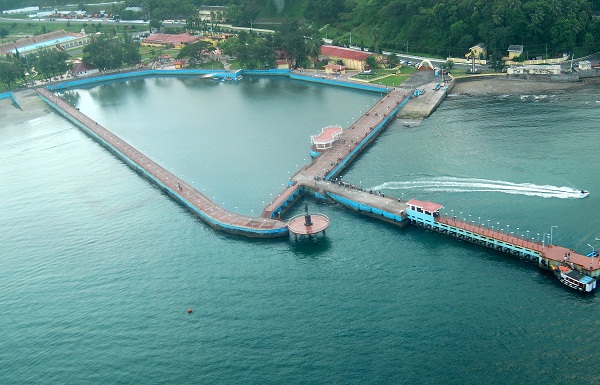 You can go snorkeling, see the coral reefs and even clams for the first time in your life, see huge lobsters, and smile at the colorful fishes of myriad sizes winking at you. After snorkeling, you can return back to Port Blair in 3 hours, feeling as a hero that has conquered the Bay of Bengal.
Sea Walking on Ross Island, Andaman
From the North Bay Island, you can even see the Ross Island which is about 20 minutes boat ride. The sea walking gears are-oh, just nothing except an oxygen mask. You can enter the water with the dress of your choice. An oxygen mask is slid on your head and off you go down the ladder. NO SWIMMING at all.
As you step down the ladder, you set your feet on the seabed. Wow! That would be thrilling-eh? You then come face to face with exotic marine life; you are even allowed to feed the fish.
Sea walking in the Andaman Islands is simply a fascinating experience and it is absolutely safe and secure. The video clip below says anyone from the age of 7 and up to 70 can walk on the seabed.
Banana Boat Ride in Havelock Island, Andaman
You must be curious to know what a banana boat is?
So, it looks like a rubberized catamaran. It is an inflated narrow raft that is shaped like a banana. About 6 to 7 people hop onto the rubber raft and a guide pulls it on the water. It's then tied to a speedboat. The riders fitted with life-jackets and are tagged by an instructor.
Banana boat rides are available in Elephant Beach, Havelock Island which is part of the Ritchie's Archipelago in Andaman.
Jet Skiing
Watching the video clip, you think it is more of a water scooter ride-right? Even I too think so. The speed at which the passenger is riding is thrilling. One or two passengers can ride. The second person is usually the instructor. 15 minutes of jet skiing must be a memorable joy. If there are high-tides, the water sport without swimming can be dangerous. Jet Skiing offered in Rajiv Gandhi Water Sports Complex., Port Blair, Andaman Islands. Surely, jet skiing is safe and doesn't expect the riders to know swimming.
Glass bottom Boating
So, here is one more 'no-swimming' water sports in the Andaman Islands. In fact, you don't even touch the water as you sit down huddled on the boat, fitted with a life jacket, and looking down at the water through the glass bottom. You might spot a few marine lives if you are lucky. Glass bottom boat ride is offered at the North Bay Island, Andaman.
Scuba Diving in Andaman Islands
Doesn't scuba diving at sea require swimming knowledge? I was thinking so until I saw this video.
A scuba diver fitted with the full sea diving gears that include an oxygen mask and webbed feet. As you can see from the video, a PADI (Professional Association of Diving Instructors) certified man is accompanying the diver and obviously, a photographer must have also dived along with them to shoot the heroism of the diver. Yes, it is clear that you don't have to know swimming; all you have to do is float in the water at about 15 feet down from the surface and show a 'victory' sign. Look at the plants and fishes underwater! They seemed to be enjoying the freedom from predators. There are several scuba diving centers in Andaman Islands.
Parasailing in Andaman Islands
This is not a water sport I reckon. It is more of a flying with the wind.
Did you notice the take-off? The adventurers must have felt exhilarating taking off into the sky without any fuel-driven motor. I really want to go to Andaman Islands to enjoy these adventure sports that don't require any swimming skill.
Seaplane Ride, Havelock Island, Andaman
This is a jolly ride on the sea. Since there is no touching of water by you, there is no swimming. The video is clear. A plane, a very small one fitted on a wooden platform that is floating on the Bay of Bengal. I think about 10 people board on the plane and it moves on the water with moderate speed helped by a propeller. It then takes off smoothly and flies over the sea. The ride is between Havelock Island and Port Blair and the duration is 15 minutes.
Aren't all these water sports in Andaman Islands exciting because there is no swimming required?