Top 10 Best Things to Do in Viti Levu Island, Fiji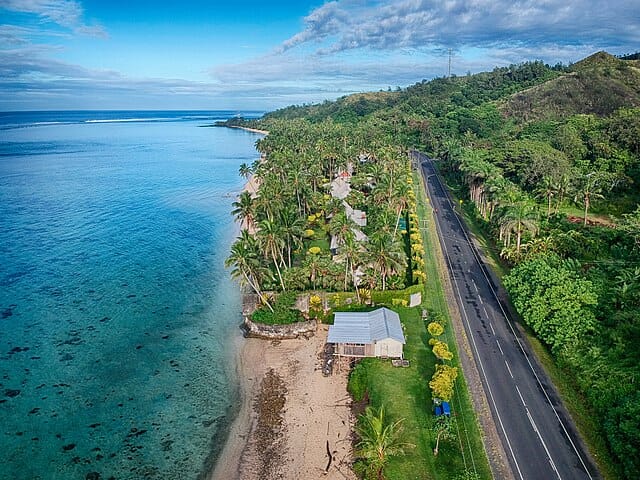 Viti Levu is the largest Fijian island with capital Suva lying on its south east coast.
It is the second largest of Fijian islands. There are plenty of things to do in Viti Velu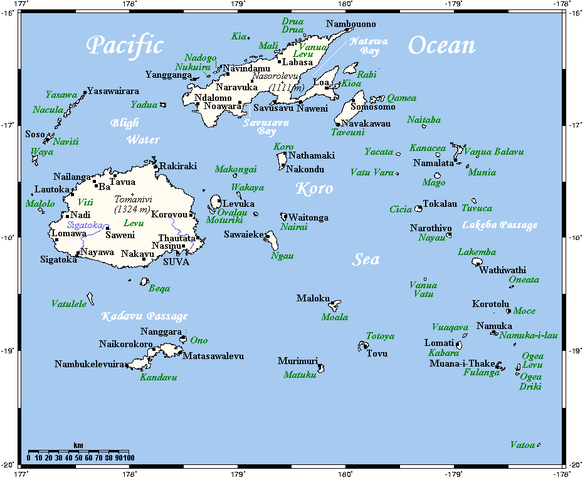 From the above map of Fiji, can you and I count 840 floating lands? Not of course. But we can easily see the islands of Fiji, occupy quite a lot of space in the South Pacific Ocean. The atlas says the Fijian islands comprise a staggering 3 million sq. km!
In such a huge area, there are 300 islands and over 500 islets! Out of the 300 islands of Fiji, as many as 100 islands are inhabited, leaving the rest of 700+ islands and islets, empty of humans.
Viti Levu itself is spread over an area of 10,300 sq. km. Surely, there will be plenty of sights to see in Vitu Levu because of its size and also because of high population (approximately 8,00,000).
Overview of Viti Levu:
Simply put, this main island of Fiji bears nature's wrath in the form of volcanic eruptions preceded by earth tremors, frequent storms that even causes the ocean to rise!
A mountain that runs from south to north almost divides the island into two. It is known as Mount Victoria.
Dense tropical rainforests are also part of the island's geography.  On the western side of the mountain, the forests receive much less rainfall and hence remain dry through most of the year.
How to reach Viti Levu Island, Fiji?
200 km west of Suva, the capital of Fiji, lies a city called Nadi. It receives international flights, mostly from Australia, New Zealand, Hawaii, and India.
From Nadi International Airport, you can catch a domestic flight to Suva. In just half an hour, you will land at Suva from Nadi.
Driving from Nadi to Suva is also an option.
Sea passage is also viable to reach Suva. Most of the South Pacific cruise liners, anchor at Suva's harbour. Major cruise ships leave the eastern shore of Australia and cruise to several South Pacific islands including Fiji.
Top 10 Best Things to Do in Viti Levu Island, Fiji
Top sights to see in Viti Levu.
Suva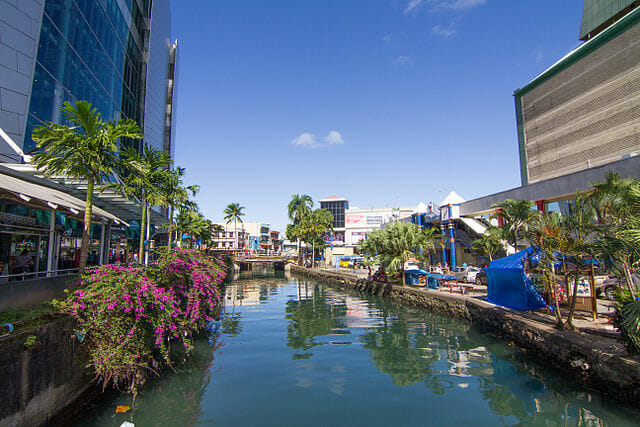 Being the capital of Fiji, the majority of the tourist make Suva as their base and proceed to see around the city and its lovely harbour.
Incidentally, Fiji's former capital Levuka is located on another Fijian island called Ovalau.
The main tourist landmarks of Suva are:
Takashi Suzuki Garden
Carnegie Library
Thurston Gardens
Parliament House
Suva Harbour
King's Wharf
Sukuna Park
Cumming Street-for shopping and dining
TappooCity-a very large shopping mall
Victoria Parade-for shopping and dining
Forest Reserve-for waterfalls and birding.
Garden of the Sleeping Giants
This scenic park and garden is located outside the city of Nadi. It is rated as one of the top sites to see in Viti Levu.
A mountain that is seen as a backdrop of the garden is called the "Sleeping Giant" and hence the name of the garden.
A giant demon who ate humans, once slept for a long time due to over eating. He was the original sleeping giant who lived in the mountain.
The Sleeping Giant Garden is home to numerous colourful flowers that are native to Fiji.
It is sunny and picturesque. The garden is worth seeing.
Denarau Island
You are touring Fiji, an archipelago of over 800 islands and islets. One of the major things to do in Viti Levu is to go on a tour of nearby islands that are inhabited and also to a few uninhabited islands to enjoy the deserted beaches.
Denarau Island is located 10 km west of Nadi city.
The most interesting part of visiting Denarau Island is the driving part over a road built above the South Pacific Ocean. The view, and the sea breeze will not allow you to get off the car.
Denarau Island off Viti Levu Island is a very popular holiday destination for the Aussies and Kiwis. Even some well-read Indians are aware of the secluded natural beauty of the island and go there for a week-long holiday.
Resorts offer extraordinary hospitality to the tourists. The food will be mainly Indian cuisine.
The South Pacific Ocean welcomes you gleefully here. The sea is fantastic in this part of the world. Take a sailing boat and surge silently with the wind force; it is a bliss to enjoy the ocean silently.
For an out of the world experience, enjoy a drink or two in a bar that is floating alone in the ocean. It is known as "Cloud 9 floating bar. I think it is aptly named because that is how (on cloud 9) you will feel there.
Denarau Beaches:
The beautiful beach, a few water sports, a water theme amusement park, and the relaxed atmosphere of Denarau Island makes it as one of the top sights in Viti Levu, Fiji. Frequent boat rides from Port Denarau Marina are available to reach the Cloud 9 bar floating on a small islet.
If you are adept at catching fish, you will have a field day during your trip to Nadi or to Denarau.  Numerous fishing locations off Nadi and Denarau Island that can be reached by private chartered boats, and you enjoy your angling. Really, you would love the lazy act of fishing.
There are aerial tours of Fiji in a chopper. Don't miss it. The aerial view of the South Pacific Ocean and the islands that are floating in it will be simply breathtaking.
Spas offer typical Fijian massage on the shore under the roof of small thatched huts.
I read the Denarau Island has 10 luxury resorts and some of them are for "adults only". Naturally, they are in high demand.
It looks like Denarau Island demands an exclusive weekend trip.
Mamanuca Islands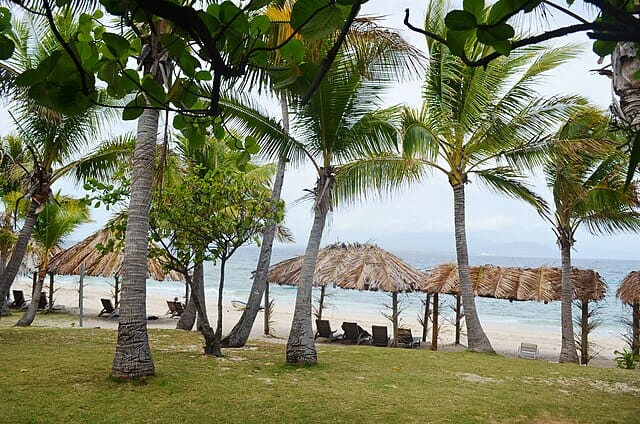 Ah, what a beautiful beach! It is a Fijian beach written all over it.
The Mamanuca Islands comprise 20 islands and the archipelago is found lying west of Nadi city in Viti Levu Island.
The names of some of the Mamanuca Islands:
Bounty Island
Treasure Island
Mana Island
Tokoriki Island
Malolo Lailai (Plantation Island)
This is one of the larger of Mamanuca Islands and the most visited among the 20 islands out of which, 7 islands are uninhabitable because, they are submerged during high tide.
Some very small islands are converted to resorts. You have a wide option to choose from 20 resorts. Some of them beckon budget travelers with cheap accommodation and food.
All the islands of Mamanuca archipelago can be reached in less than an hour from Nadi or Denarau Island which is more preferred.
Either as a day tripper from Denarau Island or a visitor from Nadi city, you can enjoy the less-crowded beaches and indulging in swimming, sailing, or go on a snorkelling stint and touch the reefs.
Semi-submersible vessel tour of reefs
Similar to the semi-submersible vessel that is used in Australia to take tourists on a tour showing the marine creatures and the Great Barrier Reef, you can experience the same entertainment in Mamanuca Islands.
It will be the fun of your lifetime. It is a big attraction in Fijian Islands and one of the best sights in Viti Levu.
For your information, the Mamanuca Islands and the Denarau Island are two most preferred filming locations for the Hollywood film crew.
Sabeto Hot Springs
Sabeto is one of the towns in Viti Levu, on the way to Nadi from Suva, It has a firm dot in the Fiji tourism radar because of its natural hot springs, that are a rarity in Fiji. The adjoining mud pools have therapeutic properties.
Kula Wild Adventure Park
"Wild Adventure" implies wildlife. This big attraction in Viti Levu is located in a small town known as "Sigatoka".
Wildlife that you can spot here:
Native Frog that is in a sparkling brown color
Iguanas with crests
Some ducks
Bats
Harrier
Natadola Beach
Natodala Beach is a top attraction in Viti Levu. The beach wears white sand. The ocean offers conducive conditions for surfing.
Isn't it beautiful? The lack of crowd enhances the beauty  of the Natadola Beach, one of the top sights in Viti Levu. It may be useful to know that this beach is among the top ten beaches in Fiji. That is certainly a recognition considering Fiji's 800+ islands and islets.
Siva Subramani Swami Temple
Fiji's population comprises quite a big percentage of Indians, especially Tamilians who have been living in Fiji for more than a century.
The Siva Subramani Swamy temple is dedicated to the Tamil God Murugan. The temple is part of the attractions in Nadi.
Robinson Crusoe Island
Just allocate a couple of hours if you are staying in Nadi. Drive for about 15 minutes to reach the boat docks. From there, it only takes 20 minutes to reach the shores of Robinson Crusoe Island.
Spend a few minutes at the only resort, see the traditional Fijian lodge and get back to your hotel in Nadi.
Navala Village
It is a place to see the early settlers in Fiji who are living very close to the nature. It will be interesting to interact with the villagers.
Nausori Highlands is a picturesque region in Viti Levu. Navala village is a well-visited tourist attraction in it.
Fiji and its islands will be more suitable to those who are eager to meet strange people, learn an exotic culture and enjoy the slow-paced, quaint life on a South Pacific Island.
If you find an organized tour of Viti Levu, buy a package. You will be visiting some of the remote islands around Fiji.