Complete Travel Guide to Boracay Island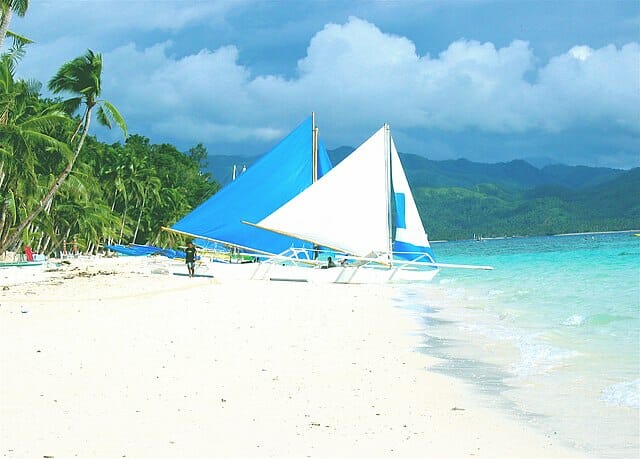 In this blog post, I am covering Boracay Island and the things to do there. In addition, you will come to know:
Location of Boracay
How to go to Boracay Island
Where to stay
What to eat
Boracay attractions
What to buy
The color of the blue sea and the white sand beach are aesthetically indicated by the anchored sail boats-eh?
The islands of the Philippines in South East Asia are some of the extremely beautiful tropical islands. They are all pregnant with innumerable natural beauties that will force you not to bid goodbye to them. I try to find the right adjective to describe the beauty of the Philippines, but I realized some days, the versatile English language stays poor to the user.
Overview of Boracay
Boracay is one of the islands in the Philippines. It is part of Visayans region, one of the three administrative regions of the Philippines. The two other regions are Luzon, and Mindanao.
One of the posts that was published a few days ago in this blog was about a tour of Palawan province, which is also part of the Visayans Region.
Location of Boracay.
Boracay is located in the central Philippines. Look at the map below.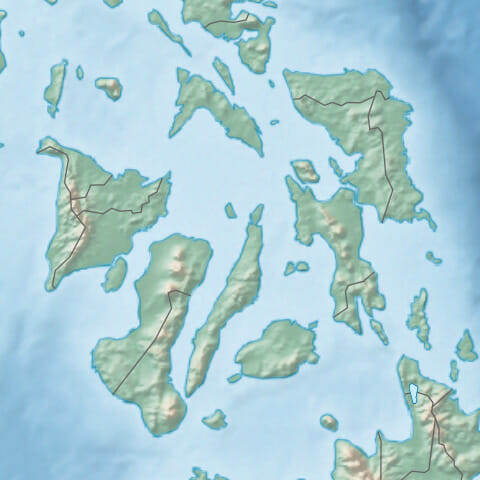 Notice the location of Palawan province, a narrow strip of land sitting west of the island.
Boracay is one of the many islands in the Visayans region, but it is not among the main islands. That speaks the beauty of it in relation to its neighbours who are:
Panay
Cebu
Negros
Bohol
Leyte
Samar
How to Reach to Boracay Island?
Boracay occupies a thick visible spot in the Asian tourist radar, especially when you search for islands for holidays in South East Asia. Naturally, it should be easily accessible, but no so.
I mean, it has no flight connection. Its nearest airport is in Caticlan from where you hop on to a boat that deposits you on Boracay Island in just 15 minutes.
Let us see how you can reach Caticlan, the gateway to Boracay.
Caticlan airport is in Panay Island. The exact location of the airport is on the northern tip of Panay Island, which is the closest point to it's southern tip.
It seems reaching Boracay starts with flying into Manila first, and then take a domestic flight to Caticlan in Panay Island. The final leg of your journey is in a boat from Caticlan to Boracay.
Here is a video of boat jetty from where, boats ply to Caticlan.
The boat port is pretty busy, and it looks beautiful, both the boat and the Visayans Sea, a part of the South Pacific Ocean.
Where to Stay in Boracay Island?
Now that we know how to plan our trip top Boracay from wherever we are, let us look for the hotels and resorts in it.
What the search results revealed is a number of options to stay in the main island. Plenty of resorts topped the search results.
The highly recommended resorts in Boracay:
Henan Regency Resort
7 Stones Resort
Henann Palm Beach Resort
Paradise Garden Resort
Hotels category in Boracay:
Red Coconut Beach Hotel
Piccolo Hotel
La Carmela de
Lind Boracay Hotel
I like the aesthetics of this hotel's location and the room's interior.
There are a handful of hostels for backpackers. By the way, who are backpackers? Or, what is the meaning of 'backpackers'?
Travelers who carry only a bag that is hung on their back are called backpackers. They always look for a dormitory or a shared room type of accommodation.
Some of the staying options for budget travelers:
Boracay Backpackers Inc
Chill Out Hostel
Cool Stay Inn
There are several more places to stay for those who travel on a small budget.
What to Eat in Boracay?
Any tropical island you visit that was once occupied by the original inhabitants is good for finding totally exotic and 100% authentic local cuisine. This island is no exception when it comes to local food specials.
Pick up a few ingredients in Filipino cuisine.
Kalamansi-a kind of fruit
Pili Nut
Vinegar-it is widely and liberally used in the Philippines.
Annatto
Seeds of achiote tree. They are used as a coloring agent in the Philippines cuisine. Additionally, these seeds of achiote fruit have a nutty flavor and that property is also considered when adding then to foods.
Some of the Filipino local dishes you should taste when you are traveling to Boracay.
Rice is the staple for Filipinos. They eat it with various meats, and vegetables. Crab Rice is one of their favorite local foods in Boracay. Both the rice and the crab are available abundantly on the island.
At the first instant, I thought it is Beetroot Halwa, a sweet. But I am wrong. It is a dessert all right, but it is made of "Purple Yam". What a color. This is your first exotic food when you are touring the Island.
In the restaurants' menu card, it is called Kinilaw. It is actually a raw seafood and served as an appetizer.
It is a sort of bread or bun that the Filipinos take for breakfast.
You guessed it right, mate! It is cheese.
I would put it on top of the list of foods you can eat in Boracay. It is a bowl of 'chocolate rice'!
It is a sausage which is generally included in lunch or dinner. However, in Boracay and in other parts of the Philippines, Longganisa is eaten as a breakfast dish.
The dark, blood-red color is due to the addition of Annatto condiment.
In some restaurants and street food stalls, Longganisa is displayed in different shapes.
If you see them, know that you are looking at different avatars of Longganisa that is also spelt 'longanisa'.
Meats used to make this Filipino breakfast dish include pork, chicken, and beef.
A generous quantity of garlic is used along with muscivado (semi-refined sugarcane candy in powder form). Garlic and sugarcane candy? What a combination!
Of course, the usual common salt is also one of the ingredients.
Oh, I am confused. I wonder how this Filipino sausage will taste-sweet or a savoury?
More than a dozen varieties of Longganisa are made all over the Philippines islands.
Garlic fried rice that the Filipinos eat with longganisa during breakfast. In the restaurants' menu card, if you see "Fried Rice", consider it as 'garlic fried rice'. Garlic is an ubiquitous ingredient in the Philippines food.
Remember, if rice is eaten as a breakfast dish, it usually means the left-over rice that is slightly fermented.
Know a few words of Filipino foods. They may come in handy when you happen to eat alone in an eatery in Boracay or Palawan.
Tocino-bacon
Tapa-dried meat of fish, horse, beef, and prk
Daing-dried fish
Asin Tibuok-sea salt
Kiampong-a rice dish
Kuning-turmeric rice
Sinigapuna-Rice cooking with turmeric and lemongrass
Pancit-noodles
What to buy in Boracay:
T-shirts are seen on everyone's body. It seems a kind of national dress because of the heat and humidity that is prevailing throughout the year.
These are certainly very rare gifts that you don't find often. The Filipinos are adept at playing flutes and windpipes that are made of wood.
Ukulele (stringed music instrument similar to guitar) also makes a good souvenir.
Barrel-man is a good companion.
Totes of myriad sizes and colors that you can buy in street shops make great souvenirs. I used to get them for my friends.
As far as edible gifts are concerned, the sweet dried mango jellies are the best. As a tropical country, there is no dearth of mangoes in the Philippines.
Travel Guide to Boracay Island
Boracay Attractions-
White Beach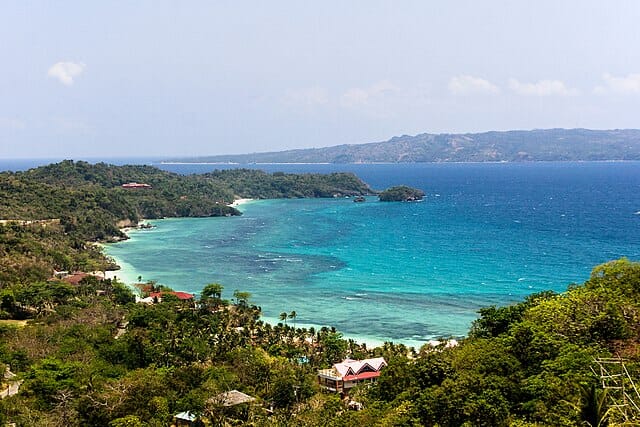 White Beach is one of the foremost attractions in Boracay. It is quite a lengthy beach that measures nearly 4 km. The promenade is full of gift shops, restaurants, bars, and apparel shops.
Crystal Cove Island
This is a popular spot for the tourists of the islands.  Only 8 km is the distance between that two. Boats ply frequently to the resort island from the main boat jetty.
Apart from exploring the sea coves, one can find a few water-based adventures such as kayaking, and snorkelling.
Puka Beach
Long ago, this beach was littered with Puka shells and hence this name.
These are the shells of a poisonous species of mollusc.
Please note the seashells collection is banned in the Philippines.
Puka beach is a picturesque beach and located a bit out of place where you can enjoy some privacy. It is an elite area with 10 good hotels to stay.
When you have finished with the White Beach, you can take a tricycle ride to Puka Beach.
Of the 17 beaches in Boracay, this is the most peaceful beach.
Bulabog Beach
Somehow, this beach in Boracay is known to facilitate 'kite surfing' while all the other beaches in it are also conducive for kite surfing.
You can walk to this beach from the White Beach in about 7 minutes!
It is a scenic beach with the backdrop of a mountain. Certainly, it is one the beautiful attractions in Boracay.
Ariel's Point
This is Boracay's most visited place by the youths because of a cliff that serves as a diving platform for them.
Surrounded by green hillocks, Ariel's Point is a scenic place and one the best attractions in Boracay.
It also a place for kayaking, snorkelling, and paddle boarding.
Water sports in Boracay
The beaches are numerous. The sea is vast open. The wind is just right and so too are the waves. Then, what is stopping us to indulge in any one of the water sports that we are familiar with?
A dozen different water sports are played in different beaches in the island. Kite Surfing is played on several beaches but the most popular place is the Bulabog Beach.
Kite surfing is the most played water sport in it. In fact, as one of the things to do in Boracay, kite surfing attracts even a casual onlooker to try. The colorful kites that float above the sea, the height, and the wind pull even an old man to grab the rope that is tied to the kite.
Look at a kite surfer enjoying the adventure fully.
Want to have a go at it, man?
Note the spelling, buddy; it is different from parasailing. This is true to the word-sailing. You really ride the water using a sail boat. Remember the title images at the beginning of this post showing two sail boats?
Look at the paraw sail moves on the water with considerable speed.
Paraw sailing is endemic to the Philippines.
Scuba Diving is naturally the most popular water-based adventure. The diverse marine lives and marine vegetation suits the interests of scuba divers. White Beach is a famous place in Boracay for learning scuba diving and getting certificate. Once armed with a certificate, you are free to dive anywhere you like.
Seafloor walking
It is called 'helmet diving' in this part of the world. You wear a special helmet with breathing facility and get to the bottom of the sea and go for a stroll with numerous fishes giving you company. Surely, they won't ask you what you are doing in their territory.  The unique experience is amazing and once in a lifetime chance to walk on the seabed.
Did you notice the absence of any other gear such as fins except your regular wear? It is as simple as that.
It is also a thrilling water sport in which you stand up on a paddle-board and use a paddle to surge forward. And, It is very easy on still water but in a sea, it is a different board game.
Snorkeling suits beginner divers and veteran swimmers. It is a very enjoyable water game. As you float, you are at will to touch the swimming marine creatures that seem to challenge you to their swimming speed.
Parasailing
There is no match for this thrilling water sport cum aero sport. You are harnessed to a kite which is in turn, tied a boat. When the motorboat moves, your sail shoots up into the sky.
You are literally flying over the sea.
Alternatively known as water-scooter, you hop on to a floating scooter and power the vehicle to thrust forward in great speed. It is all the way exciting that will make you scream in sheer joy.
Boracay's seascape will steal your heart.
More water-based adventure in it:
Banana-boat ride
Mermaid swimming-you are fitted with a fish-like costume. There is a Mermaid Swimming Academy here in the Island.
Isn't that one of the fantasies of every woman?
Note: This water sport is only for women!
Island hopping
Boracay is surrounded by 5 islands and islets that are great destinations for island hopping enthusiasts. Crystal Cove is the biggest target for island lovers. Other islands where you can stop briefly are:
Panay Island
Magic Island
Crocodile Island
Carabao Island
Other adventure sports in Boracay
There are a few more adventures that don't involve the sea. There is 'zorbing' in which you get into a sphere and roll over a lawn with a slope.
Ziplining adventure is a real thrill. You hang onto a metal rope that is attached to ends of a building or mountains. You zip across from one end to the other end hanging onto the rope either in a horizontal position or vertical position.
Isn't Boracay Island tour, all fun and excitement? Palawan travel is seeing splendid natural beauty whereas Boracay is full of joy and adventure.