Langkawi Island Malaysia: The Jewel of Kedah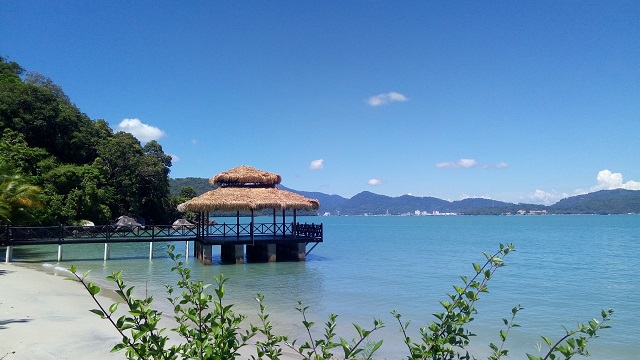 Read a detailed travel guide to Langkawi Island Malaysia, its locations and accessibility, things to do in Langkawi Island, places to stay and what to eat there.
At the outset, have you ever heard of some islands that stay usually submerged but surface when the tides are low?
There are 5 such islands, obviously uninhabited and belong to Langkawi archipelago, Malaysia.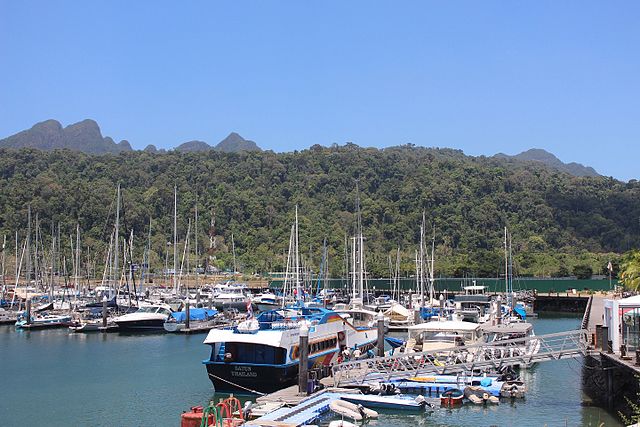 Langkawi archipelago
A total of 99 islands comprise the Langkawi archipelago. They all belong to "Kedah", a state of Malaysia.
Please be aware that not all the 99 islands are inhabited.
The largest of the 99 islands is Langkawi Island with a sizeable population numbering around 85K.
Location of Langkawi Island Malaysia
Langkawi Island is the largest of Langkawi archipelago and is located in the Andaman Sea.
How to reach Langkawi Island Malaysia?
If you are looking to fly to Langkawi Island from Kuala Lumpur, please note that the flying duration will be approximately one hour, plus or minus 5 minutes.
However, the most pleasant journey to Langkawi Island is a fast ferry ride from the island of Penang. The ferry will whisk you away in just about three hours.
Look at the comfortable luxury seats on the ferry.
Do you know you can also drive up to Kuala Perlis, a coastal city near Thailand?
From there, ferries ply to Langkawi Island. The sea passage duration is 75 minutes only.
Therefore, choose your passage to Langkawi Island that suits your style of travel.
Things to do in Langkawi Island Malaysia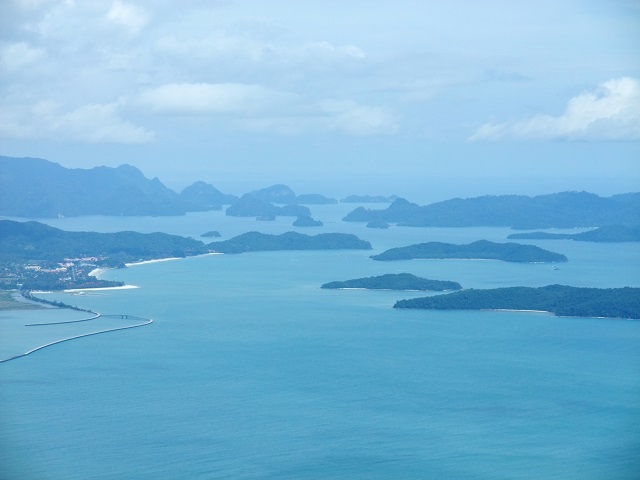 Did you notice the small islands and islets of Langkawi Island archipelago? You can spend a full half a day by visiting as many small islands as possible in a boat.
Visiting geopark of Langkawi Island Malaysia
There are major geoparks in Langkawi Island and all of them are recognized by UNESCO as "World Geopark".
Kilim Karst Geoforest Park
Machincang Cambrian Geoforest Park
Dayang Bunting Marble Geoforest park
Beautiful beaches of Langkawi Island Malaysia
Watching the sunset from any one of the Langkawi Islands can be memorable as the Langkawi archipelago is situated on the western coast of Malaysia.
Learn the names of some of the popular beaches to go to Langkawi Island Malaysia.
Pantai Kok,
Datai Bay
Burau Bay
 Pantai Cenang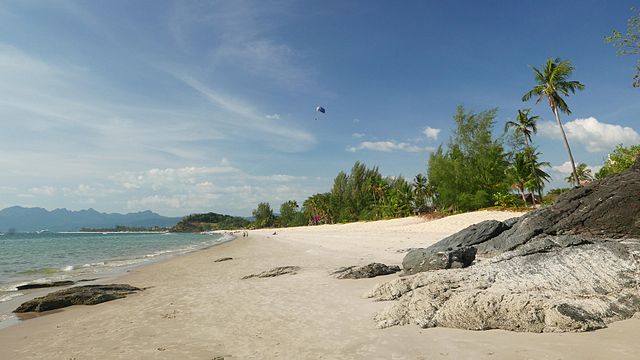 Most of these beaches wear white sand. However, one beach attracts more curious tourists because the beach wears black sand.
All the beaches in the southern part of Langkawi Island are suitable for tourists because they can find bars and refreshment cafes facing the Andaman Sea.
Cable car ride over the forest and sea
Naturally, the most interesting thing to do in Langkawi Island Malaysia is to go for a ride in the cable car. As the 'sky cab' moves slowly on overheard cables, you will scream with delight when you see the dense tropical forest below.
It is a breathtaking canopy view. Even the blue Andaman Sea located at 2700 feet below will give you goosebumps.
The starting point where you board the sky cab is Oriental Village. You will be dropped off at Langkawi Sky Bridge.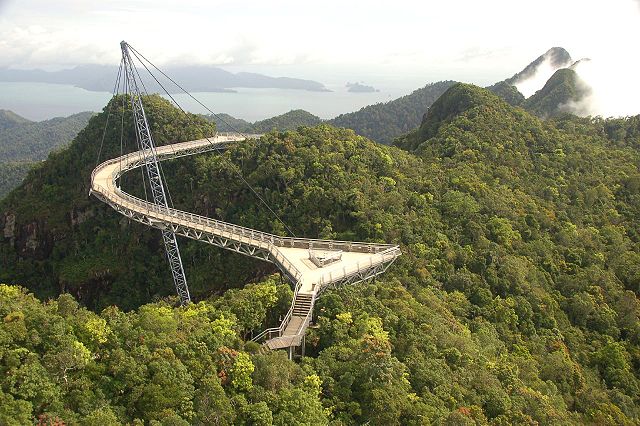 Three-dimensional art museum
Do you know this 3-dimensional art museum is an interactive one? Irrespective of the age, the optical illusions inside the museum will extend your stay.
Water Sports in Langkawi Island Malaysia
The influx of tourists over the last decade paved way for several water sports on the beaches of Langkawi Island Malaysia, especially in the Pantai Cenang Beach.
Strap on snorkeling gear and hit the water. Stay afloat for as long as possible without the fear of sharks.
Go on a boat ride without aiming for any particular destination. Just enjoy the sea breeze and the sun on your back.
If those man-eating reptiles interest you, visit the small crocodile farm. However, don't try to befriend any crocodile.
A gentle waterfall and thus kids friendly.
Nightlife in Langkawi Island Malaysia
Don't assume this Malaysian island lacks any nightlife because it is a small island. Whatever nightlife that you enjoyed in Kuala Lumpur is also available in Langkawi Island  that includes bars, discos, and massage parlors.
Hippie Bars
Bars in Langkawi Island are called 'hippie bars'.
Beach Bars
However, more tourist throng to Pantai Cenang beach bar as it is more fun and open. Comfortable beach furniture is laid all over the white sand beach.
Eagle Square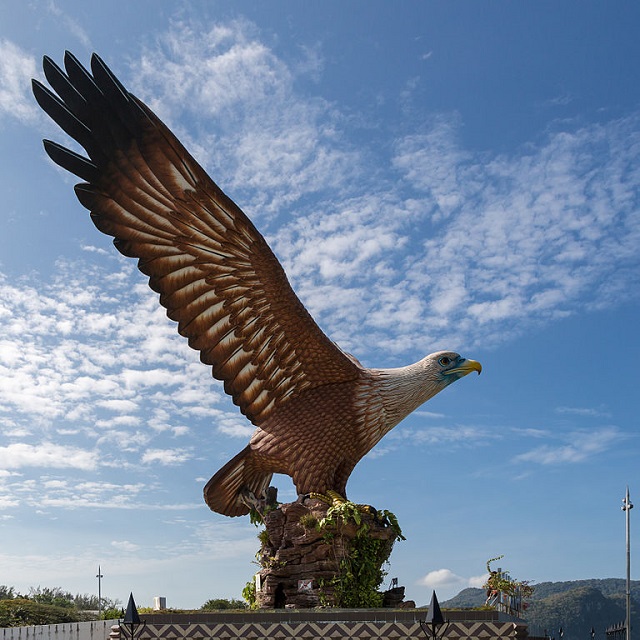 What a sight! This huge eagle statue is erected on the promenade. The eagle Square attracts large tourist crowds, especially in the evening.
Hotels to stay in Langkawi Island Malaysia.
Because of its tourist prominence, there are plenty of hotels in Langkawi Island.  Choose the hotels situated in and around Eagle Square because you will really enjoy your time seeing and interacting with other holidaymakers.
Beachfront Resorts in Langkawi Island
As a general rule, while hotels are for low and medium budget travelers, the beachfront resorts are for those with bulging wallets.
If you care to save your money while visiting Langkawi Island, search for 'boutique hotels' and 'spa hotels'. They cost less.
If you still want to experience a stay in a beach resort, search for "Under $100 beachfront resorts".
Eating Langkawi Island Malaysia
If you like Chinese cuisine, they are found everywhere in Langkawi Island Malaysia. Seafood is the predominant food in Langkawi Island and you are also likely to find authentic Indian cuisine.
Conclusion:
Malaysian Islands are similar to the islands of Thailand offering unlimited fun with just 4 hours gap in a day. You will simply fall in love with Langkawi Island Malaysia for its food, drink, and attractive places.