Mahe Island Travel Guide
This is a handy travel guide to Mahe Island tour. You will find how to reach Mahe, you will come to know Mahe Island attractions, where to stay, what to eat, and what to buy in the Island.
Where is Mahe Island?
Mahe is a small island comprising just 153 sq. km. In spite of this fact, it is the largest island of Seychelles islands.
Seychelles group of islands are floating on the Indian Ocean. It is part of Somali Sea which again is part of the Indian Ocean.
Overview:
Mahe Island is 26 km long and 17 km wide.  The capital city is Victoria. It has three national parks! This indicates Mahe's major area is full of forests with several endemic plants.
Mahe which is a part of Seychelles is a highly visited island holiday destination. Both the British and the Spaniards are the major visitors. They once ruled the Seychelles.
Seychelles is now an independent nation, lying east of Africa in the Indian Ocean.
Where is Mahe Island's location?
Approximately 90 degree to the right of Kenya's coast, the Seychelles archipelago is located.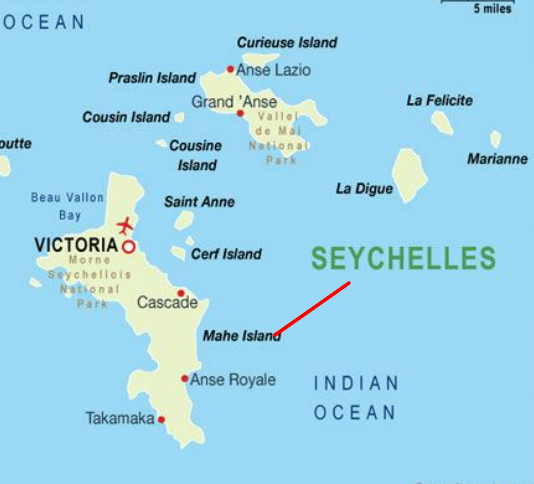 The island is also shown below along with other islands of Seychelles.
Seychelles comprises of 115 islands and Mahe is its main island. Even the capital Victoria is in Mahe.
How to Reach Mahe?
Capital city Victoria receives international flights from India, middle-east countries, London, Kenya, and Sri Lanka.
From Mumbai, India, the duration of the flight to Mahe Island is about 4 and a half hour.
There are no direct flights from the U.S. and from Europe.
When is The Best Time to Visit Mahe Island?
The dry season is between May and July. The majority of the tourists arrive during the no-rain season.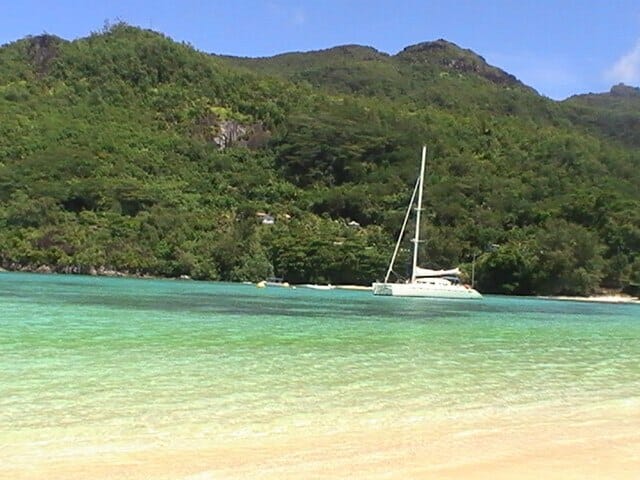 Nonetheless, you can also go during monsoon when the hotel prices and the flight ticket rates drop. Don't fear squalls and storms; they stay away from it, miraculously.
How Long You Need to Tour Mahe Island.
I think 4 days are good to enjoy all the Mahe Island attractions. However, having planned the trip to Seychelles, you can as well think of spending a few more days in other important islands that include:
La Digue Island
Praslin Island
I remember reading Praslin Island has 25 beautiful places to see.
I reckon you may plan for a two-week holiday in Seychelles.
Best Things to Do Mahe Island:
Mirante La Misere
Mirante La Misere is an affluent residential are that was developed as a separate is island, detached from it a bit. The best food of Mahe and colourful bars and boisterous night clubs are in Mirante La Misere.
There is a view point on this artificial island from where, you can see the beautiful beaches of Seychelles, and some of the smaller islands can be viewed.
Morne Blanc Trail
One of the biggest attractions is this Morne Blanc Trail, in the forested mountain. The trekking requires some effort as the elevation is a bit steep.
The flora on the trail and excellent view of the India Ocean lure even reluctant hikers to tread on the trail.
Beaches in Mahe Island
The beaches in Seychelles attract people from all over the world. There are numerous beaches in it, where you will be spending much of your time.
It is advisable to join an organised and guided beach tour.
Here are the most visited beaches in Mahe Island.
Anse Royale Beach
Grand Anse Beach
Petite Anse Beach
These three beaches are mostly furious as if they don't want visitors to enter the water. In addition, boulders lau scattered that prevents swimming and diving.
Beau Vallon Beach-this beach is conducive for water sports,
Pointe Au Sel-children friendly beach
Baie Lazare Beach
Port Launay Beach
As many as 20 beaches are on the island that are worthy of visiting. A beach tour operator will make it fast for you to visit all of them in a single day. Lunch and light refreshments are inclusive of the cost.
Island hopping
Island hopping is one of the prime things to do in Mahe Island. Apart from the top two islands namely Praslin and La Digue, you can visit
EdenIsland
Aride Island
Saint Anne Island
Cousin Island
Most of the islands can be reached in an hour from it. The distance between other islands is also not long. For example, Praslin to La Digue Island can be reached via ferry in less than 30 minutes.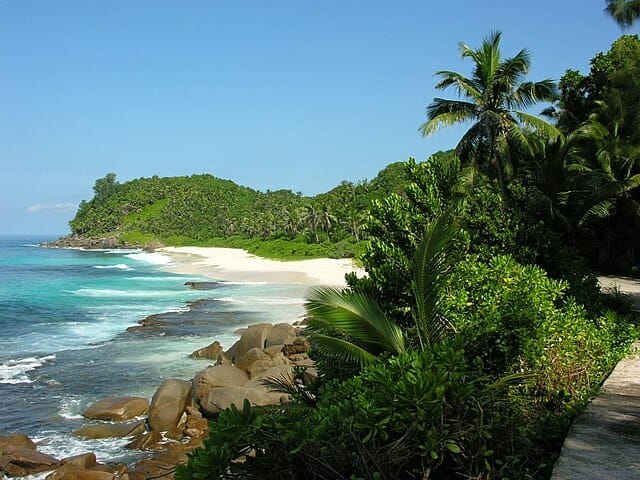 Affluent tourists engage a chartered yacht or hire a private helicopter to visit several small and beautiful Seychelles Island, keeping their headquarters in Victoria City.
Some islands that are part of the Seychelles archipelago fall under the list of must-see attractions in Mahe.
Uninhabited islands are fun and adventure to visit. Lush rainforests and exotic marine creatures would make you glad that you hit upon the idea of island hopping in Seychelles. Find out the sailor in you, boss!
The most enjoyable way to go from one island to the other is by ferry. Alternatively, you can fly using domestic flights from Praslin.
Marine Lives in Mahe Island
Giant tortoises are freely strolling on the Mahe beaches in Seychelles.
They are really huge, buddy!
Keeping these gentle giants company are the saltwater crocodiles.
The developments of 6 marine parks convey the existence of a wide range of marine creatures. The St. Anne National Marine Park is the chief among six other marine parks.
These 6 national marine parks strive hard to protect and preserve as many as 1000 fish and crab species that are living off the coast and other islands of Seychelles.
Wildlife in Mahe Island
This is a black parrot, one of the birds found to be living in the thick jungles of Seychelles. Incidentally, the Black Parrot is their national bird.
It is endemic to the Seychelles Island chain. In addition to it, here are a few more birds that are endemic:
Magpie Robin ( but I remember spotting these noisy singers in rural Tamilnadu, India)
Seychelles Bukbul
Seychelles Blue Pigeon
Seychelles Sunbird
Sooty Tern
Frigate Bird
All these plus 6 more birds are endemic to Seychelles.
The Biggest Flower Attraction

I think you can easily recognize this flower. It is a pitcher plant and it is a carnivorous flower.
Coco-de-mer
Can you guess what it is? It is a twin coconut, which is endemic to Seychelles's forests. It is a huge coconut with a rock-hard shell. The scary-looking coconut crab can break open the outer and inner shell and get inside the fruit. It is one of the attractions.
Copolia Trail
The presence of dense forests and green-rich mountains throw open numerous pre-trodden walking and hiking trails. Copolia Trail is one of the popular trails.
The length of the trail is 1.6 km only. But still it takes nearly two hours to complete the trail, both ways. The walk is through mountain that offers stunning views of the Seychelles Islands. The spectacular views from 2500 feet summit is worth trekking on the Copolia Trail.
Morne Blance Trail
This trail challenges the veterans too because of the rather steep climb. The hike involves a tough 3.2 km long trail, which goes through Mount Seychellois. It is an interesting hike during your travel.
Navasakthi Vinayagar Temple
This is a Hindu temple dedicated to Lord Vinayakar, the elephant-faced God. It was built and maintained by the Tamil ethnic group.
Botanical garden
The botanical garden is one of the main tourist attractions in the city of Victoria, the capital of Seychelles.
Mahe Island's beaches, mountains, and forests offer wonderful trekking opportunities. If you are not interested in physical activities during your island tour, just enjoy the relaxed atmosphere, eat terrific seafood and return, fully rejuvenated.
What Can You Eat in Mahe Island?
The islands of Seychelles were under foreign rule that include Spain, and British. The Indians too migrated to the islands in large numbers. The proximity to Africa combined with the above three foreign countries, influenced the Seychellois (Note the spelling) cuisine. Hence, you get to eat a mixture of these countries' cuisines or you can also eat food prepared by the chefs of these countries.
For example, if the fish is teamed, know that it is Indian style. If the fish emanates smokey fragrance, it is a Spanish dish. If it is baked, then, know it is a British way of cooking.
Ginger is predominantly used in all the meat dishes. This again is Indian cuisine.
Rice and fish are the staples in islands of Seychelles.
If you find the following names in the restaurant or street food stall menu, don't be surprised.
Satini Raken (Shark Chutney)
Are you shocked? Shark is eaten just like any other fish. I think shark is abundantly available in it. It is smashed and ground to a paste, mixed with turmeric, green chillies, and onion. Rice is mixed with shark chutney and eaten. This is a local specialty.
Raw banana and fish cooked together. Certainly an exotic combination-eh?
As a savoury item, fish is salted and cooked in coconut milk. It is a rare combination of milk and salt. The added ingredients are banana, and cassava (topioca).
Grilled fish, usually Re Snapper fish.
Bat curry-another cultural shock to the tourists from U.K. and Europeans.
During your tour, you will come across several tropical fruits in the roadside markets. While you would be familiar with most of them, a few fruits would be totally new to you.
Familiar Fruits in Mahe:
Koko (coconut)
Banana
Mango
Avocado
Papaya
Zak (jackfruit)
Dragon Fruit
Exotic Varieties of Tropical Fruits:
Bread Fruit
Passion Fruit
Soursop
Polynesian Plum
Wax Apple
They look like cashew fruits
Santol (Cotton Fruit)
Zat (sugar apple) (Sweet-sop)
It seems it is custard apple.
Pomm Lokal (Malay apple)
Star Fruit
So many exotic tropical fruits lure food lovers and professional eaters to the island and its neighboring islets.
What can you buy in Mahe Island?
The most bought item is the rare 'black pearl'.
You can buy as individual pearls or ornaments such as a necklace. Surprisingly, fragrances manufactured on Seychelles Islands command good buy.
Dolls and other show pieces made of coconut shell make good souvenirs.
Good quality cinnamon is sold at cheap prices.
Considering two more islands Praslin and La Digue, you can plan for a week to ten days trip to the Seychelles.