Malaysian Islands: Is there any Malaysian Island worth visiting?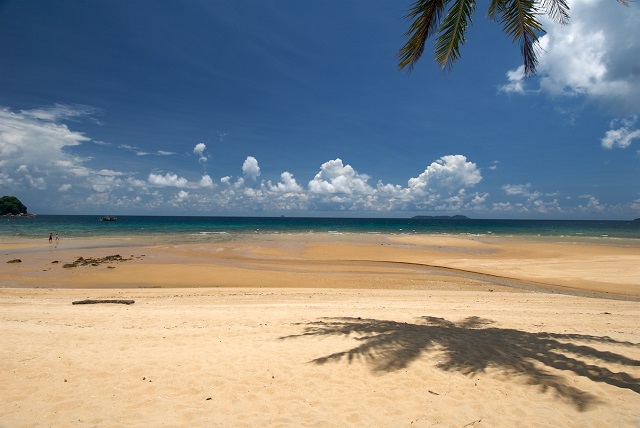 Are there any Malaysian Islands worth visiting?
This blog post is a brief travel guide to some of the wonderful Malaysian Islands, how to go there, where to stay, and what to eat.
I have several times advised my relatives and friends that Malaysia is not only Kuala Lumpur and Malacca but is blessed with some breathtaking tropical islands that are naturally beautiful. In addition, I used to tell them at least during your second trip to Malaysia, skip the mainland cities, and head to a few best islands of Malaysia.
However, I fervently wish you heed my appeal and visit some of the top Malaysian Islands.
List of Best Malaysian Islands Worth Visiting
Penang
Langkawi Islands
Perhentian Islands
Sipadan Island
Pangkor Island
Redang Islands
Mabul Island
Tioman Island
Rawa Island
Tenggol Island
Malaysian Islands Worth for Your Visit
Which Malaysian Islands are worth visiting?
In this blog post, you will come to know the highly visited Malaysian Islands as well as some underrated small islands that are sheer paradise on earth.
Penang
Penang is the most visited Malaysian Island and in fact, it is so important that it is a state of Malaysia. Its capital George Town is nearly as big as the Malaysian capital city Kuala Lumpur but I would rate it as more beautiful than KL.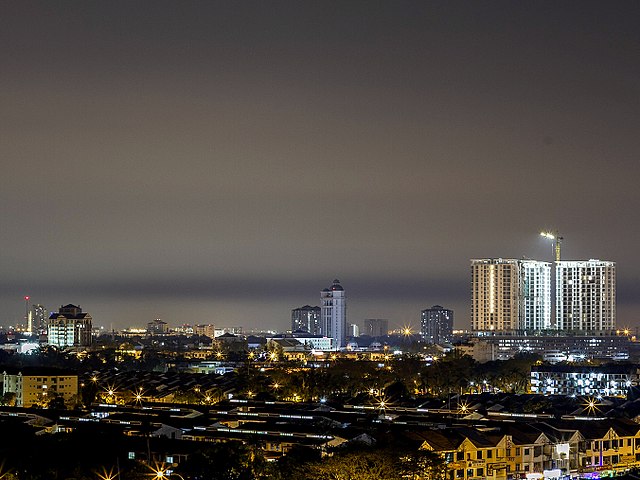 While George Town will engage you for more than 4 days with its innumerable entertainments and shopping malls, the other big city called Bukit Mertajam  that is part of Seberang Perai, located in the Malay Peninsula will require two days of your time.
How to Reach Penang?
Both the big cities  George Town and Bukit Mertajam are connected by roads over the sea.
You can fly directly into Penang from a few south Asian cities.
However, since most tourists would land in Kuala Lumpur first, there are two ways you can reach George Town, Penang.
The distance between George Town and Kuala Lumpur is around 360 km. Luxury buses ply between the two big landmarks of Malaysia. The travel duration is around five hours only.
Alternatively, you can board a train from Kuala Lumpur to George Town in Penang. It is the most preferred mode of transportation to Penang from mainland Malaysia.
To stay in Penang, imagine the number of options if I say the budget hotels alone are around 250! Star-hotels, beach resorts, ocean view hotels in George Town, Penang are simply countless.
Since, most of the time while in Penang, you will be out, enjoying the attractions and indulging in adventure and fun activities, I would advise you to stay in a budget hotel which itself is more than your expectation.
Eating anywhere in Malaysia is simply a pleasure. Take your time in eating all that is laid on a buffet table. They are simply mouth-watering.
While vegetarians may find it a bit tough to get on, meat-eaters will absolutely enjoy eating in Malaysia.
Places to see in Penang
Do you know that there are as many as 40 places to see in Penang? It is tough to choose what to see and what to ignore. Nonetheless, please make it a point to see the following top attractions of Penang.
Penang National Park
Butterfly Park
Spice Garden
Floating Mosque
Fruit Farm
City Mall
Penang Hill
Penang Bridge
Langkawi Islands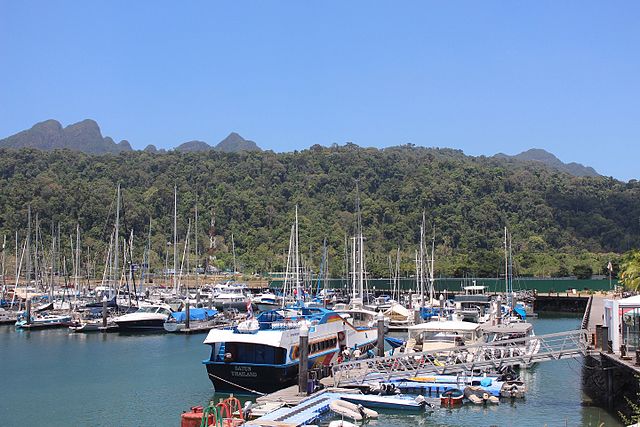 Not many Malaysian tourists are aware that Langkawi is an archipelago comprising a whopping 99 islands! Out of them, some are visible only when the tide is low! Incredible!
Imagine doing an island-hopping trip from  Kuah, the biggest city in Langkawi.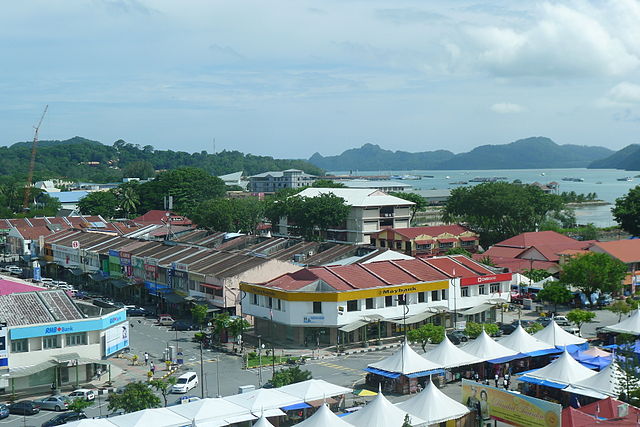 I think you would need several days to visit at least 50% of the 99 islands of Langkawi.
Being a duty-free island, Langkawi attracts countless thousands of visitors every year. This includes the tourists as well as the Malaysians.
For sightseeing in Langkawi, there are several UNESCO protected geo parks namely:
Machincang Cambrian Geoforest Park
Dayang Bunting Marble Geoforest
Kilim Karst Geoforest Park,
Collectively, these three geo parks are managed by Langkawi Geopark.
Reaching Langkawi Island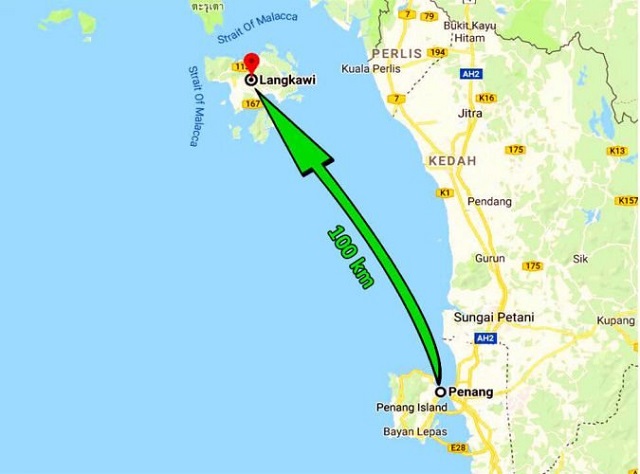 Ferries ply from a few ports such as Penang and Kuala Kedah. I believe to cover this 108 km, ferries might take four hours only. It should be an exciting voyage.
You can also fly from Kula Lumpur and Singapore.
The first thing to do on Langkawi Island is to walk on this 'sky bridge'.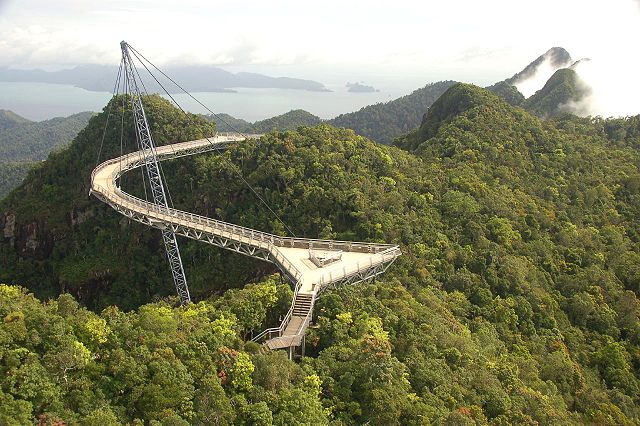 Its elevation is 2100 feet and the length of the bridge is less than half a kilometer.
Perhentian Islands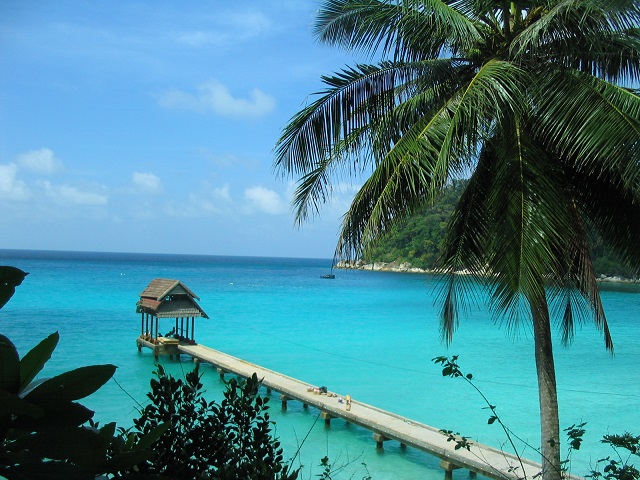 A chain of 5 islands comprises the Perhentian Islands, located in the South China Sea. All five islands are situated off the northern coast of Malaysia.
Out of the five islands, three are uninhabited. They are
The two main inhabited islands that the tourists arrive to stay are named:
Perhentian Besar
Perhentian Kecil
The former island is bigger than the Kecil.
The Perhentian Islands of Malaysia are located far off from Kuala Lumpur.
How to reach the Perhentian Islands?
By bus, you can travel from Kuala Lumpur. The nine-hour bus journey will deposit you either at Kuala Terengganu or Kota Bharu, two big cities.
From your bus station, you have to take a taxi to the ferry port called Kuala Besut.
Several ferry services are available from Kuala Besut to Perhentian Besar Island. The sea passage takes about 30 minutes only.
The alternative way of reaching Kuala Terengganu or Kota Bharu is to fly from Kula Lumpur. Nevertheless, the final stretch of travel is by sea.
Since both the Perhentian Islands attract quite a number of local tourists, there are several seafront resorts in both the Perhentian Islands.
Some of the highly recommended resorts in the Perhentian Islands are:
Tuna Bay Island Resort
Alunan Resort
Samudra Beach Chalet
Eating in Parentian Islands
Well, the cuisine is predominantly Chinese. Indian type of food is also available.
What to see in Perhentian Islands?
Don't expect a truckload of places to see and things to do in these five Malaysian Islands. People escape to islands mainly to unwind by taking things easy. Unless they are bored, they don't bother to move out of their cozy comfort of the resort as after all, everything is provided there.
Nonetheless, here are a few activities you can indulge in.
Snorkeling is actively pursued here even by teens because the water is very clear, revealing what is underneath. Don't worry about crowding the sea; more than four snorkeling spots are available on Perhentian  Cecil Island.
The daredevils would put on scuba diving gear and plunge into the South China Sea to see marine species and colorful corals.
Since these Malaysian Islands are tropical islands, you can surely find a rainforest or two to walk through. It will be a thrilling experience.
Just to entertain the tourists, the locals will perform dangerous fire dances and tricks on the beach in front of the resorts.
Test your arms by taking a kayak out on the sea.
Go to Terengganu Marine Park by visiting the uninhabited Perhentian Islands.
Ocean floor walking is a guided adventure that even a 60-year-old woman can enjoy.
Sipadan Island
Sipadan Island is haunted by die-hard divers who can't get enough off the diverse marine creatures and marine flora of Malaysia.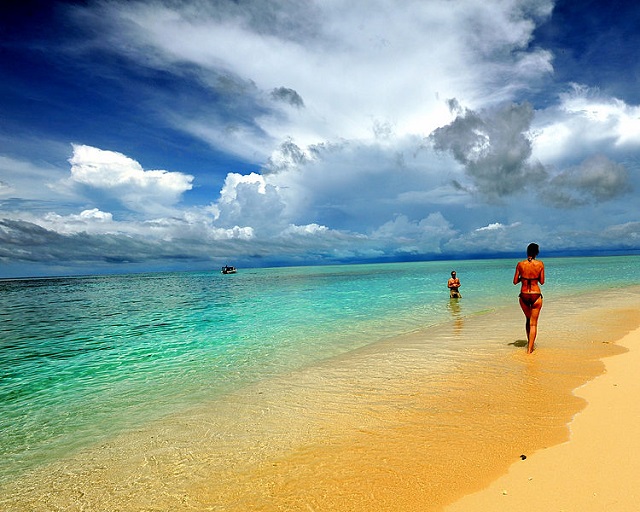 A mind-boggling 400 species of marine life are found living, surrounding Sipadan Island. Some of the fish species that a scuba diver can spot are:
Manta Ray
Hammerhead
Eagle Ray
Whale Shark
Sipadan Island's most striking feature is its elevation.
Do you believe it is situated nearly 2000 feet above sea level?
I think you can aptly call it a "Sea Station".
How to go to Sipadan Island?
I must agree you have to put in some effort to reach this Malaysian Island called Sipadan. Since Sipadan Island is part of Sabah, a Malaysian state, the gateway to Sipadan  Island is Kota Kinabalu, the capital city of Sabah.
From Kota Kinabalu, you can fly up to Tawau city. Another grueling 2 hours on road takes you to Semporna, a coastal town. Your next leg of the journey to Sipadan involves a hour ride on a ferry.
Kula Lumpur also operates a direct flight to Tawau. The duration is 3 hours.
Since there are no hotels or lodges (actually banned) in
Sipadan Island, you must choose a hotel in Mabul Island, another Malaysian Island that is just 20 minutes boat-ride away from Sipadan.
Is there any special food to eat in Sipadan?
No, nothing exotic but the usual seafood and the ubiquitous noodles and fish sauce.
Pangkor Island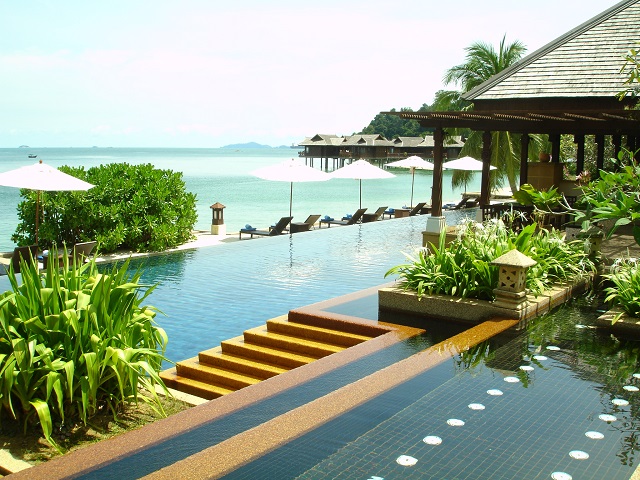 That is a resort you see in Pangkor Island, an exclusive resort island of Malaysia, on its west coast. The mainland Malaysia is not far off, buddy; just 3.5 km of sea separates them.
Buses ply from Kuala Lumpur. It is a 4 hours drive to a port town known as Lemut. From Lemut, you have to travel on a boat for an hour almost to dock at the Pangkor Island.
Mainly, marine life enthusiasts are deeply interested in seeing marine creatures of Pangkor Island frequent this place.
In addition, inside the thick forest on the island, reptiles and amphibians freely roam, thus acting as delicious food for the seabirds of this Malaysian island.
As a duty-free island close to the Malaysian mainland, Pangkor Island receives about 2 million visitors annually.
You can choose among eight best resorts in Pangkor Island to stay.
Redang Islands
I think this is the first time you are hearing about this pretty Malaysian Island. I would not stay it is an underrated but definitely under-visited island of Malaysia.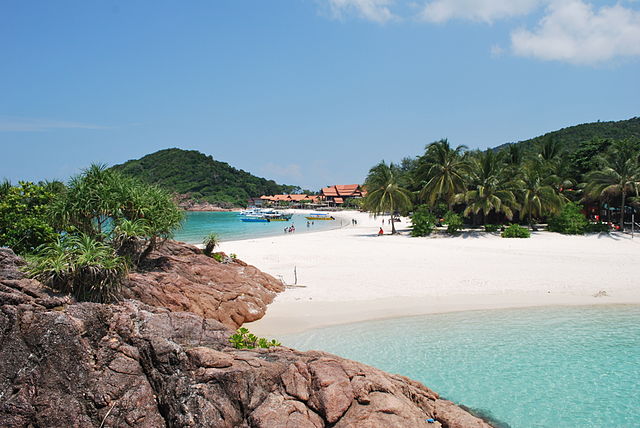 Nine islands form the Redang archipelago, on the east coast of Malaysia's South China Sea.
It seems the South China Sea is home to numerous islands, similar to the South Pacific islands including Fiji.
Can I fly to Redang Island from Kuala Lumpur?
Yes, you can. Direct flights are operated by Berjaya Air.
How long does it take to reach Redang from Kuala Lumpur by plane?
In just 70 minutes, you can land in Redang Island, Malaysia.
If you are touring Singapore, you can fly from there to Redang Island, Malaysia.
All the nine islands of Redang constitute a marine park.  Since the water is very clear, snorkeling and scuba diving are popular water sports.
Paul Redang is the biggest island. However, it measures by 7×6 km in length and width respectively.
Redang Island is an exclusive resort island. I mean, there are about a dozen resorts on Redang Island. No small hotels or budget lodges are found in Redang.
I give below the names of some of the top beach resorts in Redang Island.
Redang Bay Resort
Laguna Resort
Paradise Resort
Taaras Beach & Spa
Oh, I almost forgot to mention. The beach in Redang Island wears white sand.
The best time to visit this Malaysian Island is from April to September.
Mabul Island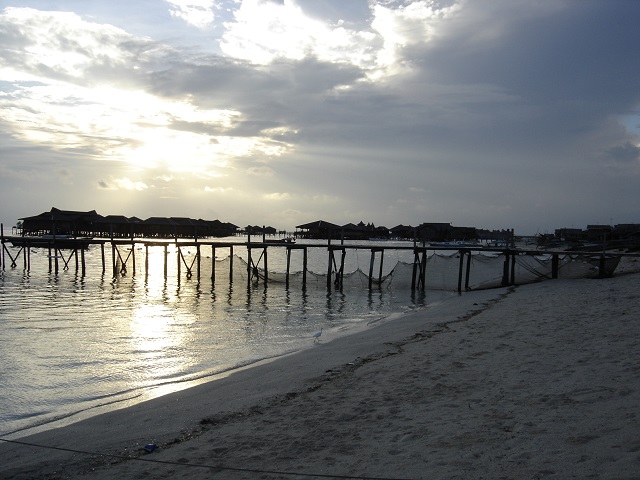 Mabul Island is a Malaysian Island that is very popular for diving because of its superb marine life. Even at a depth of about 100 feet, a scuba diver will be busy manipulating his water-proof camera, capturing all the colorful activities in it.
You can directly land on Tawau Island, the nearest to Mabul Island. From Tawau, you will have to cross over to Mabul in a boat. The airborne duration from Kuala Lumpur will be two and a half hours.
What to do on Mabul Island?
Just enjoy the breathtaking scenery from your resort, go to spa studio and relish the facilities offered there and relax.
If you don't mind getting wet, do snorkeling for an hour or so or watch veteran scuba divers go deep into the sea.
You can either stay in a concrete building of a resort or stay in an overwater bungalow on Mabul Island. My choice would be the overwater bungalow.
Look at the image of the water bungalows below.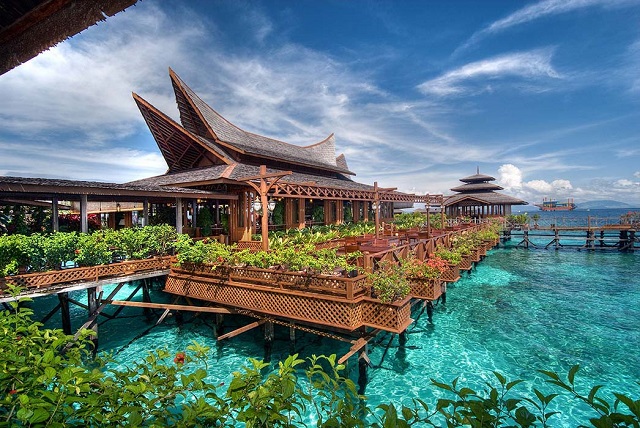 Image courtesy: Mabul.com
Tell me, would you look at another property to stay in Mabul Island?
Tioman Island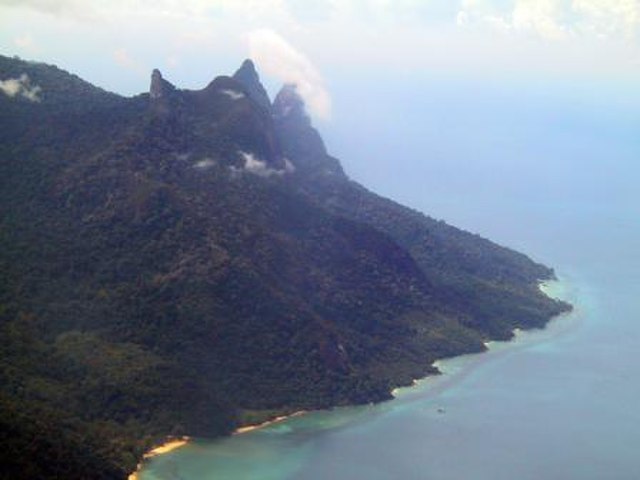 We are on another South China Sea island of Malaysia. It is a fairly large island measuring 3okm by 12 km in its length and width, respectively.
This Malaysian Island's marine life and wildlife attract a large number of tourists and nature lovers. In addition, the island's mountains and rainforest are exciting to explore by trekking and walking.
Similar to other Malaysian islands located in the South China Sea, Tioman Island is also popular for its reefs and corals. Scuba diving and snorkeling are naturally popular on this island.
Tioman island's duty-free status and its many beach resorts make it a highly visited Malaysian Island.
Rawa Island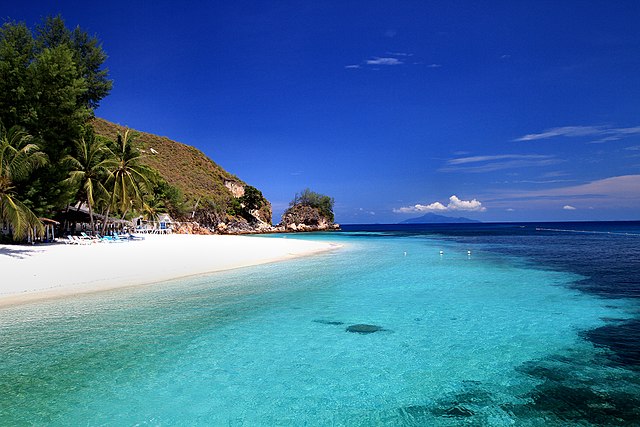 This is a privately owned resort island in Malaysia. Once again, we are sailing in the familiar South China Sea that seems to be home to endless Malaysian Islands and also islands that belong to Indonesia and the Philippines.
Inexplicably, Rawa Island in Malaysia is full of 'white doves'.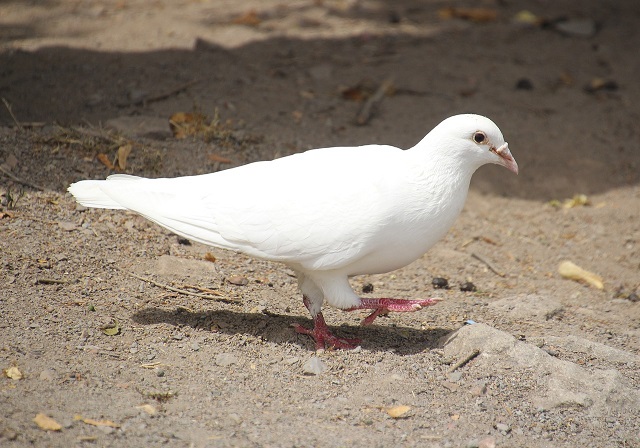 This cute Malaysian Island is good for seclusion and privacy. Since it is nearer to Singapore than Kuala Lumpur, I read it is a favorite island escape for honeymooners.
Apart from snorkeling, swimming, and scuba diving, there is nothing much to do on this island. Therefore, it is an ideal island for relaxing and enjoying the sun and sea.
Reaching Rawa Island.
Bus or taxi from Singapore will get you to Mersing, a port town in Malaysia's Johar district. The duration of the road trip will be a little less than three hours.
Mersing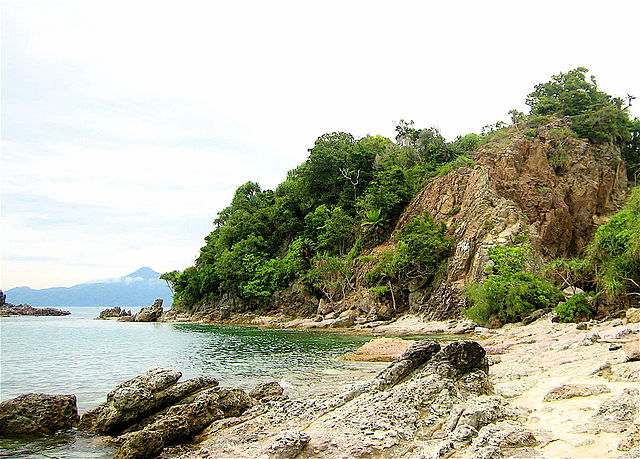 Mersing is the gateway to several islands including Rawa and Tioman Islands.
Road travel to Mersing from Kuala Lumpur takes 5 hours.
From Mersing, you will have to take a ferry to visit Rawa Island. The distance between the coast and the harbor of Rawa Island is just 18 km. The sea passage will take about 30 minutes only.
Rawa Island's white sand beach has a rocky backdrop, giving the island an exotic appearance.
The local special food in Rawa Island includes squids and Octopuses.
For staying in Rawa Island, the two most occupied resorts are :
Rawa Island Resort
Batu Batu Resort
I think both these beach resorts in Rawa Island are excellent for spending a weekend holiday in luxury and privacy.
Tenggol Island
A tranquil Malaysian Island that was once isolated because no one lived there. Later, a few hotels came up and the local tourist first started exploring the island's deserted beaches and flora.
Slowly, other South Asian tourists have started escaping to this small island for a quiet holiday.
In order to go to Tenggol Island from Kuala Lumpur, you have to either opt for a bus or a train journey to Kuala Terengganu, a big city and the state capital of a district with the same name.
Your next leg of the journey to Tenggol Island is to reach  Kuala Dungun, the gateway to Tenggol Island. The road trip involves two hours to cover the 80 km distance.
Finally, from Kuala Dungun ferry point, hop onto a fast boat and land on the docks of Tenggol Island in an hour.
Such an arduous journey keeps eager visitors away from visiting this paradise of a Malaysian Island. However, ardent island lovers don't mind the time-consuming journey to Tenggol Island.
I could add another 10 underrated small Malaysian Islands to this blog post but this is already a lengthy one.
To summarize, the tropical Malaysian islands are perfect alternatives to the exotic Indonesian islands including Bali.