5 Best Beaches and Haad Rin Full-Moon Party in Koh Phangan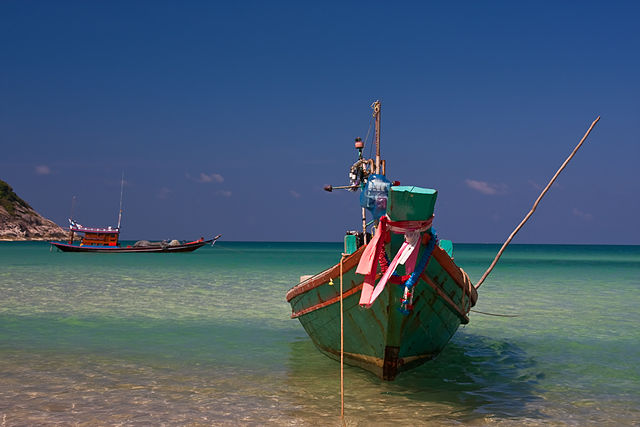 Koh Phangan is a tropical island located in the Gulf of Thailand. Normally, tourists to Thailand don't venture beyond Bangkok city and Phuket island since their 3 or 4 nights stay in Bangkok will be more than filled with sightseeing, shopping, and adventure activities. Hence, most of the travelers to Thailand do not have time to visit Koh Phangan island, near Thailand. They are missing something memorable.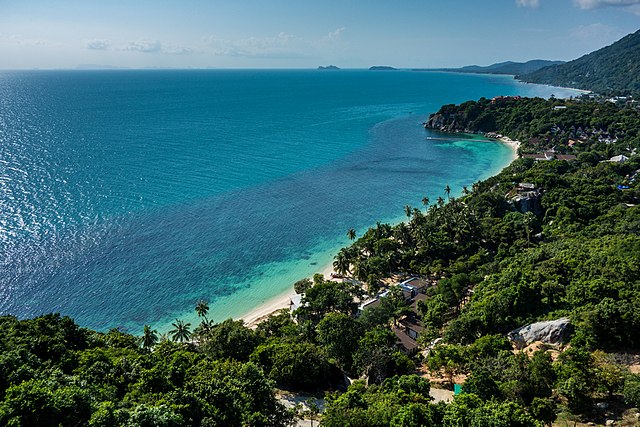 There are more than ten beautiful beaches in this 125 sq.km island and one of the beaches called Haad Rin attracts thousands of party-lovers once a month on the full-moon day. It is a day of gaiety of night full of drinking, dancing, and singing.
Every beach is unique and offers its own attractions. There is a particular beach in Koh Phangan from where you literally walk on the beach to another tiny island. Imagine walking from one island to another! It's certainly a share-worthy activity-right?
How to reach Koh Phangan Island?
The nearest airport to go to Koh Phangan is at Surat Thani (1 hours approximately) From there, you can reach Koh Samui by ferry.
Koh Samui is the second largest island in Thailand. By bus, you have to travel more than 780 km from Bangkok to reach Koh Samui.
From Koh Samui, you can take a ferry to Koh Pangan island. The journey takes only 25 minutes.
Let this be a guide to the 5 best beaches in Koh Phangan.
Bottle Beach, Koh Phangan.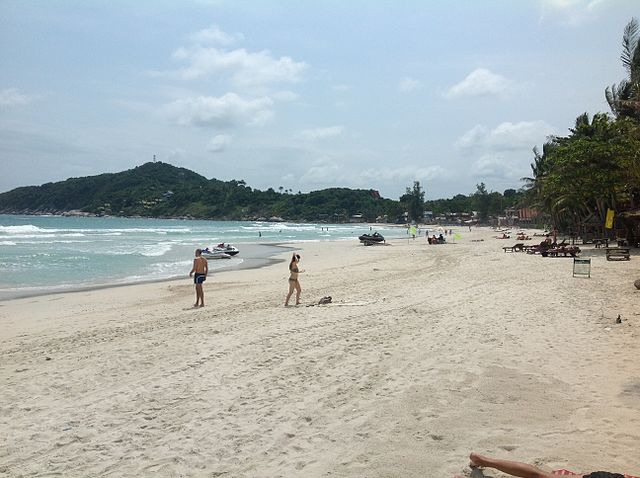 Bottle Beach is later named; the original name is Haad Kuat. When you read the names of other beaches in Koh Phangan, you would prefer simple names like 'Bottle 'Beach'. It is one of the best beaches in Koh Phangan. As it is located a little north of Koh Phangan, you are advised to take a boat from Chalok Lam. Else, it will take 3 hours to go by road.
The bottle beach is less crowded and that's why American travelers like to stay overnight here. For their convenience, there are a couple of accommodations available in the form of beach bungalows. It's a quiet beach to spend the time in retrospect and unwind on the beach sand. You can even take a short swim.
Haad Rin beach and the full-moon party Koh Phangan.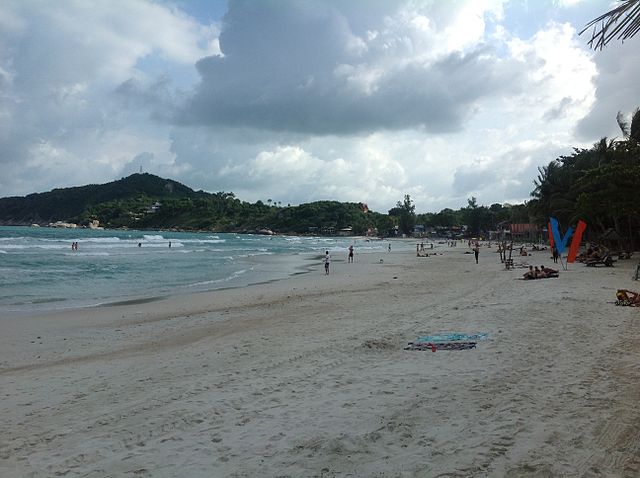 Ah, here you are, at the place of an all-night party on a full-moon night. I don't know why this particular beach is chosen for the get-together once a month on the full-moon day. The backdrop of a mountain makes it look like an island in the Caribbean.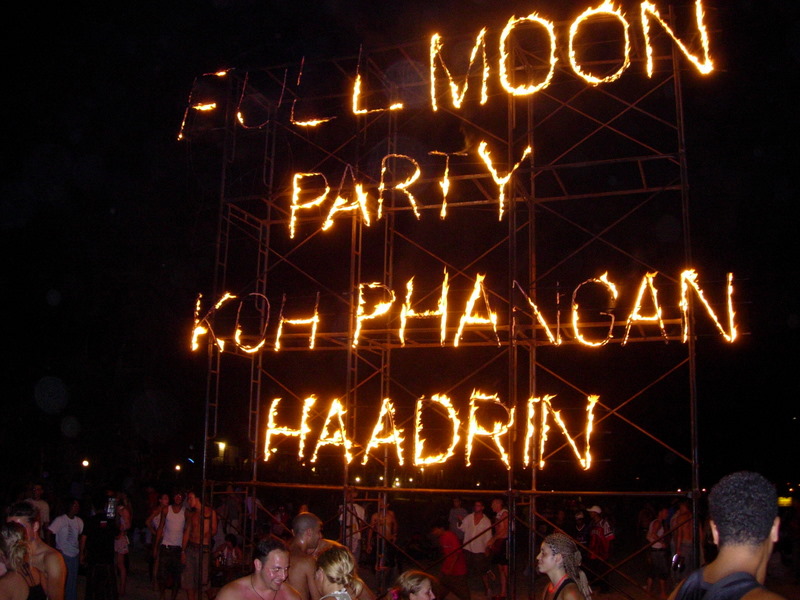 Once a month, Haad Rin becomes of the center of activity that draws thousands of visitors. Haad Rin is at the southern tip of Koh Phangan.  The crowd gets boisterous during the all-night dancing and music. Alcohol flows freely.
Mae Haad Beach, Koh Phangan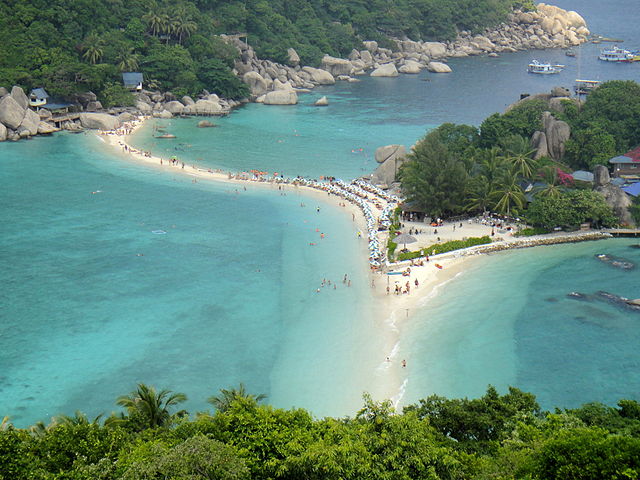 This is the island I told you earlier; just walk on the sand to reach another island called Koh Ma. I think the words here may not fully express the joy you would feel when you set your foot on Koh Maa from Mae Haad beach, Koh Phangan. The names are not easily memorable. Koh Maa island is where the interesting national nature preserve and marine park called is located. You can find a few local residents' houses but not many. I think you can ask them to accompany you on your debut snorkeling venture.
One can find a few beachfront bungalows and a couple of the famous 'Thai Massage' parlors in Mae Haad beach. In addition, this fairly long beach is blessed with beautiful marine life such as sea turtles and reef sharks.
Malibu Beach, Koh Phangan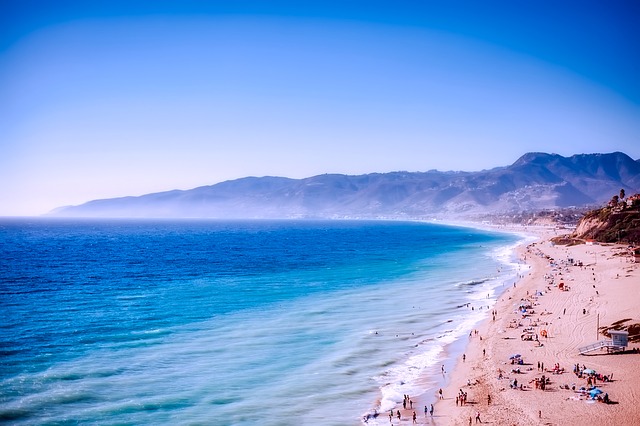 Look at those greeneries right on the beach. Though they look incongruous, they still appear contrastingly beautiful.
Malibu beach is popular and I came across the name even in a few English novels long ago. I wonder whether such mentions pointed to this Malibu beach or the one in California. Whatever it may be, this Malibu beach in Koh Phangan attracts a cosmopolitan crowd, especially from Europe and U.K. Generally, the Thailand beaches are warm and sunny which is what the tourists from cold countries are looking for.
The mountains on the shore give the island a romantic appearance. I am of the opinion that the islands should either have a mountain or a rainforest on their shore for the best views and two different kinds of weather.
Malibu Beach is found in the village of Chalok Lam. The beach is surprisingly wearing white sand that looks more whitish with the backdrop of clear blue water.
Malibu Beach is an ideal location for snorkeling and scuba diving.
Haad Thong Reng beach, Koh Phangan
It seems the beach is hidden and secluded. I tried to find the ways to reach it but got quite confused. The only thing I could understand was the Hadd Thong Reng beach (what a complicated name!) comes into view when you cross over a bridge at Haad Than Sadet beach.
I think the rocky mountain is hindering the view of the sea from behind but the same hindrance is giving a secluded look and you will feel as if you own this beach because you can hardly other visitors.
As there are no places to stay at Hadd Thong Reng beach and no shops to buy water or Coke, the traffic is less here.
What should you eat in Koh Phangan beaches
What can you eat; seafood of course but cooked in different styles that include Thai, Chinese, Mexican and even Indian. Remember the following food items to ask for when you holiday in Kho Phangan.
Thai-western fusion fish cakes
Fish pie
Barbecued avian ribs accompanied by sweet and chili.
Staying options are several in various places in Koh Phangan Island. I gathered they cater to every budget.