British Virgin Islands-A Brief Tour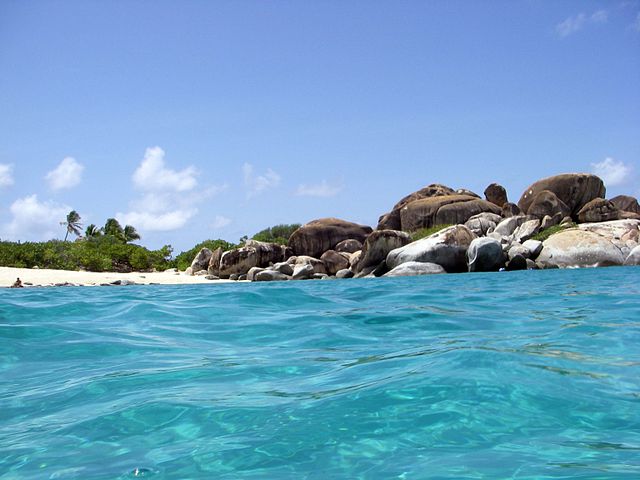 Is it worth touring the British Virgin Islands shortly mentioned as 'Virgin Islands'?
Yes, definitely because they are located in the Caribbean Sea. You know the Caribbean Islands are real paradises on earth and the most preferred holiday destinations for Americans.
These islands are obviously the overseas territory of the British.
How Many Islands Comprise the Virgin Islands?
Before knowing how many islands and islets comprise these Islands, I guess you are wondering why they are called the 'virgin' islands and who gave that name.
The legendry Italian sailor Christopher Columbus who discovered these Caribbean Islands named the islands as 'virgin; islands in the memory of Saint Ursula and her 11,000 virgins.
The islands' beauty reminded Columbus of the beauty of Ursula and her virgins.
It comprise of 50+ islands and islets out of which only 16 are inhabited.
However, our point of interest will revolve around only the following main islands of the BV Islands.
Tortola Island
Virgin Gorda Island
Anegada Island
Jost Van Dyke Island
Do you know?
Do you know similar to the B V Islands, there are the U.S. Virgin Islands and the Spanish Virgin Islands?
All these islands are located in the Caribbean Sea.
Where they are located?
They are located in the Caribbean Sea, east of Puerto Rico
How to Reach the British Virgin Islands?
Well, one of the main islands is Tortola. It receives international flights from most of the big American cities as well as from the United Kingdom. The name of the airport is 'Beef Island Airport'. Beef Island is part of Tortola Island.
Alternatively, tourists fly into St.Thomas Island, one of the U.S. Virgin Islands, and then hire an exclusive ferry to move around the other Islands.
How to Visit the Major British Virgin Islands?
Island Hopping in these Islands is the foremost thing to do. Not only the inhabited and uninhabited islands and cays of the British Virgin Islands but you should also find time to wet your feet in the waters of the U.S. Virgin Islands and the Spanish Virgin Islands. You can visit as many as 120+ islands and islets that comprise all the three Virgin Islands archipelago.
These smaller Caribbean Islands are great to relax, enjoy long hours of swimming, and sailing on the Caribbean Sea.
Island hopping is best done through boat and ferry rides. Alternatively, some U.S. Virgin Islands offer small inter-island flights to shuttle tourists between the islands.
You can visit all the four major BV Islands that include Tortola, Virgin Gorda, Jost Van Dyke, Anegada by ferry rides.
I believe all the BV Islands' beaches wear white sand that looks stunningly beautiful.
Things to Do
Visiting 'The Baths' in Virgin Goda Island.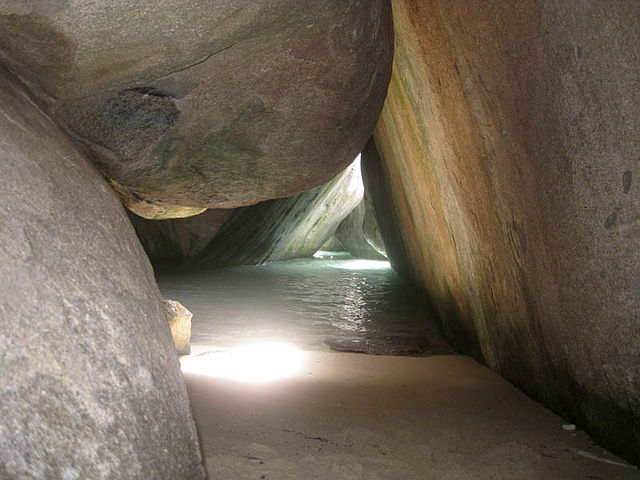 What you see in the image above are giant boulders whose surface is made smooth by the relentless sea waves that were banging on them for hundreds of years.
These boulders invite you to use them as diving platforms or viewing platforms. The bath is an enjoyable activity because of crystal clear water.
The boulders at some places offer unique grotto-like areas where bathing is fun. At some places, the bathing area is wide open to the sun.
Here is one such open area in The Bath.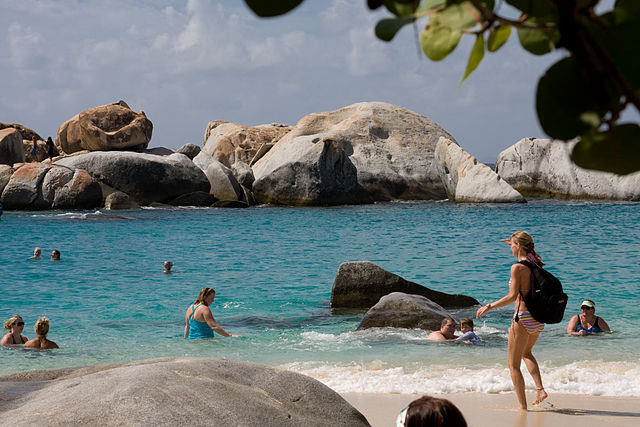 More Beaches to Visit
The water is also conducive for snorkeling. Kids accompanied by their parents are encouraged to take their first snorkeling stint in 'The Bath'.
The Cane Garden Beach in Tortola Island is another place to see. It is said to be good for swimming.
Oddly, the beautiful and graceful flamingos are found enjoying fishing in Anegada Island. Anegada Island is located slightly far off among the four main BV Islands and hence the beach is always uncrowded. It may be the reason for the fishes to swim freely but falling prey to the flamingos.
Sage Mountain National Park
You can't miss it. It stands tall at over 1700 feet and is covered with trees of a Rainforest. The ample canopy makes it a great habitat for tropical birds and aquatic birds.
A few scenic walking trails on the Sage Mountain invite fitness buffs. It will be a good change of scene from the salty breeze.
Ocean Tour operators in the islands.
You have some choices of picking up one of the island hopping tours. You can either go on a half-a-day shore excursion off Tortola Island or hire a full-day private charter boat.
Other beaches that you must visit.
Brewers Bay in Tortola island
Smugglers Cove in Tortola island
White Bay in Jost Van Dyke Island
What can you eat on BV Island?
Seafood of course is the staple in the Caribbean. BV Islands are famous for big shrimps. Conch is another exotic delicacy that you should eat here. Conch is cooked as fritters a deep-fried snack.
Most of the beachside bar cum restaurants serve a dish called 'fish and fungi'. I read Okra is the 'fungi' in this exotic food of the BV Islands. You must be aware that 'okra' is nothing but the 'ladies finger' vegetable. Fish and Ladies finger? What a combination!
I wonder whether they use 'Kashi Lalima' beautiful red okra!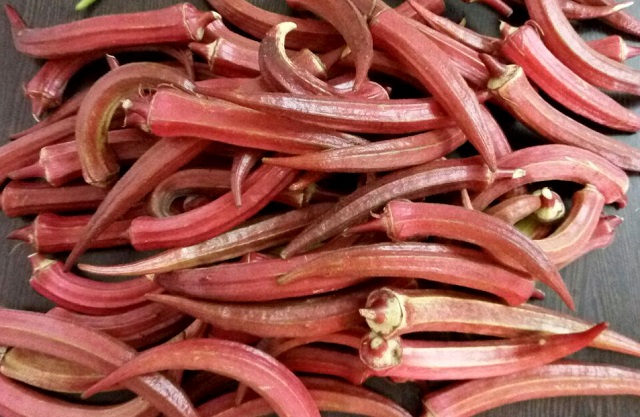 Red Okra
Johnny Cake is also a staple in the BV Islands.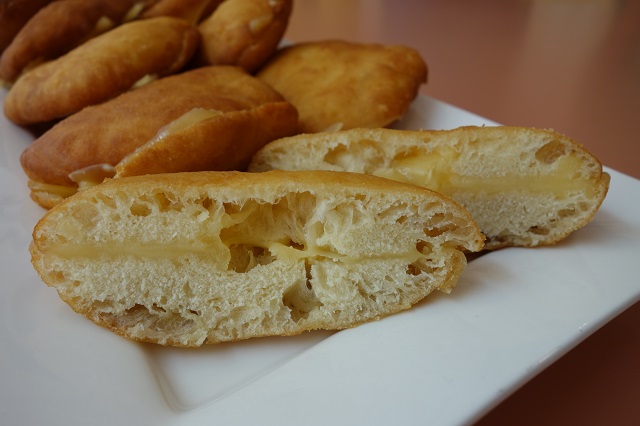 Cow Foot Soup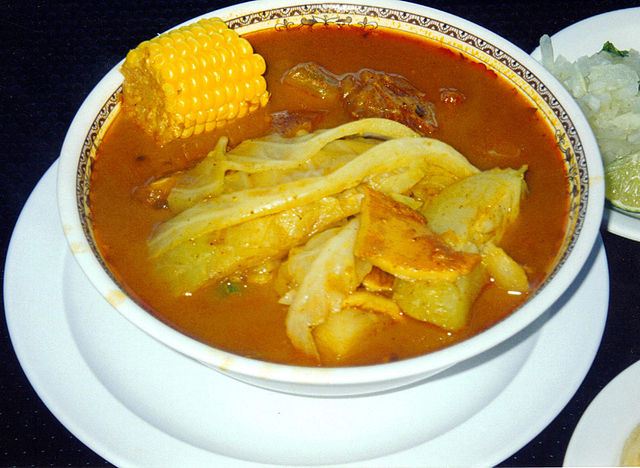 Search for 'Sopa de fata' in Google and you'll get the image of Cow Foot Soup. Sopa de fata is a 'Salvadorian' word.
OMG! What strange food! Similar to the lamb foot soup in India and Pakistan, I believe the Caribbeans make a soup out of cow's foot.
Red Grout
This is truly an exotic dessert in BV Islands. Red Grout have guava pulp, tapioca, and rum as main ingredients!
Having read about all that you can eat in the islands, I have come to the conclusion that you need more than four days to taste all the local foods that you cannot get anywhere in the world.
Hotels to stay in the BV Islands.
I don't know whether the British tourists bother to visit one of their own overseas territories but surely the Americans do that.
The Americans' are known for their highly refined taste for staying while on a holiday in a distant land. They can find no dearth of beachfront resorts and hotels away from the beaches in these small islands.
Search in any hotel aggregator's portals, apply filters according to your budget and preferences and I am sure you will hit the bull's eye.
What can you buy in the BV Islands?
You must be aware that the coffee in the Caribbean Islands makes a good purchase to take back home though not as souvenirs.
If you are looking for locally made gifts, you can find handicrafts made of timber and seashells.
Locally grown spices also are inviting for gullible shoppers. Jams and marmalades taste delicious. All these things you can buy on Tortola Island.
When it is the best time to visit?
If you are low on budget, choose the rainy season when the hotel tariffs are there for taking. Otherwise, plan your trip between November to March.
Apart from the flamingos, what other birds you can spot in the islands?
Similar to the beautiful flamingos, you can spot a lot of 'red-footed booby'. I read about numerous species of ducks and geese; those found to be living there.
West Indian Whistling duck
Northern Shoveler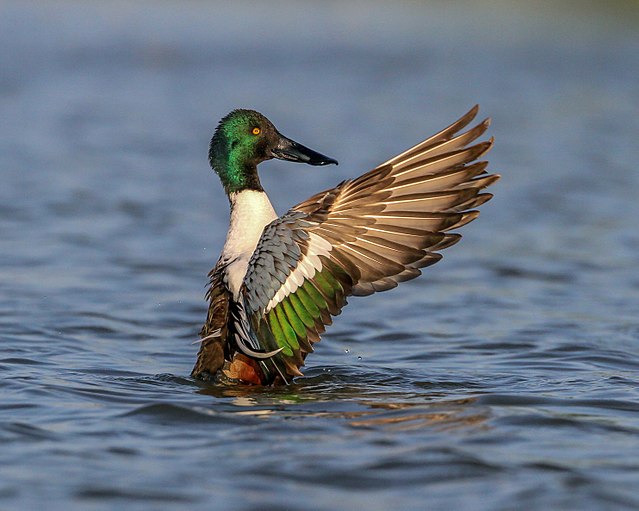 I trust you can enjoy watching most of the birds immediately after the rain.
To sum up, it is definitely worthwhile to visit the British Virgin Islands for a full-fledged island escape. Tortola Island is a happening place in the islands.