14 Things to Do in Busuanga Island, Philippines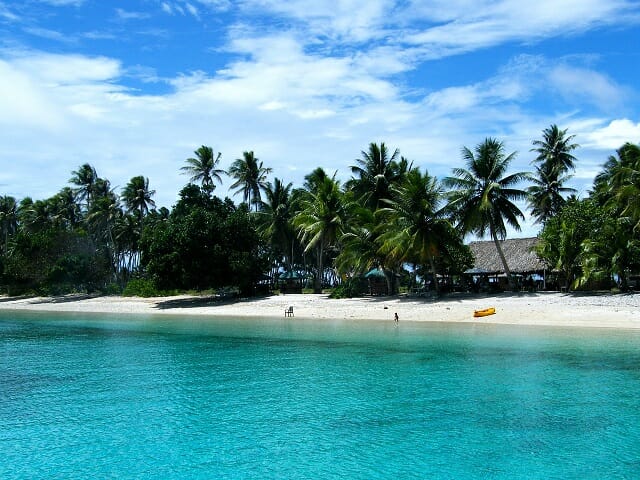 Islands for holidays are everybody's dream. The cost of a holiday on an island puts off our dream. I mean middle-class travelers only. However, there are cheap islands such as Busuanga Island, are even cheapest islands in the world.
The majority of the highly popular islands in the world are expensive mainly because they have extraordinary infrastructure that include luxury resorts and high-end restaurants.
Additionally, because the number of tourists who prefers certain popular island is high, they have become unaffordable for ordinary tourists.
However, the cheap islands don't lack beauty when compared to the already established islands. You can still stay in beachfront cottages, swim and snorkel in the turquoise ocean, eat fresh seafood, and relax on the beach. Don't we look for only these things on an island?
Cheap islands are mostly located in Asia and Africa. It is the European Islands and the South and Central Pacific Islands that are beyond the reach of the common man.
Busuanga Island is one of the cheapest islands in the world. It is part of the Palawan archipelago, the Philippines.
Busuanga Island
You will not believe that the Busuanga Island is located amidst several other islands that are expensive and very popular.
I am sure you have heard of the Palawan Islands, a province of the Philippines. Palawan is one of the most sought-after islands in the world. There are nearly 1800 islands in the Palawan archipelago.
One of them is Busuanga. It is rated as one of the cheapest islands in the Philippines. I think it is very useful information, buddy, because it is not easy to select one such affordable island from 7000 islands! Yes, the Philippines comprise 7000 islands.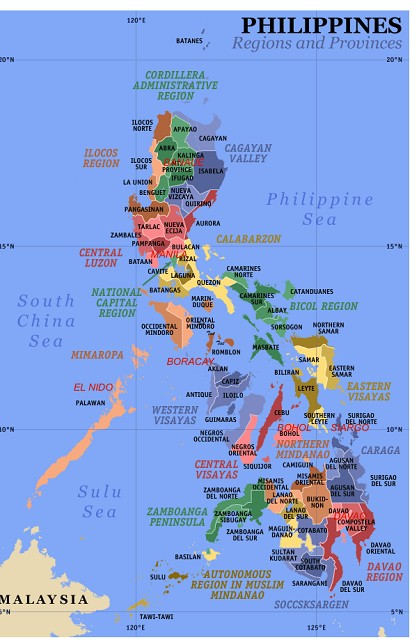 I must admit, only 2000 of 7000 islands are inhabited but still, selecting only a handful from 2000 islands and classifying them under the cheapest islands category is a Herculean task.
Generally, the islands in the Philippines Sea, the South China Sea, and the Sulu Sea (near Malaysia's Borneo) are great for a family vacation.
Location of Busuanga Island:
As many as 29 islands and islets surround it and they are all part of it. Imagine how many of those islets you can set your feet on when you travel to Busuanga.
Moreover, you can also pay a visit to Coron Island nearby. It is said to be an extremely beautiful island in the Philippines.
The geography of Busuanga Island will steal your heart. Its beaches, mountains, natural hot springs, the flora, and fauna will keep you on the island for a week. It included an island hopping tour of the nearby islets.
Visitors who have visited both the Palawan and Busuanga have described the latter as a hidden gem of the Palawan group of islands.
Here are some of the things to see and do on Busuanga Island:
Scuba Diving
Scuba diving is the foremost thing to do on Busuanga because of not only the reefs and marine creatures but also several shipwrecks. They all belonged to Japan during World War II.
Baraccuda Lake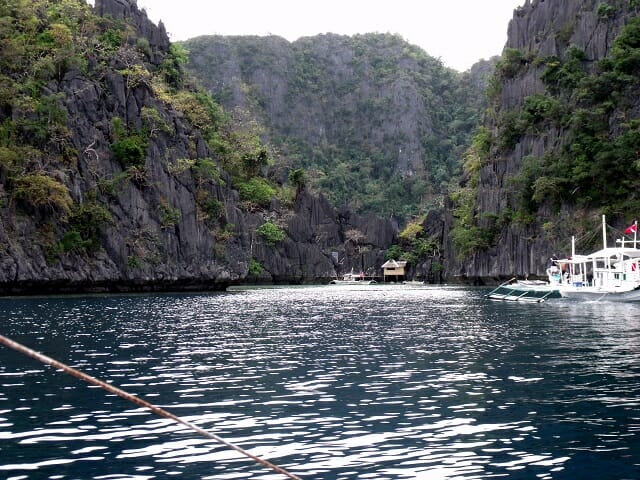 Isn't this a jaw-dropping location? Man, can you move from this site? It is surrounded by tall mountains that are covered with thick jungle It is a typical tropical scene that we yearn for when we plan a trip to an island in the world.
Twin Lagoons
The video speaks for this dream location on Busuanga Island. This again is surrounded by tall cliffs. Due to the lack of waves, the water bodies are great for swimming.
Wouldn't you wish for the boat not to stop?
Kids can get on an inflatable and enjoy the water and the picturesque location. Did you notice a cove-like place in the lagoon; the place with jutting rocks over your head is a picture-perfect location?
Kayangan Lake
It looks similar to the Baraccuda Lake but somehow this appears more secluded and highly romantic. What do you say?
Kayangan Lake is the most visited tourist landmark of it.
All the above-mentioned three water bodies facilitate swimming, snorkeling, and diving. Additionally, if you have strong arms, you can try standup paddling.
Generally, all these beautiful spots are part of Coron Island but you really can't distinguish between Busuanga and Coron Island.
Coron Town
Coron Town on Coron Island is a relaxed and quiet place. Eat, drink and enjoy an evening of shopping.
Maquinit Hot Springs
Visiting the Maquinit Hot Springs is one of the top things to do during your tour to Busuanga. The natural geyser is located on the outskirts of Coron Town. People spend quality time, soaking in the hot spring that has medicinal properties.
Beaches on Busuanga:
Naturally, you would spend much of your mornings and evenings on the various beaches on Busuanga. Here are some of the popular beaches.
Ocamcam Beach. It is a white sand beach.
Albay Beach is a black sand beach.
Kalitang Beach
Banul Beach
Green Lagoon Beach
Atwayan Baech
Of course, there are several more pristine and untrodden beaches if you take into account of the nearly 30 islands and islets near it.
Opt for a "Busuanga Island Hopping Tour" to see the real Philippines. You would not have any other holiday destination.
Mount Tapyas
This is a must-see place on your trip to Busuanga. Mount Tapyas is located in Coron Town. Tourists in large numbers guided by locals climb 700+ steps to reach the summit situated at roughly 700 feet. People take this pain just to see a spectacular sunset dipping into the South China Sea.
Concepcion Falls
If there is a tropical island with high mountains covered with thick flora, you can expect a silent stream falling down through the herb plants and trees,  carrying their medicinal qualities. Cencepcion Waterfalls is a terrific sight on Busuanga Island.
You must stay half-immersed in the pool below the falls. It is so refreshing.
Salvacion Mountain hike
Salvacion Mountain hiking will surely excite ardent hikers because the trail is amidst a tropical forest. The summit is an adorable observation platform of the seas that surround the island. For a normal speed hiker, it will take only 40 minutes to scale the summit.
Calauit Wildlife Park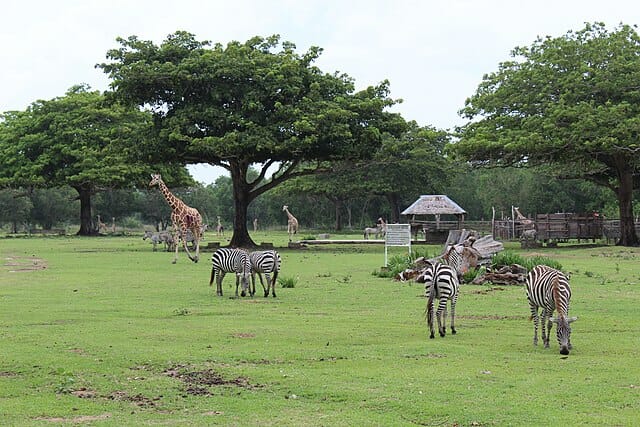 The star attractions in this game park are the "Imperial Zebra", and "Somali Giraffe". Visitors are allowed to feed them under the supervision of a forest officer.
A few species of deer can also be spotted there. They are:
Impala
Common Eland
Bushbuck
Waterbuck
Gazelle
Another endemic species is known as the "Philippines Mouse-deer".
This must-see wildlife sanctuary is located on Calauit Island, near Busuanga.
Dugong spotting
Dugong that is also known as 'sea cow', an endangered marine mammal species are found around the coast of Busuanga.  Only scuba divers encounter them when they go deep in search of numerous shipwrecks.
Cruise the Busuanga River
I think not many tourists are aware of the existence of this river. A cruise on the river takes you through lush mangroves. You can enquire about a Busuanga River Safari with your hotel reception. Wildlife lovers dare not miss this very rare opportunity of cruising a real tropical river.
I think you are treated with freshly caught river fish curry, cooked in the Philippines style.
Fireflies of Kingfisher Park
This is nighttime entertainment. In order to see thousands of fireflies that cling to various trees and bushes in Kingfisher Park, you have to go on a boat through the Busuanga River.
How to reach Busuanga, Philippines?
It is equipped with a domestic airport that receives passenger planes from Manila. The flight duration is just 60 minutes.
If you are touring Cebu Island, another large island in the Philippines, you can reach Busuanga from Cebu by flight.
There are really so many things to do on Busuanga Island. If only you can endure the humidity, you can truly experience life on a tropical island in the Philippines.