French Polynesia Islands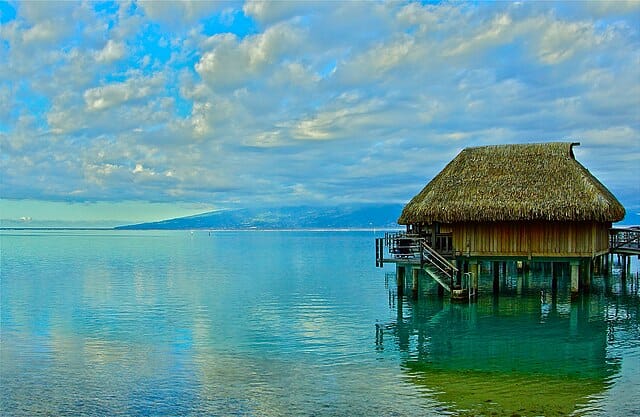 French Polynesia Islands are too good to ignore.
Here is a staggering fact that you should know. The distance between the French capital France and the French Polynesian Islands' capital Tahiti is 15,895 km!
Do you think the French people would bother to travel such a long distance to visit their own islands which are all located in the South Pacific Ocean?
While I admit I have this doubt, these French Polynesia Islands do boast of increasing tourist flow every year. But there is no clear identification of the number of tourists from any part of France.
Nonetheless, the 121 islands, islets, and atolls that are under French Overseas administration simply cannot be overlooked by any island lover.
From this blog post, you will understand how all these islands of French Polynesia are grouped under different archipelagos and which islands and islets in each archipelago are the highly-visited ones.
Some islands are volcanic and some of them are classified under coral islands. Though some are volcanic, we have not heard of any eruption in the last 50 years or so.
Another shocking fact about the islands that are known as French Polynesia is they are widely separated from each other. They are all spread over a whopping 2000 km on the South Pacific Ocean.
Location of French Polynesia Islands:
Australia is the nearest continent to them. Brisbane is situated on Australia's east coast facing the South Pacific Ocean is nearly 6000 km.
Now, you can roughly gauge the remoteness of French Polynesia.
It is intriguing how the France government in Europe is administering their islands that are 15,000 + km away and that too when their properties are spread over 2000 km!
Well, that is their headache. We will focus on the overall geography of French Polynesia.
How French Polynesia is divided (classified) under different island groups(archipelago)
French Polynesia is divided into five groups of islands:
Society Islands archipelago.
This is the largest group in which the capital Tahiti is located. Two big archipelagos namely the Windward Islands and the Leeward Islands constitute the Society Islands. Moreover, these islands attract the most visitors.
Gambier Islands
Tuamotu Archipelago
Marquesas Islands
Austral Islands.
These five groups of islands comprise 121 but not all of them are inhabited. People live on only 75 islands and islets. The rest atolls and islets are uninhabited.
French Polynesia Islands
These 121 islands of French Polynesia can be pointed out if you have a large world map. They are clusters together between South America and Australia.
Even the islands of Hawaii are found in between these two great landmasses.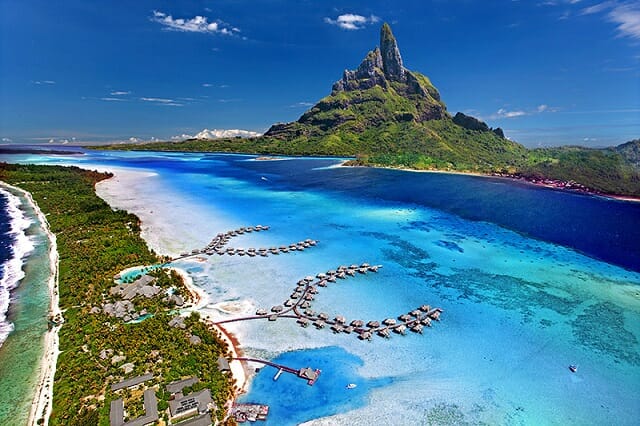 Did you spot the two very popular that is known for high tourism? They are Bora Bora and Tahiti.
See their exact location between Australia and South America in a map.
There are 14 islands and I believe all are inhabited. There may be some atolls that are yet to be mapped. Surely, they must be uninhabited.
Here is an interesting picture of Bora Bora Island.
Won't you feel Goosebumps when you stand on the island's west coast and see the east coast?
Did you notice the beach resort on the island's east coast? There are several overwater villas that are arranged aesthetically n the South Pacific Ocean.
In spite of the small size of the Society Islands, all have airports but not all of them can receive international passengers. I think only Tahiti and Bora Bora islands have international airports.
When you visit Tahiti, make it a point to go to both its east and west coast to see the different sand colors.
West coast beaches wear black and the east coast beaches are filled with white carpet.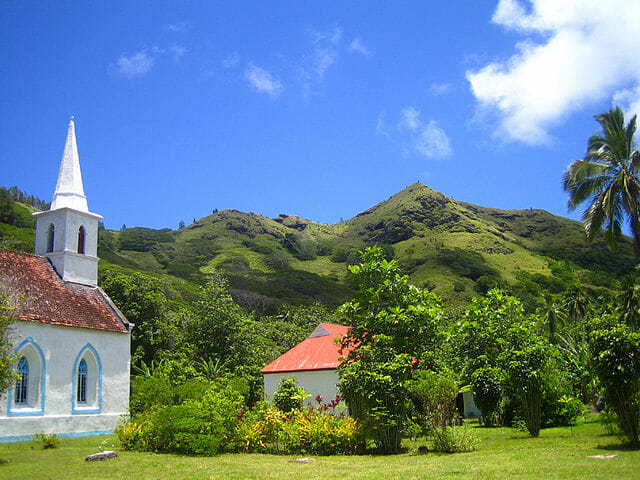 The main islands of Gambier archipelago are Mangareva, Makaroa, Mekito, Akamaru and. Kouaku. There are 9 more islands that don't receive any passenger ships or ferries.
On the map shown above, you can see Mangareva Island mentioned in bold letters indicating it is the major island in Gambier Islands archipelago.
The people living on these French Polynesian islands speak only the Polynesian language.
These islands are volcanic. Generally, all the volcanic islands that have either active volcanoes or dormant volcanoes, are tropical in nature.
Lush green forests are their identity. They act as habitats for numerous birds, butterflies, and insects. Since these French Polynesian Islands are so remote and detached from each other, mostly, the majority of the birds and animals are endemic.
The ocean provides ample prey to them and the flora too by way of insects and reptiles.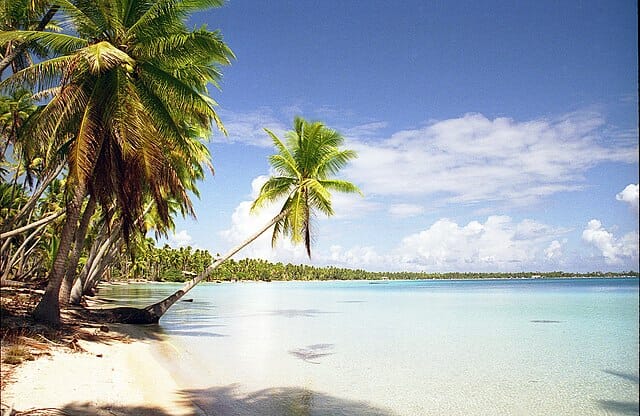 As you can see from the map of Tuamotu group of islands, it has the maximum number of islands and atolls. There are 80 islands in all.
Surprisingly, only 4 of them receive tourists. Anaa, Fakarava, Hao, and Makemo are the tourist worthy-islands. I am sure the tourists are missing the real charm of Polynesia by ignoring the uninhabited islands. That is where exotic plants and animals are seen.
For example, have you seen a vanilla plant though you know its flavor very well? You can see that vanilla is widely cultivated in the islands of Tuamotu.
As I told you above, there are 10 endemic species of birds on these islands.
Snorkelers find the rich coral reefs interesting. They are entirely different and unique. This also implies that marine creatures can also be unique to the islands in the South Pacific Ocean.
Strangely, in spite of their distance from France, people speak French also part of their native language. Yes, there is more than one native Polynesian language.
The scene looks fresh and so far away from modern commercialism-right.  Only these types of islands will steal our hearts and compel us to visit again and again.
Fifteen islands comprise the Marquesas group of islands that are part of the French Overseas Territory. The particular archipelago is considered one of the remotest islands in the world. Naturally, the beaches remain untrodden and invite us to plunge into the sea straight away.
In spite of comprising only 15 islands, they constitute the largest land area among all the 5 groups of French Polynesian Islands.
As a matter of fact, Nuku Hiva Island is the second-largest island. The largest island is of course Tahiti.
99% of the Marquesas Islands in the South Pacific Ocean are volcanic in nature. This means you can find the beaches covered the black sand and hardened lava stones.
Being large in size, Nuku Hiva Island is the most visited one in the Marquesas archipelago.
Here is a typical scene in the Marquesas Islands.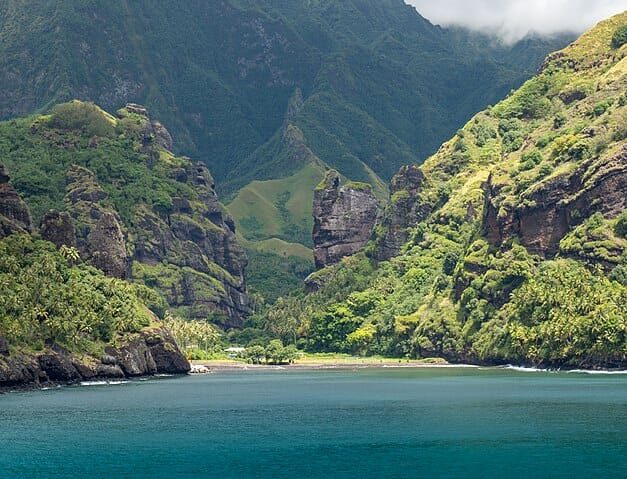 Beautiful-eh?
Another major island in the Marquesas archipelago that is worthy of visiting is Fatu Hiva. Its natural beauty is nothing short of spectacular!
You don't have to take my word nor try to visualize. . Here is a picture of one of its beaches called Hana vave.
Wow! There is no match to its stunning beauty!
The third island in this archipelago that is known for its unspoiled beauty is Ua Pou.
This island's harbor called Hakahau.
If you care to study these French Polynesian Islands and especially the Marquesas group of islands before you plan your flights, you will realize you have spent more than an hour appreciating the virgin beauty of the tropical islands.
Islands that appear in bold letters are the important islands. Nonetheless, don't return without setting afoot on the minor islands. Tupuai is the most important island recommended for tourism.
Reaching these other islands of French Polynesia.
Tahiti is the major gateway to all the other four groups of islands. Both by air and by sea, you can travel.
For example, Tupai, the major island in Astral Island can be reached in about 9 hours by ferry from Tahiti, However, it is advisable to fly.
Above all the natural attractions and incredible seafood cooked in exotic cuisine, the interaction with the native Polynesians would give me the ultimate pleasure.
By the way, do you know that the Hawaii islands also belong to the Polynesian ethnicity?
Fact:
The modern alternative accommodation overwater bungalows have originated from the Polynesia Islands.
The data given here on touring French Polynesia is too much for anyone to decide. Therefore look for tours named "Pacific Pearl Tour"  and "Tour of Society Islands".
Alternatively, if there is a sailor in you, join a South Pacific Cruise. The cruise is an all-inclusive package that clears your worries about boarding, lodging, and onshore tours.
Best time to visit French Polynesia
The period of three months from June to August is the best time to visit the South Pacific Islands..
Any special Polynesian food to try?
Yes, I can name a few. A crunchy pork salad is the most eaten food by tourists to French Polynesia.
Red Cabbage wrap is another Polynesian specialty.
Meats and vegetables are cooked and wrapped around a large red cabbage leaf.
I hope you plan a trip to French Polynesia with your family soon.