Skopelos Greece- Perfect Greek Island for Honeymoon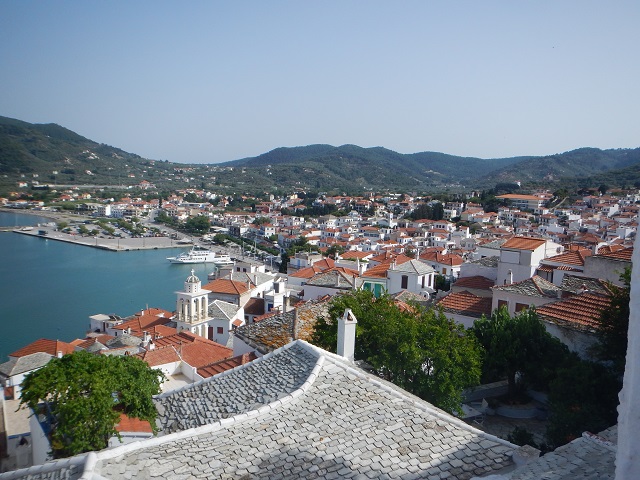 Overview of Skopelos, Greece.
Skopelos Greece is a popular Greek island. It is located in the Aegean Sea. Greece has nearly 6000 islands that come under several archipelagos.
The Northern Sporades is one such group of islands. These islands line the east coast of Greece. There are 24 islands in this archipelago, Skopelos Island is one of them.
See the map below of the Northern Sporades archipelago, and you will also spot Skopelos Island.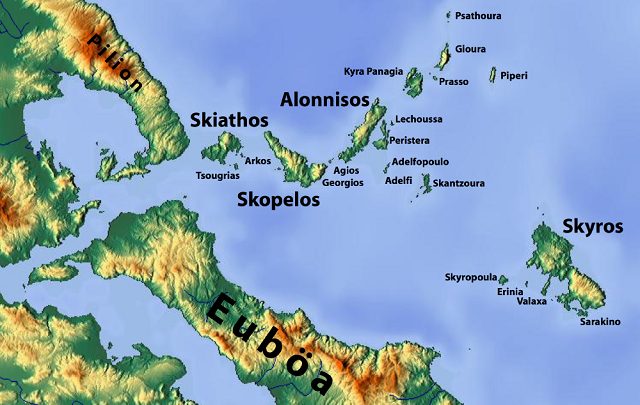 The island of Euboea is also seen on the map above. It is the second-largest Greek island.
You have heard about two of the most popular islands in Greece, namely Mykonos and Santorini. These two are highly visited by tourists from North America and North Europe.
Interestingly, the less popular Skopelos Island is larger than Santorini and Mykonos islands.
Only four of the 24 islands of Northern Sporades are inhabited.
How do you go to Skopelos?
The gateway to this island is Skiathos Island. You can spot it on the map above.
First, ride in a ferry from Athens (capital city) for roughly three hours to reach Skopelos Greece.
From here, another ferry will deposit you at the port of Skopelos in 60 minutes.
Surprisingly, there is no direct ferry to Skopelos from Athens. I think this is a major reason for Skopelos Island's unpopularity in spite of its attractions and water sport activities.
Alternatively, fly to Skiathos Island from Athens. The flight duration is only 40 minutes. A ferry ride is required to reach Skopelos from Skiathos.
This Island has no airport.
Where do you stay in Skopelos Greece?
Of all the hotels, beach resorts, and spa hotels, I like the Aeolos Hotel due to its stunning location.
I think it is a 3-star hotel facing the lovely Aegean Sea. There is a small hill right behind the hotel.
Here are some more places to stay on the heart of the Island:
Adrina Spa Resort-Adrina Beach
Regina Hotel-great view of the Island harbor
Afroditi Hotel
Sure, there are several more hotels on Skopelos Greece, but these are picks. I like hotels with incomparable views wherever they are.
What to Eat in the Island Restaurants?
Remember, most of the islands in Europe offer their own special stews. Skopelos is no exception. You must try 'Kouneli Stifado.' It is a rabbit soup (chicken replaces rabbit if the big mammal is not available) cooked with onion, garlic, and 'red wine'!
Though it is a stew, the liquid portion of Kouneli Stifado is lesser than usual soups. You will find more meat chunks floating on the soup.
Do you love pastries? I go crazy when I find colorful pastries that seem to crumble at the slightest touch. Here, one of the popular pastries is Skopelitiki Tiropita. It is stuffed with delicious goat cheese. What a combination!
You will find Fouskakia in most of the bakeries and supermarkets. It is a Greek doughnut that is available in most of the Greek islands.
Lobster is abundantly available on the shores of Island.  When you read Astakomakaronada on the restaurants' menu card, understand it is basically a lobster dish presented with noodles.
What to buy in the  Island market?
When you visit a Greek island such as Skopelos, you should buy some of the locally grown spices and flavoring agents highly regarded in the world.
Buy a few packets of rosemary, thyme, dill, and oregano to take home. They are too good to ignore in Island.
What to see on Skopelos Greece?
Islands, especially in the Mediterranean region, are wonderful places to watch seabirds that are incredible divers. Watching them slide silently into the sea and surface with their prized catch; it is a sight to behold,
Birds that you spot in the Islands include:
Cormorants
Grebes
Yellow-legged Gulls
Grey Herons
Eleonora's Falcon
Kestrels
Bustards
Hoopoe
Hooded Crows
Collared Pratincole
Getting around in Skopelos Greece:
Local buses ply on the small island. Also, you can rent a car to see the island. Budget travelers can hire cheap mopeds on an hourly basis.
What to do on This Greek Island

Beaches of the Island town
Once they reach the Island, Tourists' main activity is to loiter in beaches, sunbathe, swim, or just laze around on beach lounges.
The names of a few popular beaches of the Island are:
Limnonari Beach-the most beautiful Beach
Adrines Beach
Starfilos Beach
Milia Beach
Agios Ioannis Beach
Panormos Beach
Lalaria Beach
Hovolo Beach
Kastani Beach
Places to see on Skopelos Greece.
Visit Agios Ioannis Church in the Island. It is very popular because it featured in one of the ABBA songs.
Perched on top of a precarious cliff, it is no wonder a popular tourist landmark in Skopelos Greece.
Water sports activities that one can enjoy in the Island include, scuba diving, paddleboarding while standing on a paddleboard, and snorkeling.
Go inside the Island town, truly an old town that winds up on elevated roads. Most of the houses seem to cling onto cliffs. They are clustered together on narrow roads leading uphill.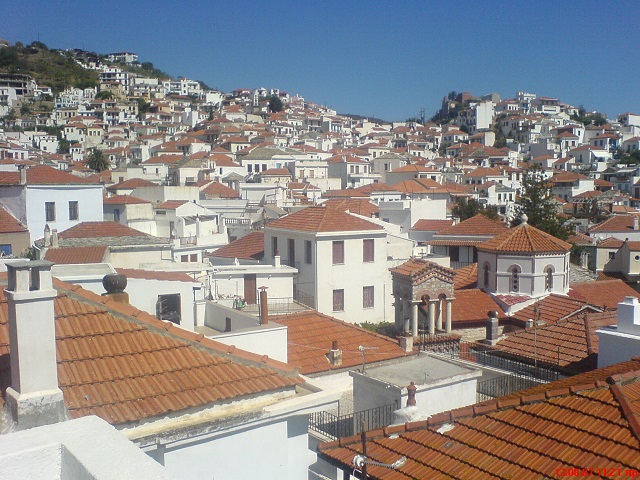 White is the predominant color of the residences. The scene is a typical old European town in an island that is sun-drenched.
Monasteries in The Islands .
Timios Prodromos Monastery
Greece is renowned for its orthodox Christian monasteries. In just about every town and city, you will a monastery or two. In Island town, the Monastery of Timios Prodromos is a must-see place. The settings are idyllic.
Strangely, these monasteries are built with windows high above the ground. It is clear that no one can see through the window from inside.
Four more monasteries in the Island:
Metamorfos Monastery
Agia Varvara Monastery
Taxiarches Monastery
Evangelistria Monastery
Island hopping from Main Island.
Literally, hop island to island from Skopelos. Boats take you to nearby islands that include Skiathos and Alonissos. Just spend an hour or so on these islands, just to boast around back home or on social media.
Skopelos Greece is an ideal island escape because life stands still there. Such a feeling is essential once in a way in our life.