18 Things to Do in Port Elizabeth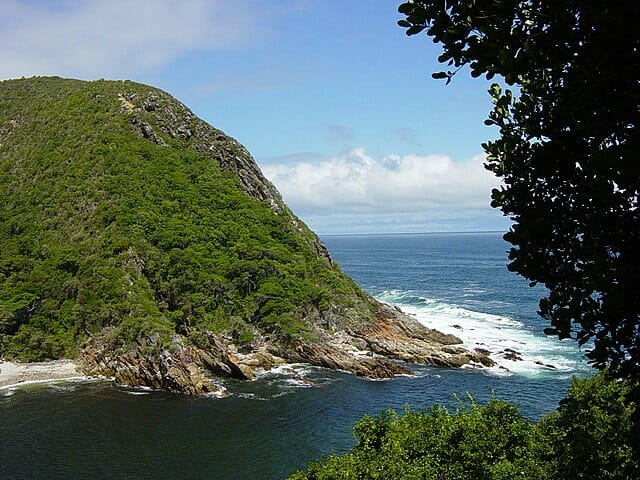 South Africa is divided into nine provinces. Eastern Cape is one of them. Port Elizabeth is an important city situated on the shores of Indian Ocean.
Though Bisho is the capital of Eastern Cape province, Port Elizabeth (PE) is the most visited city by the tourists, mainly because of its coastal position.
Check the location of Port Elizabeth on the map of Eastern Cape.
You must know that the name of Port Elizabeth is changed and is now called Gqeberha. I think I will stick to its former name and mention as PE, further in this blog post.
So, before you have made up your mind to visit PE, you should possess a list of things to do in PE. I have curated a list of all the places to see in PE.
18 Things to Do in Port Elizabeth
All you have to do is decide on the date of travel and book cheap flight tickets accordingly. In addition, choose your place of stay and look for what to eat in PE, and what souvenirs you should buy during your tour of PE.
Places to see in Port Elizabeth.
City Hall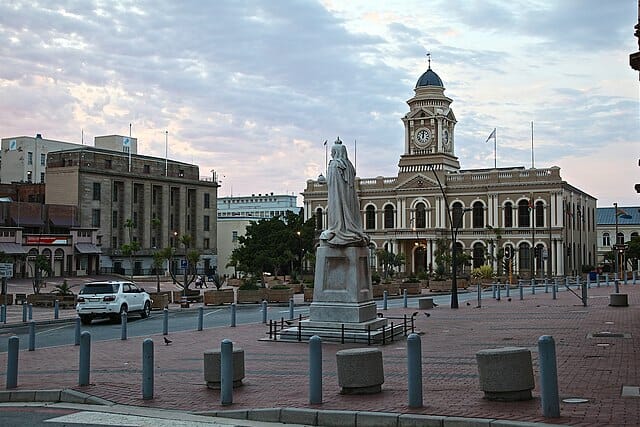 It is similar to the piazzas of Italy. The city hall in PE is more of a 'people watching' place. It is the first place to see in Port Elizabeth.
The buildings belong to the colonial era, including a massive public library, the clock tower, and other buildings.
There is a big statue of Queen Elizabeth in the Market Square.
Visitors are allowed to climb the 200+ steps of the clock tower and grab a view of the city of PE.
Visiting the City Hall is one of the things to do in PE and also an impressive way to start your tour of PE.
Algoa Bay
Algoa Bay is a scenic place and an estuary where the Baakens River (Gqeberha River) mingles with the giant Indian Ocean.
Port of Ngqura
Port of Ngqura is obviously an African name. It is the main harbor of PE. It started receiving merchant navy ships only during 2009!
The Indian Ocean behaves in its usual fiery self. Relentless waves thrash the harbor that is protected by two 'breakwaters', a sort of barrier that keeps the waves at bay.
Bird Watching in the nearby islands
6 small islands led by the Bird Island are home to several species of birds, including the flightless African Penguins.
Yes, you can watch the clumsy penguins right here is in South Africa.
Another bird of prominence is Cape Gannet.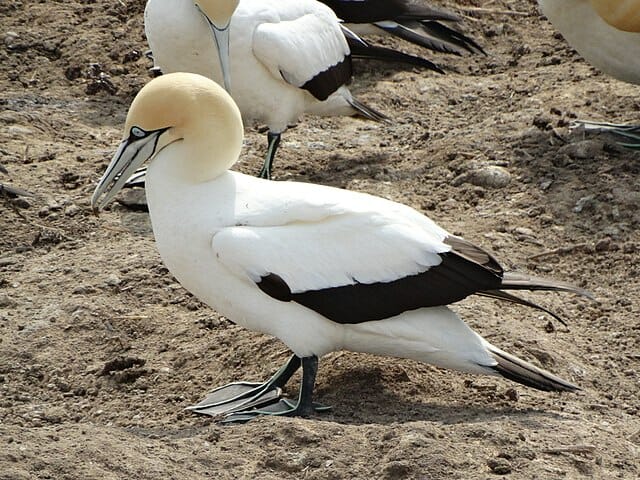 Others birds that have chosen the Bird Island as their habitat include:
OMG! It is a huge seabird!
Kelp Gull
Antarctic Tern
African Oystercatcher
Going to South Africa and returning without spotting the native wildlife is a SIN! Therefore, plan for an island hopping tour, one of the memorable things to do in Port Elizabeth.
Whale watching
Surely you can find some licensed tour operators who will take you in their boat to some distance in the Indian Ocean, where you can watch the following giants of sea.
Humpback Whale
Bottlenose Dolphins
Cape Fur Seals
During this boat tour of whale watching, you can spot all the above mentioned seabirds, hunting for their prey.
Their diving in and out of the ocean is a fantastic sight to see in Port Elizabeth.
Donkin Trail
In the middle of PE, there is a hill on which the 5 km long trail runs. Trekking the Donkin Trail is found in the list of things to do in PE.
Along the route, you can see some historical landmarks numbering more than 50. Such a large number of tourist landmarks along the 5 km trail is certainly worth trekking.
I give you a brief list of landmarks of historical importance that you can see during your Donkin Trail trek.
City Hall
Queen Victoria Statue
A railway station
Market Square
An old post office
Trinder Square
Cora Terrace
The famous clock tower
Blue Flag Beaches
Blue Flag bearing beaches are awarded as the best beaches that also offer boat rides in the Indian Ocean.
King's Beach
Maitland Beach
Hobie Beach ( the most beautiful beach in PE)
Sardinia Bay Beach
Humewood Beach
Kragga Kamma Game Park
Here we go for the most awaited sightseeing event in Port Elizabeth. Wildlife watching in a game park is among the finest things to do in Port Elizabeth.
The star attraction in this game park is the white Rhinoceros. Apart from this huge mammal, you can spot several species of deer that include:
Of course you can easily spot the zebras, African Buffalos, and Giraffes.
The Kragga Kamma Game Park is only a short distance away from the center of PE. 16 km is the exact distance, buddy.
Garden Route
The much driven on Garden Route is not far off from PE. The Storms River is the southern starting point of the Garden Route. It is 170 km from Port Elizabeth.
If you can afford a cab and half a day, you can go  some distance (may be about 100 km) on the Garden Route and gey back to your hotel in PE.
Driving through the Garden Route is one of the foremost things to do in Port Elizabeth.
Do you know?
Do you know an interesting fact about the Garden Route? It is 300 km long and you need to spend two full weeks to see all the attractions on the way. I would like to do this adventurous road trip one day.
On the way are spectacular seascapes, native African forests, peaceful towns and villages, great food, game parks and nature reserves for wildlife viewing, and many more incredible attractions. I remember reading 40 places to see on the Garden Route.
Paragliding, rock climbing, and boat trips are some of the fun things to do while driving through the Garden Route.
Stay tuned for an exclusive post on the things to do on the Garden Route.
Nelson Mandela Metropolitan Museum
When you are visiting South Africa, you will find something to see or to do that has a connection with the legendry leader Nelson Mandela.
In Port Elizabeth city, there is a museum in his name displaying mainly native art work and art works collected during the colonial era.
Addo Elephant National Park
You must see the African elephants in person that clearly show some differences from Asian elephants. The ears of African elephants are the biggest difference.
It is some distance away from the city. 72 km is the exact distance between PE and Addo elephants sanctuary.
Not only elephants but you can also see lions in the sanctuary.
The NP is quite large comprising over 1600 sq. km. So, in order to see a range of wildlife, you may have to stay somewhere near and allocate the second day also to see around.
A sanctuary for elephants means the flora should suit the eating habits of the giant mammals. Therefore, you will have a lot to see about the trees, and shrubs in the national park.
When last counted a few years ago, there were 600 elephants inside the NP. In addition, the huge African buffalos were numbered at 400. They are also called as Cape Bufalloes.
Cape Buffalo
The park is home to spotted hyenas and rhinos also. The Red Hartebeest is a rare deer species that you cannot see in other parts of the world.
Red Hartebeest-it is scarily big.
For passionate wildlife enthusiasts, there are camping grounds with restaurant facilities. I saw images of huts and luxury camps overlooking the savannah. It will a lifetime chance to stay a night in such a game park in South Africa.
Visiting Valley Market
Would you like to see what are the garden products of the people living in and around Port Elizabeth? I have heard much about their farm fresh fruits and vegetables, home baked whole-wheat breads and fruit jams and so on.
Valley Market is a sort of flea market that is open only one day in a month. There will be stalls for selling homemade foods and juices.
If you happen to be there when it converges, be sure to go. It is an interesting thing to do in PE.
Wildflower Reserve
I have never heard of such a place that protects the native flowers. We know of nature reserves for preserving and protecting local flora and fauna but never a reserve that is dedicated only for wildflowers.
While touring Eastern Cape, make it a point to visit Van Staden's Wildflower Reserve. It is a lovely place to see in Port Elizabeth.
Shark Rock Pier
Walking on a pier is always a thrilling experience. You will feel like walking on the water while walking on a pier.
There is a pier in PE and it is called Shark Rock pier in Hobie Beach. Built on the Indian Ocean, it is one of the must-see places to see in Port Elizabeth.
Water Sports adventures
With a long coast line facing the Indian Ocean, surely, there must be a lot of activities on the waterfront-right?
The Algoa Beach is one of the places to see in Port Elizabeth for a range of thrilling water sports that includes sailing, surfing, and snorkeling.
Maitland Beach
Located on the peripheral area of PE, Maitland Beach attracts tourists with its vast sand dunes, You can try sand-boarding for a few minutes. You won't get hurt.
Seaview Predator Park
This park is aptly called a predator park that hosts white lions, and tigers who are considered as the most dangerous and wild predators on the world. It will be a place to see in Port Elizabeth.
Even white tigers that are found in India are housed in the park.
Campanile
Campanile is a viewing tower constructed overlooking the harbor in PE.  It is not a very tall but still it offers uninterrupted view of the Indian Ocean. Only 50 steps you need to climb up to reach the observation platform.
If you bypass the Garden Route adventure, I think you can see all the attractions to see in Port Elizabeth in 4 days.