10 Most Enchanting Short Cruises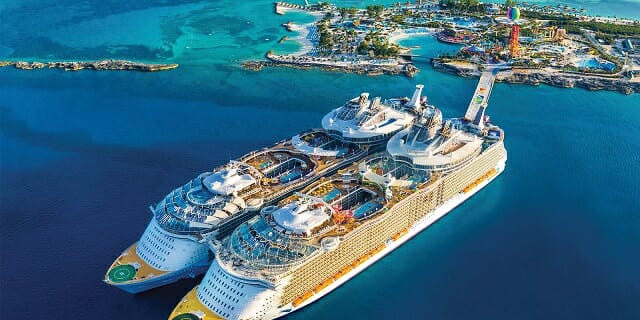 I fancy cruise tours. I am one of the millions of true travelers that wish to roam the seas. There are so many people that daydream going on and around the world cruise.
Due to lack of time and paucity of funds, the majority of us settle for shorter cruise tours. I was trying to figure out a list of several top cruise tours that will make it into a world tour.
While trying to do that, I came across the above image that showed as a result of my search for best cruise holidays.
I was instantly hooked into finding a suitable cruise package that would take me to these Asian gems that are:
Laos
Hanoi
Vietnam
Thailand
These countries are dotted with thick and steamy tropical jungles of which I am an ardent fan. But sadly, I could not find a single cruise line that roamed the South China Sea.
Nonetheless, I have started compiling my all-time list of the best cruise routes that would take me to the countries that offer 100% diverse three 'C's namely Cuisine, Culture, and Climate.
Unless we experience three different 'c's, our travel experience will not get rounded up.
I long for voyages to the land of fjords, Polynesia, Macronesia, Galapagos, French Riviera, islands off the borders of New Zealand, and the enigmatic Papua New Guinea that gives a real cultural shock by speaking a mind-boggling 850 languages!
10 Most Enchanting Short Cruises:
Here is my tentative list of world's top cruise tours for short vacations lasting one week to two weeks maximum.
Just 3 Nights Cruise
Bahamas Islands top my longing for exotic cruise trip. The fact that they are close to highly popular Florida Keys is good to combine a trip to the Bahamas and the Florida Keys.
This brilliant cruise route demands only 3 nights if you start from Florida.
I think I will try Cruise Critic for giving me a short cruise route. Cruise Critic is the only one reliable information about all kinds of cruises including barge cruise, and river cruises. Cruise Critic has no alternatives.
Short Cruises to Cozumel and Isla Mujeres
These two Mexican islands are now in great demand currently. If booked well in advance, I think it is possible to enjoy these tropical paradises during a long weekend.
Sicily and the Aegadian Islands, Italy
For long, the islands of Italy held my fascination. The big reasons include their breathtaking beauty, delicious food, and truly exotic cocktails.
While Sicily demands 4 days, its neighboring Eagadi islands (3 islands namely Favignana, Levanzo, and Marettino) require only one day.
A 2-Week Cruise Of Italian Riviera
Look at the sleepy Italian coastal towns you can visit as part of your top cruise tour of Italian Riviera.
Portofino
Genoa
Sestri Levante
Savona
Sanremo
Cinque Terre
The charming Ligurian Sea is one of the terrific seas to cruise. Even as you near every town of the Italian Riviera, you will be taken aback by the sight of those brightly painted houses on cliffs facing the sea. The harbors wear a colorful look because of the backdrop of the houses on cliffs and the boats and yachts that are painted attractively.
Western Caribbean Cruise
Western Caribbean destinations started hogging the limelight as a separate short cruise route only since 2017. Some of the islands included as part of the top cruise tour are:
Jamaica
Grand Cayman
Cozumel
Belize
Trinidad & Tobaco
Aruba
Cuba
Western Caribbean means less-urbanized, more natural wonders, and tropical rainforests.
Usually, one can complete exploring them in a week but if you give yourself two weeks, you will have very satisfactory feeling.
Bruges and Amsterdam Cruise
As one of the short cruises route, this authentic European voyage suits many of us because only 4 nights are sufficient. While Amsterdam is more familiar, Bruges is not.
Bruges is in northwest Belgium, on the coast of North Sea. The coastal city is known for old-European charm such as canals, and cobbled streets.
Here is a photo of Bruges and one of its canals.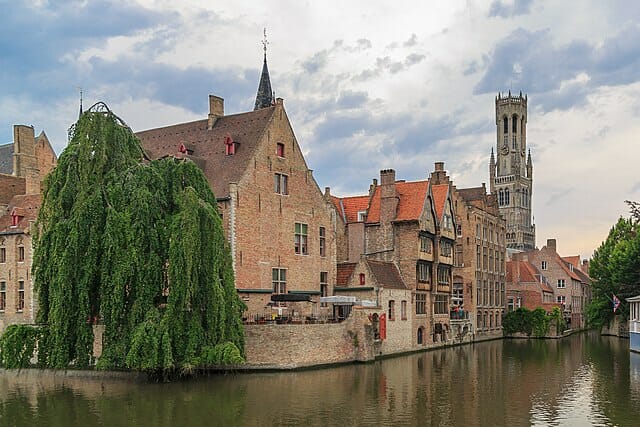 Nothing can beat the old-world charm-right? It gives a sense of being part of rich history. Look at the city center of Bruges.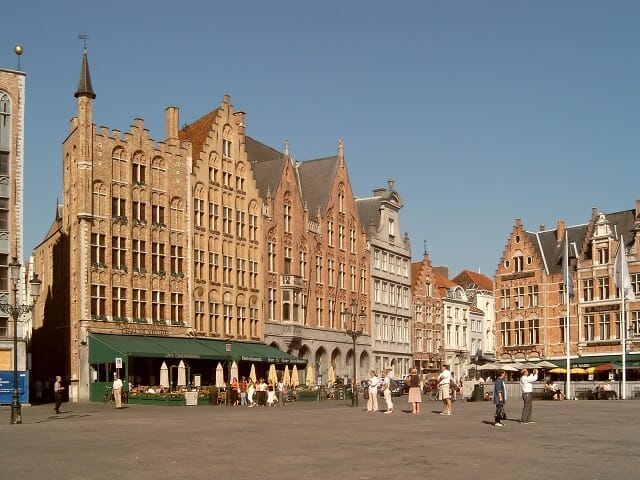 Just for the beauty of it, it is declared as a World Heritage Site by UNESCO.
You can quickly tour both the European destinations in 4 nights cruise. Just two ports of call and one VISA add to the choice of picking up this short cruise route without hesitation.
Aegean Sea islands cruise
One of the top cruise tours in the world is Greek islands cruise. Greece has 6000 islands and islets. Only 300 are inhabited.
The Greek islands are located in three different seas that are:
Mediterranean Sea
Aegean Sea
Ionian Sea
If you separate your cruise plan dividing between these three seas, you can think of selecting a cruise package that lasts a week each for the three short cruises route.
How do you like this idea?
The operators offer ideal short cruises to the Ionian Islands.
Some of the Greek islands that you would visit as part of your Ionian Sea cruise include Paxos, Corfu, and Zakynthos.
Whatever short cruise route may be your choice in traveling to the Greek Islands, please note that short cruises mostly lasts just a day! Yes not even one night but just a day lasting 8 to 10 hours mostly.
Of course, there are longer duration cruise tours to Greek islands. Santorini is one of the very popular Greek islands in which you can stay fir a couple of days.
Such islands are covered under long cruises that last 7 to 12 nights. Cruise liner offers several short cruises tour to numerous islands in Greece.
Their departing port is in Civitavecchia,  Rome. Apart from Santiorini, you will visit Mukonos, another important island of Greece. It is a round trip, boss. You will be dropped back at Civitavecchia.
Ah, I forgot! Naples is also covered in the above trip.
Search for "Odyssey of the Seas" and you will presented with several voyages to Greece.
Greek Islands are known for orthodox Greek monasteries, white-painted taverns, hot afternoons, and antique shops.
Tourists who are interested only in these 4 aspects buy any one of the top cruise tours to Greek Islands.
Short Cruise to Norwegian Islands and Fjords
This gets interesting here. There can be no short cruise routes to the land of breathtaking fjords and isolated islands of Norway because there are too many of them.
Therefore, whatever short cruises available to see at least a few of the fjords should be taken.
It takes you to see the best of those sea inlets (fjords).
In 2023, there are several top cruises to Norway and they are all of short duration lasting just 7 nights. The starting dates are May 7th, June 18th, and July 31st. All the three short cruise tours leave from Amsterdam.
Scandinavia cruise
If you want to see all of the three Scandinavian countries namely, Norway, Sweden, and Denmark, I would say you are one of the romantic-minded persons in the world.
The same Cruises offers 12 night long package to Scandinavia.  On June 5th, July 1st, and July 25th, 2023, the ultra-luxury cruise ship of leaves the colorful harbor of Southampton, England.
France, Italy, and Spain
The world's fantastic cruise destination includes France and Italy. When they are combined with a visit to Spain, I would grab it gleefully.
The Mediterranean Sea is said to be the darling of cruise ships. There are too many ports in the Mediterranean Sea that you would wish the cruise would go on and on.
I think only 7 nights short cruise tour to Italy, Spain, and France is not justified considering numerous beautiful locales there.
I require at least 6 days and 6 nights just to taste their diverse foods and drinks. What can one see in the remaining one day?
Nonetheless, we have to book our vantage cabin and never leave the deck during the whole 7 days.
Cruises offer this short cruise route on May 6th, 2023. The ship leaves the colorful city of Barcelona, Spain.
If only I have the time to go cruising in all these ten top cruise tours, I will create another 10 short cruise tours traveling to the following islands, countries, and continents.
The Andaman and Nicobar Islands
The Laccadives
African islands of Madagaskar, Cape Verde, Mauritius, and the incredible Zanzibar.
Maldives
The East, South, and West African cities and islands
East European countries that include, Poland, Bulgaria, Albania, Montenegro, Hungary, Romania, Slovakia, and Moldova. These are terrific countries with rich history and different cultures.
South Pacific Ocean islands such as Bora Bora, Aitutaki, Fiji, Samoa, exotic Vanuata. I think there are 25 islands within the Polynesia Triangle.
Every Island is unique and different in all the three 'C's. I think it might take two full months to visit all these Polynesian and Tahitian islands between Australia and South America.
Australia and New Zealand
I think that would round up the world. An around the world voyage is pretty long. You tend to get home sick. Therefore, splitting the voyages into two or three legs of journeys is wise.
I am yet to touch the scope of river cruise tours, and barge cruises. They all offer very short duration package combined with memorable on shore excursions with a local guide.
The top rivers on which you can find a cruise to see hidden gems are:
Rhine
Nile
Seine
Mekong
Ganga
Brahmaputra
Danube
Volga
Amazon
Do you have any suggestions for finding short cruise tours?