Travel guide to Sao Miguel Island, Azores, Portugal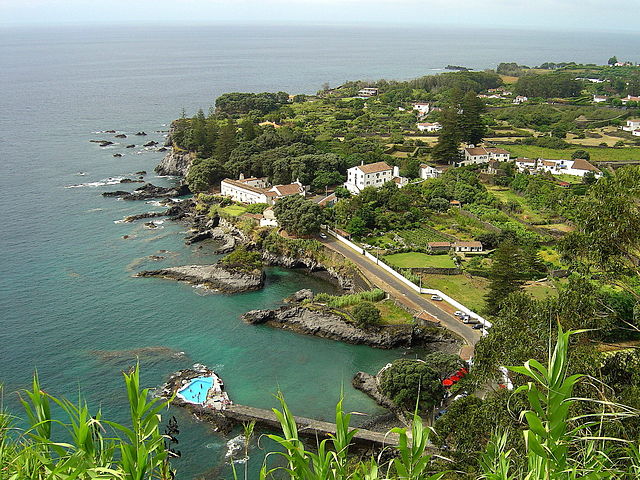 For offbeat islands getaways in Europe, Portugal is the best choice. The islands and islets that belong to the European country Portugal are diverse and remote. In this blog post, I have covered the largest of Portuguese island Sao Miguel.In this detailed travel guide I have described Things to do in San Miguel Island.
At the outset, I will tell you why I used the word 'offbeat' when talking about the Portugal islands. The most visited and written about islands in Europe are Greek, Croatian, and Italian islands. They garner the maximum number of visitors every year.
In addition, these most frequented European islands appear in travel blogs that rarely mention the islands of Portugal. Now you know why the Portuguese islands are treated as 'offbeat islands getaways' in Europe.
It's time to start visiting Sao Miguel Island, one of the most beautiful islands of Portugal.
Sao Miguel Island, Portugal
In the Portuguese language, the word 'Sao', means 'saint'. So, you can conclude it is Saint Michael Island.
Sao Miguel Island is called 'green island' and there are so many stunningly beautiful places in this Portugal Island that safely justify the name.
The image below is just a sample. It depicts the Sete Cidades lagoon.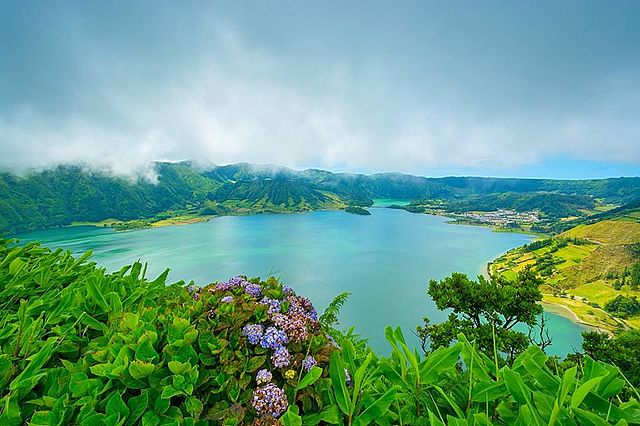 Sao Miguel Island is one of the nine islands of Azores archipelago, an autonomous region of Portugal in spite of being located very far off from mainland Portugal. The distance is a mind-boggling 1350 km between Portugal's mainland and the Azores group of islands.
Like the other islands of Azores, Sao Miguel Island is also volcanic in nature.
This Portuguese island's climate is very pleasant throughout the year. The maximum temperature never exceeds 26 °C.
The capital of Sao Miguel Island is Ponta Delgada. It has an airport and a large seaport where it can accommodate several large cruise ships.
Top attractions of Sao Miguel Island, Portugal
Sete Cidades
The image of this breathtakingly beautiful lake is posted above.
Can you guess the water body, a lake actually, is located on a crater, that is formed after a volcano erupts?
Generally, these crater lakes always contain pure water that is also minerals rich. These carter lakes in the Portuguese islands are virgin lakes and unspoiled by humans.
Sete Cidades is a twin in fact. Yes, there are two lakes carrying the same name. The connection between the two lakes is a narrow strait! Can you visualize the beauty of this place?
Hey buddy, no worry of crossing over the strait; there is a bridge on which you can walk over.
Lagoa do Fogo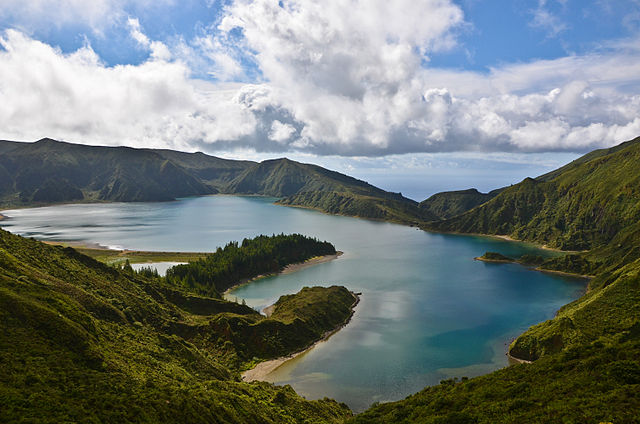 This is another lake and is housed in a crater. These beautiful volcanic lakes are identities of the islands of Portugal. Standing at the perimeter of a crater lake would give you a sense of absolute serenity. You have to be there to realize what I am saying.
Furnas Lake in Sao Miguel Island

Here is one more crater lake but its water is hot, mate! Yes, it is a geo-thermal lake spewing hot vapor throughout the day.
A natural geyser is a big tourist attraction, wherever they are located. Furnas (furnace) Lake is no exception. Slowly, a walking trail evolved along the circumference of the lake.
So, what's next? A restaurant of course. That came into being and the tourist welcomed that refreshment idea on the fringes of a volcanic lake in the middle of Azores.
Probably, the video below is more descriptive of the beauty of this crater lake and the hot thermal fountains.
Cozido cooking in Sao Miguel Island, Portugal.
First, watch a video below that shows how a meal is cooked by the weirdest method using absolutely no fire at all.
Cozido is thus a stew made of meat and vegetables. It is the most natural (true to the word 'nature') food ever that you can eat in your lifetime.
By using the bubbling hot water of the natural geyser, a whole meal is perfectly cooked underground!
Poça da Dona Beija of Sao Miguel Island

In a very beautifully landscaped setting are, as many as five thermal pools where the water is just perfectly warm enough to take a relaxing dip. I said 'relaxing' because you are not likely to be disturbed by others due to want of space inside the natural geyser.
And I read there is even a gift shop in the vicinity of this attractive place in Sao Miguel Island in Portugal. I wonder why there is no mention of a restaurant that can be more valuable than a gift shop! I know how hungry one can get after taking a natural hot bath.
Any natural geyser's water has therapeutic powers and these five thermal fountains too possess the same medicinal qualities.
Therefore, next to Lake Furnas, the natural hot pools at  Poça da Dona Beija are favorite tourist attractions in Sao Miguel Island, Portugal.
Caldeira Velha Park.
Here is one more natural hot spring in Sao Miguel Island. Since the entire island is volcanic, there can be more than one volcano, which causes the natural thermal pools.
Caldeira Velha is found on the mountainous slopes of a volcano called Água de Pau Massif.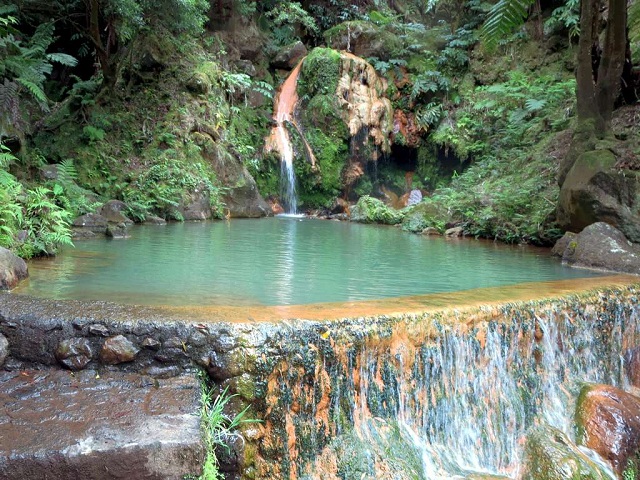 The place of this hot spring is lush green and there is also a waterfall nearby. Can it be a natural hot shower?
Salto Do Prego Waterfall in Sao Miguel Island

Ah, this is how a waterfall should look. The place is a dark jungle, the fall of the water is gentle and the resulting flow of the stream gurgling past the woods and smooth stones is a remarkable sight, close to your memory forever.
Remember to pack your right trekking shoes and other hiking gears that include a camera and a binocular.
Inquire around if you can pitch up your canvas tent at this scenic place. You will spend the night of your life listening to the gentle mountain stream and the sounds of nocturnal insects.
Here is one more video of Salto Do Prego Waterfall and its surrounding forest in Sao Miguel Island, Azores, Portugal.
You can either go and see all these natural attractions of Sao Miguel Island on your own, or, alternatively, you can join an organized bus tour of the island. I trust the second option better.
If you decide the first option of exploring the Sao Miguel Island on your own, you can rent either a car or a scooter to move around the island.
Accommodations in Sao Miguel Island, Azores, Portugal.
Since Sao Miguel is the largest of the nine islands of Azores, there is a heavy influx of tourists throughout the year. To cater to their needs, there are numerous types of accommodations in Sao Miguel that include five-star hotels, mountain-view resorts and rustic cottages. If I were you, I would choose a tree house to stay in San Miguel Island's forests.
Generally, the staying won't cost much and so as the food that mainly comprises seafood.
Ah, don't forget to taste the exotic 'cozido', the unique specialty food of Azores.
Cheese is very good in the Azores and I read most of the cheese that is consumed in mainland Portugal is imported from Azores archipelago.
Reaching san Miguel Island:
Quite a few flight operators offer services from Portugal's capital city Lisbon.