Why Should You Visit Coral Coast, Fiji?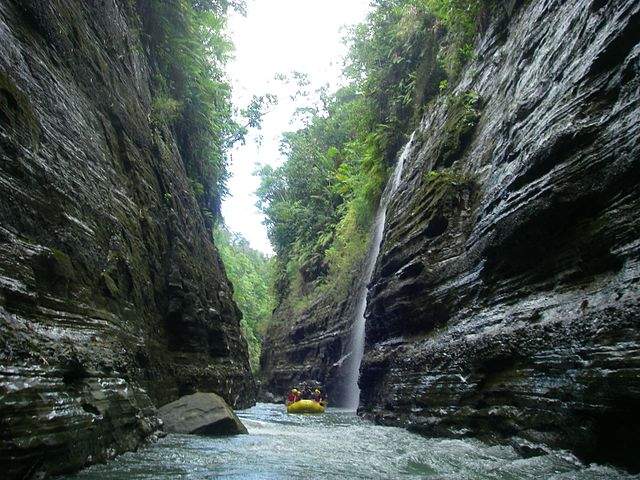 Well, the name 'Coral Coast' half indicated what can you expect to see in this part of Fijian island, Viti Levu. For the remaining part of the title, I will give you a few more reasons as to why you should visit the Coral Coast, Fiji.
What is Coral Coast?
It is stretch of sea shore on the island of Viti Levu, one of the 330 Fijian islands in the South Pacific Ocean. Know that only 110 islands of Fiji are inhabited. These islands belong to the original Polynesian people.
Suva, the capital of Fiji is located on Viti Levu.
As far as I am concerned, no image on the web could truly capture the incredible beauty of Fiji. No textual description could bring out the emotion that you display when you personally visit some of the islands in Fiji.
Exact location of Coral Coast, Fiji: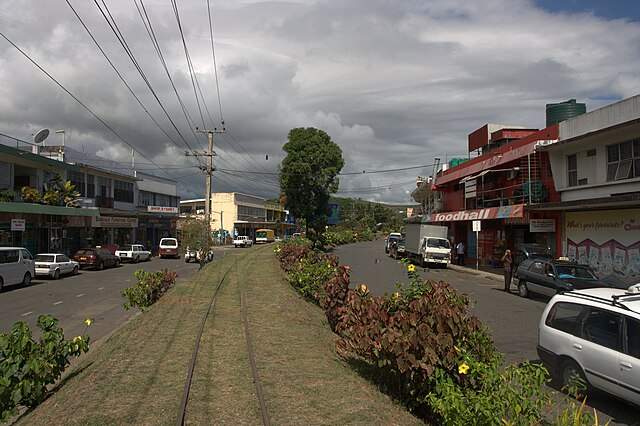 What you see above is the photograph of a Fijian town called, "Sigatoka". It is named after a river with the same name. Sigatoka River flows through the town and marries the Koro Sea, an extension of the South Pacific Ocean.
The Coral Coast begins from Sigatoka town, Viti Levu Island, Fiji.
Suva, the capital city of Fiji is at the other end of the Coral Coast.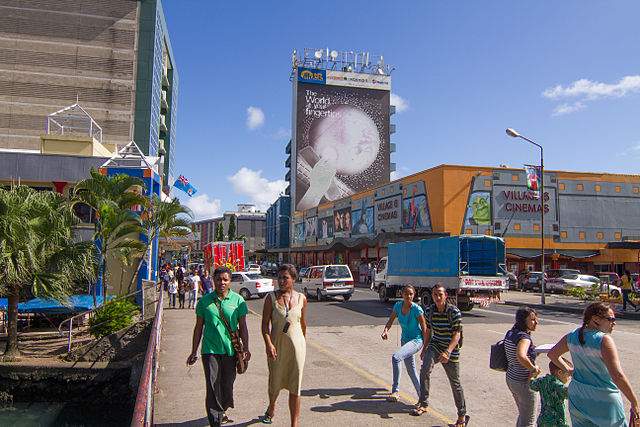 The length of the Coral Coast, Fiji
From Sigatoka to Suva, the distance is 125 km. But the precise length of the coral coast in which the scuba divers are deeply interested in is only 80 km.
The coral system for this mammoth length brings scuba divers from as far as Australia, and New Zealand.
Why Should You Visit Coral Coast, Fiji?
What are other attractions to see along the Coral Coast?
Sigatoka River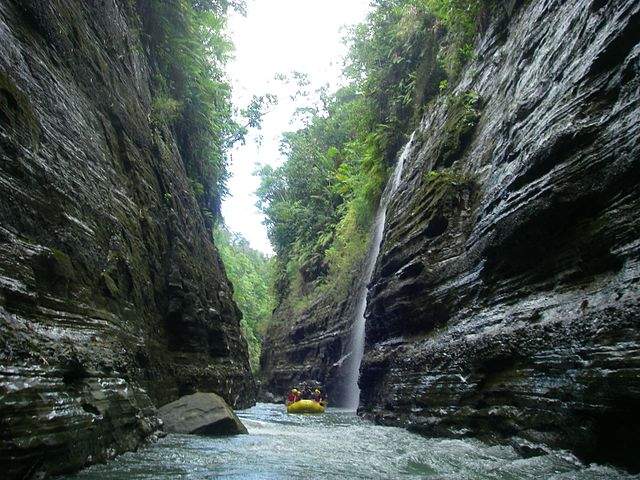 What a wild scene! There is a waterfall also that empties its belly in the river below.
I guess this particular place is rather inaccessible. Maybe you can view it from the top of the cliff. It will be more beautiful then.
Mount Tomanivi
Mount Tomanivi has an alias that goes by Mount Victoria. It is an extinct volcano, and thus it is safe to hike up to the summit crater situated at 4300 feet altitude.
Incidentally, it is the source of the Sigatoka River. In addition, four more rivers are originating from this volcanic mountain. In such a case, these rivers go dry in the summer.
Bird watching
Mount Tomanavi is covered with dense forest. It serves as ideal habitat for a number of species of birds.
Due to several exotic avifaunae, Mount Victoria comes under an important "Birding Area".
Here is a stunning bird named, "Red-throated Lorikeet" that you will be to spot with some patience and luck during your hike.
OMG! The bird has so many colors! It looks like a Rainbow Parrot.
As many as 180 bird species are recorded in Fiji, of which 32 are endemic! Birders and ornithologists are mainly interested in seeing these 30+ endemic bird species.
Below are some more birds that one can spot on Mount Tomanavi:
You can spot this bird when you go to see the Sigatoka River.
Whistling Duck
Mallard Duck
Quails
Pheasants
Wild Turkey
Jungle Fowl
Orange Fruit Dove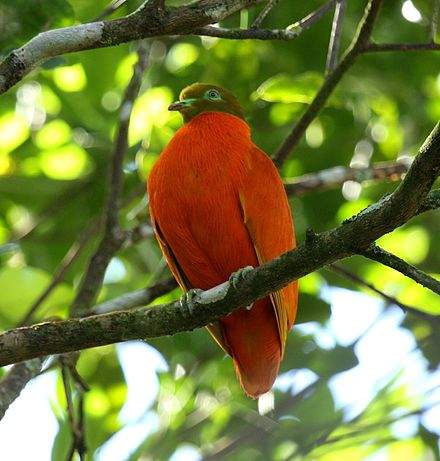 Wow! What a beauty!
Nadarivatu Dam
This dam harnesses the Sigatoka River to generate hydroelectric power for the Viti Levu Island.
Sigatoka Sand Dunes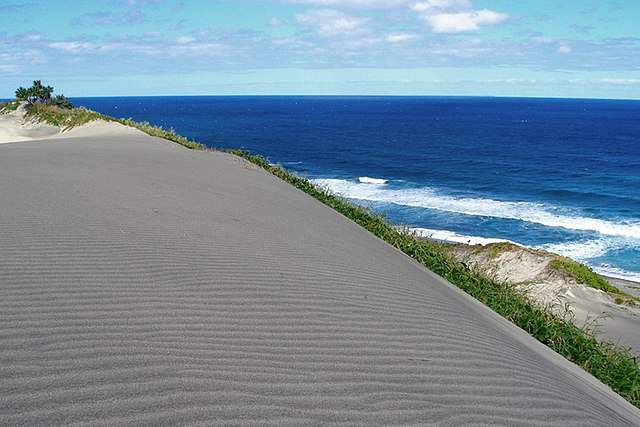 It is inviting the sand boarding enthusiasts. But, that will spoil the look of its serenity-right?
The beautiful sand dune abutting the sea ,warranted the creation of a national park.
The sand dune is located at a walkable distance of 3 km from Sigatoka town. I would rate i=t as the top attraction in the Coral Coast, Fiji.
Since the sand was getting accumulated over several thousand years, at some places, the height of the dune is measured at nearly 200 feet! Surely, a body boarder on the sand will be thrilled to try sliding on the sand board.
Biausevu Waterfall
It is a 65 feet height waterfall and typically as tropical waterfall and that too on an island, is hidden from the road. You have to undertake a steamy and scenic walk through the forest to reach the rather silent waterfall.
It is one of the beautiful sights in Coral Coast, Fiji.
Momi Battery Park
A place is called a battery if it was used as a site for defense by placing cannons and other weapons.
The Momi Battery Park along the Coral Coast, Fiji was active during the World War II.
Horse back riding
The beachside all along the Coral Coast will bring smiles to anyone in spite of very warm conditions. The sea breeze will cool us to some extent.
Quite a number of horses are kept for the kids to sit on their back and go for a short beach walk.
Boat ride in Sigatoka River
The river's passage goes through some wild attractions, up to the river's estuary. A fast boat (jet boat) ride in the river is a thrilling experience for all age groups. The jet boat ride is undoubtedly a terrific thing to do in Coral Coast, Fiji.
Scuba Diving
Coral Coast with its long reef system, unique marine creatures is a natural invitation to the scuba diving veterans.
Did you notice that striking blue-colored fish? Surely, the underwater world is forever an extremely incredible, and wonderful.
The coral reefs are really lustrous.  The range of colorful fish is worth going underwater in Coral Coast, Fiji.
Tavuni Hill Fort
You would find it baffling to find a fort on a hill in a pristine Fijian island. It is unbelievable that the ancient Polynesians had to defend themselves from unexpected attack. Who would want to disturb the peace of this Polynesian paradise?
Nonetheless, there is this Tavuni Hill Fort from where the Sigatoka town, its river, and the valley will steal your heart.
The summit cliff stands at nearly 300 feet! That's a good height for an aerial view, especially the hill is in the backdrop of a sea.
There is a history behind this fortification. Talk to your local guide and he will be happy to relate it.
Siva Subramaniam Temple
This elaborately sculptured Tamilian style temple is in Nadi city, located about 65 km north of Sigatoka.
Here is another view of the temple dedicated to Lord Siva and Lord Murugan (Subramaniam).
This is a very big attraction in Viti Levu Island. The Hindu temple celebrates numerous colorful festivals in a year.
Central Market, Sigatoka
For a small town on the island of Viti Levu, this covered market seems to be over-sized, I reckon the agriculkture and horticulture is quite flourishing.
The market is conveniently located just opposite to the bus terminus. But surprisingly, it closes daily at 5 pm itself. That's quite early for a tourist place. Moreover, the central market is closed on all Sundays!
If the local Fijian vegetables and fruits don't allure you, try to find a stall that sells cream buns. They are reported ti be delicious.
https://upload.wikimedia.org/wikipedia/commons/8/84/Chou_cream_bread_1.jpg
I thought these sweet buns with stuffed cream are Asian delicacies only.
Another eatable that you must taste once in Viti Levu Island is the Rose Apple that is called Water Apple.
It is a soft and succulent fruit and mildly sweet. It is said to possess toxin removing qualities.
Beaches
If you are not wandering through the streets of Sigatoka, then, hit the beach. There are quite a few number of beaches where mostly tourists are found enjoying.
Some beach clubs welcome you with your family and arrange some water sports for you.
Here are the names of some highly recommended beaches in Coral Coast.
Paradise Beach
Natadola Beach
Most of the beaches are with lush tropical rain forests as backdrop.
Swimming, and surfing are the favorite adventure here.
If you are staying in Suva, the capital of Viti Levu, you cal consider a day trip to the Coral Coast.
Hotels to stay in Sigatoka town.
With such a natural beauty backing the coral coast town of Sigatoka, it has become an important tourist center in Viti Levu.
There is no dearth of resorts and hotels to stay in Sigatoka.