Flores Island Complete Travel Guide for Budget Backpackers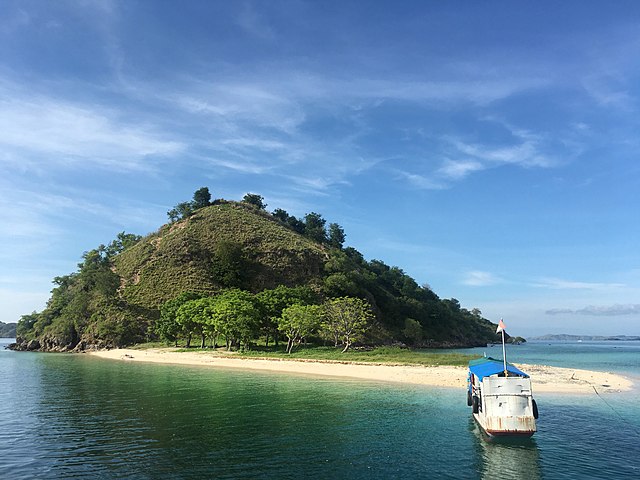 This is a complete travel guide to visit Flores Island, Indonesia.  The travel guide includes an overview and location of Flores Island, how to reach Flores Island, places of tourist attractions, hotels to stay, local food delicacies to eat in Flores Island, and what to shop as souvenirs.
An overview of Flores Island, Indonesia.
"Flores" means 'flower' in Portuguese who gave the island its name.
Flores is clearly an underrated Indonesian Island. While the other big names in Indonesia such as Bali and Sumatra are often mentioned in blogs and YouTube, you rarely get to see 'Flores Island' and its sightseeing attractions.
Flores Island offers a bag full of outdoor activities such as fishing, island hopping, diving, marine life watching, and above all an encounter with the scary-looking Komodo Dragons. Flores Island is terribly enchanting and any island lover will instantly fall in love with it.
Divers flock the island throughout the year. Even during monsoon, you can spot them enjoying themselves both in the fresh rainwater and the salty seawater.
Trivia:
Flores Island has eight capitals! Yes, the island is divided into eight 'Regencies' each with its own capital. Interesting-eh?
Two major attractions in Flores Island that you should not miss are:
The Komodo dragons
Kelimutu volcano and its three craters filled with changing colored water.
Location of Flores, Indonesia

You must already know that Indonesia comprises of several archipelagos and one of them is "Lesser Sunda Islands". If there are 'Lesser Sunda Islands', then there must the 'Greater Sunda Islands'-right? Yes, there is an archipelago called "Great Sunda Island". Both these divisions make up the "Sunda Islands".  All these islands are volcanic in nature. It is typical of Indonesia.
The world-famous Komodo Island is located on the west coast of Flores Island.
To help you visualize the position of Flores Island, I give below the names of the other Lesser Sunda Islands that surround it.
East- Lembata Island.
West-Komodo Island
South East-Timor
South-Australia
North- Sulawesi.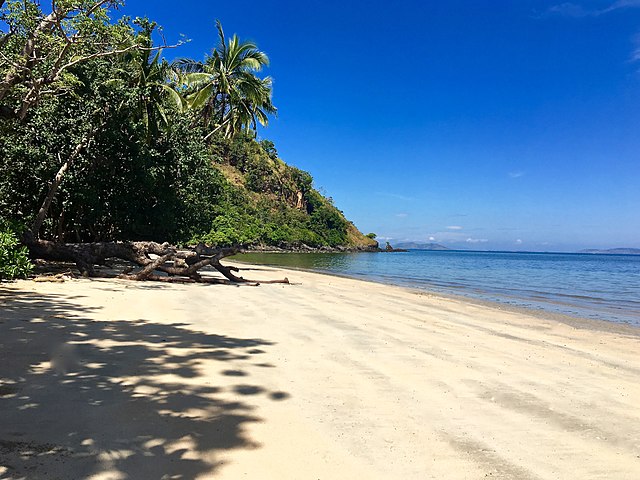 How to reach Flores Island, Indonesia?
It will surprise you to know that this Indonesian Island has as many as 6 airports! You can then imagine the number of tourists to visit Flores Island.
I think it is fit to have 6 airports because of the island's huge size comprising 13,500 sq.km!
By Sea
Personally, I feel islands should be reached by sea because a sea voyage is full of surprises, risk, adventure and plenty of socializing.
If you are up to it, hop on to a boat from Bali's Benoa Harbor. The travel time is a grueling 40 hours from Bali to Labuan Bajo, one of the capitals of Flores's Regency.
Other ports that operate sea passage to Flores Island:
By 'boat' don't imagine just a catamaran, buddy. It will have cabins of varying comforts and priding. For low-cost tourists, dormitories are offered.
Ok, I should have mentioned as 'small ship' instead of a boat. It will have restaurants, coffee shops, and some entertainment facilities like dancing.
Flights to Flores Island:
Plenty of flights operate from different airports of Bali. The flying duration will be about one and a half-hour.
When is the best time to visit Flores Island, Indonesia?
Remember to avoid monsoon season that starts from the middle of November and lasts until the end of March. Otherwise, you can go to Flores Island anytime you wish. It is always hot in the Indonesian Islands.
Places of tourist attraction in Flores Island
As I mentioned earlier in this blog post, one of the two major tourist attractions is to see the big Komodo dragons. They can be seen in Komodo National Park.
Komodo National Park is located in Komodo Island that lies between two other Indonesian Islands namely Sumbawa and Flores.
There are about 4000 of Komodo giant monitor lizards and the entire Komodo Island is treated as Komodo National Park.
Komodo Island's landscape is full of volcanic hills and mangroves. There is quite of seagrass layers too amidst coral reefs.
Komodo Island would make an interesting subject for botanists.
A relaxed trek to the peak of Mount Kelimutu is worth the experience as you would gasp at the sight of three crater lakes filled with three different color water.
The tourists you saw on the video above are standing on top of the Kelimutu volcano. Don't worry, it is an extinct volcano. They were all looking at the naturally formed crater lakes with awe. Did you notice the dark chocolate colored water in one of the crater lakes?
It will change its color but no one can say when that will happen during the day but the water in all the three lakes would change its color.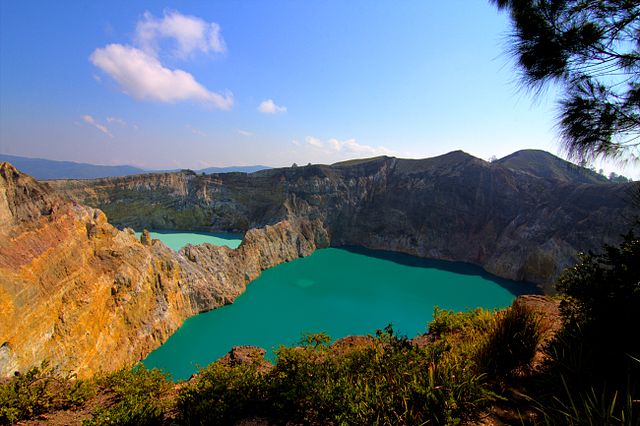 The various colors of the water inside the crater lakes are beautiful green as you saw, white, chocolate brown, black, and blue!
Mt.Kelimutu is located inside the Kelimutu National Park at one end of the Flores Island.
Remember, you should wake up quite early and leave your hotel well before dawn so that you can be at the summit (5800 feet) of the Mt.Kelimutu just before the sunrise.
No sweat, buddy; you need not trek up to such a height. A pickup truck will help you reach the volcano's crater in about 30 minutes!
Usually, all the tourists would be staying in one of the many hotels crammed in Labuan Bajo, capital of one the Regencies of Flores, Indonesia. Please note that the Kelimutu volcano is located a heart-sinking 12-hour road journey from Labuan Bajo.
I read flights are also operated between these two important tourist locations. The name of the exact place of the volcano is Moni in Ende city to which you can come by flight.
Therefore, you need to find a place to stay at the foot of the volcano.
Kelimutu National Park, Flores, Indonesia

The flora is the main attraction because some are endangered species and are well protected here. As to fauna, you can spot this wildlife in Kelimutu National Park: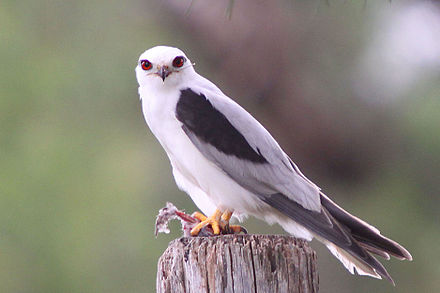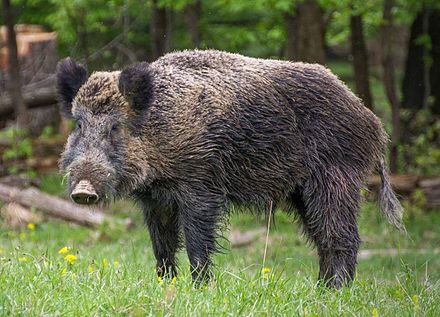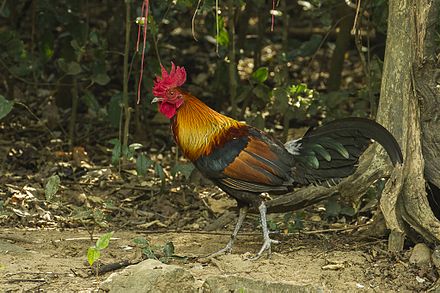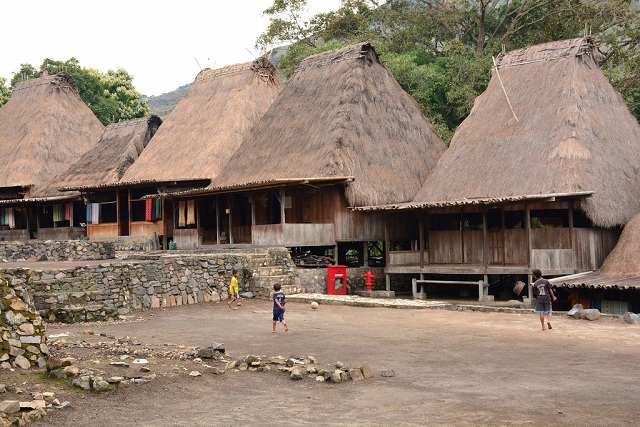 Ah, yes! It looks like a traditional village indeed and looks quite old with unpainted walls of the houses. I suppose that's why it is called a 'traditional village'.
Bena village is located close to the Kelimutu National Park. There are a waterfall and a hot spring in Bena.
You can watch how the local peasants weave clothes and buy something.
If you are interested in knowing about totally different Asian culture, you should visit the following in Flores, Indonesia: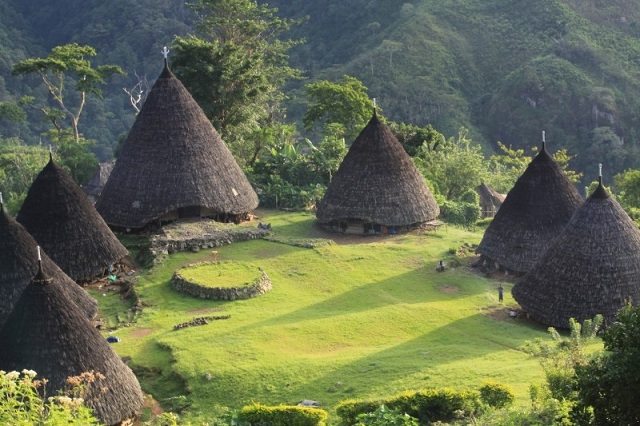 Wae Rebo Village-Manggaraian culture
Larantuka -Semana Santa festival
Watublapi is a small community in the Sikka district well known for its fine traditional ikat weaving.
Bats are also known as 'flying foxes'. There is an exclusive island called Kalong Island near Flores. This island is also known as the Bat Island because of the presence of thousands of bats. Visit the Bat Island during sunset when the bats take off from the tree branches and go in search of prey.
This is located an hour drive away from your hotel at Labuan Bajo.
Rangko Cave-located inside the Komodo Island It is part of the Komodo National park and you need to go on a boat for about 15 minutes. You can take a swim inside the cave.
Time your visit so that you see the water inside the cave is lit by the peeping sun.
Oh, surely there is no dearth of staying options in Flores. There are as many as 950+ hotels, resorts, and luxury beachfront cottages. The prices vary according to the season but for budget travelers, they can find numerous hotels and lodges to stay.
For affordable accommodation ask around for Centro Hostel or Waecicu Beach Inn.
What to eat in Flores?
Try all these local Indonesian and Bali delicacies when you are in Flores Island, Indonesia.
Sweet potato is widely eaten in various forms in Flores, Indonesia. Of them, the most served dish in the restaurants is Ubi Nuabosi combined with salted dried fish.
Another favorite dish of the inhabitants of Flores Island is Corn Catemak. It is a dish made of corn and peanuts!
Tapa Kolo is a unique food of Flores. It is nothing but rice but in a bamboo shaft!
A couple of other local foods of Flores Island are:
Moke – a drink made of pal juice
Se'i-pork with a smoky flavor
What can you buy in Flores Island as a souvenir?
Ikat handwoven textiles
Coral products
Turquoise stones
Locally cultivated coffee
Cashew nuts
I have come to the end of this complete travel guide to Flores Island, Indonesia.