8 Beautiful Terraced Paddy Fields in Bali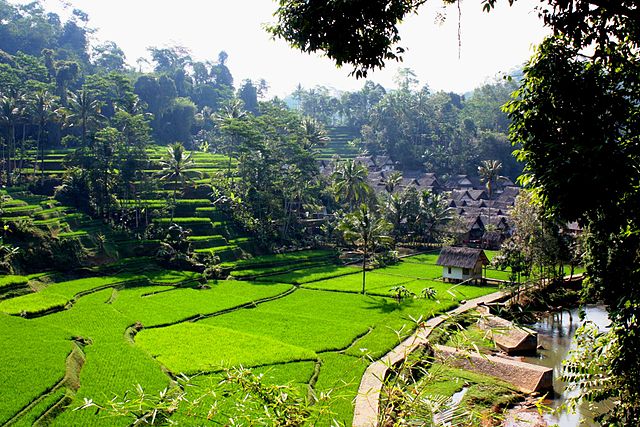 I chose to name it as 'paddy fields' while every other Bali travel site including the official sites of Bali, name them as 'rice fields in Bali' instead of Terraced Paddy Fields in Bali. It is paddy that is harvested first and then converted into rice.
Bali means volcanoes, long beaches, lush tropical jungles and rice terraces.
Why the Terraced Paddy Fields in Bali Mountains?

Bali's landscape comprises of volcanic mountains resulting in deep gorges that are actually not conducive to paddy cultivation. Paddy requires plenty of stagnant water initially. Since Bali is mountainous area, the Balinese have developed an ingenious irrigation method to cultivate paddy on terrace like landscape that is similar to the tea and potato plantation on hill slopes.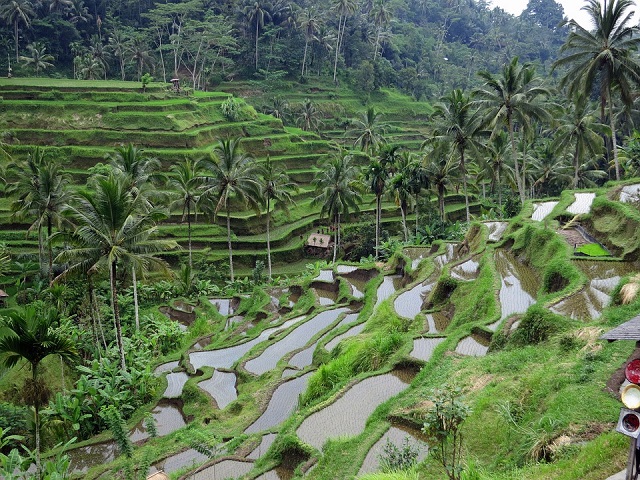 As you traverse the countryside of Bali during your daily visits to various Balinese attractions, you will come across green terraces stretching to as far as you can see. The terraced landscape is cultivated with paddy. These rice terraces in Bali are breathtaking to look. You just won't be able to take your eyes off the green terraced paddy fields.
There are 8 terraced paddy fields located across Bali islands and the one of them is Jatiluwih, the most beautiful of all the terraced rice fields is also an UNESCO site.
Let us pay a visit to these spectacular paddy terraces (rice terraces) in Bali.
1. Jatiluwih Terraced Paddy Fields in Bali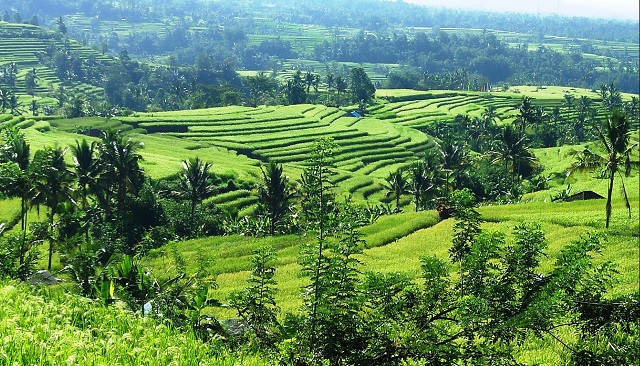 The beautiful Jatiluwih rice terraces are located in Kuta and Denpasar provinces. The top most rice terrace is situated at about 700m above sea level. As a tourist to Bali Islands, if you express your wish to see at least one rice terrace, you will be advised to go and see the Jatiluwih. The mountain on which the Jatiluwih rice terraces are found is called the Mount Batukaru.
While the whole area of rice terrace offers stunning panoramic view of the Bali, there are other tourist attractions near the Jatiluwih paddy terrace are:
Alas Kedaton monkey forest
Batukaru temple
Tanah Lot sea temple.
If you happen to visit the Jatiluwih terraced rice fields sometime in the afternoon, stay till dark to watch the fireflies, a rare sight in any part of the world.
2. Rendang Terraced Paddy Fields in Bali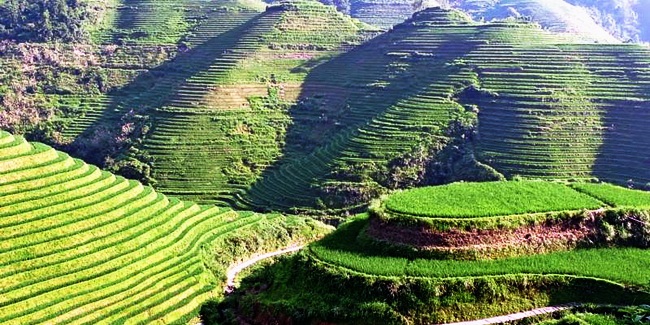 The Karangasem regency in East Bali is where you can see the Rendang rice terrace. Look at the image! Isn't that gorgeous? As you drive through Amlapura, the capital city of Karangasem regency, the excitement grips you as the lush green rice terraces begin to loom in front of you.
Other attraction when you visit the Rendang paddy terraces, is the River Telaga Waja which is a famous site for white water rafting in Bali Island.
3. Tegallalang Terraced Paddy Fields in Bali, Ubud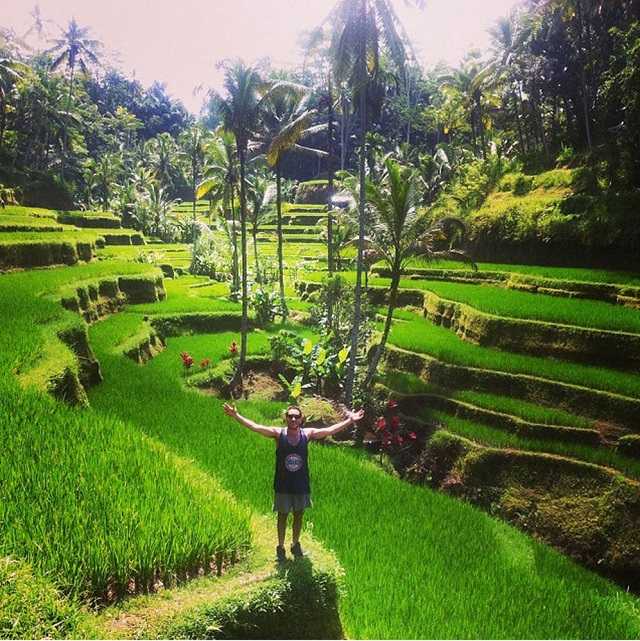 Ubud is an important destination in Bali. If you ever wanted to witness pure Balinese cultural programs, Ubud is your destination. Ubud is located amongst rice terraces situated on the Gianyar mountain range.
Tegallalang village is one hour drive from the center of Ubud town. As I wrote abobe, Ubud is synonymous with paddy terraces. Apart from the Tegallalang terraced rice fields, there are two other rice terraces namely Pejeng and Campuhan.
When you are visiting Tegallalang terraced rice fields, you will be tempted to buy some of the local souvenirs from numerous kiosks that line the road. The locals call them as art shops that sell wood carved artifacts, I like the latter name.
The most sold wooden toy (if you can call them as toys) is the Garuda, the mythical bird mentioned in Hindu religion.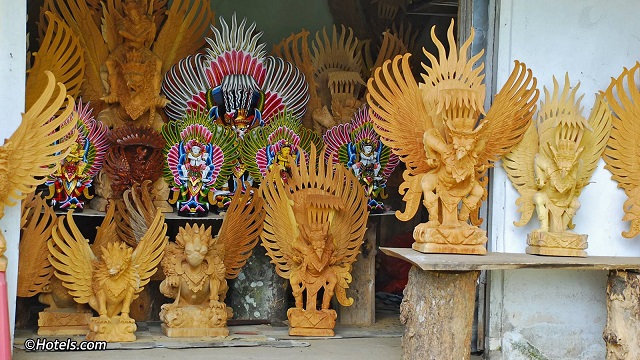 Other wooden figures that you can buy are dragons, frogs, dinosaurs, and kangaroos. If you want to see more of these wooden gifts, visit Pakudui village on your way back to Ubud.
4. Munduk Terraced Paddy Fields in Bali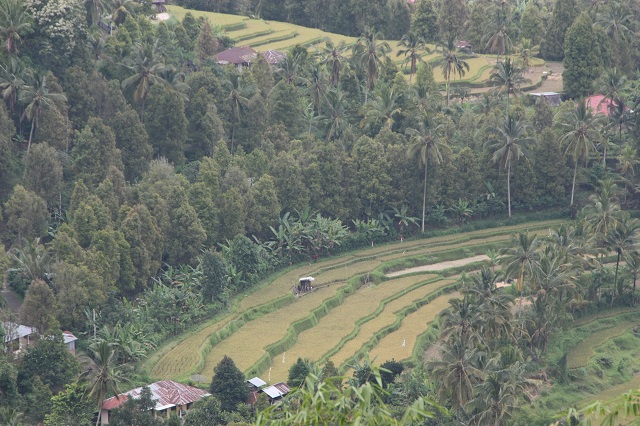 Munduk village in north Bali is famous for two things. One is the rice terraces and the other is the Munduk waterfalls located in a scenic place. Mainly for these two beautiful natural attractions, tourists go to Munduk village for a relaxed walking or a vigorous cycling session.
Another great experience awaits the tourists to Munduk paddy fields. It is where the (in)famous Durian fruits are cultivated. If you brave the smell, you can buy a freshly plucked Durian and eat then and there.
Your tourist guide will advise you to stay overnight in Munduk village to enjoy more of the cool, lush places.
5. Sidemen Terraced Paddy Fields in Bali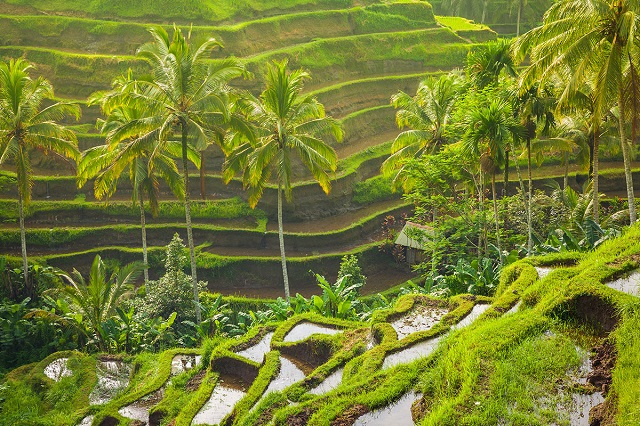 As I went digging for rice terraces in Bali, they kept coming up in village after village. Sidemen Village is known for beautiful terraced rice fields that are as good as the Jatiluwih rice terrace.
The slopes of the volcanic Mount Agung are used for creating perennial rice terraces. I said perennial as the Balinese farmers are known for cultivation in succession, meaning, there won't be any idle period in between the crops.
Location of the paddy terraces of Sidemen Village is on the way to Besakih Temple which itself is a major tourist destination, mainly for the Indonesians who are predominantly Hindus. The Sidemen terraced paddy fields are reached in jus about 2 hours from Ubud town.
Two things are famous in Sidemen village; they are 'tuak', a local plant based drink and locally weaved and dyed cloth materials known as songket.
Surprisingly, the site of Sidemen rice terraces has some staying options meant for the cloth merchants.
The three other minor Terraced Paddy Fields are:
6. Pererenan Terraced Paddy Fields in Bali
7. Belimbing Terraced Paddy Fields
8. Soka Terraced Paddy Fields in Bali
If I were ever to visit Bali, I would stay in a hotel near any one of these rice terraces.