New Islands for Holidays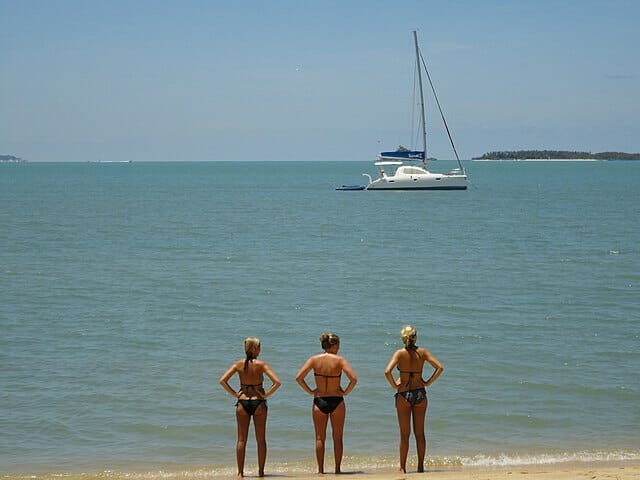 Being an ardent island lover, I keep my ear to the world of oceans and seas. I get alerts from sailors and other island lovers whenever new islands have managed to get a position in the vacation destinations radar.
By 'new islands', I don't mean newly discovered islands but islands that are existing as ever but have developed to be tourist hot spots.
New Islands for Holidays:
These new islands for vacation are floating in various oceans and seas around the globe. Shall we take a peep at such islands that we can add to our bucket list of islands to visit in future?
Ko Samui (Samnui Island)
One of the beaches in Ko Samui.
I am sure you have already guessed the location of this new island for vacation. The word 'ko' means an 'island' in Thai language. Ko Samui is a Thai island.
Are you aware Thailand is blessed with 1400+ islands that bring good revenue to Thailand from tourism?
Thailand's islands are located in the following seas that are boundaries to the nation:
Andaman Sea in the west
Strait of Malacca in the South West
South China Sea in the South East
Gulf of Thailand in the East that separates Thailand from Vietnam. It is also known as the Gulf of Siam
Samui Island is located in the Gulf of Thailand. It is fairly a large island comprising 229 sq. km area. Nearly 3 million people are visiting thw island every year. That is an impressive statistics to boast of.
The island's beaches are purely pristine that retain their natural beauty that is not spoiled by too many buildings.
However, there are good resorts on islands that are also part of Ko Samui. Look up on the web te following resorts islands:
Ko Tao
Ko Pha-ngan
Ko Nang Yuan
More than 40 islands and islets are close to Samui that you can visit by taking a boat tour in the Gulf of Thailand.
Mu Ko Ang Thong natopnal Park:
Considering the diverse marine biology, a national marine park was developed covering these 40+ islands and islets, the majority of them are uninhabited.
The range of underwater creatures attracts people to indulge in snorkelling, scuba diving, standup paddling, and even, sea kayaking, wjich is difficult for beginners.
Samui Island's dense tropical jungles, mountains and the virgin seascape pushed the island in the tourism radar firmly.
Important places to see in Ko Samui.
This is the island's most popular attraction. The height of the Buddha statue is 12 meters.
What a beautiful statue of God!
Wat points to Buddhist temples in Thailand. The statue looks like an Indian God. As a matter of fact, there are small temples nearby that are dedicated to Hindi Gods Shiva, Vishnu, and Ganesa.
In this samui island beach, there are some boulders that resemble old people. Hin Ta and Hin Yai mean 'grand[a and grand ma'.
Watch the video. The odd-looking rocks will come after 2 minutes of the clip.
It is more fondly called as a 'secret garden' or 'magic garden'. The sculpture park is located on top of a mountain called "Khun Nim". It was the name of the person who was responsible for developing the garden. Among the incredible statues of Buddhas, birds, animals, and angels, his tomb also lies.
The garden of statues is located in a picturesque location that has a small waterfall too.
Watch below a short video clip of the Sculpture Park.
The Magic Garden attracts every visitor to Ko Samui, one of the new islands for vacation.
In spite of increased tourists, the beaches in Samui Island retain their raw beauty and clear water.
Lamai Beach features in the list of places to see in Ko Samui. Another breathtaking beach is Lad Koh. It has not-very-tall cliffs that act as view point. Boats tours are available here.
Maenam Beach is a striking beach. With short sand area, it has the backdrop of coconut trees.
Chaweng Beach is another lovely Thai beach that has a restaurant and a bar.
Bo Phut Beach is also lined with coconut trees.
Amidst the setting of a waterfall and a lot of trees, there is a zipline adventure that offers extraordinary views as you slide through the metal wires.
There are a few more beaches, a couple of waterfalls and a sanctuary of elephants that a tourist can visit during his travel to Samui Island in Thailand. I read about a small water theme park also near the Maenam Beach.
Though the island is small, there is a good dose of nightlife including cabaret shows. That is good news for tourists to Ko Samui, the upcoming new island for vacation.
It has occupied a permanent and prominent spot in the tourist radar that is exclusive to islands for holidays in the world.
Reaching Ko Samui:
You can fly into its capital Nathon from Bangkok. This is the only quick way to reach Ko Samui. The flying duration is just 75 minutes.
Singapore also operates flights to Ko Samui. It's a 75 minute-flight, buddy!
Alternatively, you can enjoy a ferry passage to Ko Samui from Bangkok. It will take 3 hours to reach the island through the Gulf of Thailand.
Nevis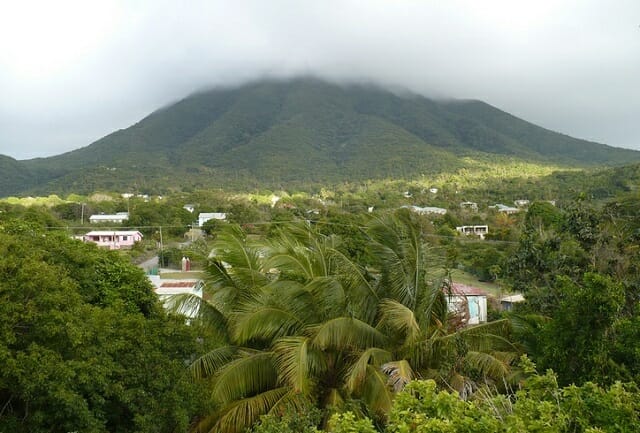 Nevis an island in the Caribbean Sea and listed as one of the least visited/under-rated islands for vacation. I wonder how the well-traveled Americans can give a step-motherly treatment to Nevis, their neighbour.
One of the unlikely reason for Nevis's rating as a new island for holiday is, you have to first come to St. Kitts, another Caribbean Island that is considered as a single nation along woth Nevis.
It's always St. Kitts and Nevis. In order to reach the less-visited Caribbean paradise Nevis, you have to fly into St. Kitts and then ride in a water-taxi to set afoot on Nevis. But the ride over the Caribbean Sea is only 10 minutes!
Top sights to see in Nevis, one of the new islands for holiday:
Beaches
Naturally, beaches are your sole focus point when you are visiting any island for your vacation.
Qualie Beach and Pinnies Beach are two top rated beaches in Nevis Island.The former has a mountainous backdrop, giving the touch of tropics to the place.
Sailing is a fun adventure tat is available in Qualie Beach.
In the heart of Nevis lies a beautifully landsacpoed botanical garden.
Another important tourist landmark in Nevis is an active volcano that can be seen from anywhere on the island.
The volcano's mouth is situated a height of 3200 feet! In spite of being classified as an active volcano, nobody living presently had seen any eruption. A afew hot springs along the mountain's slopes indicate it's an active volcano.
Birds of Nevis
The St. Kitts and Nevis are known for bird watching. I think you can spot not only the aquatic birds but also several land birds that include jungle fowls, cuckoos, hummingbirds and waders.
Black-bellied Whistling Ducks
I really would like to hear then whistle.
Wood Duck
Guinea Fowl
Flamingos
Several more species of colourful ducks are easily seen swimming in the Caribbean Sea, off the shores of Nevis Island.
In addition, when you walk through the forest behind the beaches, you can identify species of plovers, oystercatchers, swifts, coots, sandpipers, lapwings, and gulls.
Overall, Nevis is good new island in the Caribbean Sea for ardent bird watchers.
Being an under-rated island, Nevis is affordable to the majority of us who crave for such less-crowded islands near the United States.
There are resorts in Nevis where you can experience memorable holiday with your family.
Tikehau
Never heard of it-eh? I join you. Only a week before, while researching for new islands for holidays, I stumbled onto Tikehau which only an atoll in the South Pacific Ocean. It is part of the French Polynesian islands, that are all remotely located in the world.
Tuamotu Islands is an archipelago in the South Pacific. It comprises 80 atolls and islets. Tikehau and Rangiroa are the two most important islands in the archipelago.
Reaching Tikehau.
Papeete, the capital of Tahiti Island operates hour-long flights to Tikehau. The distance covered is 320 km.
Smaller flights from Rangiroa take just 20 minutes to land in Tikehau.
Tikehau being a very French Polynesian island that is trying to get noticed in the radar of islands for holidays and very less crowded is recognized an ideal honeymoon destination in the French Polynesia. I don't think the romantic people of France will ignore it for long.
Hotels and resorts are available in Tikehau. Tikehau is slowly becoming a scuba divers haven because of diverse marine lives and clear water that aid better visibility under the water.
Spend quality time in the beachfront. Take a kayak out in the sea. Swim and relax on the beach. Enjoy a quaint country side and just do nothing but to relax and rejuvenate.
Anafi
Again 'Anafi' is a no-name for you-right? It is one of the least-known and very less-visited Greek islands in the Aegean Sea. Anafi Island is part of the Cyclades archipelago comprising 220 islands and islets. Mykonos is the most popular of all islands in the Cyclades chain of islands in the Aegean Sea.
How to reach Anafi Island from Atens.
Athens will be your obvious headquarters when you go to Greece. Amafu is a poorly connected island either with Athens or with other Greek Islands.
It seems Anafi is only accessible from Santorini, one of the highly-visited Greek Islands. 70 km is the distance from the two islands. A car ferry will deposit you in Anafi in about 90 minutes from Santorini.
Anafi as a new island for vacation is great for a peaceful holiday in the Mediterranean region. You can truly enjoy the various Greek delicacies, relax a lot and spend the better part of the evenings at the beaches.
Prices are cheap in Anafi as of now. It is an –anytime-visit island in Europe. Plan a weekend trip to Anafi during which, you can also spend half a day shopping in Santorini Island.
I understand staying options in Anafi are unexpectedly good and scenic. Chora, an area in Anafi is the happening place. It is full of shops, restaurants, and bars. Hotels to stay in Chora neighbourhood are highly recommemded. Rates are not pricey.
A few more recommendations to stay in Anafi.
Boreas Stone House has good reviews. Some rooms offer Aegean Sea view.
Ta Plagia's service has good, positive feedback. It is not a full fledged hotel; just an inn that provide breakfast only. Since it is located in the Chora area, there is no dearth of eateries for the guests.
The third and the best place to stay in Anafi is Villa Gallini. Its location is facing the sea.
All the hotels, in fact all the building anywhere in any Greek Islands are painted white for some reason and hence lack aesthetic appeal. However, the rooms are comfortable and the service is good.
Top places to see in Anafi:
Kalamos Rock is the sight of Anafi Island. It is a single rock measuring 400 feet.
Being a charming and uncrowded Greek Island, Anafi's beaches retain their fresh and pristine look. Popular beaches include Klisidi, Roukounas, Livoskopos, and Katalimatsa.
Chora is where tourists congregate for visting the taverns and shops.
These four new islands for vacation are worth taking a look at.