Nusa Penida Island- an Offbeat Island near Bali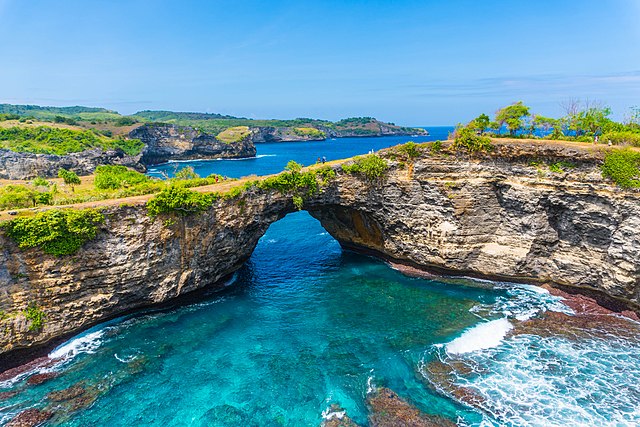 Any mention of Bali Island on the web will force you to stop for a second or two and read further. Bali has that irresistible attraction. But here is another one Nusa Penida island very nearer to Bali.
I would say all the Indonesian Islands command immense interest among island vacation lovers. However, Bali is special.
Near Bali Island, about 45 minutes of speedboat ride away is another thrilling paradise of three islands that are:
Nusa Penida
Nusa Lembongan
Nusa Ceningan
Among the three islands, Nusa Penida is the largest and our topic today.
Overview of Nusa Penida Island.
This Island is a sort of less-visited paradise in South East Asia. It is a hilly island with cliffs and forests.
All three Nusa islands are part of the Lesser Sunda Islands archipelago, Indonesia.
There are numerous places to see in Nusa Penida such as:
Diving sites
Snorkeling spots
Terrific beaches
Stunning viewpoints
Secluded waterfalls
Treehouse and bungalows to stay
Location of Nusa Penida Island
The Nusa Penida and its sibling islands are located in the Java Sea. Just visualize an island that is located between the Indian Ocean and the South Pacific Ocean.
Bali is the nearest big island to Nusa Penida.
How to reach Nusa Penida?
A ferry plies from Bali's Sanur port, once in a day. It reaches Nusa Penida in about three-quarters of an hour.
The speedboat crosses the Basung Strait that separates Bali and Nusa Islands.
What to do in Nusa Penida Island?
Spending time in beaches, climbing up various hills and cliffs to stand at vantage observation platforms, trekking to hidden waterfalls, swimming, snorkeling are the prime things to do in Nusa Penida Island.
First on your list is to visit the two smaller Nusa islands, the Nusa Lembongan and the Nusa Ceningan.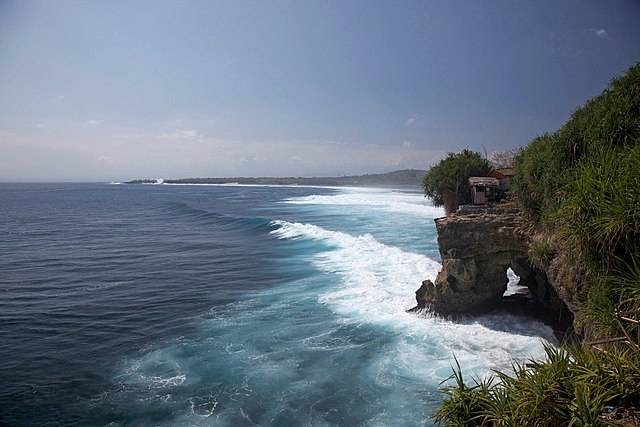 Nusa Ceningon Island is popular for excellent surfing conditions.
If mangrove forests interest you, you can spend some time going through the dense swamps, spotting numerous reptiles and birds that prey on them.
There are a few seaweed farms on this Nusa island that you can visit.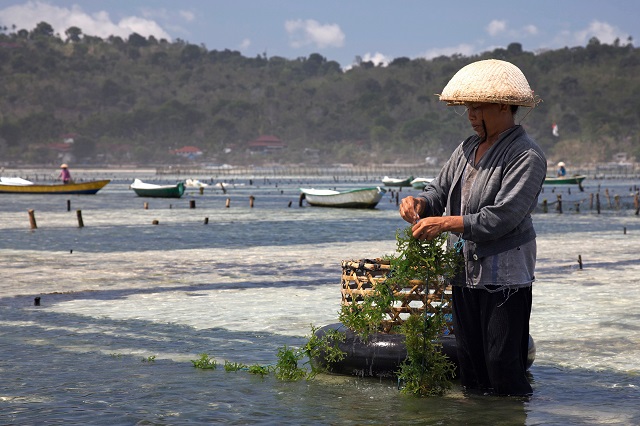 The Mahana Cliff is a popular viewpoint. In addition, you can opt to stay in the resort to find absolute peace.
Divers find a range of colorful reefs in Nusa Lembongan Island.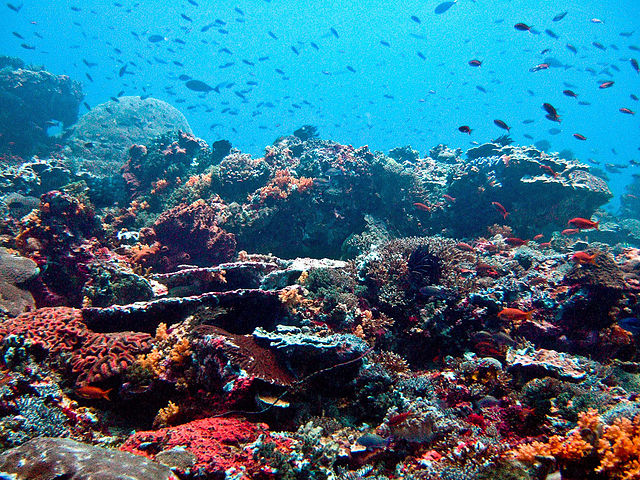 You can reach Nusa Lembongan from Nusa Ceningon by a suspension bridge that can only take in two-wheelers.
Scuba Diving in Nusa Penida Island
The Nusa islands' seascape is rich with corals reefs, marine living beings including sharks and manta rays, and seaweed. Naturally, they attract scuba divers from all over Indonesia. I read biologists from Australia also visit Nusa Penida to join a team of scuba divers.
Here are some ideal scuba diving sites in Nusa Penida Island.
Malibu Point
Toyapakeh
Manta Bay
Batu Abah
Crystal Bay
Observation points in Nusa Penida

Nusa Penida Island comprises hills covered with thick vegetation. There are a few viewpoints atop the cliffs.
Any sea when viewed from a higher plateau will be more beautiful than a beach level view. Naturally, visitors to this Island trek to the top of the cliffs and stand, overlooking the Java Sea and the white sand beaches far below.
More than a couple of viewpoints beckon tourists to Nusa Penida.
In addition, observation points on top of cliffs that abut the sea are vantage points for sunset watching.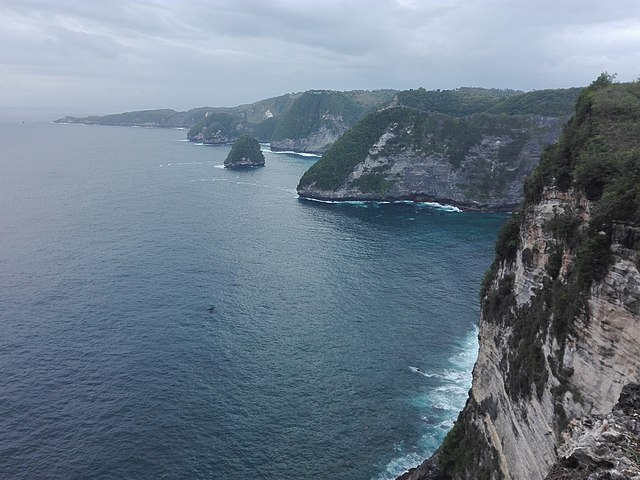 Thousand Islands Viewpoint
Saren Cliff Point
Beaches in Nusa Penida Island
All the beaches in this Island wear white sand. White sand beaches differ greatly from the usual golden sand beaches. The contrast in the colors of the sand and the sea is a treat to the eyes.
Beaches of this islands are good for swimming, surfing (conditions vary), and snorkeling.
Divers have to go a bit deep into the sea to go inside the sea.
The best beaches of Nusa Penida Island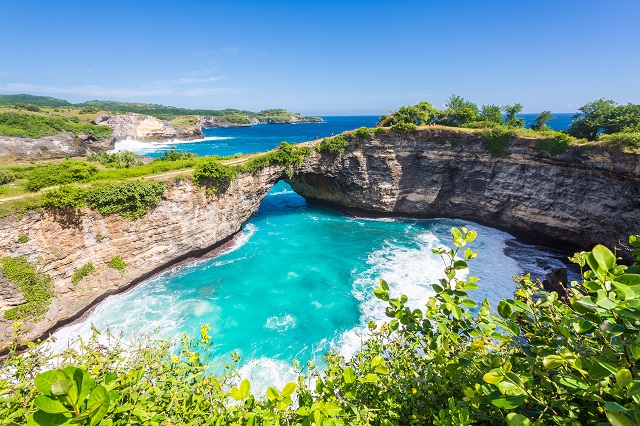 Atuh Beach
Suwehan Beach
Diamond Beach
Kelingking Beach
Tembeling Beach
Incredible Buddha statues under the sea.
Temple Point is the place you need to go in Nusa Penida Island to see the immersed Buddha statues in the sea.
You have to either dive in or pull on a snorkeling mask on your face to go under the water.
OMG! What an experience it would be to touch the Buddha idols and see the extremely colorful marine creatures including the coral reefs.
I think you need to go in a boat to reach the dive site close to where the underwater temple.
The "Out of the world" waterfalls in Nusa Penida.
A waterfall in a tropical island is a sight to behold. Usually, you can expect the exquisite waterfalls deep inside a rainforest with an eerie silence.
However, the two waterfalls (Peguyangan Waterfall and Seganing waterfall) in Nusa Penida will take your breath away. Seriously, I am telling you the sight of the waterfalls will make you let out an audible gasp.
Look at the first video below in a full-screen mode.
 Peguyangan Waterfall
Those scary-looking steps numbering 700 will bring you down from heaven to the earth. The water looks sparklingly clear. Its water is directly falling into the sea is one of the rarest sights in the world.
The pool that is found at the bottom of the waterfall invites you to take a plunge. Don't resist your urge; just yield to it.
Seganing waterfall
This is almost similar to the Peguyangan Waterfall. The major difference is the stairs to climb down to see the waterfall in close up position.
The stone stairs are carved out of the rock and it appears to be dangerous to climb down. However, it won't deter the adventure seekers who would take the challenge sportingly.
I think these two waterfalls alone would prove worthy of our trip to Nusa islands near Bali, Indonesia.
To summarize the various things to do in Nusa Penida Island, the viewpoints perched atop stiff cliffs give you a spectacular view of the ocean below. You look at different white sand beaches from high up in the mountains.
The waterfalls give you a thrilling experience. The short island hopping from NusaPenida will consume half of your day.
Where to stay in?
In order to see NusaPenida and its neighboring islands, you need three days. Even if you compromise on a few sightseeing landmarks, you will require two full days.
Therefore, you have to find a place in this island to stay.
There are a few recommendations from previous visitors to the Nusa Islands.
Hostel Nusa Penida is a budget accommodation
Ananta Bungalow with air-conditioned rooms
Semabu Hills Resort with a terrific sea view
The food is mostly seafood accompanied by plenty of tender coconut water and seasonal fruit juices.
In conclusion, If you ever go to Bali, take time off to visit Nusa Penida, at least for a day trip.