Pemba Island Travel Guide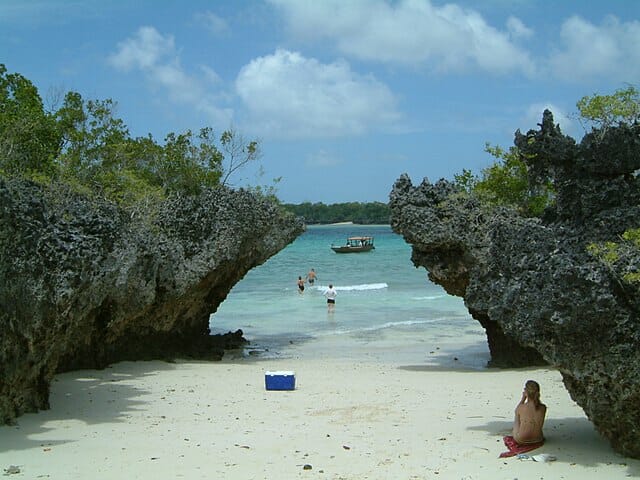 Where is Pemba Island?
It is in East Africa. It belongs to Zanzibar archipelago whereas Zanzibar itself belongs to Tanzania.
Both the islands are floating in the Indian Ocean. This part of the Indian Ocean in East Africa is called the 'Swahili Coast'.
Tanzania, Mozambique, Kenya, and Cameroon are all located in the Swahili coast.
In addition, you can visit several more islands and islets around Zanzibar in the Swahili Coast.
Overview of Pemba Island
It is a very large island of Zanzibar archipelago. It comprises 1000 sq. km!
Pemba Strait (Pemba Channel) separates Pemba Island and the mainland of its motherland Tanzania.
What's the distance between mainland Tanzania and Pemba Island?
200 km is the distance between the two destinations.
How to reach Pemba Island?
The safest and the quickest way to go to the island are to fly from Dar es Salaam. The flying duration is 70 minutes. The distance covered is just a little over 200 km.
If you are already touring Zanzibar, you can fly to it in just half an hour. In this route, the distance between Zanzibar to Pemba is 125 km.
What is the capital of Pemba Island?
Cheke-Cheke is the capital City of it. It occupies the middle of the island.
Are there places to stay in Pemba Island?
Of course, there are. As a matter of fact, this is the only island in the world where there is an underwater room! It was built by Manta Resort.
Did you notice the open-to-sky sun deck with a sprawling bed? It is the ultimate and the most luxurious stay in the world.
I think my heart would be beating dangerously fast in expectation as the boat carrying me nears the hotel structure floating in the middle of the Indian Ocean.
Get the full details of Manta Resort and check the availability of the underwater room here.
There are several more beachfront resorts in Pemba Island.
The Aiyna Resort is also a wonderful beach resort to stay in. The resort has 30 villas under three categories.
However, all three types of villas give you an uninterrupted view of the majestic Indian Ocean. If you go to the island, don't look up at any other hotels to stay.
What is the local food on Pemba Island?
Pemba Island is known for large-scale spices cultivation and export. So, you can expect aromatic food with a fair dose local spices that include:
Cardamom
Clove
Pepper
Vanilla
Cinnamon
Traditional Foods to Eat:
It is an exotic mix of mashed potatoes and mangos that are blended along with grated coconut. This local Pemba soup is heavily garnished with onion rings.
Cassava (tapioca) is abundantly available in East African islands. It is a filling tuber when either boiled or fried with salt.
Octopus meat is first marinated in a spicy spread and then deep fried. I reckon it would be a unique African food.  Moreover, it may be expensive depending on where you eat it. Street food stalls also give you freshly cooked octopus.
There is a weird mixture of raw banana, and coconut stew with some meat chunks thrown into the stew that is served hot.
Places to See in Pemba Island:
Visiting other cities
After your short local tour of Cheke-Cheke, the capital of it, you can visit two more popular cities of Mkoani and Wete.
Mkoani is the main port city that receives boats from Zanzibar Island and Dar es Salaam, one of the important cities in Tanzania and also in East Africa.
In spite of located on Pemba Channel coast, the temperature is rather mild during the day. That's why it is a favourite destination for the people staying on mainland Tanzania.
Wete city is also a port city but located on the northern coast of Pemba.
Go to Mtambwe Island
It is a small islet located off the shores of Wete city. It is somehow a historic place comprising the ruins of Swahili.
Wete is also famous for milder temperatures. I think the entire island of Pemba attracts quite a lot of people from all the east African countries because of pleasant weather.
In addition, it having all the attractions of Mauritius and Madagascar (both are in the India Ocean and on East African coast) but still, very cheap comparatively.
Diving
Being mountainous, the cliffs are used as diving boards. The underwater is rich with corals and fishes hitherto unseen. Scuba divers will always surface with a pang of dissatisfaction for not being underwater for some more time.
They are captivated by the extremely colorful marine lives in Pemba Channel.
Snorkelers can also get into the act of marine lives watching spree. The big Barracudas will give them scary company. Sometimes, sharks, and whales will also swim by, catching the snorkelers off guard.
Interacting With Swahili People
Whenever you are visiting Africa, it is essential to allocate some time to interact with the natives. Their culture, beliefs, and cuisine will blow you apart in astonishment.
Visiting Numerous Uninhabited And Inhabited Islets
Off the coast of Wete in north Pemba, lie several islets and islands. Islets are more in number. The majority of them are uninhabited.
Below are some of them that are worth visiting. The marine life and seabirds are worth visiting these floating lands in the Indian Ocean.
Fundo is an inhabited island. It is surrounded by several islets where no one lives. They include Uvinje, Funzi, and Kokota.
In some of the empty islets, resorts are coming up. It is a good idea because you can have these virgin beaches all to yourself.
Bird Watching
Pemba Island comes under "Important Bird Area". These tropical African Islands are rich in bird species.
This particular bluish-green Sunbird is a striking looking bird.
For very passionate bird watching enthusiasts, a 3-day birding tour is available in the island; you can spot a great range of birds in all the islets surrounding Pemba Island.
Among the flying creatures, bats (flying foxes) are also included. Interestingly, there is an exclusive sanctuary for these large bats in Pemba. It is called Kidike Sanctuary for Flying Foxes.
Beaches in Pemba Island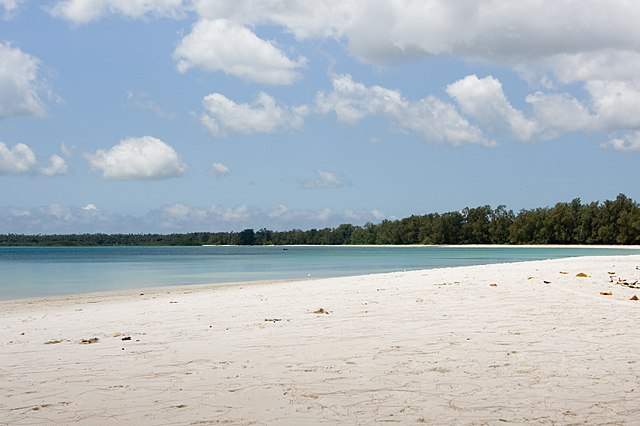 Beaches are all on four sides of Pemba. I am sure all the beaches are suitable for sunbathing because the sun is not too hot on your back (front too).
Vumawimbi Beach is close to the resorts in Cheke-Cheke city.
Ngezi Tropical Forest
What is the fun in visiting a tropical island in the Indian Ocean and return without a walk through in a rainforest? This lush green forest is found on the northern Pemba.
It is a fairly large forest covering over 3600 acres of land! That is really a large habitat for diverse wildlife including reptiles, and insects.
The thick canopy makes excellent home for several monkey species such as Vervet Monkey, and Red Colobus.
If you like Tropical Island with unspoiled beaches, great marine lives, and relaxed life, this island will suit your fine taste for nature and wildlife.
You can plan for a combined holiday trip to Zanzibar and Pemba Islands.