Pink Sand Beaches, A Re-Visit
We have already written about several pink sand beaches located across various oceans and seas. In this blog post, I am re-visiting some of them because their popularities have hit the roof. I want to know how else can a pink beach attract apart from its unique colored sand?
In addition, I have discovered some new pink islands. I suppose you can call islands that have pink sand beaches as "pink islands".
Invariably some islands' beaches wear pink top. For example, Bahamas, Bermudas, and Greek Islands are well-known for pink beaches. We will re-visit some among them plus go to new islands that lure tourists with their pink sand beaches.
Pink Sand Beaches, A Re-Visit
Let's go PINK!
Pink is always associated with Shakespearean romance. I mean, whenever, I read his works, pink color lingered in my mind. His heroines wore pink flowing gowns. That's how I visualized.
Tangsi Pink Beach
This distinct pink sand beach is in Lombok Island's southern end facing the Alas Strait.
Lombok is an Indonesian Island. Lombok Island is accessible from the much popular Bali Island either by plane or by a fast boat.
While you are appreciating your luck in standing on a beach with pink sand, you can see the beautiful Mountain Rinjani. It is an active volcano, boss! The volcano's crater is situated at an altitude of 12,200 feet!
The flying duration is only 40 minutes and by fast boat, it might take up to three hours.
Lombok Island is really a very large Indonesian island comprising a whopping 4700+ sq. km
Padar Island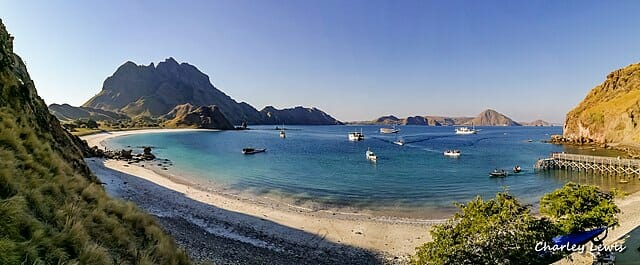 Padar Island is an Indonesian island, near the famed Komodo Island. In fact, you can spot a komodo or two on this island.
Padar Island is part of the Komodo National Park, Indonesia. It is floating in Sumba Strait, part of Indian Ocean.
It is a volcanic island with beaches sporting different colors that include a pink beach and a grey beach.
The reason why some islands are pink islands?
Foraminifera is a species of coral that are colored pink. The presence of them in the sea gives a pink hue to the sand.
Their red shells when broken, get attached to the sand, imparting their color to the sand.
Apart from the colored beaches, Padar Island's rich marine-lives attract scuba divers and snorkelers.
There is no chance of staying on Padar Island in spite of its tourism potential. No one lives here. You have to make a day trip from Flores Island's Labus Bujo, a port town. From there, Padar Island is only 40 km away in the south-west direction. The voyage takes nearly 3 hours. Labus Bujo is tge only gateway to the Komodo Islands and that include Komodo Island, Padar Island, and Rinca Islands.
Watch a video below showing the pink beach of Padar Island. It appears on the 1.27th minute.
Spectacular!
Playa de Ses Illetes, Formentera
The name is distinctly Mexican/Spanish. This Pink Beach is in Spain's Baleric Islands. The pink beach is sunny with terrific appearance. I even noticed a sand bar with the sea on its either side.
Balearic Islands archipelago is located in the Balearic Sea, a part of the Mediterranean Sea.
Here is the map showing the locations of the pink islands.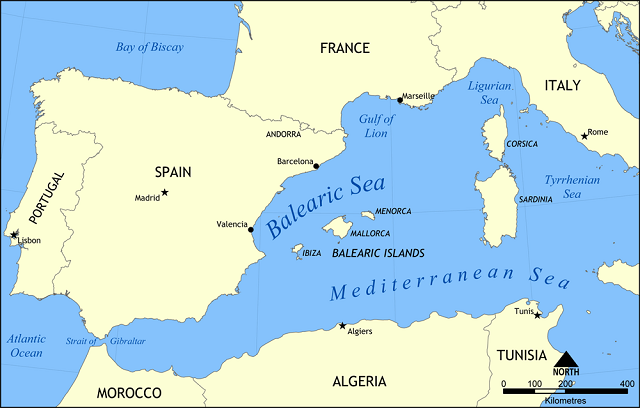 I am sure you might have heard of the following islands in the Balearic Sea:
Mallorca
Menorca
Ibiza
Formentara
Our interest is in the last mentioned Formentara Island. One of its beaches called Playa de Ses Illetes is with pink sand.
See the sand bar below: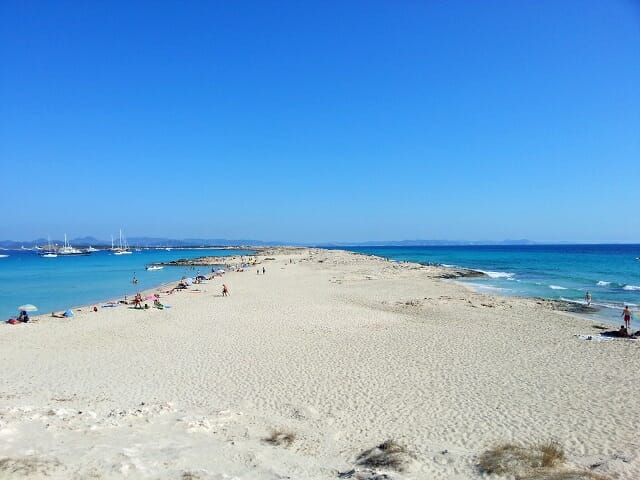 Notice the pinkish tinge on the sand. The pink color stands out in an aerial capture.
You can get to Formentara Island either from mainland Spain or from Ibiza Island but only by a ferry, boss. Just 35 minutes is the ferry ride from Ibiza. From Spain mainland, it will be a two-hour sea passage.
Considering Ibiza's bustling nightlife, I would prefer staying in Ibiza Island and make a short day trip to Formentara Island and its pink sand beach. There is just one option to stay on Formentara but Ibiza is much better to sleep and eat.
Harbour Island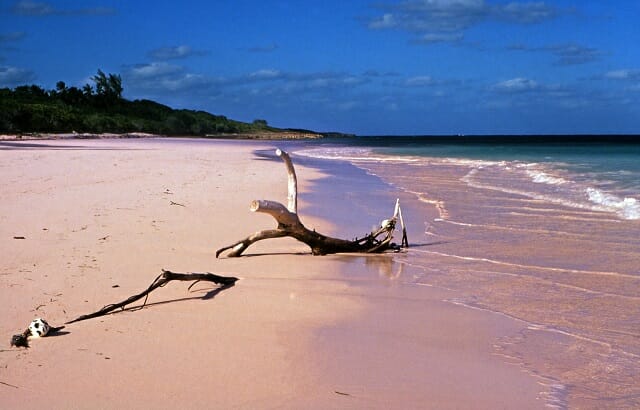 When it comes to pink sand beaches, Harbour Island is the pinkest because not just one or two beaches but all of its eastern shores sport pink sand.
Harbour Island is one of the islands of Bahamas, the most favourite island holiday destination for the Americans.
Harbour Island is a small island but with high tourist potential. Its length is 5.6 km and 2.4 km is its breadth.
This pink island in the Bahamas archipelago can be reached in two legs. First, you can fly to the Eleuthera Island, Bahamas.
Direct flights are available to Eleuthera Island from Florida. Harbour Island which is located about 6 km north-east, can be reached in water taxi.
Alternatively, if you are touring the Bahamas and are staying in a hotel in Nassau, the capital city, you can contemplate a sea passage to Harbour Island. The ferry ride is 3 hours with one stop at Eleuthera Island. Please note the ferry departs at 8 am, from Nassau.
Visit the pink sand beaches, take enough selfies, finish your lunch and be back at the docks by 3 pm.
Your return ferry leaves the Harbour Island at 3.30 pm and deposits you in Nassau by 6.30 pm sharp.
So, you can make a day trip to one of the pink islands of Bahamas from Nassau.
Staying in Harbour Island:
As one of the highly visited pink islands, you can find wonderful resorts and hotels there.
For day trippers, there are restaurants and bars aplenty.
Do you know?
Do you know of a beach known as Rainbow Beach? It is a unique beach in Queensland, Australia where the beach wears multi-color sand
Tikehau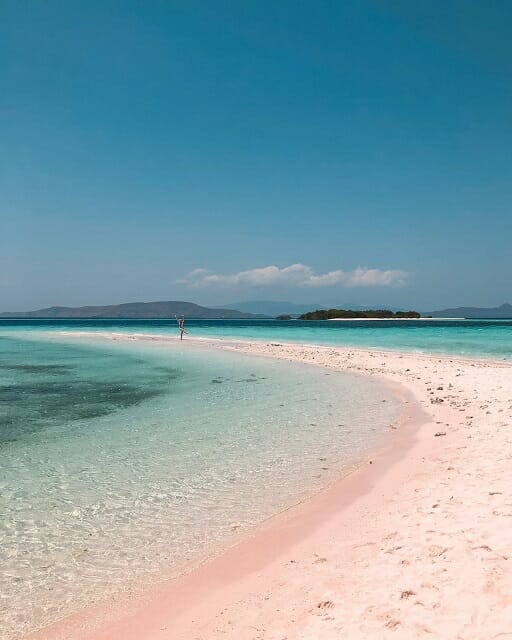 The name itself sounds exotic to me because it is an island in the South Pacific Ocean. It is one of the remote islands in the world. It is known as French Polynesia. Tikehau is actually an atoll and is part of Palliser Islands archipelago which itself is a part of Tuamotu archipelago in the French Polynesia.
There are so many islands, islets, and atolls in Palliser archipelago.
Tikehau is famous for its pink beaches. It is a fairly large island measuring 27 km by 19 km in its length and breadth respectively.
The romantic French people frequent Tikehau atoll.
Location of Tikehau:
It is a remote atoll, even from Tahiti at 350 km away in the north-east direction. Even from Australia, Tahiti is at a staggering 7900 km east.
The best way to reach the pink sand beaches of Tikehau is to fly from Papeete, the capital of Tahiti. It is a short flight of just 75 minutes.
Barbuda
This is not a typo, buddy! It is correctly spelled and is different from Barbados. Yes, Barbuda is a Caribbean Island and is always mentioned along with Antigua Island.
These two islands are separated by 65 km distance.
Barbuda is known for one lovely, blushy pink beach which is never crowded. Scuba diving and snorkelling are actively pursued here because of terrific marine creatures and corals.
Barbuda has an airport that receives flights from Florida. You can also reach it by a boat from Antigua. A high-speed ferry takes only one and a half hour to reach Barbuda from Antigua.
Great Santa Cruz Island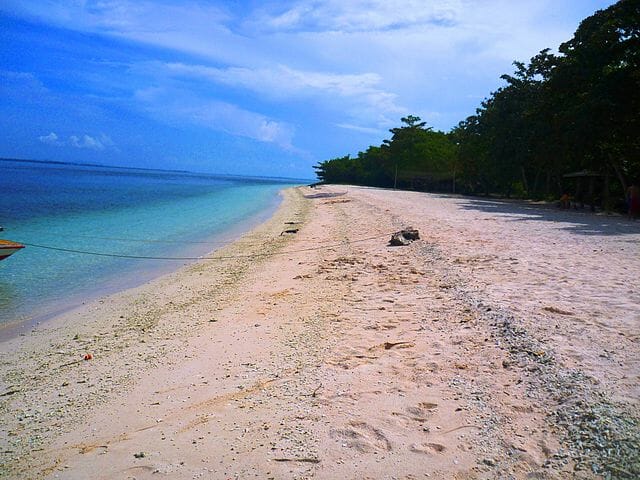 This pink island is one of 7000+ islands of the Philippines.
Travel bloggers played a big role in making the pink sand island very popular. I think even the National Geographic Channel voted the beach as one of the best pink beaches in the world.
The Great Santa Cruz Island is a tiny piece of land floating in the sea. It measures only 2.65 km by 1.5 km in length and width respectively.
By boat, it takes only 20 minutes to reach the pink beach in the Great Santa Cruz Island from Zamboanga city. The island is floating in Sulu Sea, to the east of Palawan Islands, the Philippines.
Spiaggia Rosa Pink Beach
What a location for a beach! It is a perfect bay and is hidden. I think it should be hidden as it is a precious piece of beach with pink sand.
Spiaggia Rosa is seen in Budelli, an island near Sardinia Island, Italy.
Budelli itself is part of an archipelago called Maddalena. This pink island is situated in the Strait of Bonifacio. The strait lies in-between Sardinia and Corsica, France.
This means the Budelli Island has Mediterranean Sea on one side and the Tyrrhenia Sea on the Italian side facing Sardinia.
Here, the pink is very distinct and breathtaking. It is a private beach and no one is allowed to walk on the pink beach. You can have a look but only from a safe distance.
Budelli Island in not inhabited but there is someone taking care of the ecology.
Sardinia is far off at 135 km down south of Budelli. Therefore, you can make a day trip to the pink beach of Budelli from other islands of the Maddalena archipelago.
For example, from La Maddalena, Budelli Island is only 8 km away. You can charter a boat and see the pink sand beach in less than 20 minutes of boat ride.
Elfonisi Beach
Elfonisi pink beach is in western part of Crete Island, Greece.
Crete is a very popular island of Greece. Its pink sand beach Elfonisi finds a place in the top ten beaches in the world. You can imagine its popularity if it has such a high rating.
Reaching the Elfonisi beach takes time when you are touring Crete, one of the largest of Greek Islands. With a coast line measuring over 1000 km, it is really long and wide.
Chania is one its town in the west. From here, you can reach the pink sand beach of Elfonisi in about an hour and a half.
You can find a tavern in Chania and make a quick trip to Elfonisi Beach.
Horseshoe Bay
Horseshoe Bay is among the most known pink sand beaches in the world. It is in Bermuda Islands. 181 islands constitute the Bermuda archipelago and it is a British Overseas Territory on the Atlantic Ocean.
Bermuda is highly accessible from the United States and the United Kingdom by flight.
Bonaire Island
There is a pink beach in Bonaire Island, the 'B' of the A,B,C Islands in the Caribbean Sea, near the coast of Venezuela.
Bonaire Island is a Dutch Overseas Territory. The other two islands are Aruba and Curacao. These three islands are as beautiful as the other Caribbean islands but they don't command an authority among the tourists, even from the South Americans.
The pink sand beach in Bonaire Island is on the other side of the long Salt Pier.
There are literally countless islands and islets in the world. I believe 90% of them are uninhabited. So, we really don't know if there are several hundreds more of pink sand beaches in them.